Unveiled two years ago, Harman Kardon's Citation series featured wireless smart speakers only,  ranging from compact devices to floorstanding column speakers. In September 2020, the series welcomed its first portable device, the Citation 200. In keeping with the family tradition, the youngest promises remarkable audio quality and cutting edge technology, all wrapped up in H/K's signature Scandinavian design.
The battery-powered smart speaker is equipped with two drivers (one 1″ tweeter and one 5″ midrange driver) designed to deliver "rich, immersive sound inside and outside the home," and two passive radiators for "deeper bass." And since it is portable, Harman Kardon has provided its device with IPX4 certification — in other words, the Citation 200 is also splash-proof.
We put the Citation 200 through our rigorous DXOMARK Wireless Speaker test suite. In this review, we will break down how it fared at audio playback in a variety of tests and several common use cases.
Key specifications include:
One 1" (25 mm) tweeter, one 5" (120 mm) woofer and two passive radiators
Bluetooth, AirPlay, ChromeCast
Eight hour battery
Splash-proof (IPX4)
Google Assistant
Charging cradle and USB-C charging port
178 x 219 x 172 mm
2.85 kg
Test conditions:
Tested with iPhone SE
Communication protocol used: AirPlay 2
Firmware version: 20264160
About DXOMARK Wireless Speaker tests: For scoring and analysis in our wireless speaker reviews, DXOMARK engineers perform a variety of objective tests and undertake more than 20 hours of perceptual evaluation under controlled lab conditions. This article highlights the most important results of our testing. Note that we evaluate playback using only the device's built-in hardware. (For more details about our Speaker protocol, click here.) The Harman Kardon Citation 200 falls into the Advanced category of devices in the DXOMARK Speaker rankings.
Test summary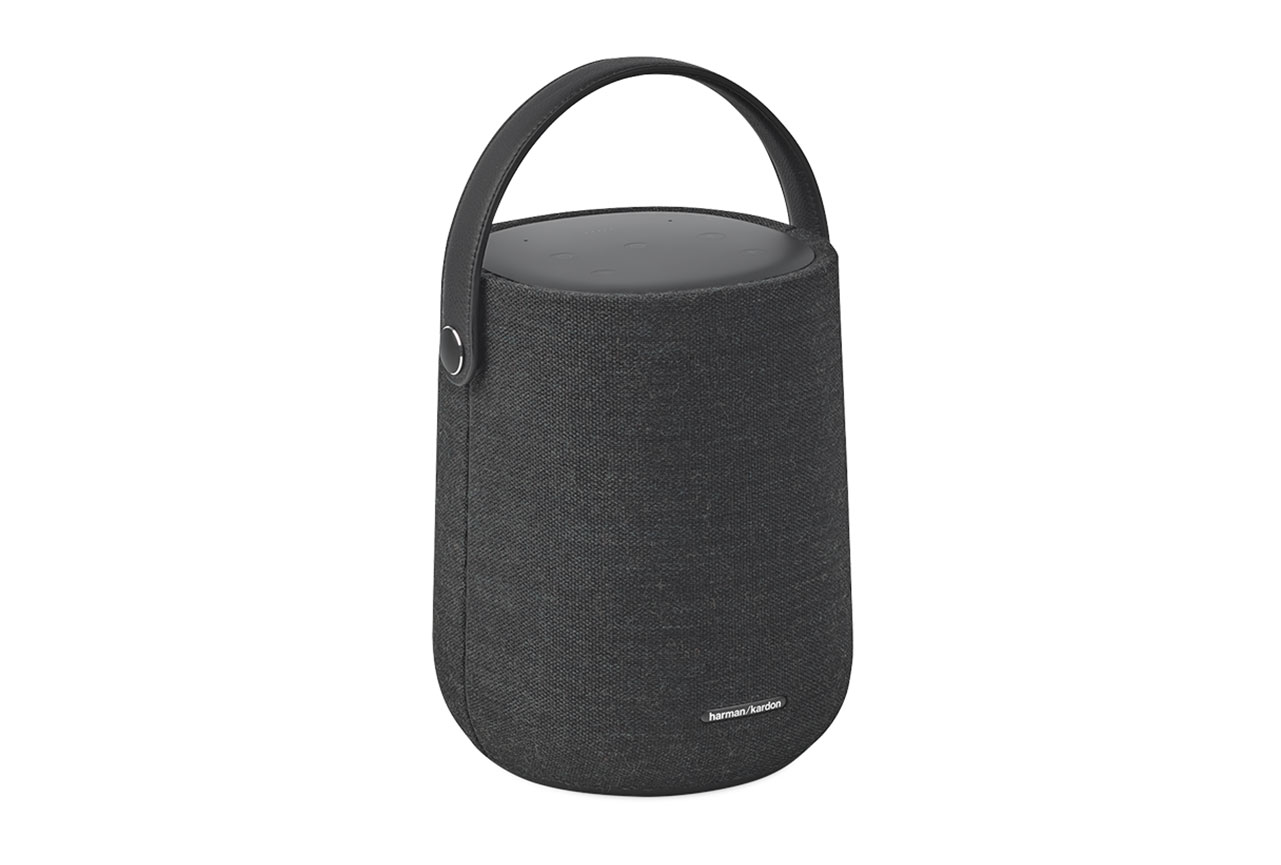 Harman Kardon Citation 200
147
speaker
With an overall Speaker score of 147, the Harman Kardon Citation 200 has taken a comfortable seat at the top of our advanced speaker rankings. Its category-leading sub-scores reveal excellent behavior in timbre and dynamics, where its powerful punch, precise attack, deep low-end, and notable high-end extension outshone even its premium competitors.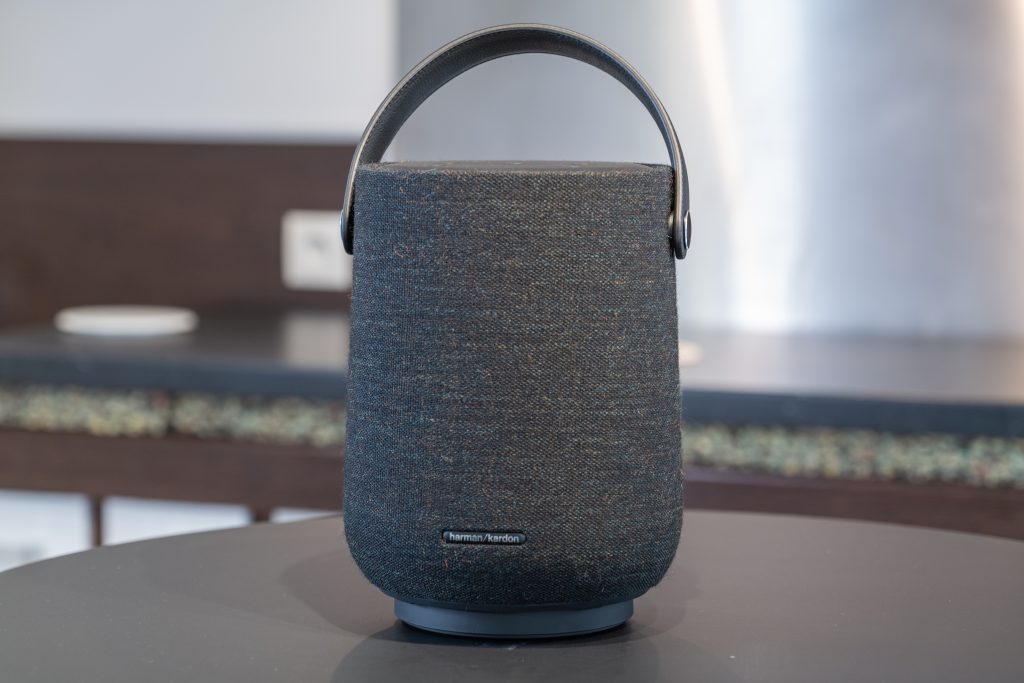 The Harman Kardon Citation 200 delivers excellent timbre and dynamics performances.
At loud volumes, the Citation 200 manages to maintain a good timbre performance and impressive dynamics, which makes for a very reliable party speaker. Thanks to a fairly consistent volume performance at quiet and soft volumes, it is also suited for listening to music or podcasts before going to bed or when relaxing at home.
As promised, the battery-powered speaker is also appropriate for listening to music outdoors, all the more so with its IPX4 certification. However, note that high-pitched voices tend to be drowned out in the background when listening to vocal content in a noisy environment. This is due to the prominence of midrange frequencies that can occasionally generate a muffled sound. At maximum volume, slight bass distortions impair bass precision.
Despite the excellent timbre performance, the promise of "immersive sound" does not quite hold true in our tests — at least not in the spatial dimension. Since the Citation 200 is a front-firing mono device, the sound stage is fairly narrow, and frequencies do not spread evenly around the speaker. This means that the listener's position strongly influences the rendering, which makes the speaker not particularly suitable for friendly small-group gatherings.
Sub-scores explained
The DXOMARK Speaker overall score of 147 for the Harman Kardon Citation 200 is derived from a range of sub-scores. In this section, we will take a closer look at these audio quality sub-scores and explain what they mean for the user, and we will show some comparison data from two of the Citation 200's principal competitors in the Advanced category, the Google Home Max and the Bose Home Speaker 500.
Playback attribute comparisons
Timbre
148
Harman Kardon Citation 200
152
Bowers & Wilkins Formation Wedge
DXOMARK timbre tests measure how well a speaker reproduces sound across the audible tonal range and takes into account bass, midrange, treble, tonal balance, and volume dependency.
Playback timbre comparison
The Citation 200 delivers excellent tonal reproduction, edging out Google's much larger speaker, the Home Max, by two points in the timbre category. As promised, the portable speaker delivers deep low-end in most use cases, and an appreciable high-end extension. Bass is strong, especially when listening to classical and pop music, and treble is particularly suited for pop and electronic music.
Music playback frequency response
At loud volumes, the overall timbre quality remains excellent. At maximum volume, however, midrange frequencies become slightly too harsh. From soft to nominal volumes, the prominence of low midrange frequencies (around 200 Hz) in certain use cases result in a muffled sound. Finally, while watching movies, the speaker exhibits occasional bass resonances and a slight lack of treble.
Dynamics
127
Harman Kardon Citation 200
137
Bowers & Wilkins Formation Wedge
Our dynamics tests measure how well a device reproduces the energy level of a sound source, taking into account attack, bass precision and punch.
Playback dynamics comparison
The Citation 200 also provides great dynamics. Punch is powerful across all tested use cases, but proves particularly impressive in our party scenario — even compared to premium devices. The previously mentioned low mid resonances occasionally affect both attack and bass precision, the latter also impaired by slight bass distortions at maximum volume. That all said, attack remains precise overall, and low-end extension is very deep and accurate.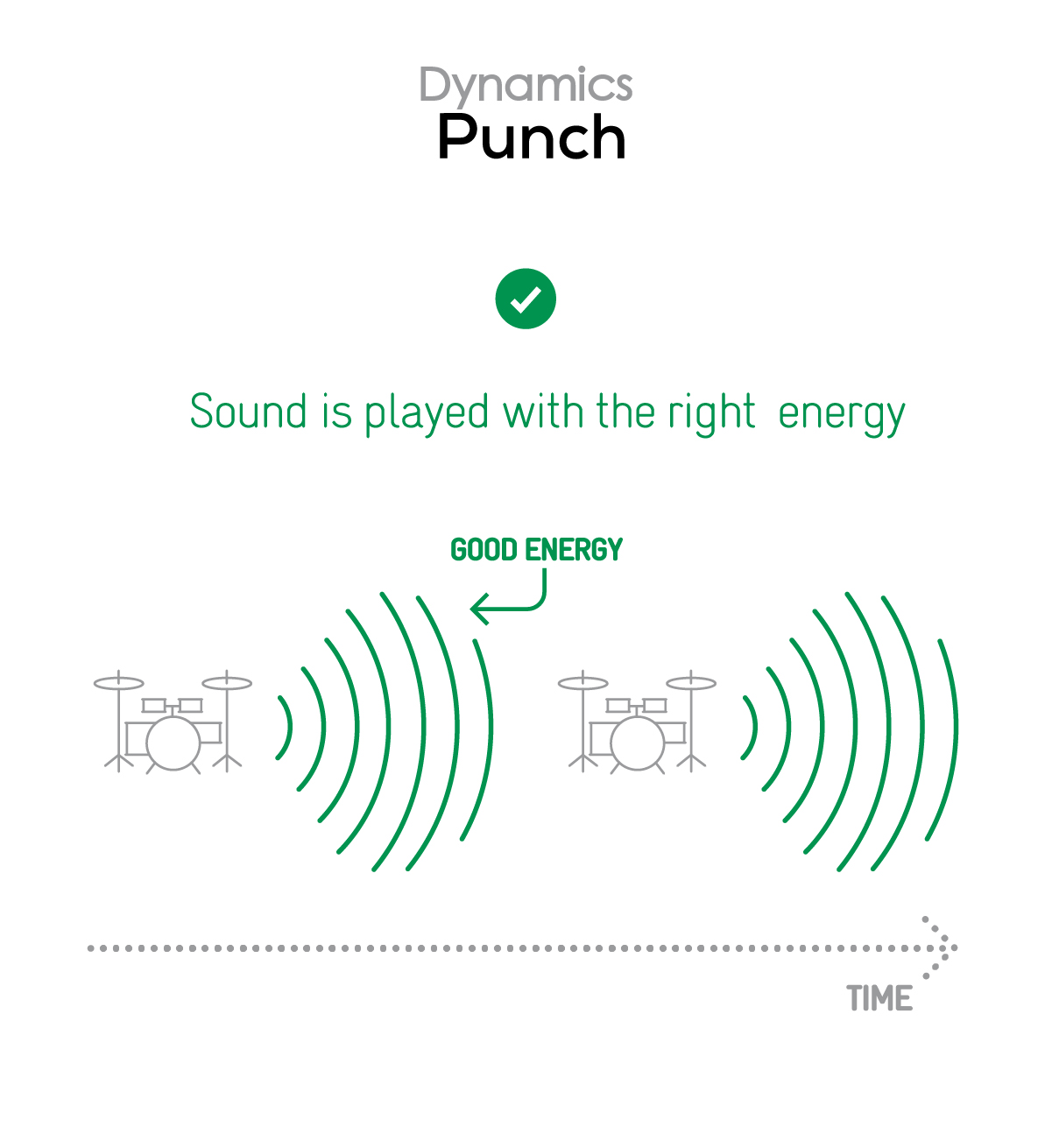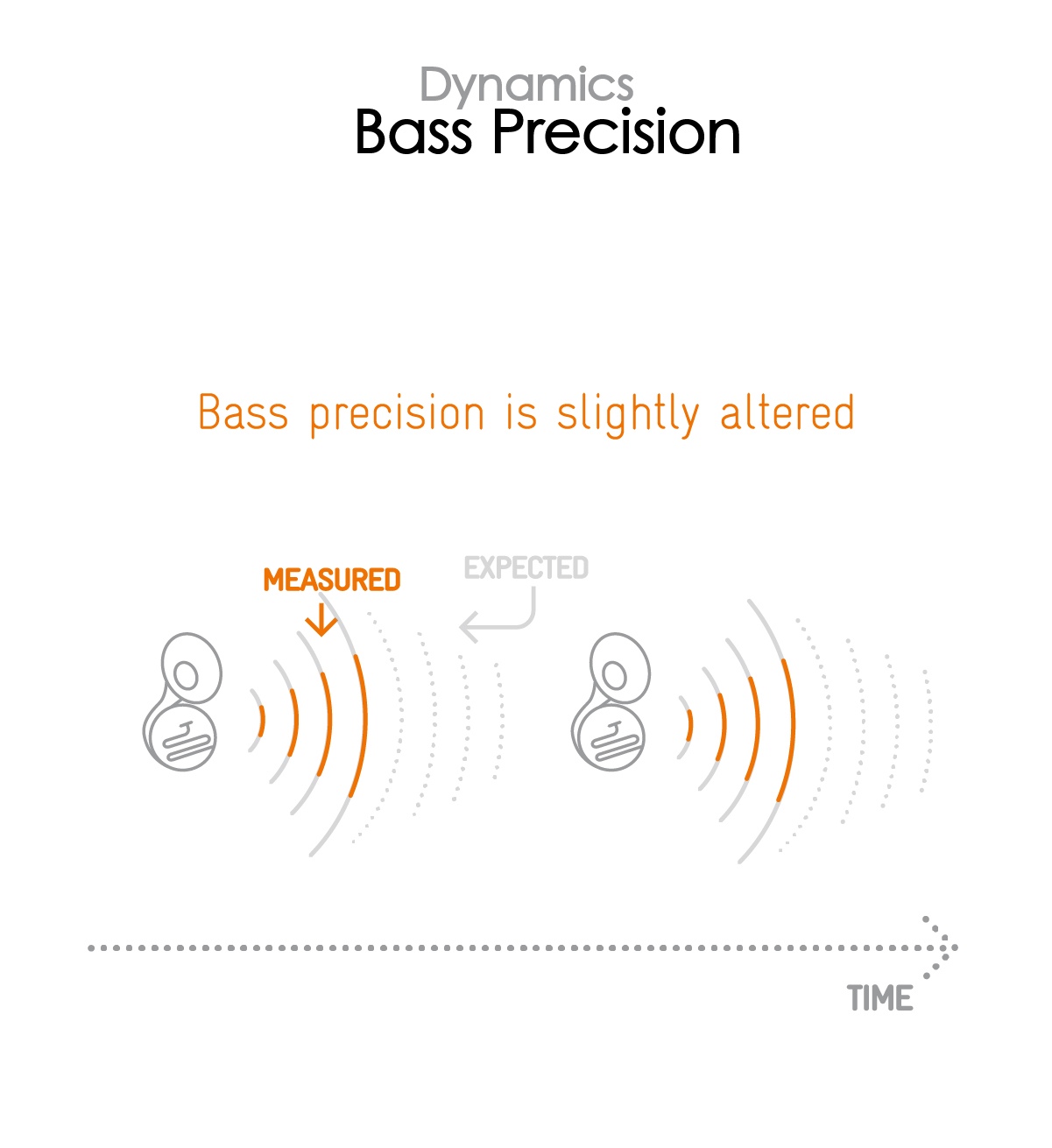 Spatial
78
Harman Kardon Citation 200
111
Bowers & Wilkins Formation Wedge
Our spatial tests measure a speaker's ability to reproduce stereo sound in all directions, taking into account localizability, balance, wideness distance and directivity. Please note that wideness is 0 on mono speakers and speakers that cannot deliver a significant stereo effect.
Playback spatial comparison
Unlike the previous categories, spatial attributes are not one of the Citation 200's strong suits.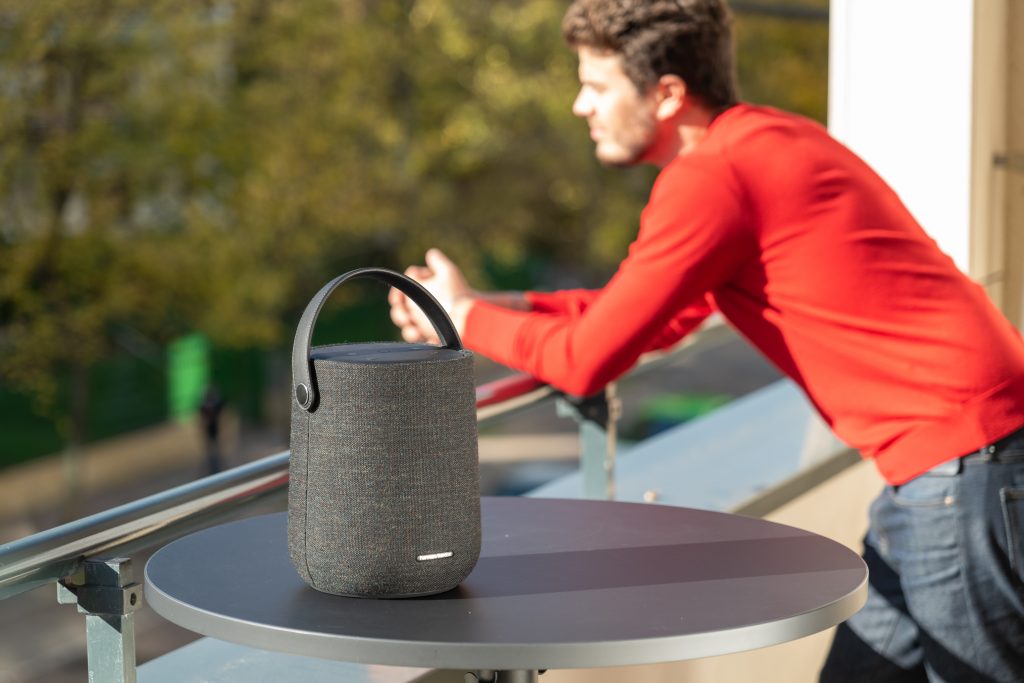 Sound is unevenly distributed around the speaker due to the single front-firing driver design.
Since the speaker is mono and front-firing, wideness of the sound field is practically nil, and directivity is very limited. Indeed, high-end frequencies are audible only if the listener is in front of the speaker, while midrange frequencies are unevenly distributed around the speaker.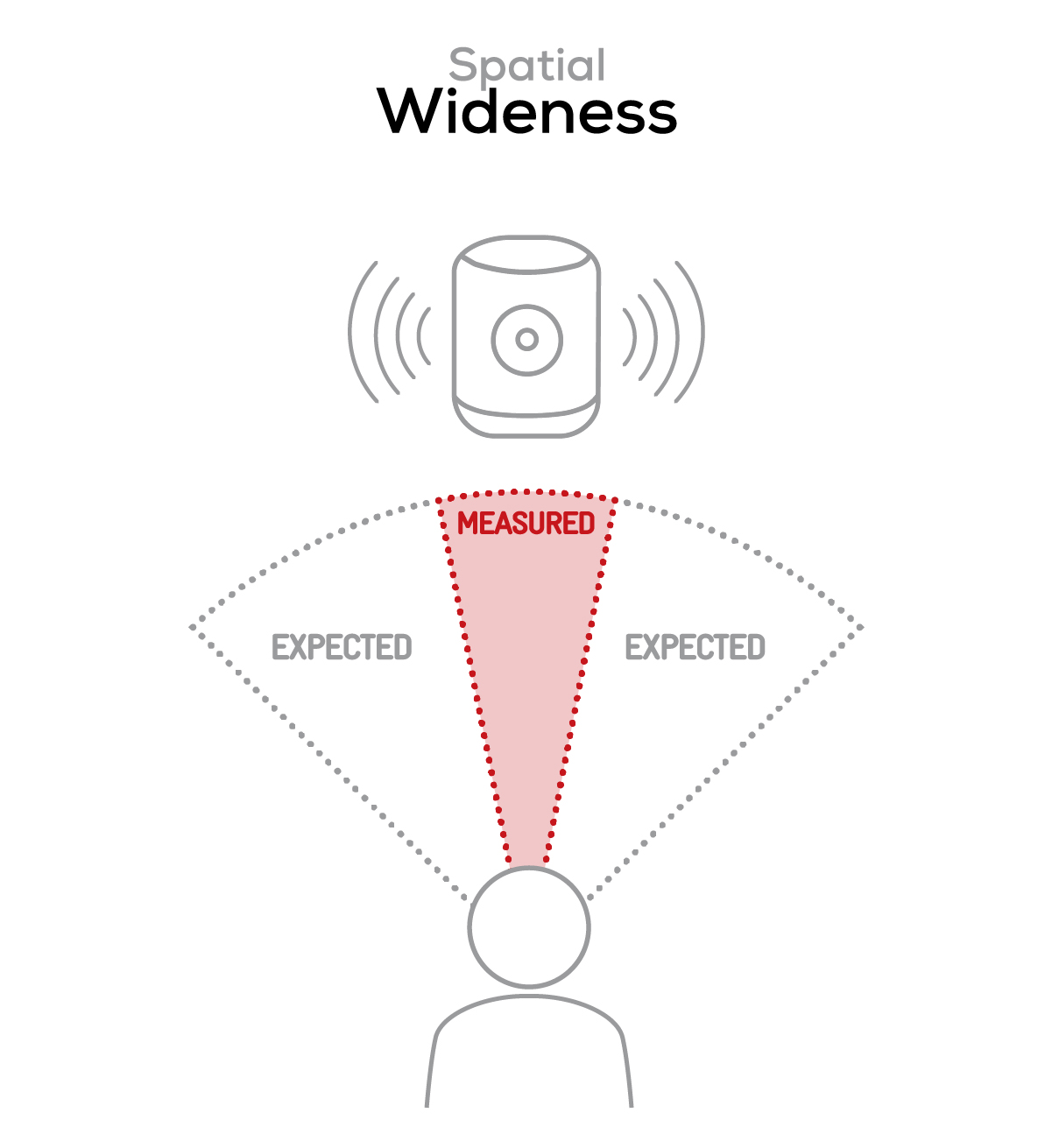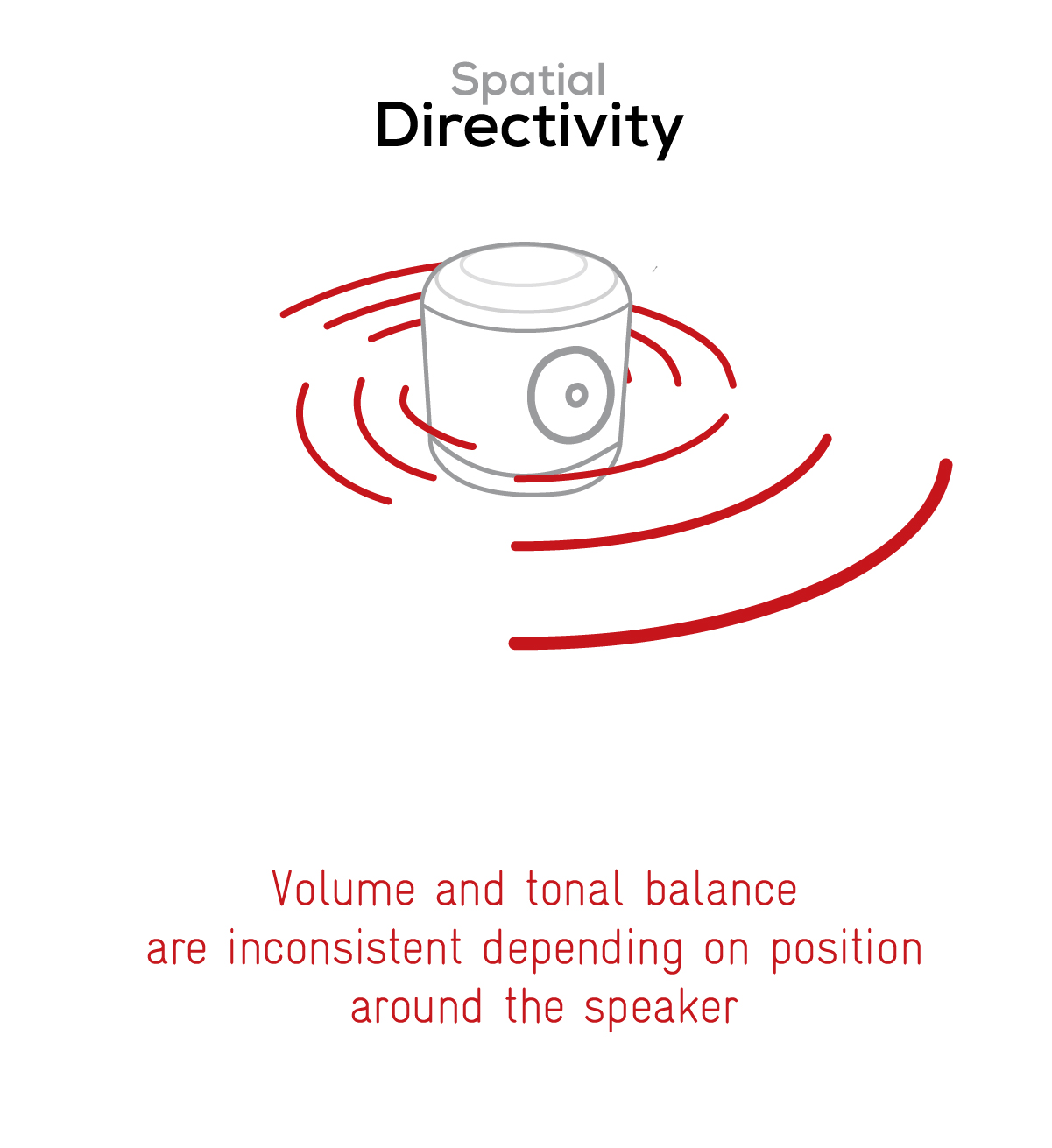 When listening to a podcast in a noisy environment (such as in a kitchen or outside), high-pitched voices tend to be drowned out by the overbearing low mids. That said, distance rendering is fairly realistic, and the strong bass presence allows a feeling of good proximity when listening to low-pitched voices.
Volume
114
Harman Kardon Citation 200
141
Bluesound Pulse Mini 2i
Our volume tests measure both the maximum loudness a speaker is able to produce and how smoothly volume increases and decreases based on user input.
Playback volume comparison
Playback volume consistency comparison
In volume testing, the Citation 200 delivers a fairly good performance, with consistent and intelligible sound reproduction from quiet to nominal volumes (as in our bedtime and relaxing at home use cases, for example). While maximum volume is certainly suitable for a party, it remains lower than that of the Google Home Max.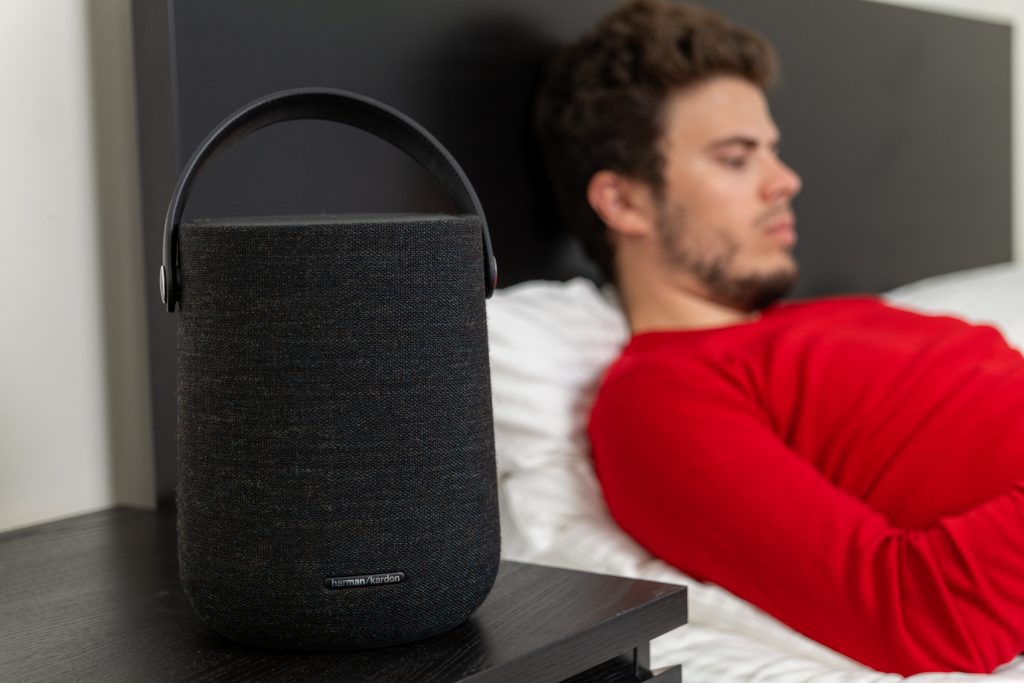 Sound remains consistent and intelligible at quiet volumes.
Here are a few sound pressure levels (SPL) measured when playing our sample recordings of hip-hop and classical music at maximum volume:
| | | | | | | |
| --- | --- | --- | --- | --- | --- | --- |
| | Correlated Pink Noise | Uncorrelated Pink Noise | Hip-Hop | Classical | Latin | Asian Pop |
| Harman Kardon Citation 200 | 86 dBA | 85.5 dBA | 83.1 dBA | 80.2 dBA | 84.1 dBA | 77.9 dBA |
| Google Home Max | 91.9 dBA | 88.9 dBA | 88.9 dBA | 81.9 dBA | 89.3 dBA | 82.4 dBA |
| Bose Home Speaker 500 | 84 dBA | 81.9 dBA | 82.3 dBA | 78.2 dBA | 83.2 dBA | 75.4 dBA |
Artifacts
110
Harman Kardon Citation 200
133
Sonos Five
Our artifacts tests measure how much source audio is distorted when played back, along with such other sound artifacts as noise, pumping effects, and clipping. Distortion and other artifacts can occur both because of sound processing and because of the quality of the speakers.
Playback artifacts comparison
Sound played back through the Citation 200 exhibits very few artifacts, with the exception of low midrange resonances from soft to nominal volumes, and slight bass distortions at maximum volume.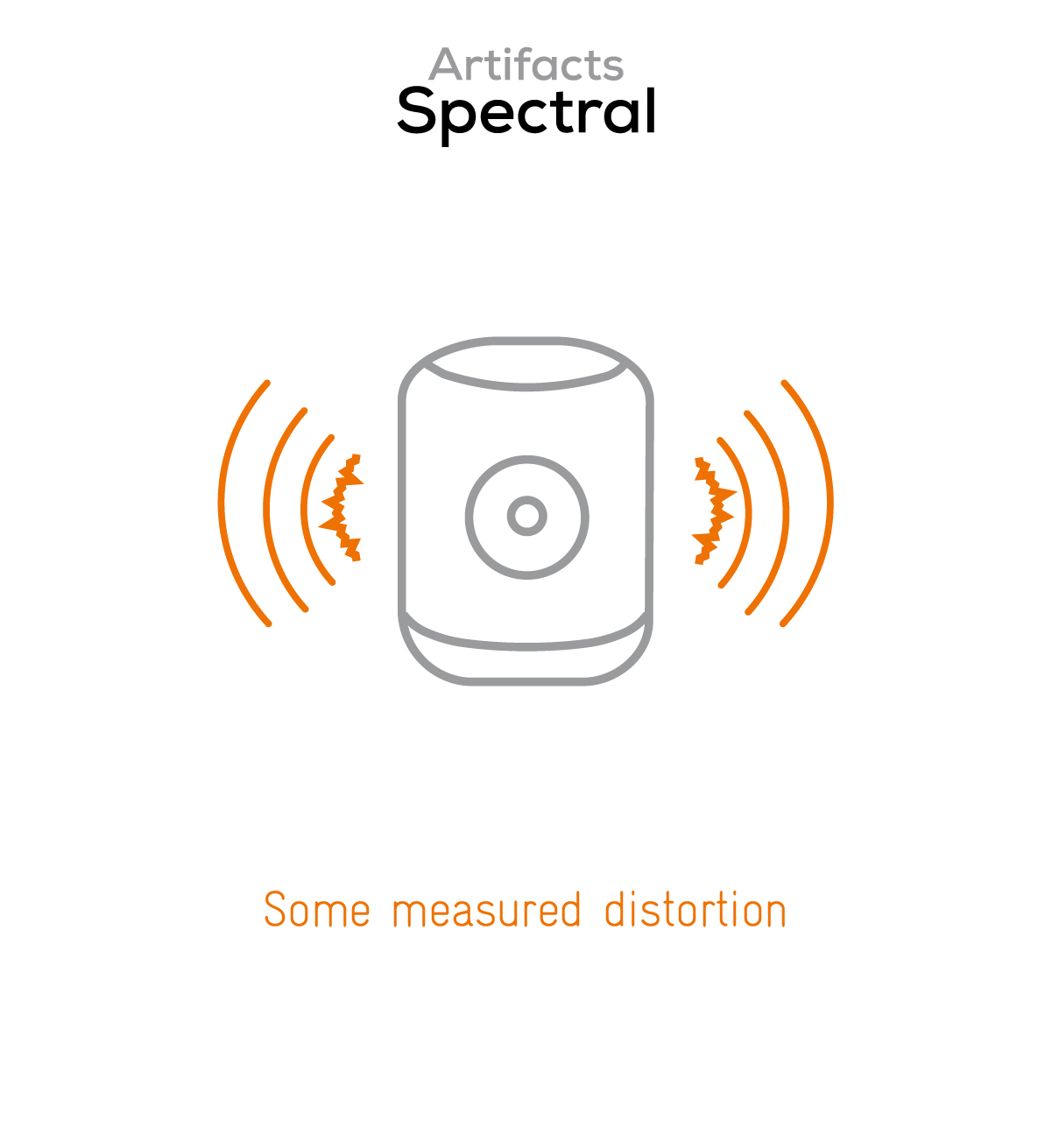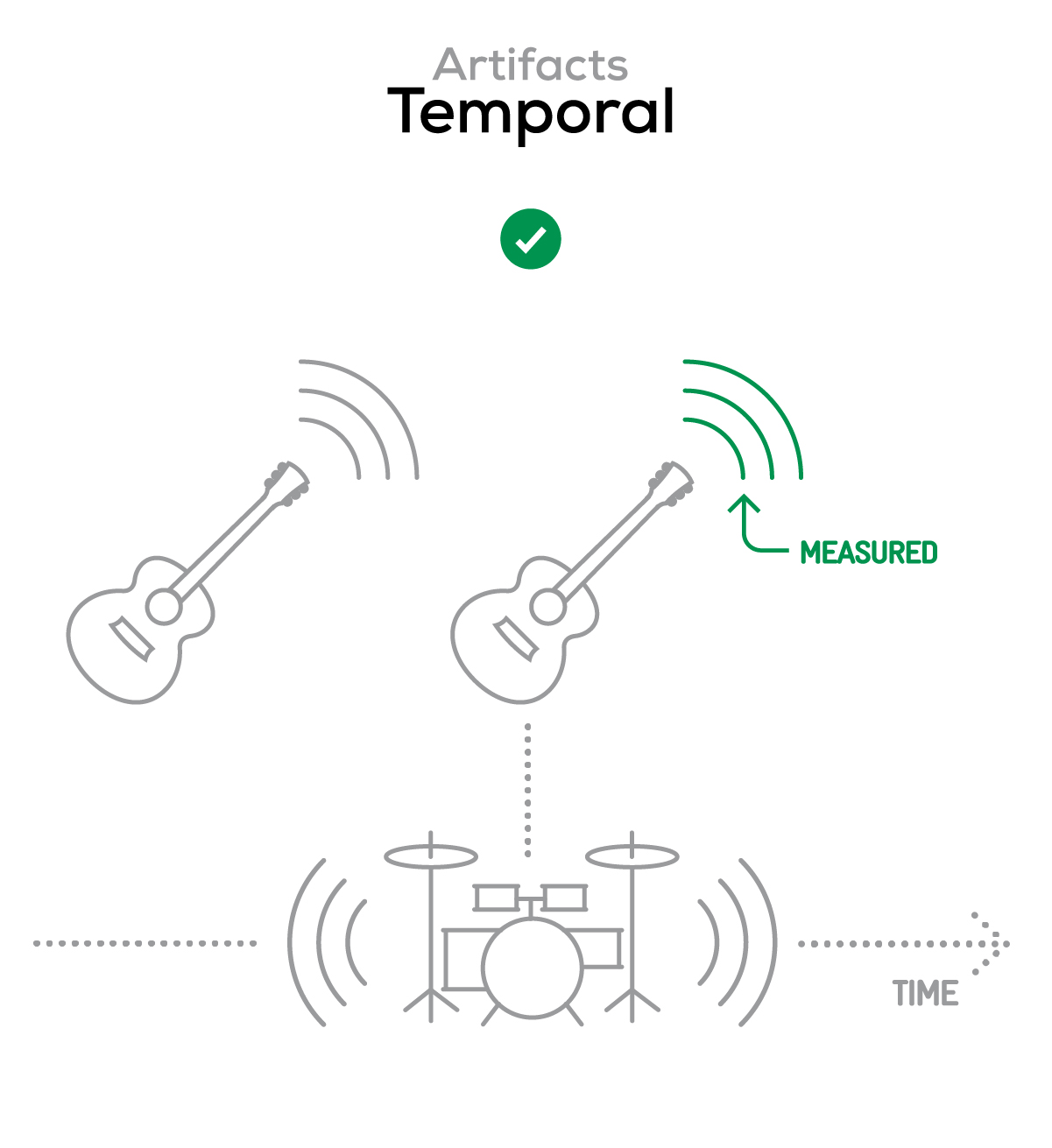 No temporal artifacts (such as excessive compression) are noticeable, regardless of the volume level. Finally, using the speaker in portable (battery) mode induces no perceivable changes in audio playback, except for a slight volume decrease.
Playback total harmonic distortion
Conclusion
In terms of audio quality, Harman Kardon's first portable smart speaker is one of our most consistent performers across the board. The Citation 200 makes a very good choice for nearly every use case, from quietly listening to podcasts before bedtime all the way to hosting a party. It delivers impressive dynamics, especially at loud volumes, a very good timbre performance, great bass, and suffers from no temporal artifact.
On top of that, the speaker can be battery operated without noticeable changes except for a slight volume decrease, and benefits from an IPX4 certification, making it suitable for outdoor and bathroom/kitchen use. The only reservations we have are the prominence of low midrange frequencies, occasional bass distortions heard at maximum volume, and the fact that the speaker is a front-firing mono device, which considerably reduces the sound field's wideness and directivity.
Pros
Excellent tonal reproduction, even at loud volumes
Great bass presence, deep low-end, and good high-end extension
Impressive dynamics performance at loud volumes: punch is powerful, attack is sharp, and bass is fairly precise.
In most use cases, the distance rendering of the sound sources is realistic.
No temporal artifacts, such as compression, and very few perceivable spectral artifacts, such as distortion
The device can be used on battery without showing any noticeable difference (except for a small volume decrease).
Cons
Tonal balance is slightly impaired by prominent low midrange frequencies, which can generate a muffled sound.
The sound field lacks wideness and sound is unevenly distributed around the speaker.
Bass precision is slightly lacking, due to low-mid resonances and low-end distortion at maximum volume.
Maximum volume is good, but could be a little louder.