Introduced as the large-screen member of Huawei's popular Mate 20 family of phones, the Huawei Mate 20 X is engineered to be a multimedia powerhouse. This positioning was borne out by its excellent scores in our audio tests. Featuring dual speakers and active noise cancellation via a dedicated microphone, the Mate 20 X is a great choice for both recording and playing back a wide variety of audio.
We put the Mate 20 X through our rigorous DXOMARK Audio test suite to measure its performance both at recording sound using its built-in microphones and at playing audio back through its built-in speakers. In this review, we'll break down how it fared in a variety of tests and in several common use cases.
Audio specifications:
Dual symmetrical speakers
3.5mm headphone jack
Active noise cancellation with dedicated microphone
About DXOMARK Audio tests: For scoring and analysis in our smartphone audio reviews, DXOMARK engineers perform a variety of objective tests and undertake more than 20 hours of perceptual evaluation under controlled lab conditions. This article highlights the most important results of our testing. Note that we evaluate both Playback and Recording using only the device's built-in hardware and default apps. (For more details about our Playback protocol, click here; for more details about our Recording protocol, click here.)
Test summary
75
audio
The Huawei Mate 20 X is the top scorer in our Audio tests of all the devices we've tested thus far, with its Overall score of 75 besting Samsung's S10+ by ten points and the Note 10+ by 9. It is also the only Android phone we've tested that scored above Apple's large-screen iPhone XS Max—although only by one point.
The Mate 20 X did particularly well when playing back movies and music, achieving a substantially higher score for those use cases than any of the other phones we have tested. While still the top scorer among the Android devices we tested, its performance while gaming was less stellar, and behind both the iPhone XS Max and the iPhone 11 Pro Max.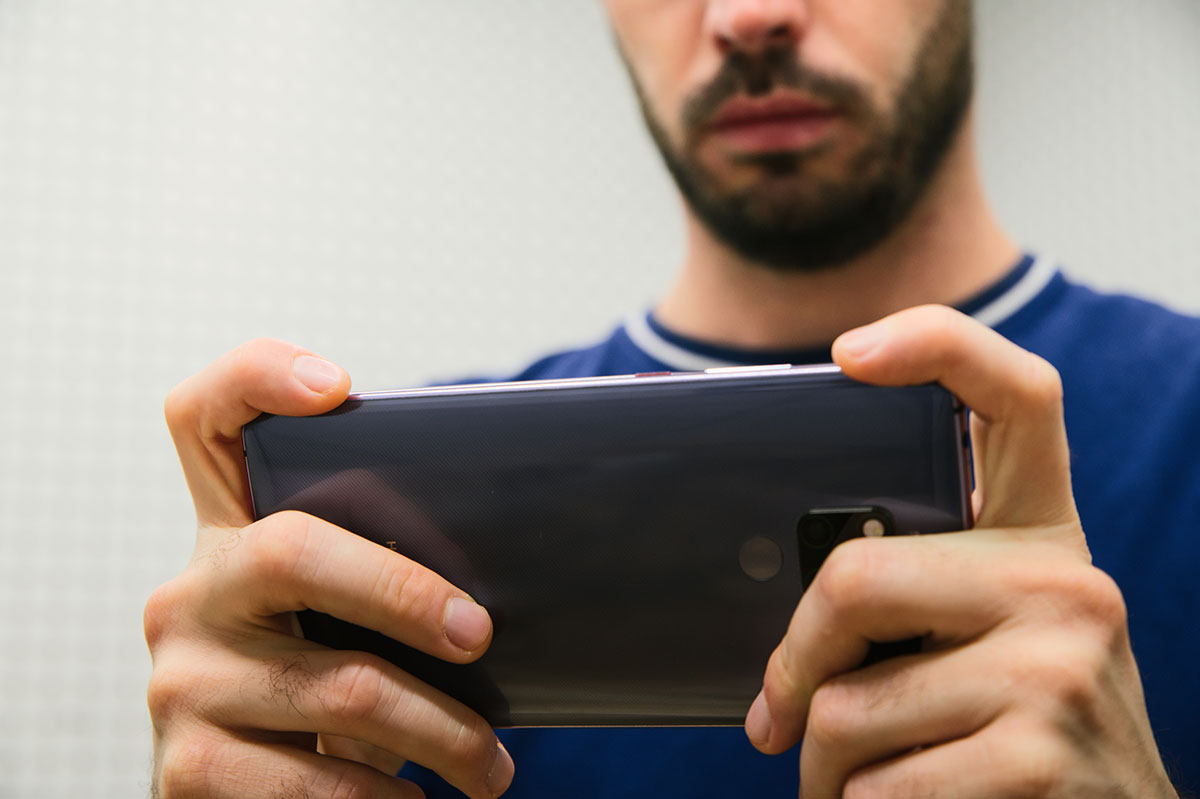 Evaluating the quality of movie audio on the Huawei Mate 20 X
Its excellent Playback score was anchored by top marks for tonal reproduction and excellent sound dynamics. The only playback sub-score for which it wasn't one of the top tested devices was for Artifacts, where its sub-score of 79 was held down by audible distortion when listening at high volumes.
For recording, the Mate 20 X was also among our top-rated devices, achieving a score of 70 and besting such other Android phones as the Samsung S10+ and the Note 10+, as well as the iPhone XS Max. It achieved this primarily because of the quality of its meeting recordings, along with scoring among the top devices in our other use cases for memos, videos, and concert recordings.
Sub-scores explained
The DXOMARK Audio overall score of 75 for the Huawei Mate 20 X is derived from the Playback and Recording scores and their respective sub-scores. In this section, we'll take a closer look at these audio quality sub-scores and explain what they mean for the user.
Playback
Timbre
Black Shark 5 Pro
Best: Black Shark 5 Pro (89)
The Mate 20 X's Playback score of 76 is anchored by an impressive 77 in our Timbre tests, the best of any phone we have tested so far. It achieves this by doing an excellent job of reproducing tones throughout our tested frequency range. The Mate 20 X does an especially good job with bass reproduction.
One issue we found in our tests was a lack of tonal consistency when moving from low volumes (settings 1-9) to higher volumes (settings 10-15). Other than that, tonal balance was excellent for all our test music tracks and movie scores. Balance wasn't quite as good when gaming, with volume dependency more pronounced in that use case. You can see from this graph that, like the iPhone XS Max, the Mate 20 X does a good job of playing even very low frequencies:
Music playback frequency response
Dynamics
Black Shark 5 Pro
Best: Black Shark 5 Pro (81)
Consistent with its other results, the Mate 20 X has very good sound dynamics, with two of the highlights being good punch and bass rendering. The Dynamics sub-score of 75 is marred a bit by inconsistency as volume levels change. Gaming performance is also not on par with other use cases, and not the best among our tested devices.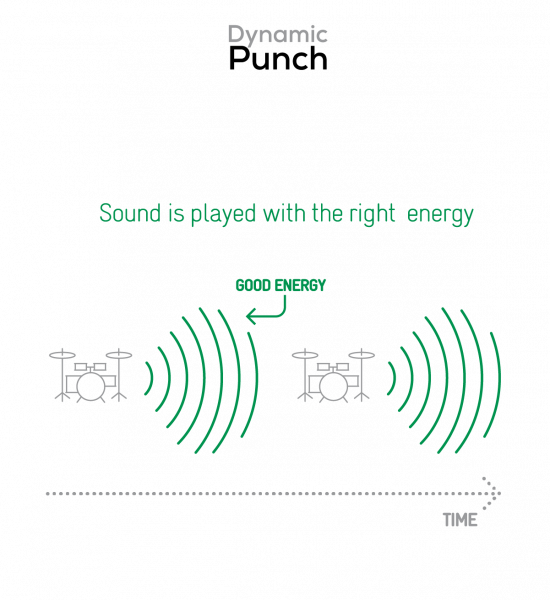 Spatial
Black Shark 5 Pro
Best: Black Shark 5 Pro (88)
The Mate 20 X does an excellent job of preserving the locations of sound sources when playing back music and showing movies. In particular, it has a very wide sound stage that provides a more authentic experience when listening to complex audio sources. Balance was also good. The effect of those traits is illustrated here: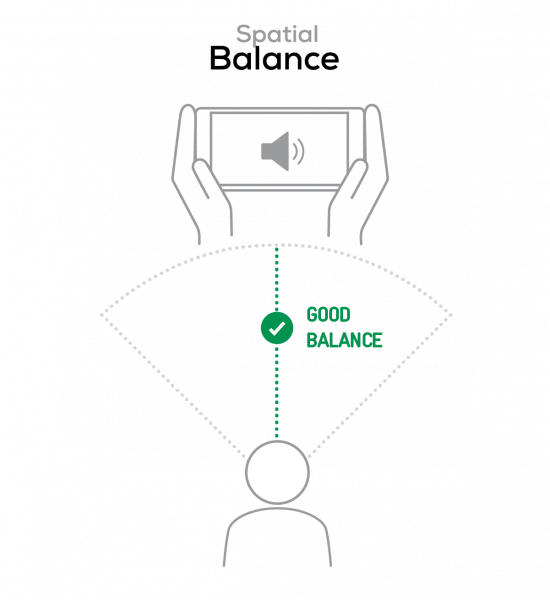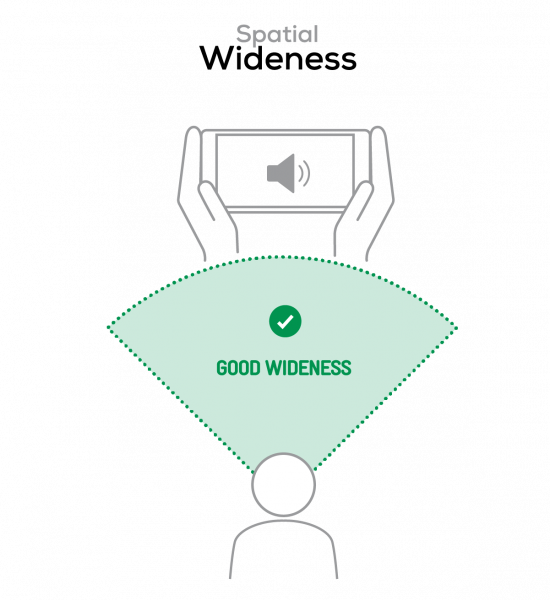 Volume
Nubia RedMagic 7 Pro
Best: Nubia RedMagic 7 Pro (91)
In general, the Mate 20 X performed well in our Volume tests, with a sub-score of 70 coming in ahead of the other Android devices we've tested, but below the two iPhone models. There is room for improvement, though, as loudness levels weren't consistent after the volume was increased or decreased and then set back to the original level. The minimum volume achievable was also a little disappointing. You can see the effect various volume setting have on output loudness in this graph:
We carried out objective measurements in our laboratories on recordings of both hip-hop and classical music played at the maximum user volume step.
| | |
| --- | --- |
| Hip-Hop | Classical |
| 73.7 dBA | 70 dBA |
Artifacts
Xiaomi Redmi K50 Gaming
Best: Xiaomi Redmi K50 Gaming (113)
Audio played back by the Mate 20 X suffered an uncharacteristic amount of distortion, particularly spectral distortion at high volumes, giving it a relatively low Artifacts sub-score of 79 (the lowest among this first round of tested devices).
Interestingly, the phone performed better when placed in landscape mode with the bottom of the phone on the left instead of the right.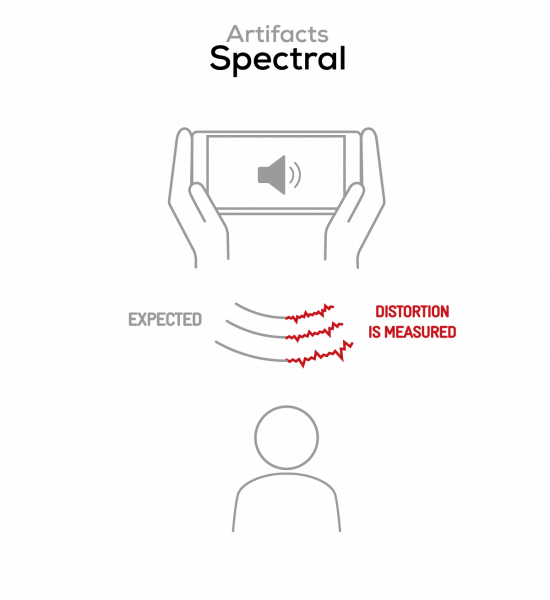 Some distortion is noticeable.
Recording
Timbre
Honor Magic3 Pro+
Best: Honor Magic3 Pro+ (91)
The Mate 20 X does an excellent job of reproducing natural-sounding audio from the low end of our tested range to about 17kHz, which was plenty to give it a very good Timbre sub-score of 78. Bass response could be improved a bit to bring it up to the level of the top devices in that area, such as the Samsung Galaxy S10+. Also, mid-range tones in video recordings captured with the main camera sometimes sound a little canny.
Life video frequency response
Dynamics
Black Shark 5 Pro
Best: Black Shark 5 Pro (81)
Recordings on the Mate 20 X do a good job of representing the sound envelope of source audio, giving it one of our top Dynamics sub-scores of 68. One area that could use improvement is the signal-to-noise ratio during memo recordings.
Spatial
Black Shark 4S Pro
Best: Black Shark 4S Pro (78)
The Mate 20 X separates the sound sources well, giving it a Spatial sub-score of 68. Directivity still shows room for improvement, though, when compared to the best devices we've tested. Using stereo microphones for memo recording is something of a game-changer compared to most other phones, helping to give such recordings impressively accurate volume reproduction, a wide sound stage, and an accurate representation of the distance of sound sources for that use case.
We refer to the ability to hear where a sound should be coming from as "localizability," which is illustrated in this comparison graphic: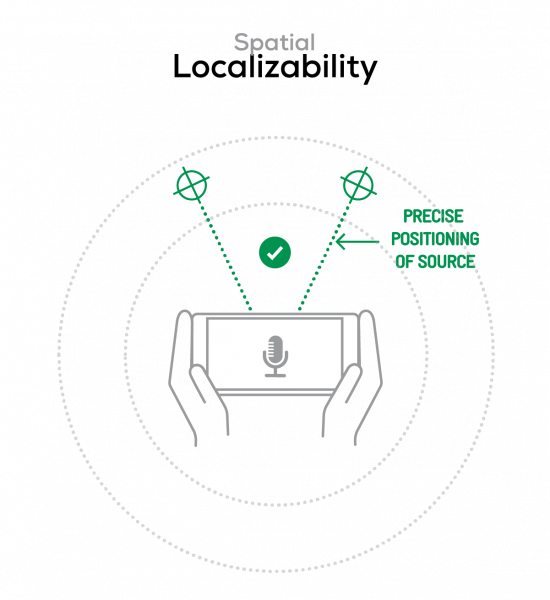 Good spatial localizability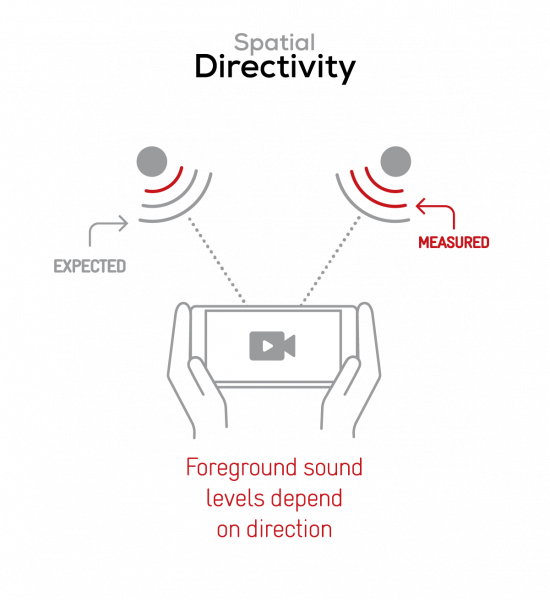 Spatial directivity could be improved.
Volume
Black Shark 5 Pro
Best: Black Shark 5 Pro (99)
Recordings on the Mate 20 X do a good job of preserving the volume of original sound sources for all our use cases. However, higher volume levels suffer from an excess of harmonic distortion, which reduces their quality. Here are our test results, measured in LUFS (loudness unit full scale); note that results lower than –24 are unacceptable.
| | | | |
| --- | --- | --- | --- |
| Meeting | Life Video | Selfie Video | Memo |
| -18.1 LUFS | -15.8 LUFS | -15.5 LUFS | -17 LUFS |
Artifacts
Black Shark 5 Pro
Best: Black Shark 5 Pro (97)
In general, the Mate 20 X's recordings are very clean and don't suffer from excessive artifacts, giving the phone the highest Artifacts sub-score for recording of any device we've tested so far (70). However, there is further room for improvement. In particular, there is some distortion and clipping of voices and bass in our concert recording use case. Outdoor videos also suffered from some distortion when recording voices.
Slight finger noises were also audible during our occlusion tests, as illustrated here: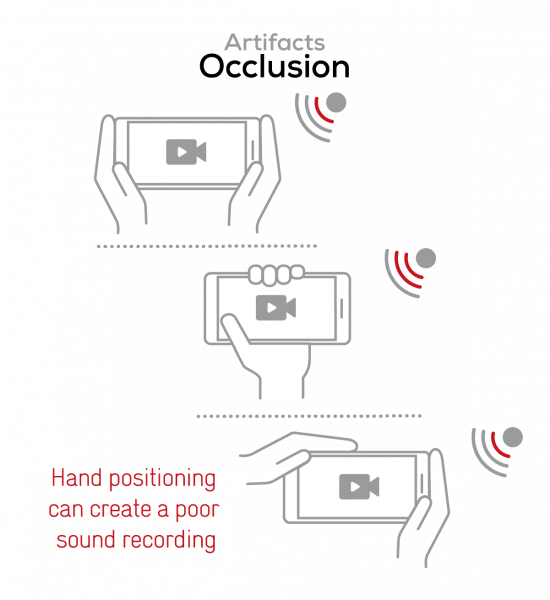 Some occlusion artifacts are noticeable.
Background
Black Shark 5 Pro
Best: Black Shark 5 Pro (60)
Unlike other aspects of its sound recording capability, the Mate 20 X didn't perform quite as well in our Background tests, with its sub-score of 54 beating out the other Android devices we've tested, but losing out to the two iPhone models. Background sounds are too audible when recording memos or selfie videos, for example, as the Mate 20 X suffers from poor directivity—meaning that it doesn't do as well as it could at directing the microphones so that you can hear yourself clearly over background noises. Background sounds were quite clean, though, with few artifacts: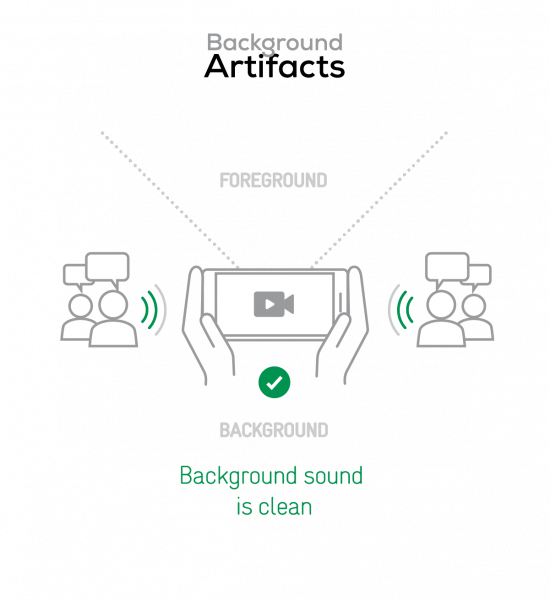 Background artifacts are well-controlled.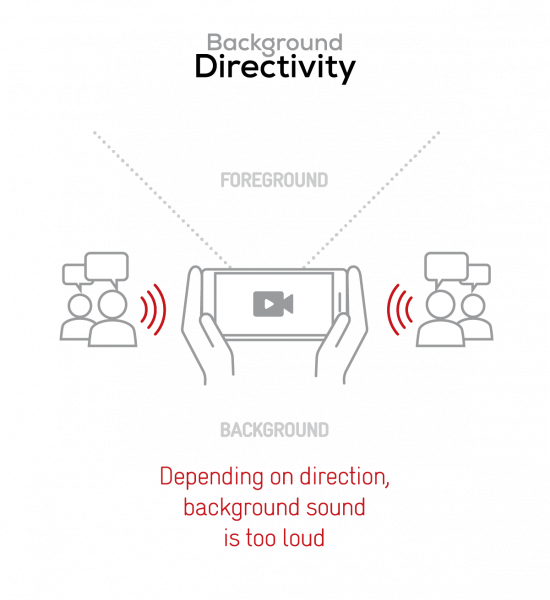 Background directivity is poor.
Conclusion
The Huawei Mate X records and plays audio better overall than any of the other phones we have tested, which is in line with its positioning as a device aimed at those who want an excellent multimedia experience. It even edged out the excellent Apple iPhone XS Max by a point.
Use case scores were consistently high across all our use cases, including concert and video recording as well as meeting and memo audio recording. However, memo recording would benefit from a more directional microphone response so that it would be easier to understand the recorded voice over background noise.
One quirk that doesn't directly affect the sound, but does concern the user experience, is that the music player interface doesn't allow full navigation of the music catalog when held in portrait orientation.
Playback
Pros
Excellent audio rendering
Great tonal reproduction
Very good sound dynamics
Cons
Spectral distortion can be heard at high volumes
Mediocre top volume and volume consistency
Recording
Pros
Natural-sounding tonal reproduction
Good volume levels on recordings
Very good spatialization when recording memos
Cons
Video recordings sound slightly canned
Background sounds can be undesirably loud
Harmonic distortion at higher volume levels
Hard to locate sound sources in selfie videos
In the Press