Equipped with a powerful Kirin 990 SoC, a 6.53-inch FHD+ OLED display, and a quad-camera setup, Huawei's Mate 30 Pro sits at the top of the company's product line. The phone ships with a generous 8GB of RAM and 256GB of storage, along with room for a nano-SD card. For those unfamiliar with nano-SD cards, they are similar to micro-SD cards, but even smaller so that they can fit into the same slot as a nano-SIM. Note that even though the Mate 30 Pro ships with Huawei's EMUI version of Android 10, it does not support Google's primary applications.
Unlike most other flagship phones, the Mate 30 Pro doesn't include stereo speakers. Instead, it relies on a mono-channel speaker at the bottom of the phone. It also has an acoustic display to augment its single speaker, but that isn't used for media playback, so it doesn't figure into any of our Audio test results or scores.
Given the unique speaker setup for a flagship device, we were particularly interested to see how it would perform in our audio tests. So we put the Huawei Mate 30 Pro through our rigorous DXOMARK Audio test suite to measure its performance both at playing audio back through its built-in speaker and at recording sound using its built-in microphones. In this review, we'll break down how it fared in a variety of tests and in several common use cases.
Audio specifications include:
Acoustic display (not used for media playback)
Dedicated microphone for active noise cancellation
About DXOMARK Audio tests: For scoring and analysis in our smartphone audio reviews, DXOMARK engineers perform a variety of objective tests and undertake more than 20 hours of perceptual evaluation under controlled lab conditions. This article highlights the most important results of our testing. Note that we evaluate both Playback and Recording using only the device's built-in hardware and default apps. (For more details about our Playback protocol, click here; for more details about our Recording protocol, click here.)
Test summary
60
audio
While the Huawei Mate 30 Pro is an impressive phone, its overall Audio score of 60 is one of the lowest of any phone we have tested so far. In particular, the lack of stereo speakers greatly reduced playback quality, giving the Mate 30 Pro a very weak 57 Playback sub-score. Recording performance is excellent, however, with the phone's 72 leading the pack among our tested phones, even beating out the multimedia powerhouse Huawei Mate 20 X, which achieved our previous high Recording score of 70.
Once you get over that audio plays back only in mono, the Mate 30's single speaker does a good job. Tone reproduction and sound dynamics are generally very good, except at the highest volume settings. Of course, the single speaker means that it can't accurately reproduce a sound stage. It also means that sound is unbalanced whichever way you hold the phone, since the single speaker is at the bottom of the phone when held in portrait mode, and on one side or the other in landscape mode.
As a result, playback performance is weak across all of our use cases. In particular, listening to any media featuring a multi-channel soundtrack produces sub-par results. Depending on your preferences and choice of game, this may be less important for gamers than for those listening to movies or music. If you're using the phone's speaker only to play back memos or other single-channel recordings, then the quality loss is much smaller.
Recording performance is a completely different story, with excellent results across the board. In particular, its strong recording performance is anchored by very impressive Timbre (82) and Recording Volume (88) sub-scores, demonstrating a good ability to recreate sound levels across a variety of scenarios. Memo recordings are also a strong suit for the Mate 30 Pro, where it again beats out the Mate 20 X.
Sub-scores explained
The DXOMARK Audio overall score of 60 for the Huawei Mate 30 Pro is derived from its Playback and Recording scores and their respective sub-scores. In this section, we'll take a closer look at these audio quality sub-scores and explain what they mean for the user.
Playback
Timbre
Black Shark 5 Pro
Best: Black Shark 5 Pro (89)
Considering that the Mate 30 Pro has only one speaker, its tonal reproduction is quite good. In particular, mid-range tones are clean and natural. However, there is a lack of bass, and high frequencies can sound a little tinny. The phone's weakest point is at its highest three volume settings, where the mid-tones sound unnatural. You can see the relatively weak bass reproduction in this chart comparing it to the Mate 20 X:
Music playback frequency response
Dynamics
Black Shark 5 Pro
Best: Black Shark 5 Pro (81)
Sound dynamics are quite good at most volume levels, featuring good attack and bass precision. Punch is also very good for a mono-speaker device. However, attack precision is seriously degraded at maximum volume, as is the audio punch.
Spatial
Black Shark 5 Pro
Best: Black Shark 5 Pro (88)
Having a single speaker means that the Mate 30 Pro really can't accurately reproduce a sound stage, or even a scene, giving it a Wideness sub-score of 0, which contributed to pulling its Spatial score down to 30. Balance is also uncentered, particularly when held in landscape mode (when the speaker is off to one side). On the plus side, sound sources are reasonably well localized both in position and distance.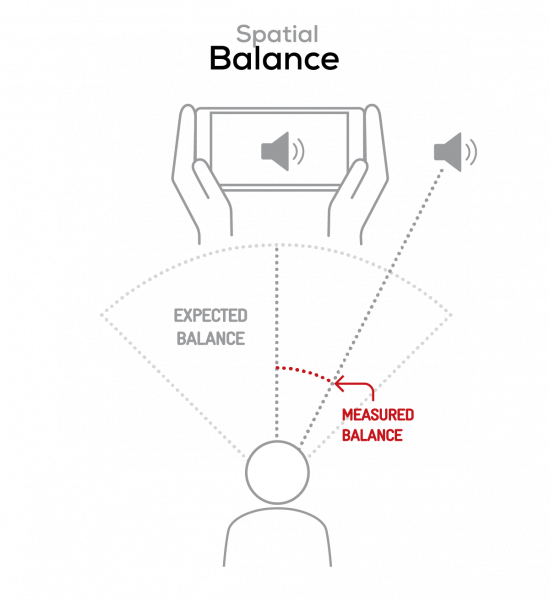 Very poor balance, especially when held in landscape mode.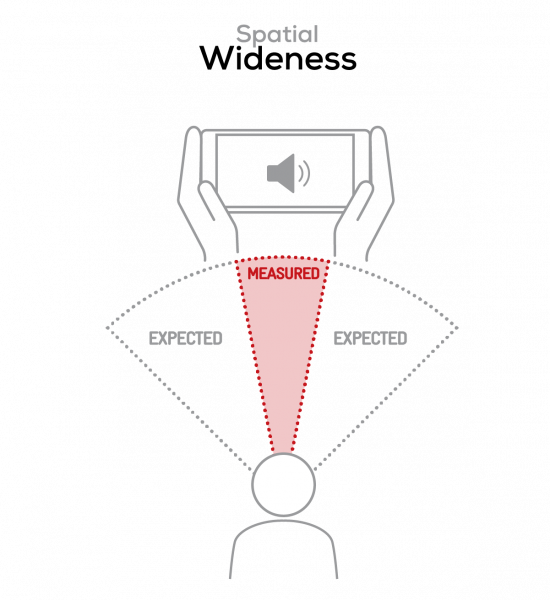 Almost no possibility for the listener to identify the location of audio sources.
Volume
Nubia RedMagic 7 Pro
Best: Nubia RedMagic 7 Pro (91)
Our Volume tests measure both the overall loudness a device is able to produce and how smoothly volume increases and decreases based on user input. This is another area in which the single-speaker design is an issue for the Mate 30 Pro. Its maximum loudness is well below that of other flagship phones, and interestingly, it is even below that of some other single-speaker devices.
The lowest volume settings are also too low, making it difficult to listen to quiet tracks, such as certain passages in classical music. On the plus side, the phone has a very linear response as you change volume levels. You can see the smooth change in volume in this chart of relative loudness for each setting:
Our objective measurements in our laboratories using recordings of both hip-hop and classical music played at the maximum user volume step made clear that maximum loudness is not impressive:
| | |
| --- | --- |
| Hip-Hop | Classical |
| 71.5 dBA | 68.3 dBA |
Artifacts
Xiaomi Redmi K50 Gaming
Best: Xiaomi Redmi K50 Gaming (113)
Our Artifacts tests measure how much source audio is distorted when played back through a device's speaker(s). Distortion can occur both because of sound processing in the device and because of the quality of the speaker(s). Overall, the Mate 30 Pro fares well here, with reasonably clean sound. There is some slight distortion and bass pumping at maximum volume, but nothing too disturbing.
Unsurprisingly, the phone's single-speaker design makes it very susceptible to sound distortion from occlusion if the phone is held with a hand covering the speaker.
Recording
Timbre
Honor Magic3 Pro+
Best: Honor Magic3 Pro+ (91)
The Mate 30 Pro does an impressive job of tonal reproduction when recording audio. Voices are clear thanks to very natural mid-range and precise treble reproduction. With 82 points, it achieved the highest Recording Timbre sub-score of any phone we have tested. Slightly detracting from its score is a tendency for some recordings to have too much treble and a slight lack of mid-range response.
In the comparison graph below, you can see the phone's excellent tonal reproduction, including capturing a higher range of frequencies than other devices:
Life video frequency response
Dynamics
Black Shark 5 Pro
Best: Black Shark 5 Pro (81)
The Mate 30 Pro does a decent job of suppressing noise and accurately recording desired audio. However, its noise cancellation algorithm can produce voice resonances when recording in noisy environments. This is especially true when recording videos with the main camera. Recorded sound envelopes are generally good, including accurate reproduction of hard sounds such as plosives. (Plosives, also called stop sounds, are consonants pronounced by first stopping airflow; examples in English include the p in plates and the d in don't.)
Spatial
Black Shark 4S Pro
Best: Black Shark 4S Pro (78)
Our Spatial sub-score measures how well a device creates a recording that allows a listener to accurately place sound sources within the real-world soundscape. The Mate 30 Pro does a good job of preserving sound stages when recording, including allowing listeners to perceive the location and distance of sound sources. Sound stage width is very good in most use cases, but could be improved when recording with the front camera.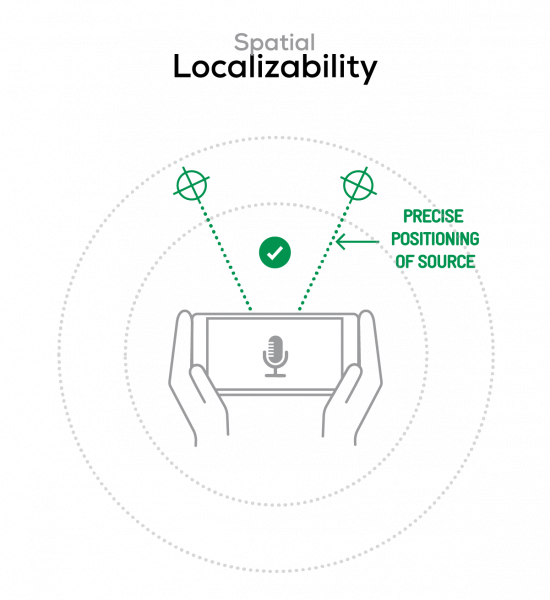 Good spatial localizability in recordings.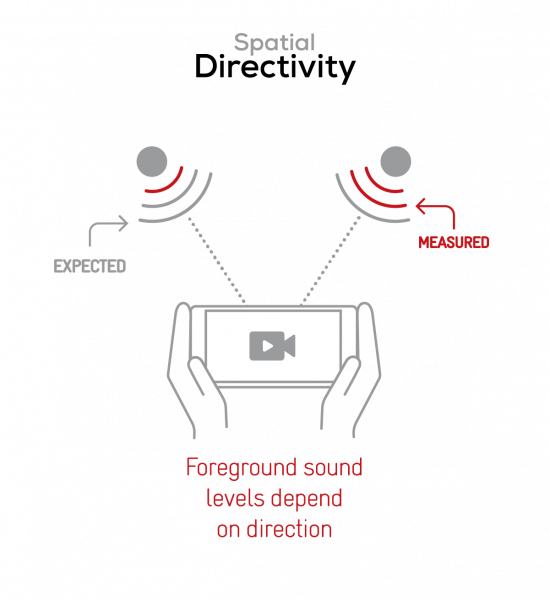 Sound levels in our video recording use cases vary depending on the direction of the sound.
Volume
Black Shark 5 Pro
Best: Black Shark 5 Pro (99)
Unlike with playback volume, recording volume is quite good, with relatively little distortion. This is illustrated in our test results, measured in LUFS (Loudness Unit Full Scale):
| | | | |
| --- | --- | --- | --- |
| Meeting | Life Video | Selfie Video | Memo |
| -15.9 LUFS | -15.5 LUFS | -13.5 LUFS | -15 LUFS |
Artifacts
Black Shark 5 Pro
Best: Black Shark 5 Pro (97)
Audio recorded with the Mate 30 Pro is relatively clean at most volume levels. However, there is audible bass distortion and pumping at high volume. Voice resonances are also sometimes audible, giving them an unnatural "robotic" quality. The phone is also highly susceptible to quality loss while recording voices when a finger moves around near the microphone.
You can hear some of the artifacts for yourself in this sample recording:
Background
Black Shark 5 Pro
Best: Black Shark 5 Pro (60)
Sound recording professionals often use highly-directional microphones to isolate sound sources and keep out background noise. Smartphones, however, rely on the same small microphones for everything, so suppressing background noise also relies heavily on the device's audio processing. The Mate 30 Pro does a good job in general of faithfully reproducing the tone of background sounds. However, it does suffer from some high- and low-frequency resonances, and its noise-cancelling algorithms can cause artifacts. It is also not as good as some other high-end devices (such as the Mate 20 X) at allowing the listener to identify the direction of background sounds .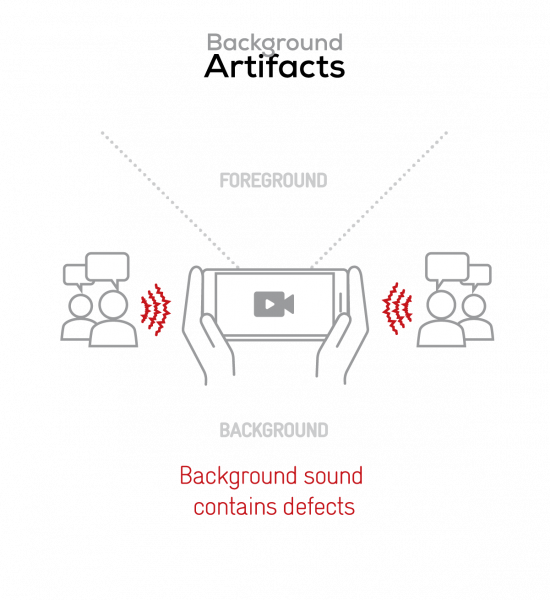 Some background artifacts are noticeable.
Conclusion
The Huawei Mate 30 Pro's multimedia audio quality results are dominated by the company's decision to equip it with only a single speaker. For starters, that means no stereo output, which greatly affects the quality of the user's experience when playing back movies, TV shows, and music. In many cases, it will also be an issue when playing games. Having a single speaker on the bottom of the phone also means that holding the phone in the most natural landscape position for watching traditionally-formatted video puts the speaker off to one side, making the listening experience a bit unnatural because of the unbalanced sound.
So if you're planning to use your phone to listen to media using its single speaker, the Mate 30 Pro isn't a great option. However, if you're more interested in using it for recording, its microphones are the best of any phone we have tested so far, with excellent frequency response and overall recording volume.
Playback
Pros
Good overall playback for a mono-channel device
Reasonable tonal reproduction and sound dynamics
Cons
Dramatic loss of audio quality at highest volume settings
Poor sound stage and balance due to mono speaker
Both maximum and minimum volume are too low
Recording
Pros
Excellent tonal reproduction
Very good loudness on recordings
Sound stage and dynamics match top-end devices
Cons
Tonal balance can be affected by excessive high frequencies
Noise cancellation causes voices to resonate, and creates some artifacts