Huawei tends to use the P-series models of its smartphones to showcase the company's latest mobile camera technologies. The Chinese company's flagship release this year, the P40 Pro, definitely raised the bar for smartphone image quality for both the main camera and front camera. Both cameras earned the top spots in DXOMARK's rankings in March.
Can the P40 Pro eke out another No. 1 ranking, this time in audio performance? Well… not quite.
Many top-end phones these days come with two speakers that produce stereo playback. So audiophiles are probably scratching their heads trying to figure out why Huawei released another flagship phone with only one speaker. Now, there's no question that when a high-end smartphone packs four or five cameras into a thin slab body, there's probably not much room left for another speaker on top of multiple microphones and antennas, but the P40 Pro's overall audio score took a significant hit because of the device's limited playback capabilities. (This said, the P40 Pro still managed to spring a surprise in audio when it came to recording.)
We put the Huawei P40 Pro through our rigorous DXOMARK Audio test suite to measure its performance both at recording sound using its built-in microphones, and at playing audio back through its one built-in speaker. In this review, we will break down how it fared in a variety of tests and several common use cases.
Key audio specifications include:
Mono speaker (bottom right, side-firing)
Multiple microphones
No headphone jack
About DXOMARK Audio tests: For scoring and analysis in our smartphone audio reviews, DXOMARK engineers perform a variety of objective tests and undertake more than 20 hours of perceptual evaluation under controlled lab conditions. This article highlights the most important results of our testing. Note that we evaluate both Playback and Recording using only the device's built-in hardware and default apps. (For more details about our Playback protocol, click here; for more details about our Recording protocol, click here.)
Test summary
59
audio
The Huawei P40 Pro achieved an overall Audio score of 59, on par with the Honor V30 Pro, a device from Huawei's sister brand. The P40 Pro's score was considerably lower than other top-end devices, whose overall audio scores were 70 and above. (We should note that the Huawei Mate 20X, with a dual-speaker configuration, is among the very best smartphones we have tested for audio.)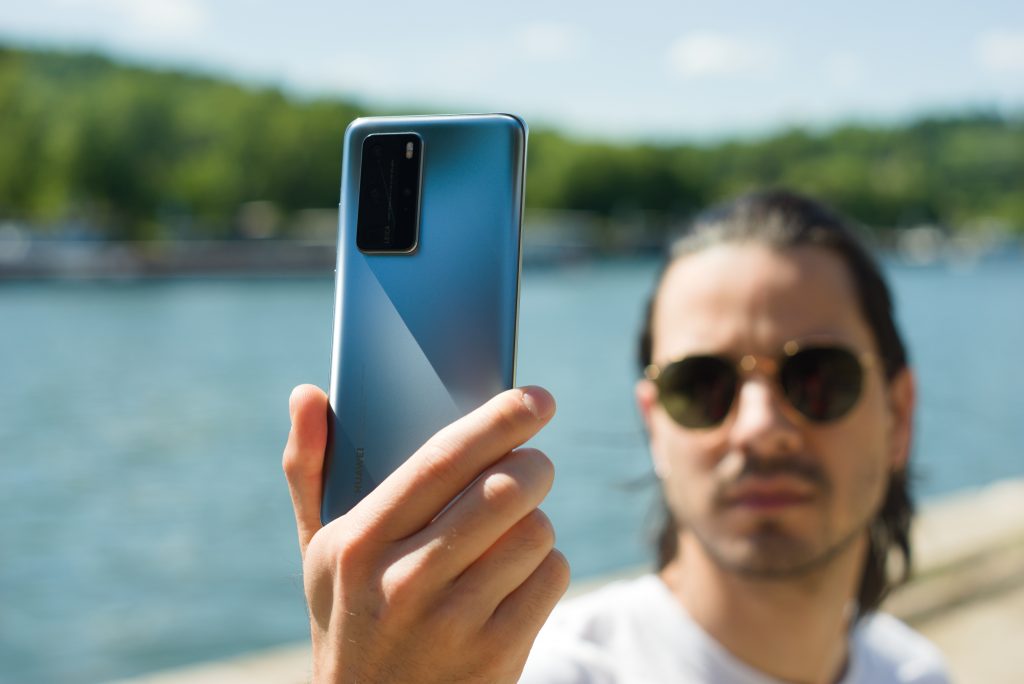 Evaluating the Huawei P40 Pro's audio recording quality in selfie mode
The P40 Pro achieved a Playback score of 54, brought down by its single speaker, which limited its performance in our spatial and volume tests.
The P40 Pro's Recording score, however, reached an impressive 74, sharing the No. 1 spot in our database with the Honor V30 Pro. The P40 Pro's recording capabilities were top-notch, especially in meeting and memo recording.
Sub-scores explained
The DXOMARK Audio overall score of 59 for the Huawei P40 Pro is derived from the Playback and Recording scores and their respective sub-scores. In this section, we will take a closer look at these audio quality sub-scores and explain what they mean for the user.
Playback
Timbre
Black Shark 5 Pro
Best: Black Shark 5 Pro (89)
DXOMARK timbre tests measure how well a phone reproduces sound across the audible tonal range and takes into account bass, midrange, treble, tonal balance, and volume dependency.
For this attribute, we found the Huawei P40 Pro delivered above-average performances for a mono speaker device. Tonal balance was basically clean, even though there was a lack of bass. Still, we can't say that the lack of bass is only because of the sole speaker: other one-speaker smartphones have received higher bass ratings for delivering good, albeit limited bass.
There was good midrange/treble balance, but some lack of high-end extension was noticeable. In the movie use case, voices hissed at times. At maximum volume, the high-midrange was too prominent and aggressive, as we also noticed in the games use case.
Music playback frequency response
Dynamics
Black Shark 5 Pro
Best: Black Shark 5 Pro (81)
Our dynamics tests measure how well a device reproduces the energy level of a sound source.
Muffled trebles impaired attack, which made it hard to hear short transients. Like a domino effect, dynamics were affected by bass precision, which was impaired by the lack of bass extension. The lack of bass extension also diminished punch, especially at soft and maximum volumes.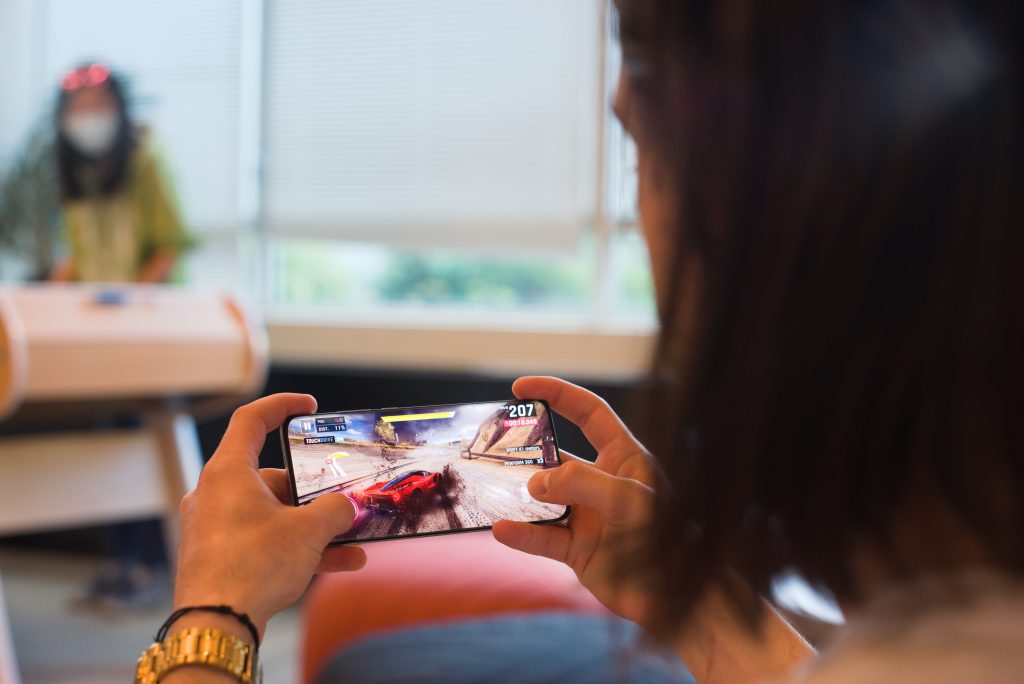 Playing a game on the Huawei P40 Pro
Spatial
Black Shark 5 Pro
Best: Black Shark 5 Pro (88)
Spatial was the attribute that took the biggest hit from the P40 Pro's single speaker. Wideness is basically nonexistent and localizability is severely impaired because it is nearly impossible to tell where audio sources are.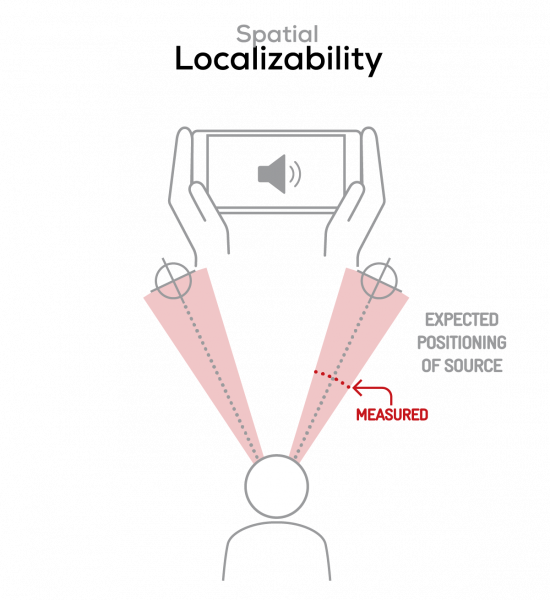 Poor spatial localizability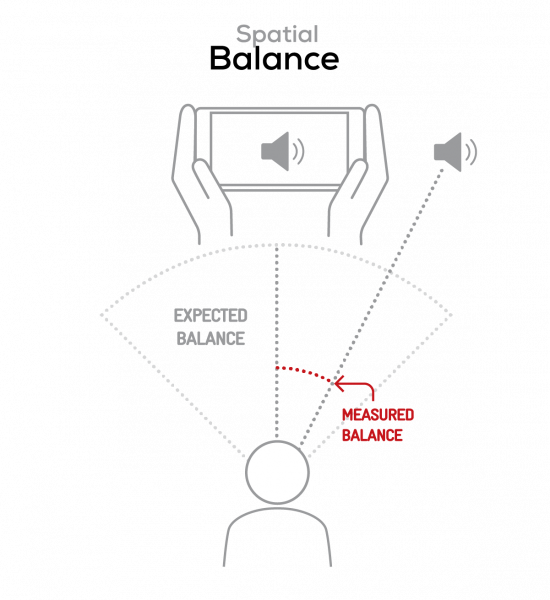 The mono speaker also affects balance, as centered elements tend to be shifted to the position where the only speaker is located – at the bottom right of the phone.
Although the P40 Pro's audio performance is very much like the Honor V30 Pro's, which reproduced distance well, we found that the P40 Pro's imprecise midrange impairs distance, as voices tend to be perceived a bit farther away from the device.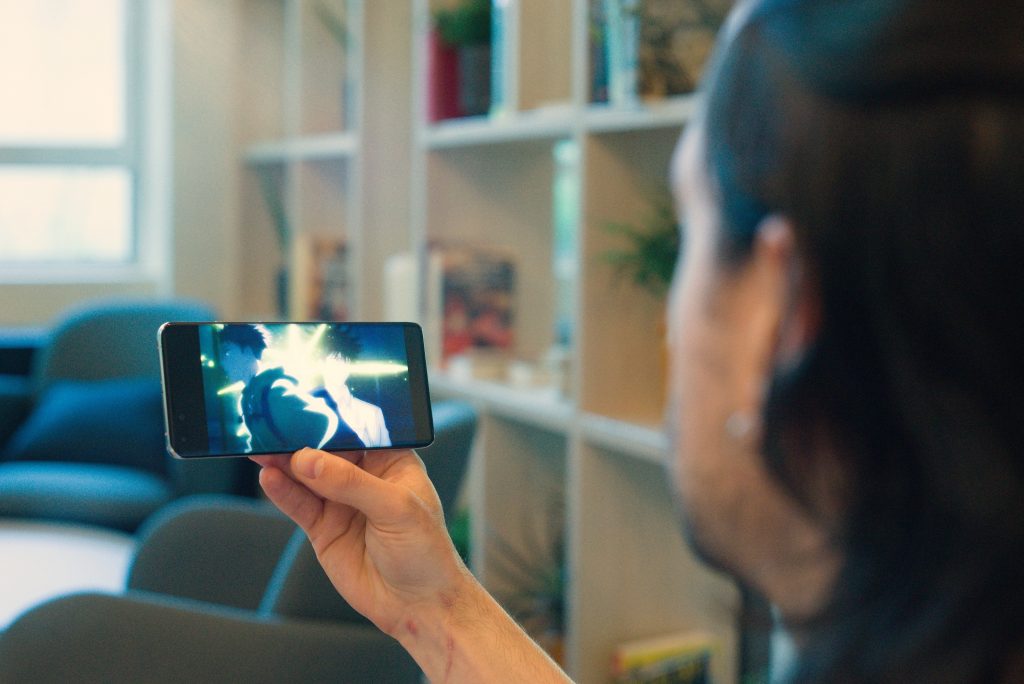 In the movie use case, voices were sometimes accompanied by a hissing sound.
Volume
Nubia RedMagic 7 Pro
Best: Nubia RedMagic 7 Pro (91)
Our volume tests measure both the overall loudness a device is able to produce and how smoothly volume increases and decreases based on user input.
The P40 Pro performed well in this respect. Noticeable compression appeared at maximum volume with loud content like hip-hop music. However, minimum volume was too low, and as a result, soft sounds like those often found in classical music were difficult to distinguish and hear properly.
Maximum volume is noticeably lower than that of most high-end devices. Here are a few of the objective measurements we carried out in our laboratories, using recordings of both hip-hop and classical music played at the maximum user volume step:
| | |
| --- | --- |
| Hip-Hop | Classical |
| 72.8 dBA | 70.9 dBA |
Artifacts
Xiaomi Redmi K50 Gaming
Best: Xiaomi Redmi K50 Gaming (113)
Our artifacts tests measure how much source audio is distorted when played back through a device's speaker. Distortion can occur both because of sound processing in the device and because of the quality of the speakers.
When it comes to audio artifacts, the P40 Pro did very well. There were very few temporal artifacts; indeed, the only artifact was slight pumping at maximum volume. However, it should be noted that the speaker's position makes it easy to be occluded by the user.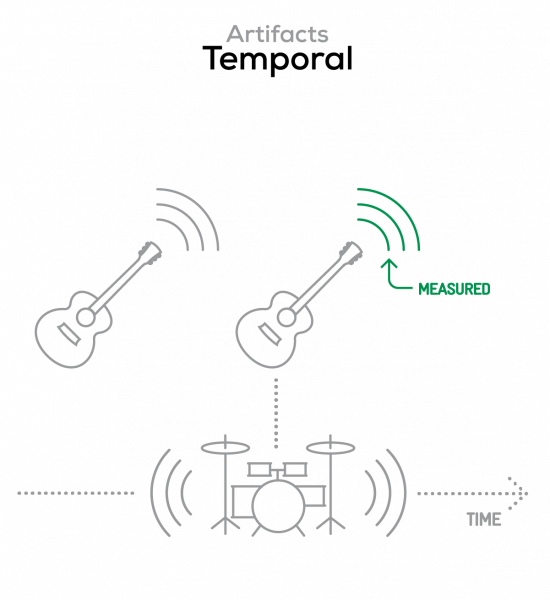 Volume levels are consistent.
Recording
Timbre
Honor Magic3 Pro+
Best: Honor Magic3 Pro+ (91)
The P40 Pro's performance was great in timbre, particularly in meeting room and memo recording scenarios, where it outscored other phones in our life video and selfie video use cases, as well as in electronic concert recording.
In perceptual testing, midrange and treble were good and steady, except for life video recording, where midrange tended to be too prominent. High sound pressure level (high-SPL) scenarios resulted in precise trebles and natural midrange; bass extension was also precise and well preserved.
Life video frequency response
Dynamics
Black Shark 5 Pro
Best: Black Shark 5 Pro (81)
The P40 Pro had a good envelope in every app despite some midrange resonances in life video recordings. Slight imperfections in bass, however, affected the quality of speech and the envelope in general. The signal-to-noise ratio was good, with voices intelligible despite a loud background. The phone still achieved a good envelope in high-SPL scenarios, mainly because of high-end quality and precise plosives.
Spatial
Black Shark 4S Pro
Best: Black Shark 4S Pro (78)
Unlike in Playback, the P40 Pro's spatial results in recording were above average, but still not quite as good as on the Honor V30 Pro. While both phones exhibited narrow wideness in the spatial recording measurement, the P40 Pro also had issues with distance, especially when recording selfie videos.
In life video recording, we saw below-average localizability and wideness. Distance was also impaired by the tonal balance, because voices sounded farther away than the actual references.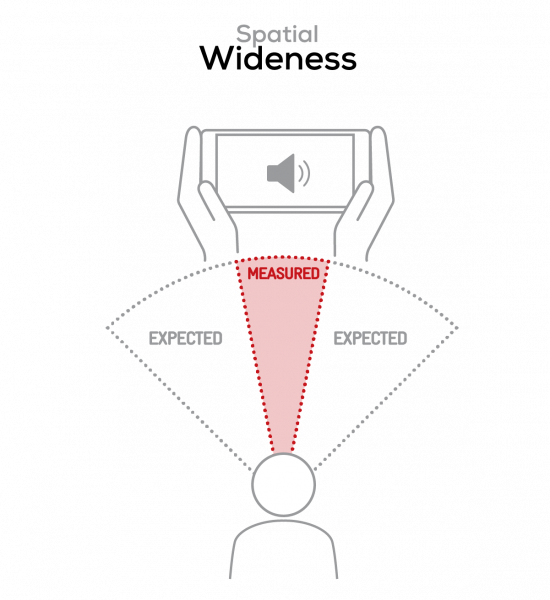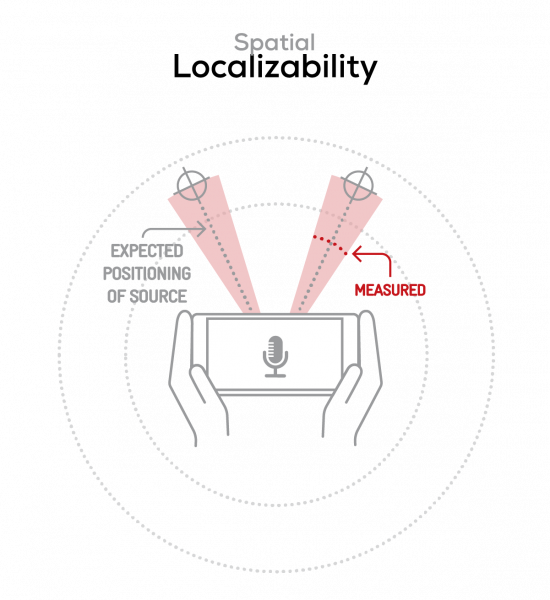 Poor spatial localizability
Volume
Black Shark 5 Pro
Best: Black Shark 5 Pro (99)
Overall, the P40 Pro achieved good volume performances even though loudness was a bit lower than the best phones. Nominal volume is good, but recording high-volume content such as a concert is a bit more challenging.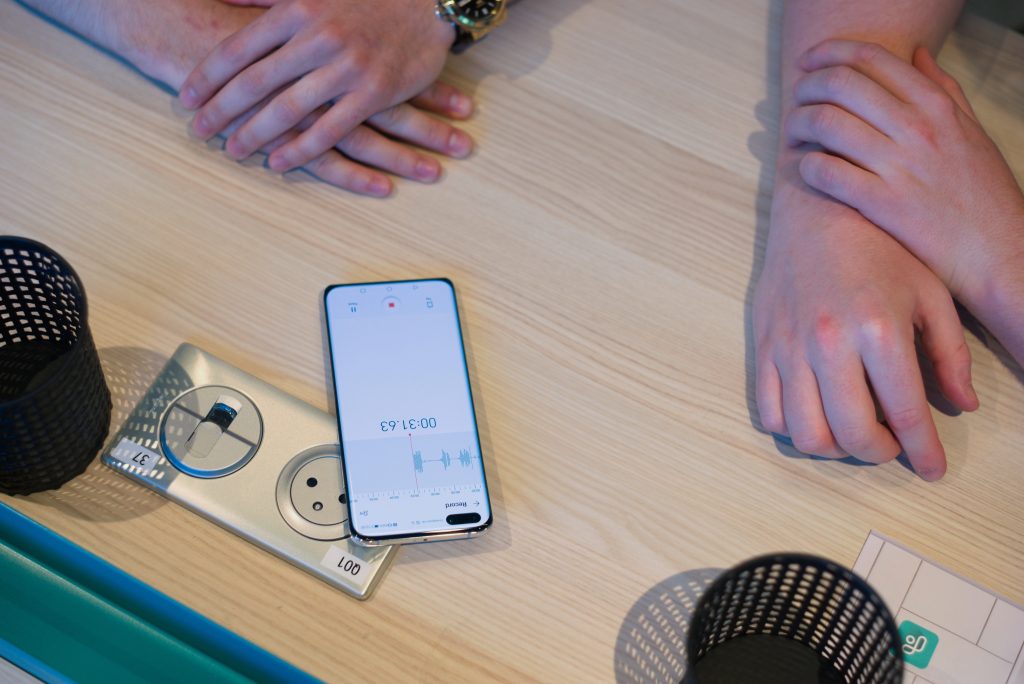 Meeting room recording was excellent.
Here are our test results, measured in LUFS (Loudness Unit Full Scale); as a reference, we expect loudness levels to be above -24 LUFS for recorded content:
| | | | |
| --- | --- | --- | --- |
| Meeting | Life Video | Selfie Video | Memo |
| -24 LUFS | -20.1 LUFS | -19 LUFS | -19.5 LUFS |
Artifacts
Black Shark 5 Pro
Best: Black Shark 5 Pro (97)
Overall, there were few temporal artifacts, but our engineers noticed some spectral artifacts such as clipping and distortion on loud content. The P40 Pro handled high-SPL scenarios well, with very few artifacts. However, occlusion can be a problem, with finger noises producing a lot of artifacts in every recording situation.
Background
Black Shark 5 Pro
Best: Black Shark 5 Pro (60)
Background performance was below average, with sounds that were amplified for no good reason. In videos filmed with the main camera (life video), background performance was impaired by resonances and noise-canceling artifacts in loud urban environments. The process of noise canceling, or removing noise, actually introduced new artifacts. Imprecise rendering produced muffled sounds and rumbles as well as unnaturally wavy sounds, especially in life video and selfie video tests.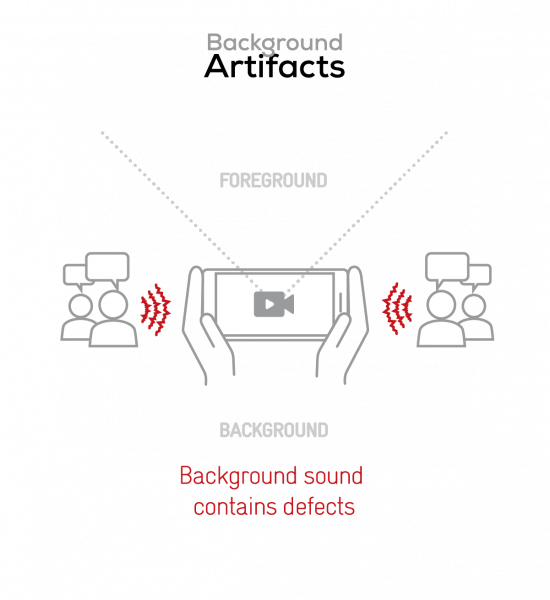 Artifacts are audible in the background.
Conclusion
While the P40 Pro is an outstanding smartphone for still image capture, that has come somewhat at the expense of audio quality, particularly when it comes to speaker playback.
The P40 Pro's overall audio performance is a mix of highs and lows. Multimedia playback is where users will clearly notice the drawbacks of having only one speaker on an otherwise top-end phone. For those who use their phones mainly to watch movies, listen to music or play games, the P40 Pro's mono speaker will leave them desperately wanting for more in audio playback, especially when they compare the audio sound with other phones, such as the Xiaomi Mi 10 Pro, or just about any current iPhone. P40 Pro users are better off pairing their earphones to the device for a fuller and more enjoyable audio experience. That said, its results were in line with other single-speaker devices.
Despite the drawbacks in playback, for now Huawei can lay claim to sharing the No. 1 spot with the Honor V30 Pro in Recording, where the device excelled, especially in business-like situations such as meetings or memo recording. The audio performance for casual everyday video recording is also good, as long as you don't expect much from the playback.
Playback
Pros
Good timbre performance for a mono speaker device
Well-controlled artifacts
Cons
Spatial performance
Limited performance in dynamics
Single speaker is easy to occlude
Recording
Pros
Overall good performance in all use cases
Good timbre performance
Excellent dynamics
Cons
Imprecise background rendering
Narrow wideness in selfie videos
In the Press