Chinese technological powerhouse Huawei, which has become a worldwide leading smartphone brand, is now making a bold move into the speaker market. In July, it released its first wireless speaker, the Huawei Sound X. The device functions as a smart speaker only in China, with the assistance of Xiaoyi, while the rest of the world must make do with the Sound X as a wireless speaker.
Co-engineered with trendy French audio tech company Devialet, which specializes in high-end amplifiers and speakers, the Sound X vouches for the Chinese company's commitment to audio quality. Thanks to Devialet's Push-Push acoustic design (side-mounted drivers vibrating simultaneously and symmetrically, in order to cancel-out resonances), the 3.5-inch woofers are said to  produce "massive vibrations," bass that "hits as low as 40 Hz," and "powerful punch" with minimized distortion, regardless of the volume. As for the six 1.5-inch full-range drivers sitting atop the speaker, they promise a "clear, nuanced sound" that reaches up to 40 kHz (as a reference, the commonly stated range of human ear is only 20 Hz to 20 kHz), and a 360° sound "creating a tremendous sense of space."
To check all those promises (and more), we put the Huawei Sound X through our rigorous DXOMARK  Speaker test suite. In this review, we will break down how it fared at audio playback in a variety of tests and several common use cases.
Key specifications include:
Two 3.5-inch woofers and six 1.5-inch full-range drivers
Bluetooth 5.1, Hi-Link connection available only in China
No battery
Xiaoyi assistant (available only in China)
203 mm (height) x 165 mm (diameter)
3.5 kg
Test conditions:
Tested with Motorola G8
Communication protocol used: Bluetooth
Firmware version: QPJS30.63-35-1-9
About DXOMARK Wireless Speaker tests: For scoring and analysis in our wireless speaker reviews, DXOMARK engineers perform a variety of objective tests and undertake more than 20 hours of perceptual evaluation under controlled lab conditions. This article highlights the most important results of our testing. Note that we evaluate playback using only the device's built-in hardware. (For more details about our Speaker protocol, click here.) The Huawei Sound X falls into the Advanced category of devices in the DXOMARK Speaker rankings.
Test summary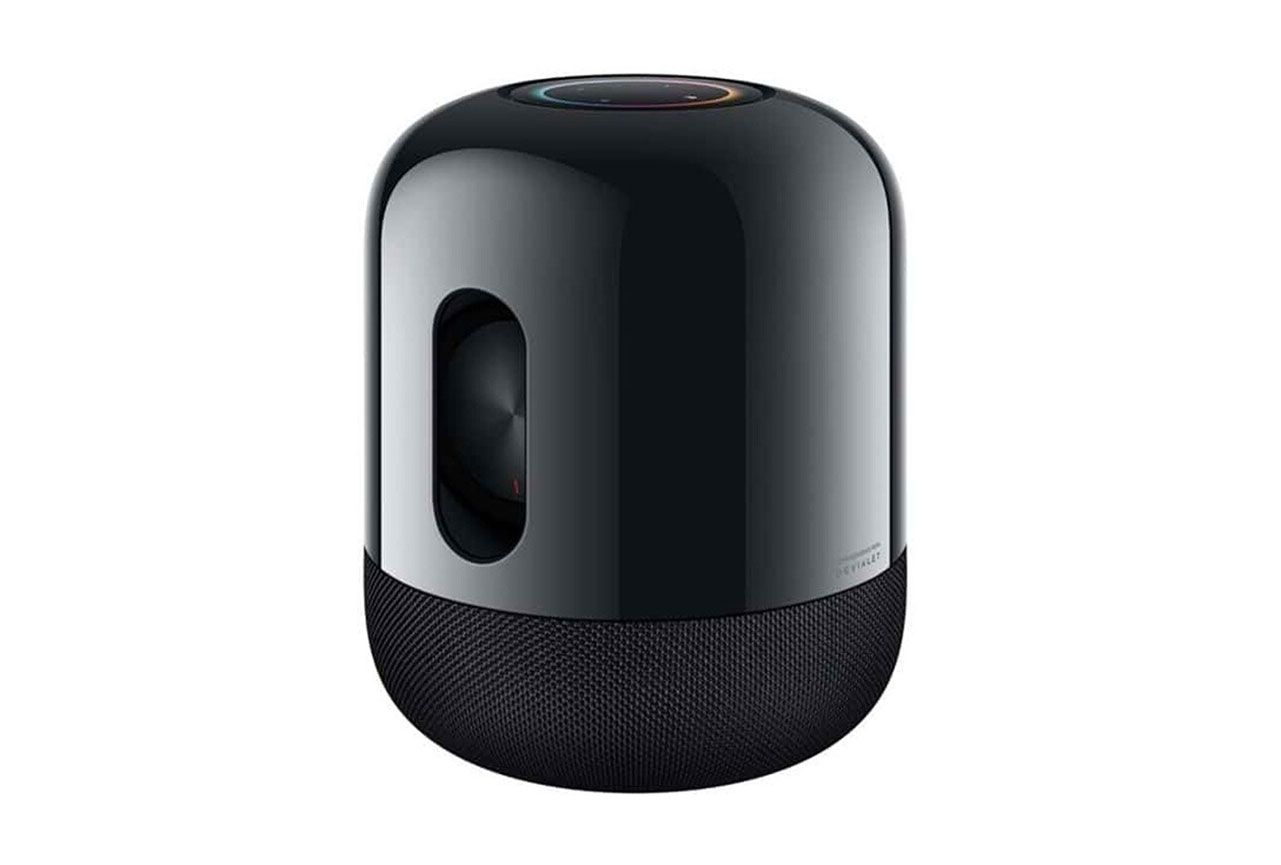 Huawei Sound X
126
speaker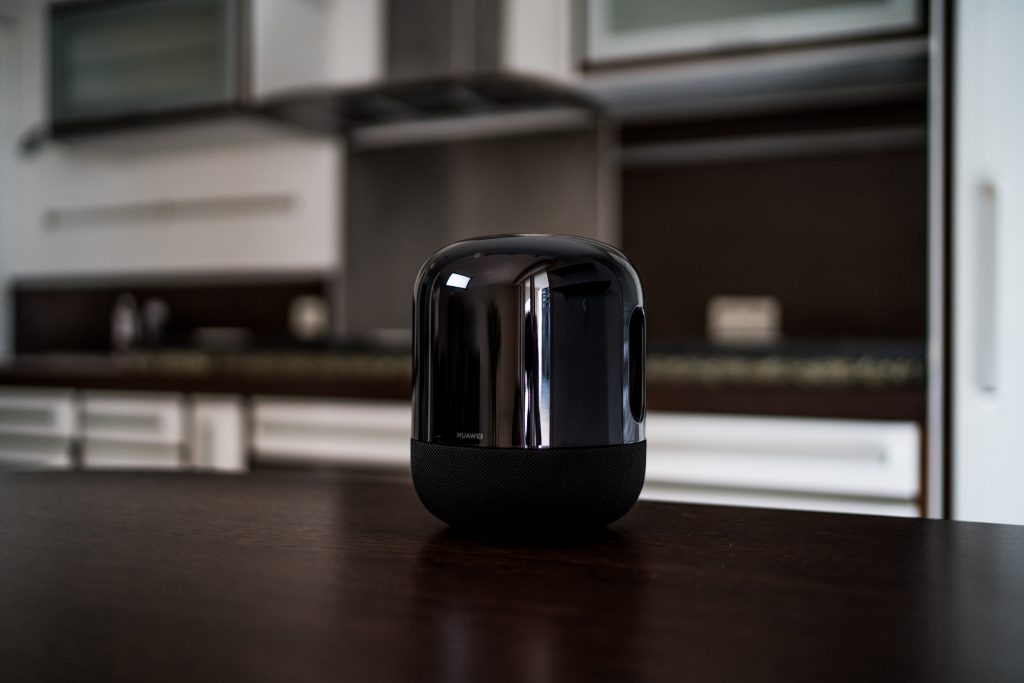 Huawei's Sound X delivers loud maximum volume and true omnidirectional sound.
Despite its small form factor, Huawei's first wireless speaker delivers a very good maximum volume and true 360° sound. In the timbre area, the slick black cylinder ensures deep low-end extension, decent overall tonal balance, and clear, precise treble. Furthermore, punch is powerful, volume consistency is very good, and there are no perceivable temporal artifacts (such as compression) — except when watching movies. Attack is also good, especially for high-pitched instruments.
At loud volumes, however, high mids become quite aggressive, impair tonal balance, and lessen directivity, while bass precision is affected by low-end resonances and distortion. All those shortcomings make the Sound X rather unsuitable for parties. Furthermore, regardless of the listening level, low midrange frequencies are lacking, resulting in a slightly nasal sound. Finally, distance perception is slightly unrealistic, as voices seem to come from beyond the speaker position.
Sub-scores explained
The DXOMARK Speaker overall score of 126 for the Huawei Sound X is derived from a range of sub-scores. In this section, we will take a closer look at these audio quality sub-scores and explain what they mean for the user, and we will show some comparison data from two of the Huawei Sound X's principal competitors in the Advanced category, the Apple HomePod and the Bose Home Speaker 500.
Playback attribute comparisons
Timbre
126
Bowers & Wilkins Formation Wedge
DXOMARK timbre tests measure how well a speaker reproduces sound across the audible tonal range and takes into account bass, midrange, treble, tonal balance, and volume dependency.
Playback timbre comparison
With a sub-score of 126, the Sound X performs above average in the timbre area. Despite a slight lack of bass at quiet volumes and a few resonances at nominal volume, which are both to be expected considering the device's size, the woofers do indeed deliver deep low-end extension and good bass. Treble is clear and precise, and fares particularly well in pop and electronic tracks.
Music playback frequency response
At loud volumes, harmonic distortion is noticeable in the low-end of the spectrum, and high mids tend to be too prominent. The overall tonal balance is affected by a lack of low midrange frequencies (from 250 Hz to 500 Hz, which is where the fullness of the sound resides), inducing a slightly nasal sound.
Dynamics
111
Bowers & Wilkins Formation Wedge
Our dynamics tests measure how well a device reproduces the energy level of a sound source, taking into account attack, bass precision, and punch.
Playback dynamics comparison
As advertised by Huawei, the Sound X does in fact deliver powerful punch — in fact, "punch" is the dynamics sub-score in which the speaker rates highest. Attack is also precise for high-frequency instruments (such as hi-hat cymbals), but less so in the midrange frequencies.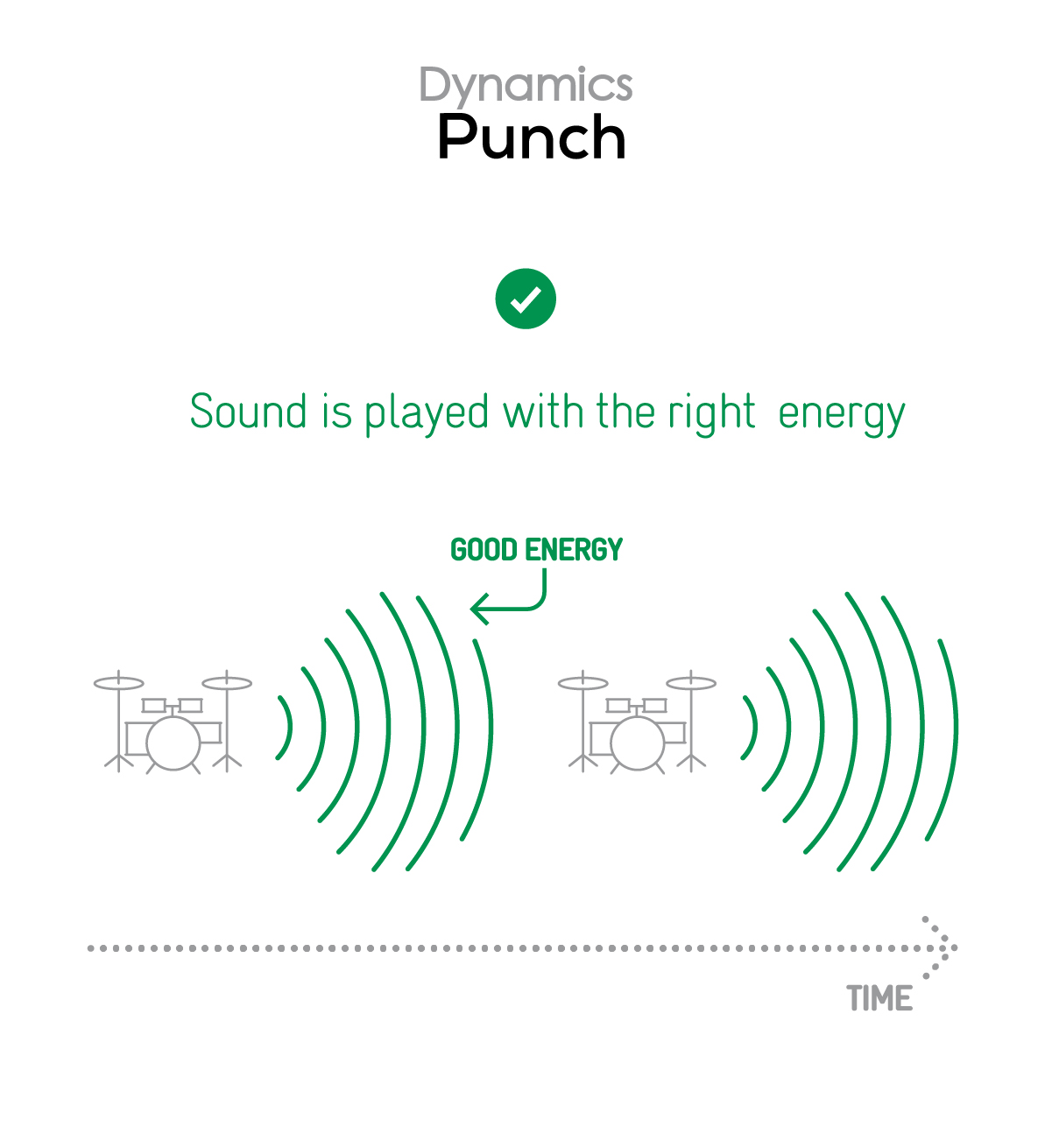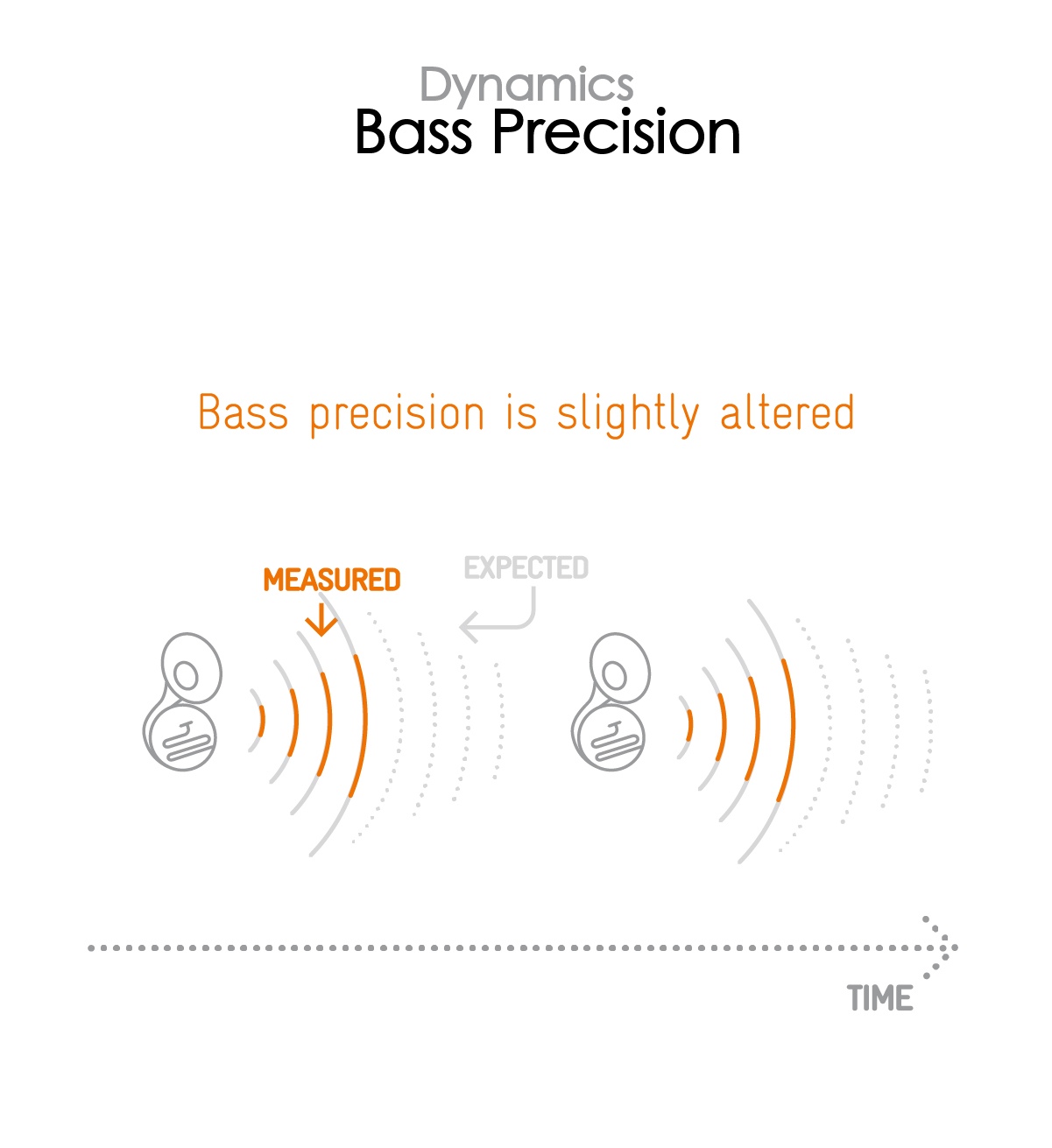 As expected, the bass precision sub-score is impaired by low-end resonances and distortion, by the slight lack of bass at quiet volumes (for example, in our bedtime scenario), and by the harshness of high-mids at loud volumes, which tend to blur low-end accuracy and intelligibility by their prominence.
Spatial
84
Bowers & Wilkins Formation Wedge
Our Spatial tests measure a speaker's ability to reproduce stereo sound in all directions, taking into account localizability, balance, wideness, distance, and directivity. Please note that wideness is 0 on mono speakers and speakers that cannot deliver a significant stereo effect.
Playback spatial comparison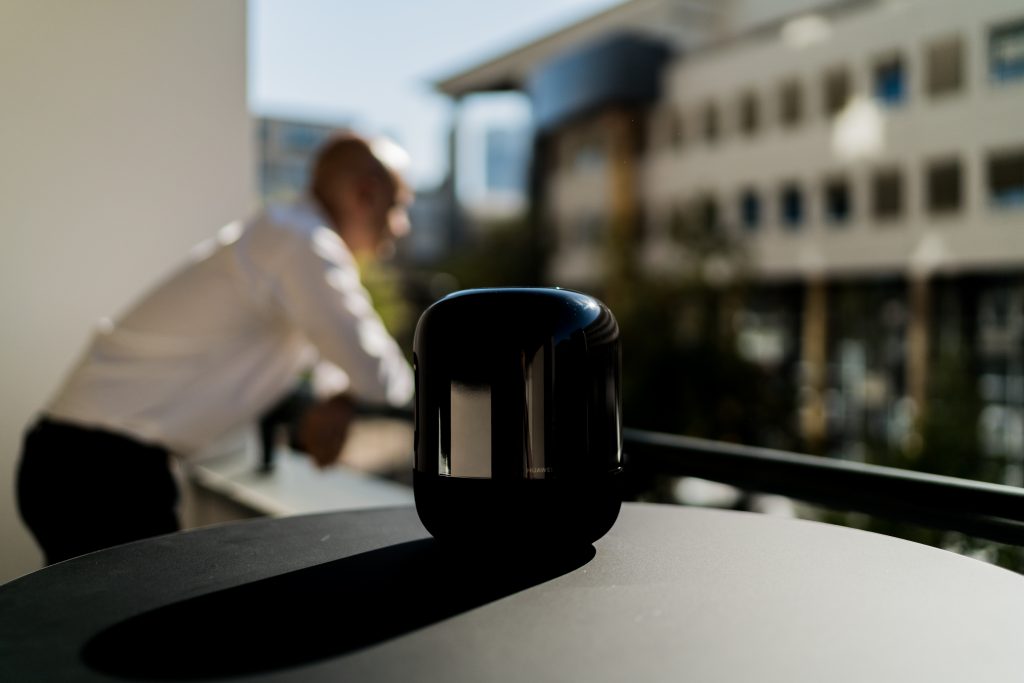 The Sound X's directivity depends on the listening volume.
At soft volume, the Sound X delivers consistent sound regardless of the listener's position around the speaker, which makes it particularly suitable for a friendly small-group gathering.
However, at loud volumes, be aware that the previously mentioned high midrange resonances affect directivity, especially when you are standing to either side of the speaker (in other words, off-axis).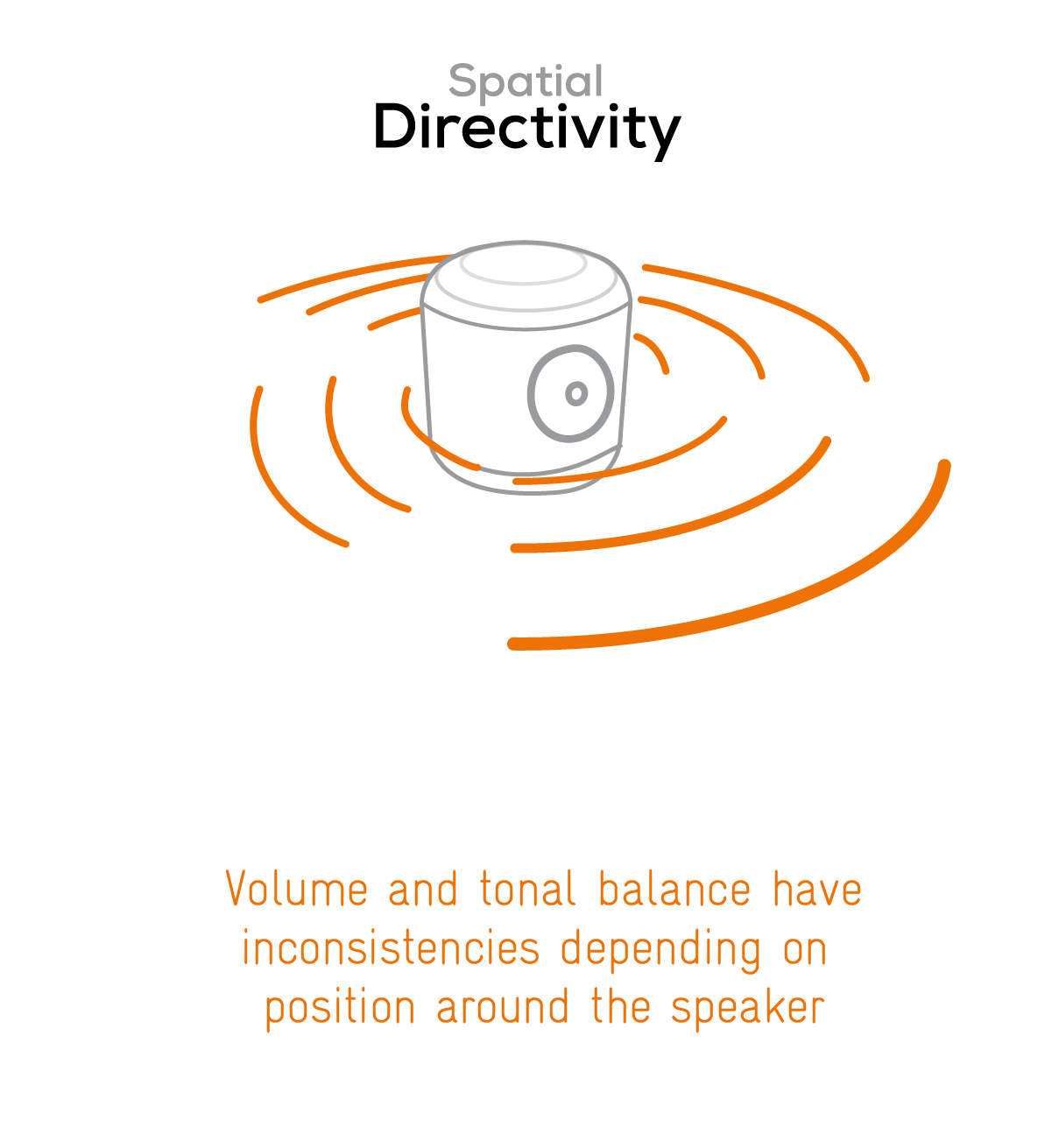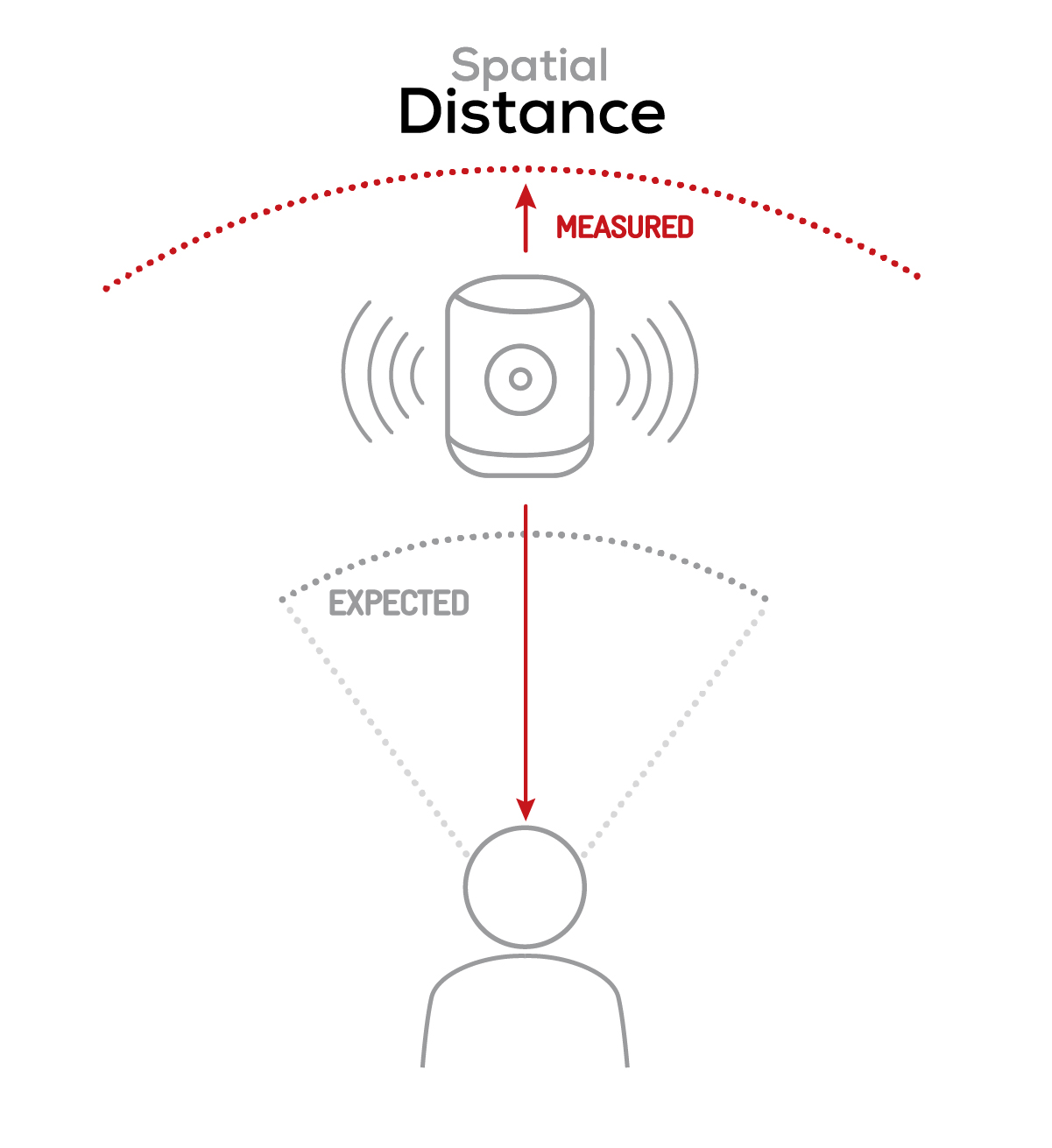 The lack of low mid frequencies affects the perceived distance by altering the vocal presence: voices tend to sound farther away than the speaker position.
Volume
104
Bluesound Pulse Mini 2i
Our volume tests measure both the maximum loudness a speaker is able to produce and how smoothly volume increases and decreases based on user input.
Playback volume comparison
Playback volume consistency comparison
The Sound X exhibits exemplary volume curve linearity, with highly consistent volume steps. The maximum volume delivered by the eight embedded drivers is very good — but doesn't quite rise to the level of "enormous sound" and "massive vibrations," as claimed. But it is still highly satisfactory for the speaker's size. Here are a few sound pressure levels (SPL) measured when playing our sample recordings of hip-hop and classical music at maximum volume:
| | | | | | | |
| --- | --- | --- | --- | --- | --- | --- |
| | Correlated Pink Noise | Uncorrelated Pink Noise | Hip-Hop | Classical | Latin | Asian Pop |
| Huawei Sound X | 83.7 dBA | 82.1 dBA | 81.6 dBA | 76.4 dBA | 82.8 dBA | 75.6 dBA |
| Apple HomePod | 78.3 dBA | 76 dBA | 77.4 dBA | 69.6 dBA | 79 dBA | 71.5 dBA |
| Bose Home Speaker 500 | 84 dBA | 81.9 dBA | 82.3 dBA | 78.2 dBA | 83.2 dBA | 75.4 dBA |
Artifacts
Our artifacts tests measure how much source audio is distorted when played back, along with such other sound artifacts as noise, pumping effects, and clipping. Distortion and other artifacts can occur both because of sound processing and because of the quality of the speakers.
Playback artifacts comparison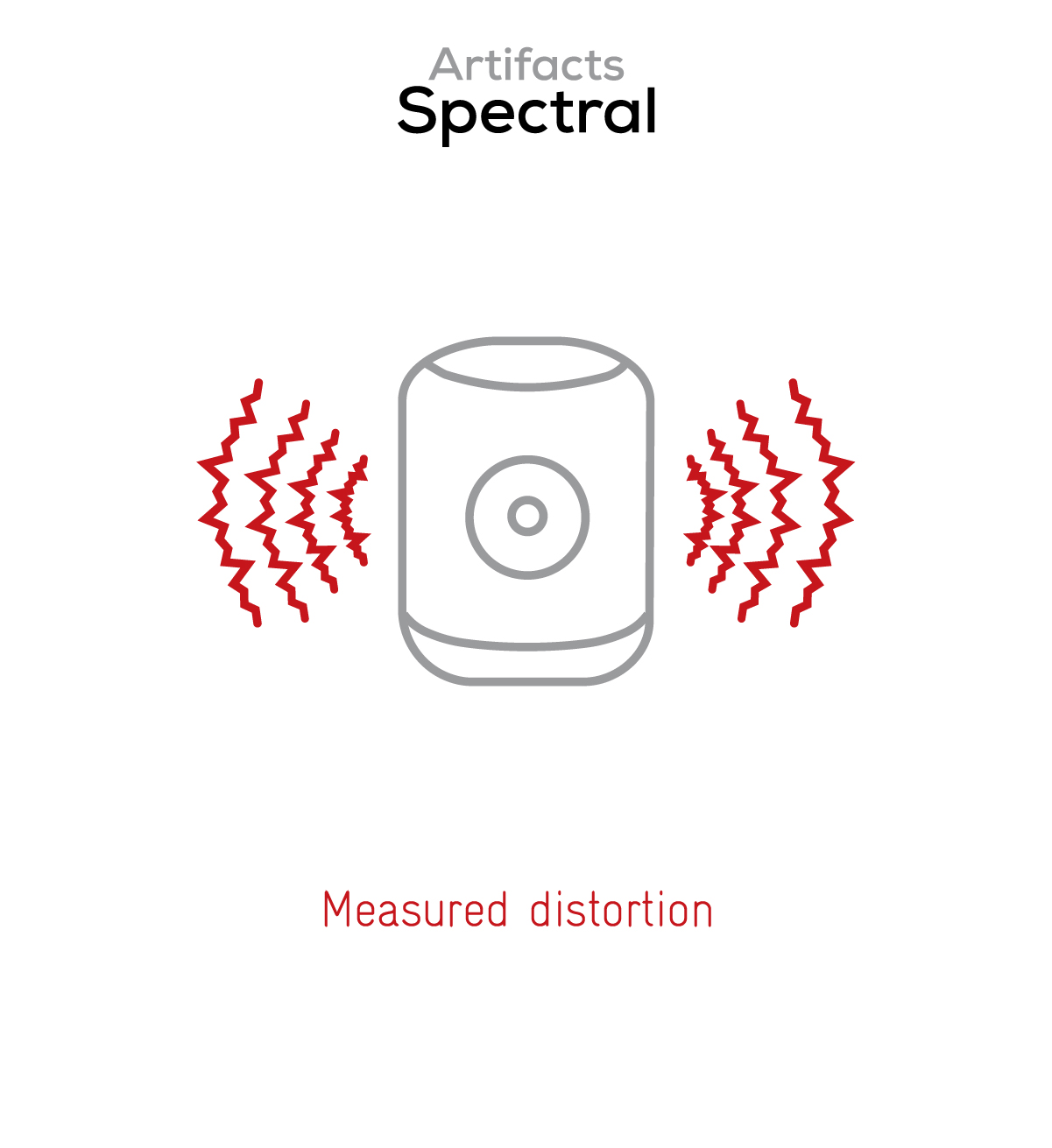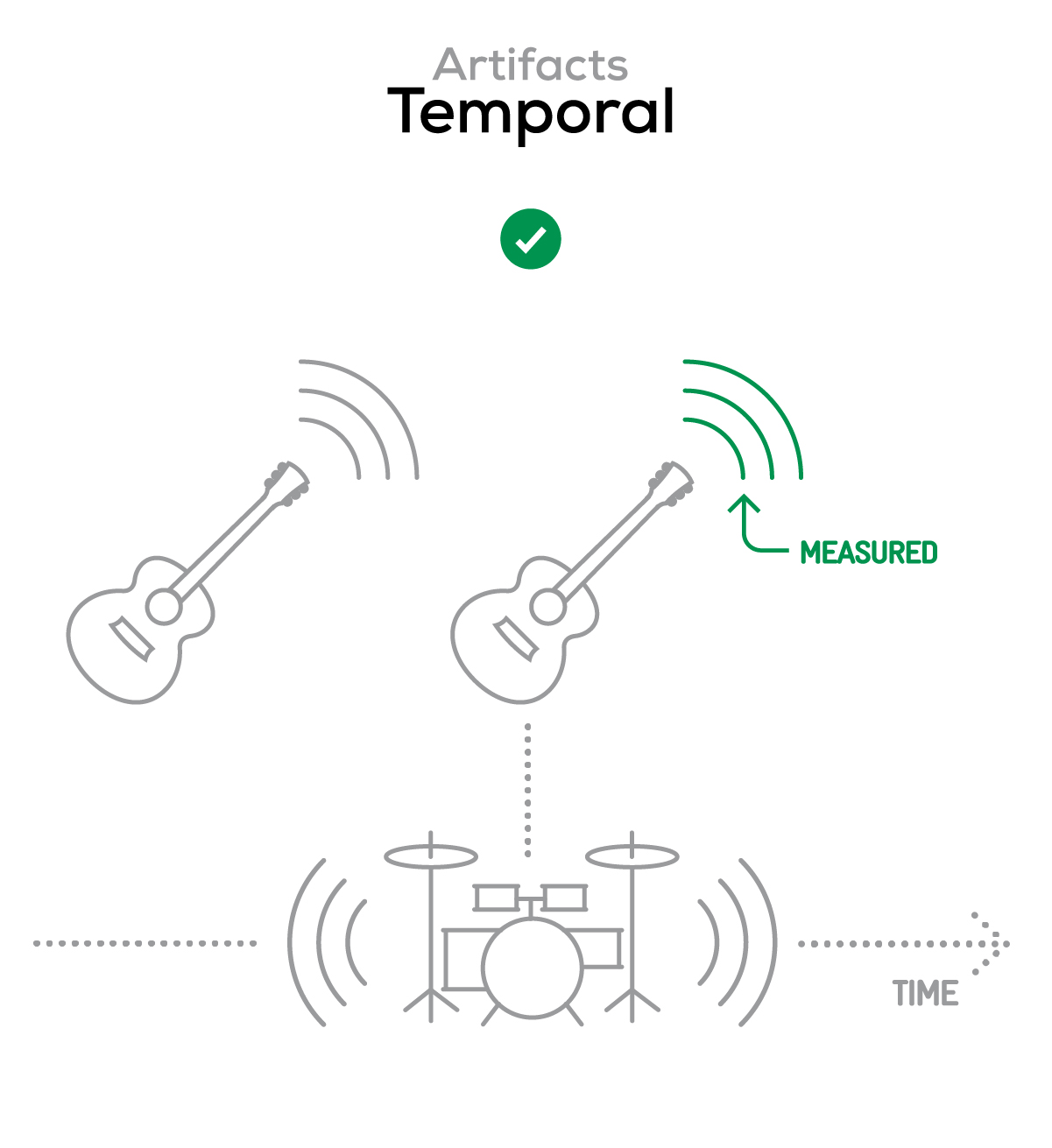 Playback total harmonic distortion
Despite teaming up with Devialet, the Sound X suffers from spectral artifacts, particularly perceivable at loud volumes on the low end of the spectrum.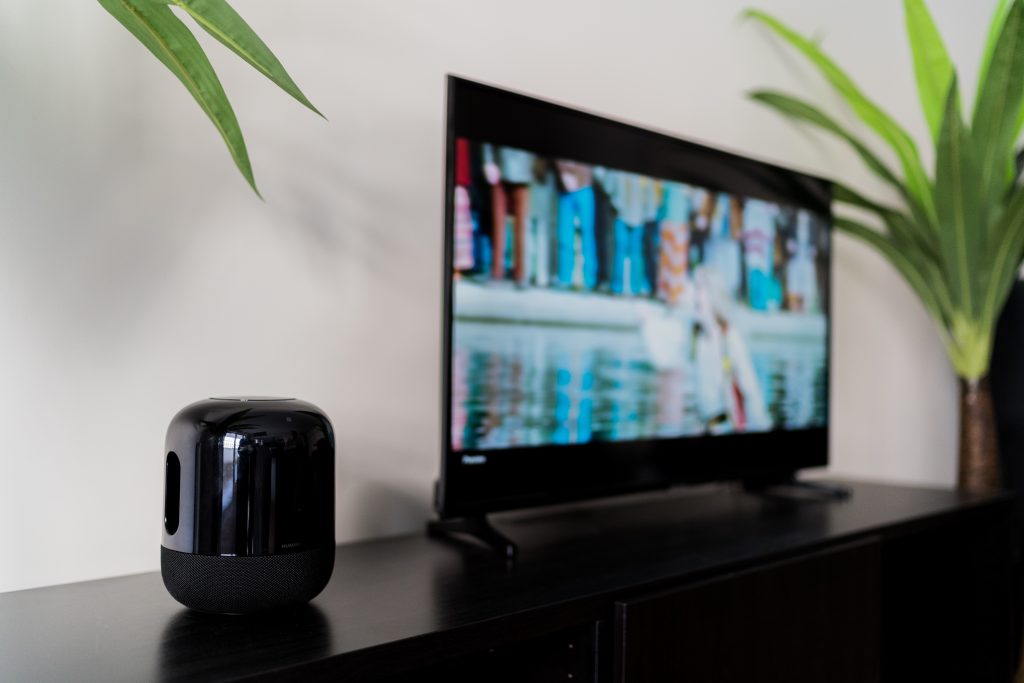 No temporal artifacts are noticeable except when watching movies
On the other hand, we noticed no temporal artifacts such as compression at any volume, nor for any music genres and use cases, except when watching movies. However, occasional static noise can be heard at quiet volume.
Conclusion
"Party anytime, anywhere" is what Huawei says you can do with the Sound X. While it has very good maximum volume for its size, powerful punch, deep low-end extension, and true 360° reproduction, we found that a party scenario exposes the Sound X's limitations, given the harshness of its high midrange frequencies at loud volumes.
In addition, the overall tonal balance is affected by a lack of low midrange frequencies, resulting in a slightly nasal sound. That all said, in addition to its good qualities mentioned just above, the Sound X brings with it clear and precise treble, good attack for high-pitched instruments, and very few temporal artifacts — all adding up to a speaker suitable for friendly small gatherings, relaxing at home, and even for outdoor uses.
Pros
Punch is impactful. It conveys good energy and strength for dynamic content.
Sound is reproduced consistently at 360° around the speaker.
High-pitched instruments' attack is sharp.
Deep low-end extension and good bass
Cons
At nominal volume, sound is slightly nasal and canny.
At loud volumes, midrange frequencies become very harsh.
Low-end resonances and harmonic distortion from nominal to loud volumes.