The Energizer brand has developed a series of alternative smartphones, offering rugged construction and super-long battery life. The Energizer E520 boasts a military-grade MIL-STD-810G certified shockproof construction, dust- and waterproof up to 1.5m for 30 minutes, and a 4000mAh Li-Ion battery that runs for 17.5 days in standby mode as well as offering over 31 hours' talk time on 2G, or 15 hours on 3G.
The camera specs are fairly basic, however, featuring a 13Mp single-camera rear shooter, a 5Mp front-facing "selfie" camera, and 1080p@30fps video capture. Running Android 6.0 (Marshmallow) and powered by a Mediatek MT6737 chipset, the E520 also lacks some of the power of mid-range rivals, but in fairness, the device is all about build quality and battery life.
Our engineers have been busy coming to grips with the E520's photography features, running it though our industry-standard testing protocol, and we can share the results in our quick roundup review.
Key camera specifications:
Single rear camera with 13Mp sensor
5Mp front camera
1080p@30fps video
LED flash
IP68-certified dust- and waterproof (up to 1.5m for 30 mins)
MIL-STD-810G compliant
About DxOMark Mobile tests: For scoring and analysis in our smartphone camera reviews, DxOMark engineers capture and evaluate over 1500 test images and more than 2 hours of video in both controlled lab environments and in natural indoor and outdoor scenes. This article is designed to highlight the most important results of the testing. For more information about the DxOMark Mobile test protocol, click here.
Test summary
The Energizer E520 achieves an overall DxOMark mobile score of 49 points and is well-balanced between stills and movies, with a Photo score of 48 and a Video score of 52 points.
For stills, the E520's key strength is color, with fairly accurate white balance in most conditions, as well as vivid color rendering in indoor and outdoor shots. Exposures can be acceptable in well-balanced lighting, but the E520 struggles in challenging conditions, with very limited dynamic range in high-contrast scenes and noticeable underexposure in low light. Other opportunities for improvement include autofocus, which is slow and often inaccurate; flash images that show underexposure and a lack of detail; and visible differences in sharpness across the frame.
Shooting video, color is also good, thanks to neutral white balance in outdoor and indoor videos. Video exposures are good indoors, but again, dynamic range is limited when shooting video in high-contrast lighting. Autofocus instabilities with subject tracking errors, ineffective stabilization, and a low frame rate in lower light all affect the smoothness of the E520's video files as well.
The E520's color rendering is pretty good, with nicely saturated hues in well-exposed images, and fairly consistent results in all lighting conditions. The most neutral white balance is captured in indoor scenes, as many outdoor shots display a slight blue or green color cast. In low light, very noticeable color shading also occurs, with a pink cast towards the center shifting to green at the edges.
The E520 is capable of accurate target exposures in well-balanced lighting conditions outdoors and indoors, and we achieved some acceptable results in our natural test scene analyses. The device is prone to some underexposure, however, even in relatively bright conditions, and noticeably so in very low light, producing results with limited use. Dynamic range is also very limited, with a significant loss of detail in the brightest and darkest regions of challenging high-contrast scenes. The E520 has a HDR mode, which might help achieve better dynamic range, but the feature is not activated in the default camera mode in which we always test devices.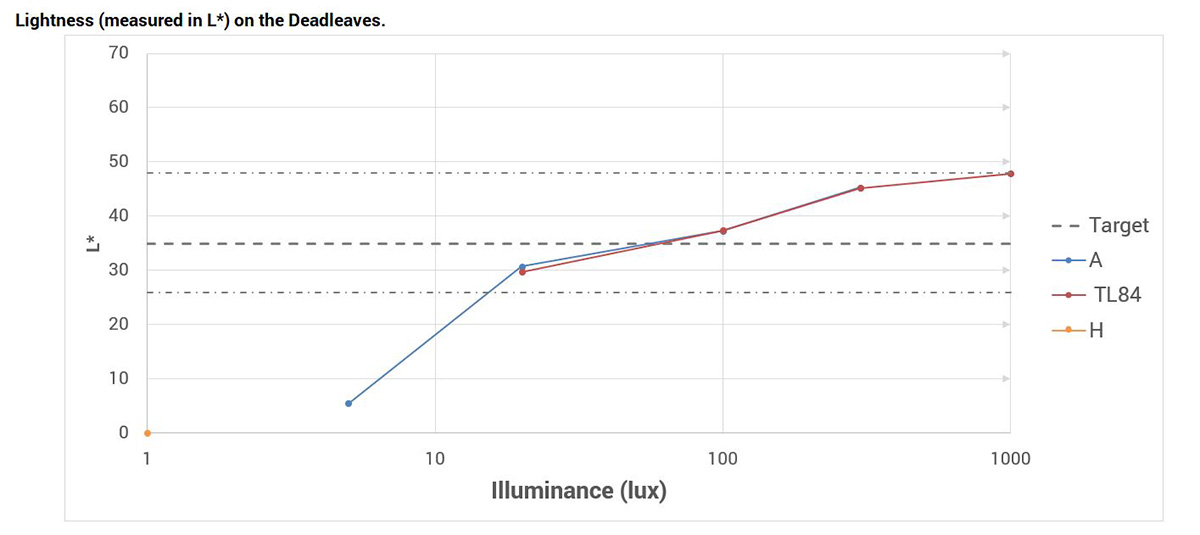 The E520 achieves good exposures at light levels of 20 lux or brighter, but images captured in low light show strong underexposure.
You can see from the Lightness graph above that the E520 doesn't achieve our baseline target of 60% lightness with all light sources below 100 lux, and at 5 lux, exposures are very dark (below 10% lightness). Using the E520's flash unit doesn't significantly improve low-light results, either. The best flash pictures are achieved with mixed artificial light sources: exposures are better and white balance and color rendering are OK. Strong noise and visible corner shading are visible in all flash pictures, though, and pictures remain very underexposed when using flash as the only light source.
The E520 captures the best texture in static scenes in bright light, but even in these conditions, it does not preserve fine details very well. Results are broadly the same indoors, too, but expect a significant loss of detail in low light or in scenes with some subject movement, which are challenging conditions for the E520.
Autofocus irregularities also make capturing sharp shots a challenge, and with a half-second delay between defocusing and pressing the shutter, the overall level of sharpness is low, with a level of acutance consistently around 40%, even in very bright light.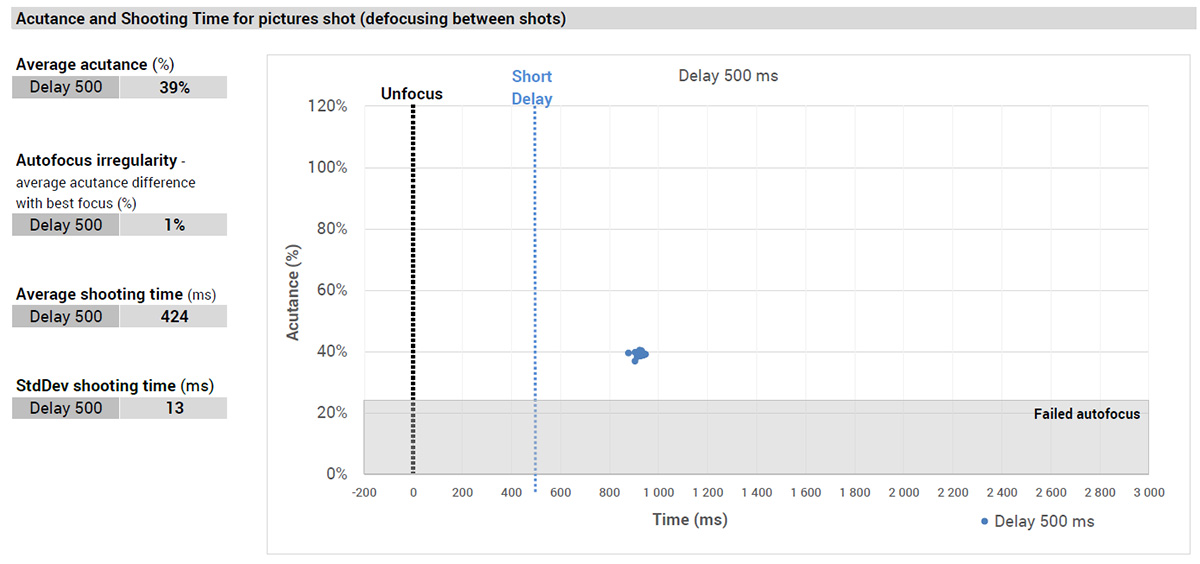 Energizer E520 autofocus performance in bright light (1000 Lux).
Conclusion
In a crowded smartphone market, with a plethora of similar mid-range and premium devices available, it's refreshing to see something a little different. If you're sick of charging your smartphone twice a day, or of regularly replacing a cracked screen, the Energizer E520 LTE could be for you. The camera specs and performance are a ways off from what we would expect from a mid-range device at this price point, however. At the end of the day, it's the build quality and battery life you're paying for with the Energizer E520. When using the camera, you're best off limiting yourself to bright light and indoor scenes with well-balanced lighting, and staying away from low light or difficult high-contrast scenes.
49
mobile
Pros
Fairly accurate white balance in most conditions
Vivid color indoors and outdoors
Pros
Fairly accurate white balance indoors and outdoors
Good target exposure indoors
Cons
Very limited dynamic range
Autofocus is slow and inaccurate
Visible luminance and chromatic noise in low light
Target exposure is sometime low indoors and outdoors
Loss of sharpness towards the edges
Flash pictures are underexposed, with loss of detail
Cons
Loss of detail in all conditions
Low frame rate indoors and in low light
Ineffective stabilization
Visible autofocus instabilities and poor tracking
Limited dynamic range
Visible blocking in low light