LG's recently introduced high-end phone, the LG V60 ThinQ 5G, is packed with power and features. Built on a Snapdragon 865 processor and featuring 8GB of RAM, along with a 6.8-inch 1080p screen and triple main cameras, it has specs that rival other flagships.
We put the LG V60 Thinq 5G through our rigorous DXOMARK Audio test suite to measure its performance both at playing audio back through its built-in speakers, and at recording sound using its built-in microphones. In this review, we will break down how it fared in a variety of tests and several common use cases.
Key audio specifications include:
32-bit high-fidelity quad DAC
4 microphones for improved spatial audio recording
AI-powered 3D audio engine
Top and bottom stereo speakers
Custom recording modes
About DXOMARK Audio tests: For scoring and analysis in our smartphone audio reviews, DXOMARK engineers perform a variety of objective tests and undertake more than 20 hours of perceptual evaluation under controlled lab conditions. This article highlights the most important results of our testing. Note that we evaluate both Playback and Recording using only the device's built-in hardware and default apps. (For more details about our Playback protocol, click here; for more details about our Recording protocol, click here.)
Test summary
65
audio
The LG V60 ThinQ 5G achieved an overall Audio score of 65 in our testing, two points below the OnePlus 8 Pro, and 6 points below the Apple iPhone 11, the two phones we directly compared it with. So the V60's overall audio performance doesn't quite match that of competitive phones. Its Playback performance is mid-pack compared to the devices we've tested, but below similar phones from other vendors. The difference is even more pronounced in our Recording tests.
Its Playback sub-score of 67 was hurt by weak bass and high-end in our tonal reproduction tests, and mediocre performance in our other playback tests. One bright spot was its relatively artifact-free rendering of audio sources. It also does a good job of smoothly changing volume and provides a reasonably good maximum volume level.
When it comes to recording, the V60 is among the weaker performers among phones we've tested, with an Audio Recording sub-score of 59. Here, too, it suffers from poor tonal response, as well as a poor ability to allow listeners to pinpoint the locations of sound sources. The V60 does do a good job of preserving sound dynamics when making video recordings with the main camera. As with playing back audio, the foreground sounds in recordings made with the V60 are relatively free of artifacts. However, background sounds are definitely harmed by excessive artifacts.
The strong midrange and good playback volume mean that gaming is the best of the use cases we tested for the V60, scoring quite a bit above its performance for music and movies. Similarly for recording, the V60 performed strongest in our memo use case. Video recording with the main camera was also fairly solid, and much better quality than when using the selfie camera.
Sub-scores explained
The DXOMARK Audio overall score of 65 for the LG V60 ThinQ 5G is derived from the Playback and Recording scores and their respective sub-scores. In this section, we will take a closer look at these audio quality sub-scores and explain what they mean for the user.
Playback
Timbre
Black Shark 5 Pro
Best: Black Shark 5 Pro (89)
DXOMARK timbre tests measure how well a phone reproduces sound across the audible tonal range and takes into account bass, midrange, treble, tonal balance, and volume dependency.
The V60's tonal response is mid-pack among the phones we have tested. Compared to other similar phones, audio lacks bass, and high frequencies are also a bit weak. As a result, sound can often seem muddled, and the midrange is overweight, helping explain the phone's mediocre playback timbre sub-score of 59. On the positive side, upper midrange tones are very well preserved, so that voices come across clearly and naturally. The lower midrange is also strong, so musical chords are nicely rendered. Tonal response is consistent across volume levels, which is a plus. You can see the relatively weak bass and high-end performance in this chart of speaker frequency response:
Music playback frequency response
Dynamics
Black Shark 5 Pro
Best: Black Shark 5 Pro (81)
Our dynamics tests measure how well a device reproduces the energy level of a sound source.
Its solid midrange response helps the V60 provide good attack performance and makes for punchy notes and solid rendering of guitar and snare transients. That is offset by its weakness in high-frequency reproduction and bass tones, which lead to a lack of precision, especially for low notes. Its playback dynamics sub-score of 64 placed it below the Apple iPhone 11 (68) and just behind the OnePlus 8 Pro (65) comparison devices.
Spatial
Black Shark 5 Pro
Best: Black Shark 5 Pro (88)
The V60 does a reasonably good job of spatially rendering sound sources. Audio is well balanced, which helps sources sound appropriately centered. The phone's very good midrange also adds to its ability to preserve the apparent distance of audio sources. These strengths help it achieve an above-average playback spatial sub-score of 63. However, its weak high-end response makes it difficult for listeners to pinpoint the location of sound sources, and muffled tonal balance also means that the V60's sound stage width is only average. Results are the same whether the phone is held in landscape or inverted landscape orientation.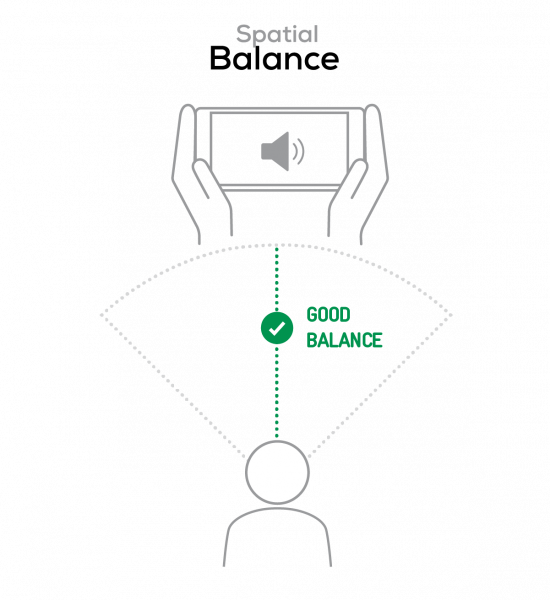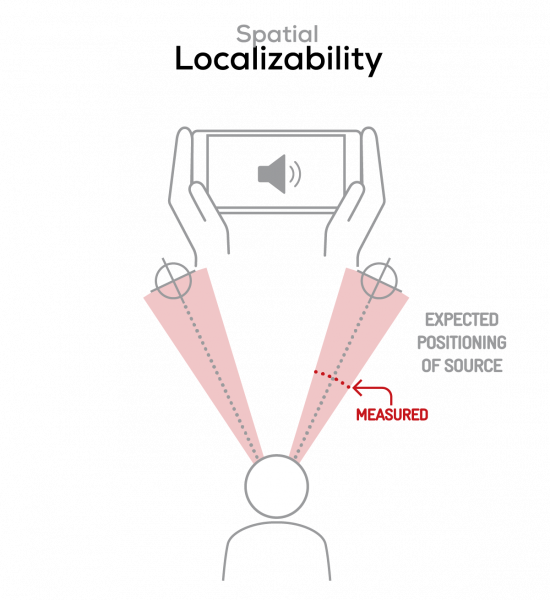 Poor spatial localizability
Volume
Nubia RedMagic 7 Pro
Best: Nubia RedMagic 7 Pro (91)
Our volume tests measure both the overall loudness a device is able to produce and how smoothly volume increases and decreases based on user input.
Playback volume is one of the highlights of the V60's audio performance. Volume levels move smoothly as the volume controls are adjusted up and down, and sounds come across clearly at even the lowest volume setting. You can see in this chart that it maintains a more linear volume response than the phones we compared it with:
The V60's maximum volume is also impressive. Here are the sound pressure levels we measured when playing our sample recordings of hip-hop and classical music at maximum volume:
| | |
| --- | --- |
| Hip-Hop | Classical |
| 75.3 dBA | 71.8 dBA |
Artifacts
Xiaomi Redmi K50 Gaming
Best: Xiaomi Redmi K50 Gaming (113)
Our artifacts tests measure how much source audio is distorted when played back through a device's speaker. Distortion can occur both because of sound processing in the device and because of the quality of the speakers.
The V60 does a very good job of playing back clean audio, with a lack of artifacts. Its playback artifacts sub-score of 86 is one of the better ones among the phones we've tested, and better than most of its peer group. There is some slight sound compression and bass distortion at maximum volume, and some speaker rumbling when playing back synthetic signals.
Recording
Timbre
Honor Magic3 Pro+
Best: Honor Magic3 Pro+ (91)
Tonal reproduction is quite poor when recording audio with the V60, with both high-end and low-end frequencies lacking. In addition to impairing the experience of listening to music and sound tracks, this tends to make voices sound slightly nasal compared to most other devices we've tested. The overly-strong midrange can also make voices sound too prominent in sound mixes.
This chart shows the relative lack of bass and high-frequency falloff in audio when recording videos with the V60:
Life video frequency response
Dynamics
Black Shark 5 Pro
Best: Black Shark 5 Pro (81)
The V60 does an excellent job of accurately recording sound dynamics, even when recording very loud audio sources. The result is a very strong recording dynamics sub-score of 68. In particular, the V60 features very good signal-to-noise ratio when capturing videos, and the sound envelope of voices is well preserved. The punch of musical instruments is also accurately reproduced. This is one category where the V60 out-performed the OnePlus 8 Pro (62) and the iPhone 11 (63).
Spatial
Black Shark 4S Pro
Best: Black Shark 4S Pro (78)
Overall, recordings made with the V60 do a poor job of preserving the spatial location of sound sources. The V60's recording spatial sub-score of 42 is one of the lowest we have measured. The phone's strongest feature in this category is its ability to reproduce a wide sound stage when recording video with the main camera. But that positive is offset by midrange resonances that make it hard to pinpoint voices and a lack of wideness when recording with the selfie camera. Flaws in tonal reproduction also mean that voices can sound farther away than they actually are.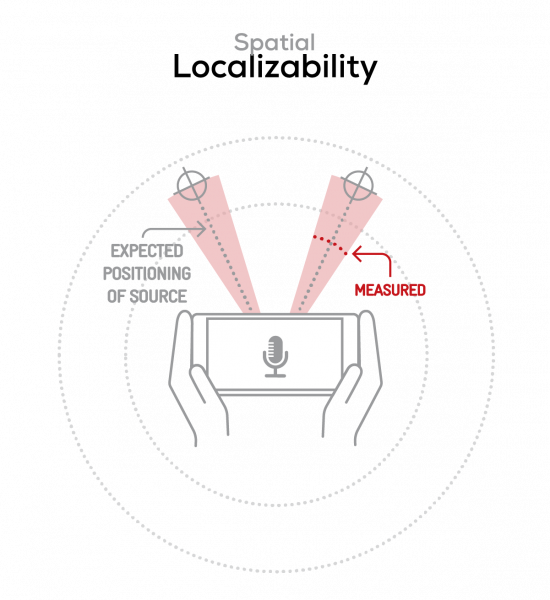 It is hard to determine the location of sound sources in recordings made with the V60.
Volume
Black Shark 5 Pro
Best: Black Shark 5 Pro (99)
Recording volume levels are okay on the V60, but not great. Its recording volume sub-score of 63 falls in between the very low 42 of the OnePlus 8 Pro and the very good 76 of the iPhone 11. The V60 does have a specialized concert recording mode contained in the Memo app that improves the quality of music recordings, but it is not available when recording video and was not considered in our scored tests.
Here are our test results, measured in LUFS (Loudness Unit Full Scale); as a reference, we expect loudness levels to be above -24 LUFS for recorded content. The meeting scenario, in particular, is just barely at an acceptable level:
| | | | |
| --- | --- | --- | --- |
| Meeting | Life Video | Selfie Video | Memo |
| -24 LUFS | -15.6 LUFS | -15.4 LUFS | -19.2 LUFS |
Artifacts
Black Shark 5 Pro
Best: Black Shark 5 Pro (97)
The V60 is one of the better-performing phones we've tested when it comes to avoiding audible artifacts when recording audio, especially when recording video with the main camera. However, if the user holds the phone near its microphones, finger noises are audible and impair voice recordings. The phone's noise-cancelling algorithms also make voices harder to understand and interfere with the clarity of background sounds. At high loudness levels, distortion across the entire tonal range is also present. This said, its recording artifacts sub-score of 75 was well above the OnePlus 8 Pro's score of 70 and the iPhone 11's 66.
You can hear in this sample how the unnatural rendering of the background detracts from the recording's overall quality:
Background
Black Shark 5 Pro
Best: Black Shark 5 Pro (60)
The V60 does not preserved background sounds well. Its heavy noise-cancelling algorithm makes such noises come across as very unnatural in every use case we tested. As a result, its recording background sub-score of 19 is among the very lowest of any phone we've tested, and well below the 44 of the OnePlus 8 Pro and the 53 of the iPhone 11. While it didn't impact our test results, the V60 has "voice bokeh" setting that helps improve vocal clarity somewhat, but unfortunately makes the overall recording sound even more unnatural.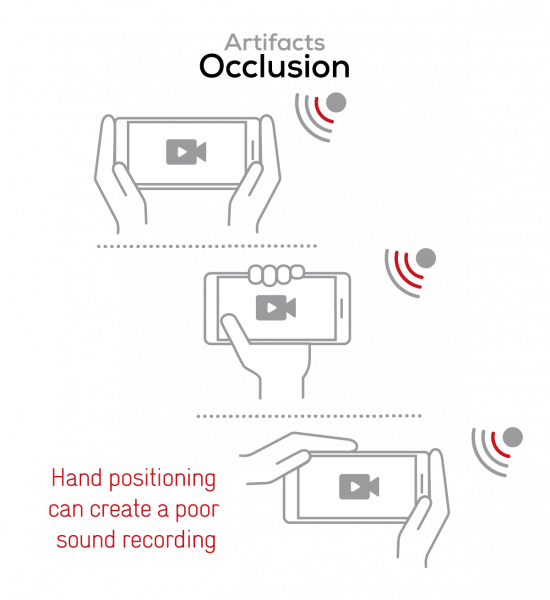 Occlusion caused by hand position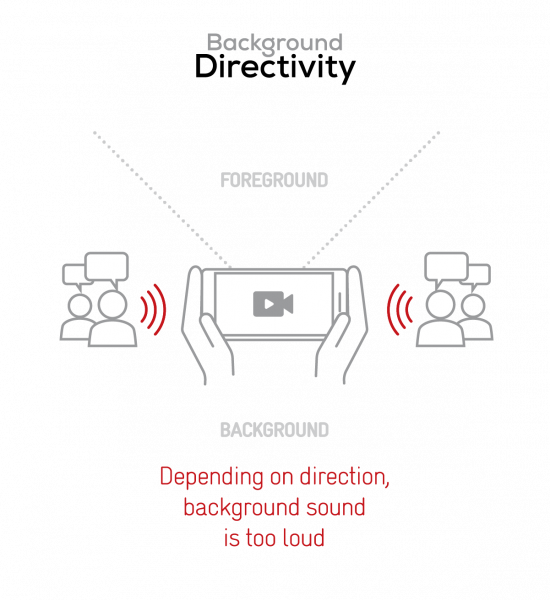 Poor background directivity
Conclusion
While the LG V60 ThinQ 5G put in a mid-pack performance compared to all the phones whose audio we have tested, it is below its peers for both Playback and Recording. At the root is poor tonal range rendering when playing back audio and video, as well as poor tonal range preservation when recording. That problem contributes to poor results in a number of categories.
One bright spot is that the V60 plays back relatively artifact-free sound, and that, coupled with its strong midrange, make it a reasonable choice for both listening to and recording voice. Unfortunately, while voices are well preserved when recording, poor background rendering impacts the overall recording quality.
The V60 also features some unique recording modes, including concert, voice bokeh, and ASMR (autonomous sensory meridian response). Those didn't enter into our test results, but might be useful depending on how you expect to use your phone. The LG V60 ThinQ does represent a major improvement over the previous LG we tested, the LG G8 ThinQ, which at 52 had one of the lowest audio scores of any of the phones we had tested to date.
Playback
Pros
Fairly good spatial reproduction, with good distance performance
Voices are perceived close to the screen position, thanks to a good low midrange presence
Few temporal or spectral artifacts when playing back audio
Good volume performance, as content is clear even at minimum volume
Cons
Tonal response is impaired by a noticeable lack of high- and low-end extensions, with the result that the device sounds slightly muffled
Impaired tonal response also narrows the sound stage
Dynamics also suffer due to tonal range issues
Recording
Pros
Great sound dynamics, especially of loud audio sources
Good preservation of loudness
Good spatial performance when recording video with the main camera
Dedicated concert recording mode in the memo app has better performance than life video or selfie video for loud sound sources
Cons
Tonal balance is impaired by inappropriate resonances and a lack of high- and low-end response
Shortcomings in tonal balance make it hard to determine the distance of audio sources
Poor recording of background sounds due to the noise cancellation algorithm
Noise-cancelling algorithm tends to attenuate plosives and reduce speech intelligibility