With its latest XBoom speaker, the South Korean brand takes quite a turn in design, going from a robust and almost industrial-like architecture to a more stylish and lifestyle look. The Go PL7 is a pill-shaped portable Bluetooth speaker featuring LED-rimmed passive radiators, IPX5 certification, and up to 24 hours of battery life. Co-engineered with high-fidelity British specialist Meridian Audio, the LG XBoom Go PL7 promises "premium, epic sound" with "huge punch," room-filling sound, clear voices, and powerful bass. It also ensures less distortion, even at the highest volumes.
We put the LG XBoom Go PL7 through our rigorous DXOMARK Wireless Speaker test suite. In this review, we will break down how it fared at audio playback in a variety of tests and several common use cases.
Key specifications include:
Two drivers (front-left and front-right), two passive radiators (left and right)
Bluetooth (multipoint) and 3.5 mm jack input
Google Assistant compatible
Up to 24 hours of battery life
IPX5 (water-resistant)
Built-in USB charging port
Stereo pair capable
Sound Boost algorithm
245 x 98 x 98 mm
1.5 kg
Test conditions:
Tested with Motorola G8 for music / Xiaomi Mi TV Box S for movies
Communication protocol used: Bluetooth for music / 3.5 mm jack input for movies
Firmware version: 20200924.0487A
About DXOMARK Wireless Speaker tests: For scoring and analysis in our wireless speaker reviews, DXOMARK engineers perform a variety of objective tests and undertake more than 20 hours of perceptual evaluation under controlled lab conditions. This article highlights the most important results of our testing. Note that we evaluate playback using only the device's built-in hardware. (For more details about our Speaker protocol, click here.) The LG XBoom Go PL7 falls into the Essential category of devices in the DXOMARK Speaker rankings.
Test summary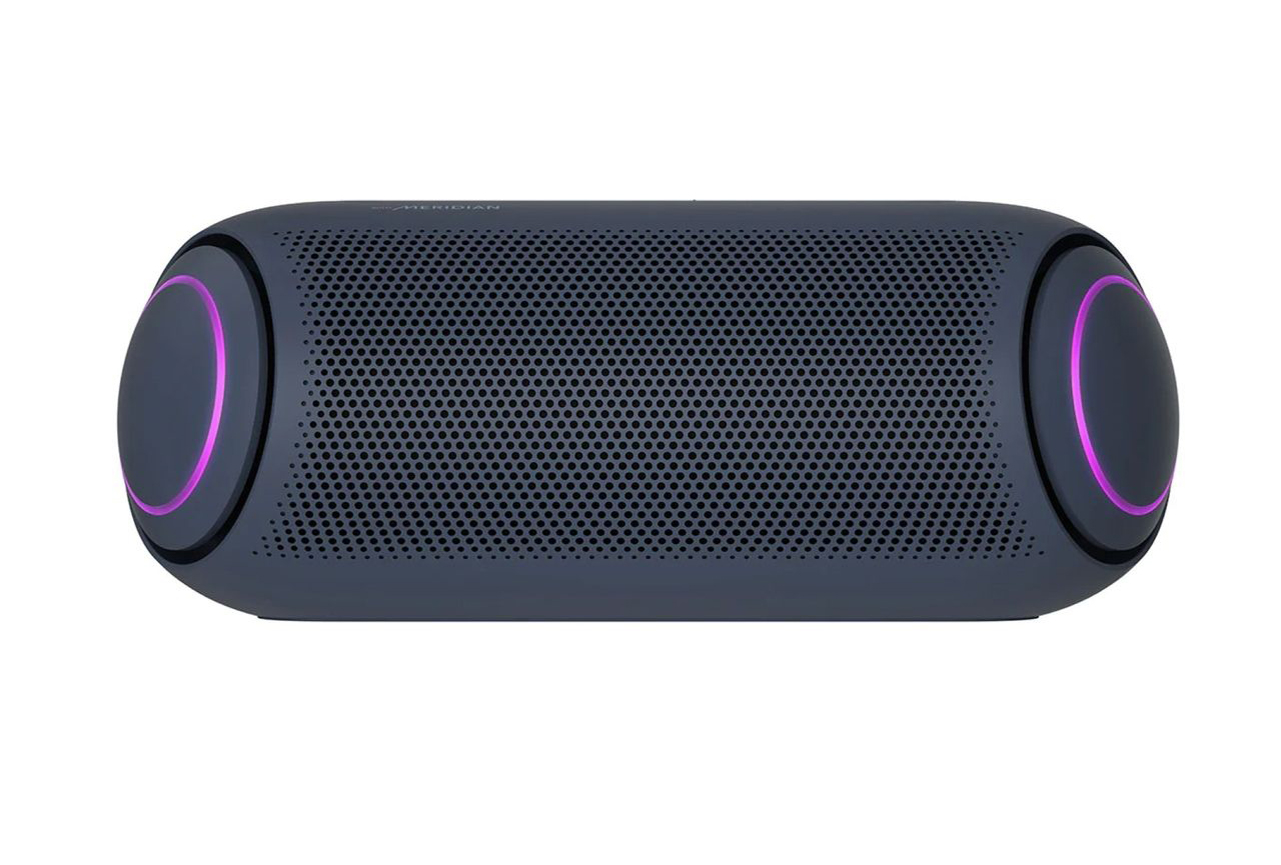 LG XBoom Go PL 7
105
speaker
Despite an excellent Artifact sub-score, the LG XBoom Go PL7 doesn't manage to reach an above-average Speaker score. Given its middling results in timbre, dynamics, spatial, and volume testing, no use case particularly stood out as notable in our protocol, whether quietly listening to music or podcasts before going to bed, or blasting loud tunes at a home party (good thing that last scenario is not recommended these days anyway).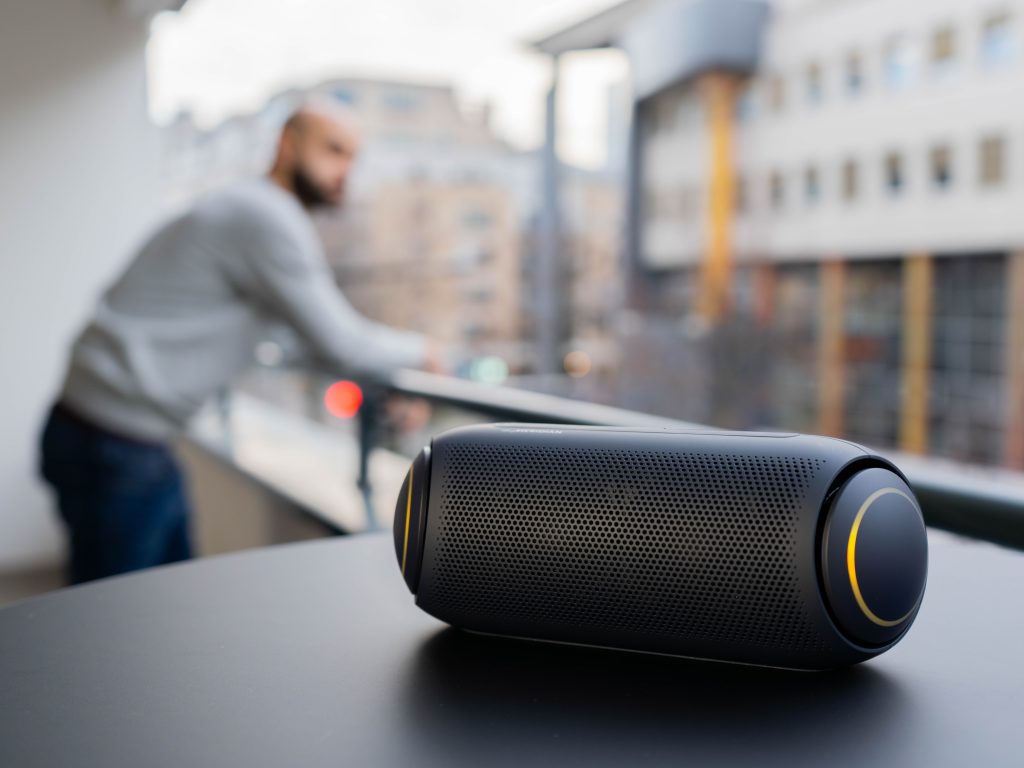 Sound isn't evenly distributed at 360° around the speaker, with particularly recessed treble at the back of the device.
The Go PL7 strongly lacks low- and high-end extension, which not only results in an unbalanced, midrange-focused sound reproduction, but also affects bass precision, punch, attack, and localizability of the sound sources. And speaking of spatial attributes, not only does the speaker distribute sound unevenly at 360°, it also delivers a fairly narrow and inconsistent sound field. Finally, while maximum volume is very satisfactory for the speaker's size, volume steps aren't linear enough. That all said, disabling the Sound Boost algorithm offers more natural and balanced sound that benefits from the speaker's impressive ability to control both spectral and temporal artifacts.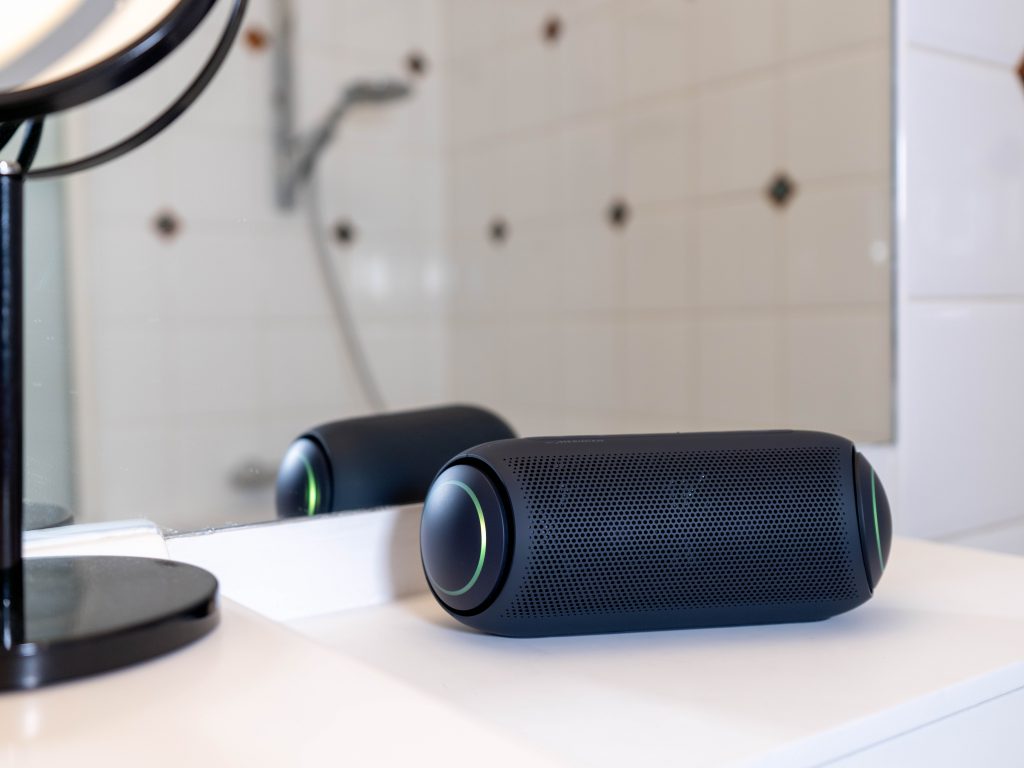 Thanks to its IPX5 certification, users can safely listen to the LG XBoom Go PL7 in a bathroom or kitchen.
Sub-scores explained
The DXOMARK Speaker overall score of 105 for the LG XBoom Go PL7 is derived from a range of sub-scores. In this section, we will take a closer look at these audio quality sub-scores and explain what they mean for the user, and we will show some comparison data from two of the LG XBoom Go PL7's principal competitors, the Sony SRS-XB43 and the JBL Xtreme 3.
Playback attribute comparisons
Timbre
106
Bowers & Wilkins Formation Wedge
DXOMARK timbre tests measure how well a speaker reproduces sound across the audible tonal range and takes into account bass, midrange, treble, tonal balance, and volume dependency.
Playback timbre comparison
While the Go PL7's Timbre reaches an average score among all the speakers we have tested to date, it ranks fourth  when compared exclusively to devices from our Essential  category, and last when compared to its competitors, the Sony SRS-XB43 and the JBL Xtreme 3. Due to a strong lack of high- and low-end extension (visible in the graph below), its tonal balance is audibly inhomogeneous. This results is a midrange-focused, nasal sound reproduction, with muffled voices. Additionally, midrange itself lacks consistency: high mids are aggressive, whereas low mids are recessed in most use cases.
Enabled by default, the Sound Boost algorithm adds aggressiveness by mainly amplifying the upper end of the spectrum. When disabling it, the overall rendering becomes more balanced and natural.
Music playback frequency response
Tonal balance does improve at loud and maximum volumes, thanks to a more consistent reproduction of midrange frequencies and clearer voices; however, the imbalance between bass and treble makes it slightly too bright.
Dynamics
93
Bowers & Wilkins Formation Wedge
Our dynamics tests measure how well a device reproduces the energy level of a sound source, taking into account attack, bass precision, and punch.
Playback dynamics comparison
While the Go PL7 offers fairly precise attack for midrange-focused instruments (such as snares), it fails to preserve the sharpness of higher-pitched instruments (such as hi-hats). As expected, the lack of low-end extension impairs not only bass precision, but also punch. At loud and maximum volumes, dynamics are affected by slight bass distortions and excessive low mids. Just as with timbre, no use case manages to reach an above-average sub-score.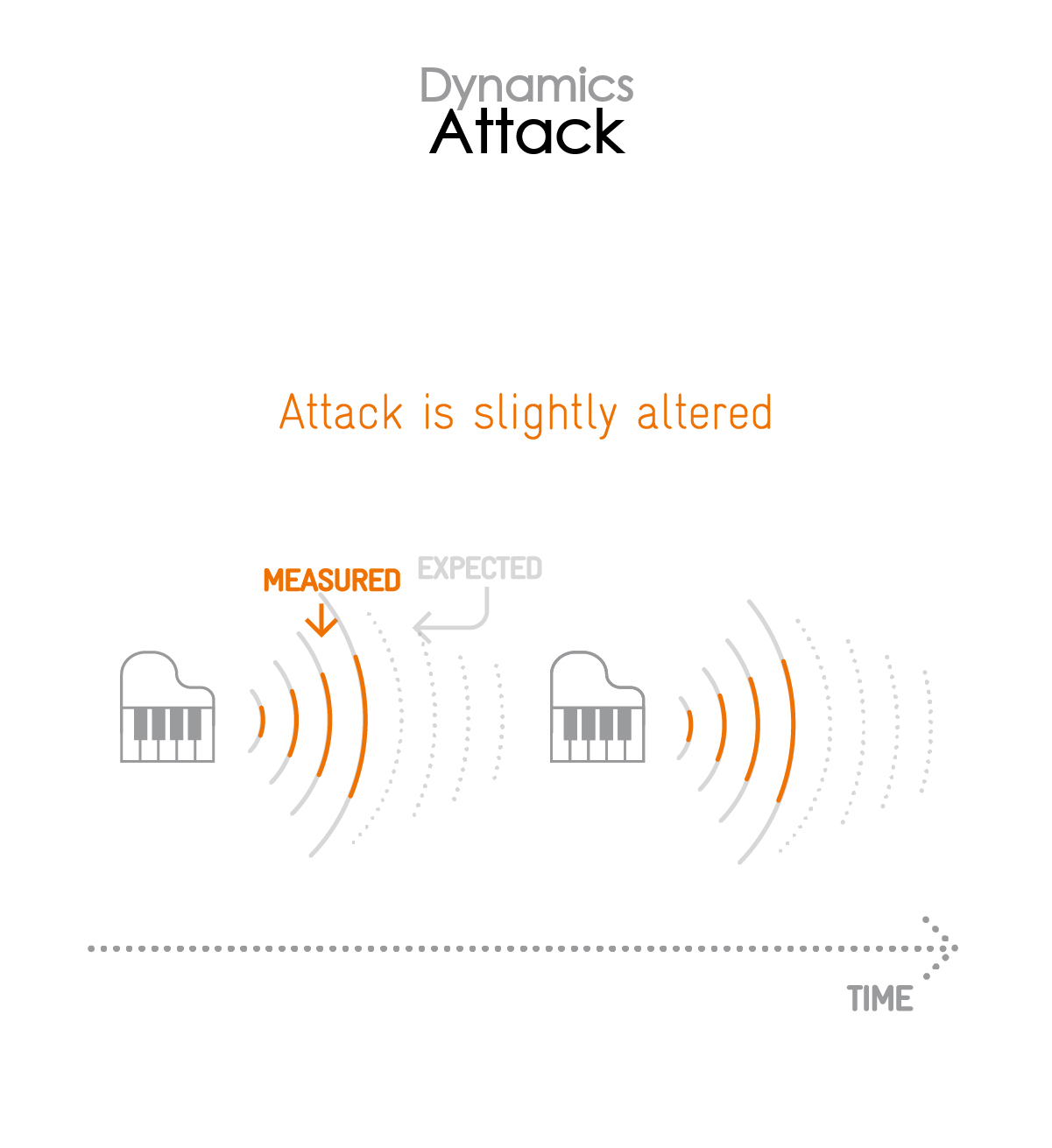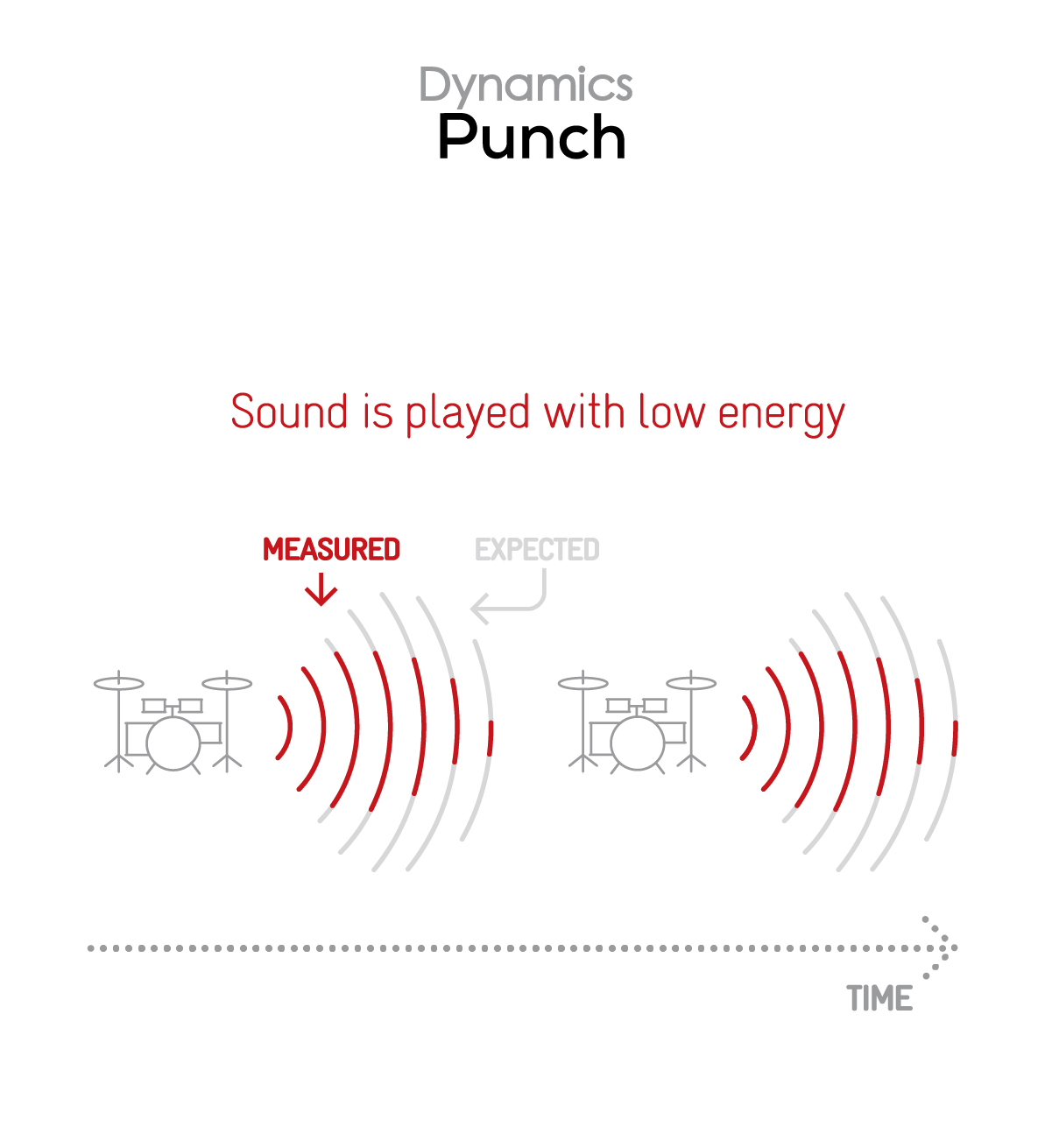 Spatial
72
Bowers & Wilkins Formation Wedge
Our spatial tests measure a speaker's ability to reproduce stereo sound in all directions, taking into account localizability, balance, wideness distance and directivity. Please note that wideness is 0 on mono speakers and speakers that cannot deliver a significant stereo effect.
Playback spatial comparison
Given the speaker's design, wishing for an omnidirectional rendering (evenly distributed sound at 360° around the speaker) would be delusional. In such a case, directivity is often traded for wideness, but the Go PL7 fails in this regard as well, with a narrower sound stage than expected. Additionally, a few holes can be perceived in the frontal field.
The lack of high-end extension hampers localizability of the sound sources in the mix, and distance rendering is also below average.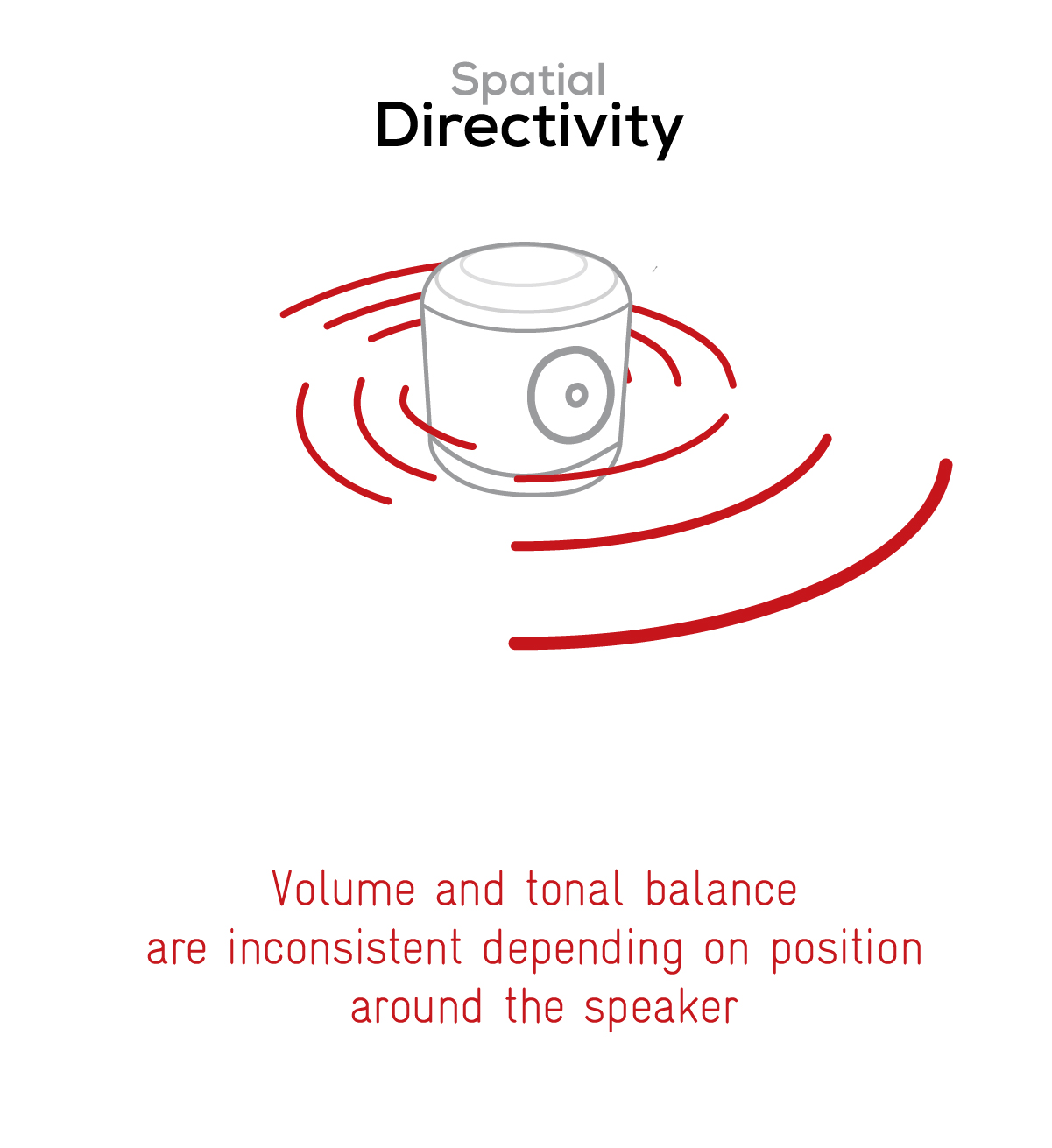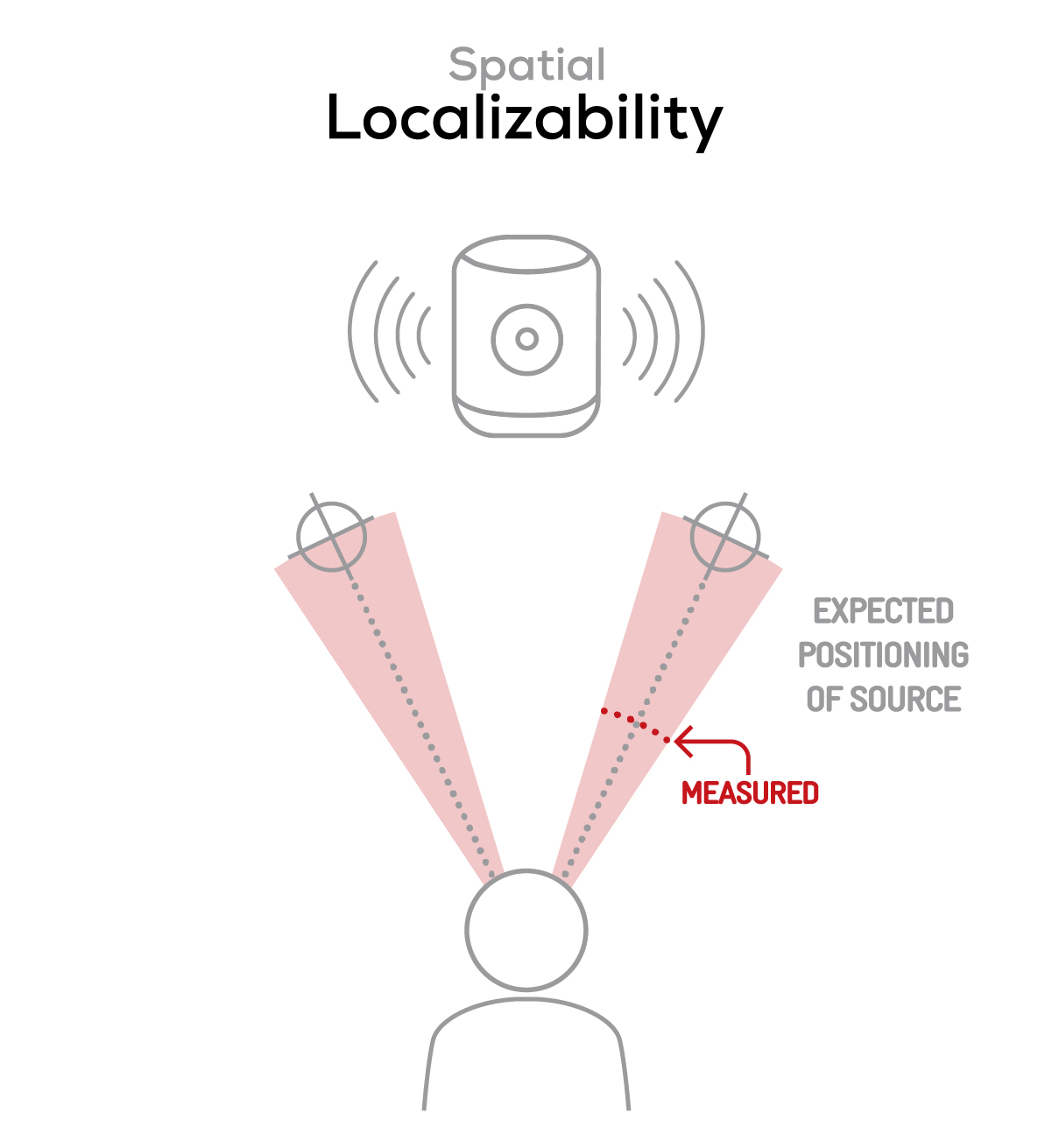 Volume
91
Bluesound Pulse Mini 2i
Our volume tests measure both the maximum loudness a speaker is able to produce and how smoothly volume increases and decreases based on user input.
Playback volume comparison
Playback volume consistency comparison
As shown in the graph above, volume does not increase naturally: while the first few steps exhibit huge volume changes (with up to 12 dBA variations), the last three are identical. That said, maximum volume is quite good considering the speaker's size.
Here are a few sound pressure levels (SPL) measured when playing our sample recordings of hip-hop and classical music at maximum volume. You can see the Go PL7's results are consistently lower than its competitors':
| | | | | | | |
| --- | --- | --- | --- | --- | --- | --- |
| | Correlated Pink Noise | Uncorrelated Pink Noise | Hip-Hop | Classical | Latin | Asian Pop |
| LG XBoom Go PL 7 | 85.6 dBA | 83.5 dBA | 81.9 dBA | 76 dBA | 82.5 dBA | 75.4 dBA |
| JBL Xtreme 3 | 91.4 dBA | 87.3 dBA | 86.2 dBA | 81.3 dBA | 86.3 dBA | 80.1 dBA |
| Sony SRS-XB43 | 88.9 dBA | 86 dBA | 86.2 dBA | 78.5 dBA | 87.1 dBA | 79.7 dBA |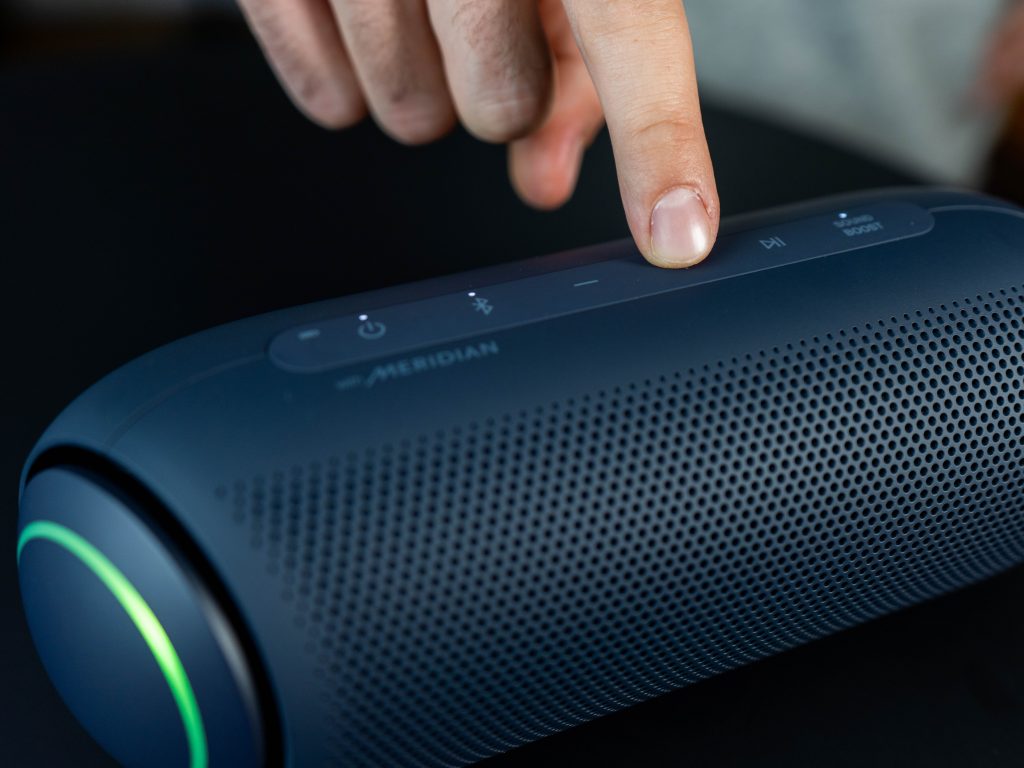 Maximum volume is good, especially considering the speaker's size.
Artifacts
Our artifacts tests measure how much source audio is distorted when played back, along with such other sound artifacts as noise, pumping effects, and clipping. Distortion and other artifacts can occur both because of sound processing and because of the quality of the speakers.
Playback artifacts comparison
Controlling artifacts is the one area where the Go PL7 outshines its competitors — at least in the temporal domain. Sound reproduction is very clean overall, exhibiting very few spectral artifacts, and almost no temporal artifacts. With the exception of slight static noise when the 3.5 mm input is used for watching videos, no artifacts are noticeable at nominal volume. At low volumes, a soft humming noise can be perceived, whereas at maximum volume, bass distortions and slight pumping can occasionally appear. Apart from bedtime and bathroom, the Go PL7 achieved well-above-average sub-scores in all use cases. Finally, the audio performance is globally preserved when using the speaker on battery.
Playback total harmonic distortion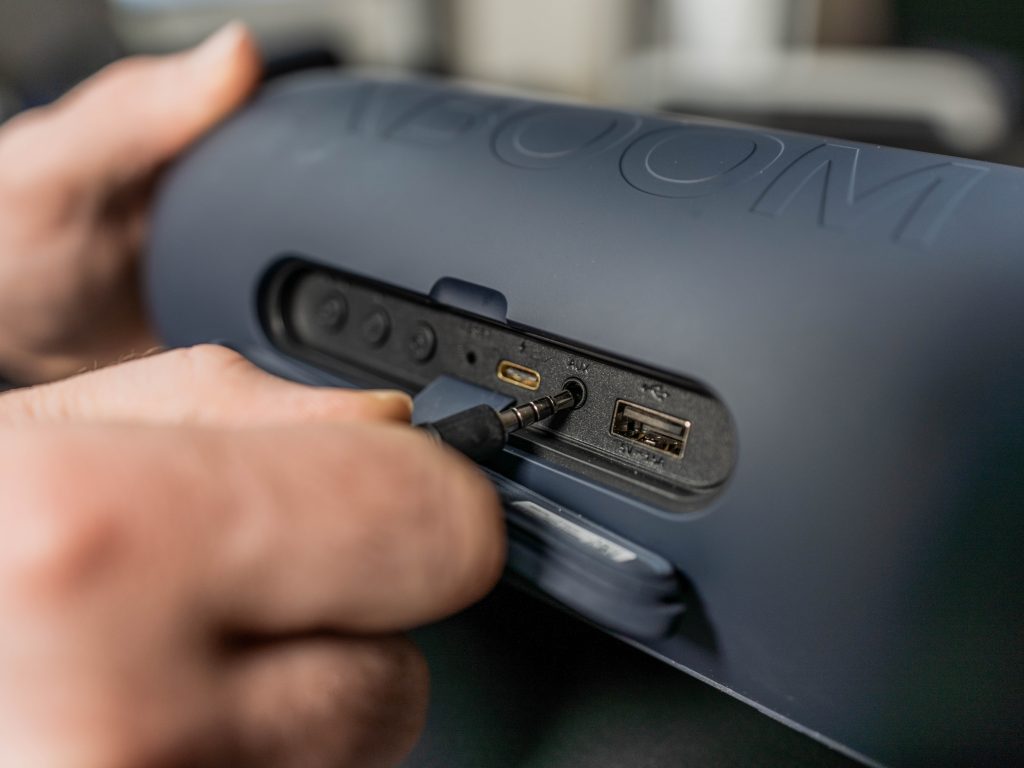 Except for some slight static noise when using the 3.5 mm jack input, no artifacts are noticeable at nominal volume.
Conclusion
Despite undeniable skill at managing sonic artifacts, the LG XBoom Go PL7's sound performance remains below average. Negatives include a severe lack of high- and low-end extension, weak punch, a narrow and unevenly distributed sound field, and a fairly aggressive tuning algorithm. (Note, however, that once this algorithm is disabled, the overall sound reproduction becomes more balanced and natural.) All things considered, with its IPX5 certification, its 24 hours of promised battery life and its LED lighting-rimmed passive radiators, the LG XBoom Go PL7 is probably more suited for those in search of portability and a party atmosphere rather than for audio purists.
Pros
At loud volumes, the speaker's frequency response remains fairly balanced thanks to clean midrange and clear voices.
Few sonic artifacts overall
Maximum achievable volume is good considering the device's size.
The sound performance is globally preserved when the device is on battery.
Cons
Middling results in nearly every attribute and use case
Tonal balance severely lacks low- and high-end extension.
The Sound Boost algorithm (activated by default) generates an aggressive frequency response: while it mainly amplifies upper mids and treble, bass amplification is barely noticeable.
Punch is weak in most use cases.
The sound field is particularly narrow.
Since the device is front-firing, sound isn't evenly distributed at 360° around the speaker. The rendering at the back of the device is severely deprived of treble.