The styling of the Marshall Stanmore II speaker, like other Marshall offerings, retains the timeless design of the brand's famous amps used by guitar legends like Jimi Hendrix back in the analog days and by today's crop of guitar heroes in the digital era. The wooden box, textured vinyl covering, and manual control knobs reinforce that classic vibe, though of course these days the Stanmore II can be operated and adjusted through Bluetooth connectivity and voice commands via Google assistant.
Stanmore II is the midrange offering in Marshall's wireless speaker line, with a price tag of around 350 euros that puts it into DXOMARK's Advanced category. The brand says, "Stanmore II is the most versatile speaker in the Marshall line-up and is perfect for any room, big or small. Built with advanced components, it produces clean and precise audio, even at the highest levels."
Our engineers put the Marshall Stanmore II through our rigorous DXOMARK Wireless Speaker test suite. In this review, we will break down how it fared at audio playback in a variety of tests and several common use cases.
Key specifications include:
Bluetooth 5.0 with Qualcomm aptX, 3.5 mm input, RCA input
Width: 350 mm (13.78 in), height: 195 mm (7.68 in), depth: 185 mm (7.28 in)
4.65 kg (10.25 lbs)
Speakers: One 50-watt Class D amplifier for woofer, two 15-watt Class D amplifiers for the tweeters
Test conditions:
Tested with Motorola smartphone
Communication protocol used: Bluetooth via the Marshall app
About DXOMARK Wireless Speaker tests: For scoring and analysis in our wireless speaker reviews, DXOMARK engineers perform a variety of objective tests and undertake more than 20 hours of perceptual evaluation under controlled lab conditions. This article highlights the most important results of our testing. Note that we evaluate playback using only the device's built-in hardware. (For more details about our Speaker protocol, click here.) The Marshall Stanmore II falls into the Advanced category of devices in the DXOMARK Speaker rankings.
Test summary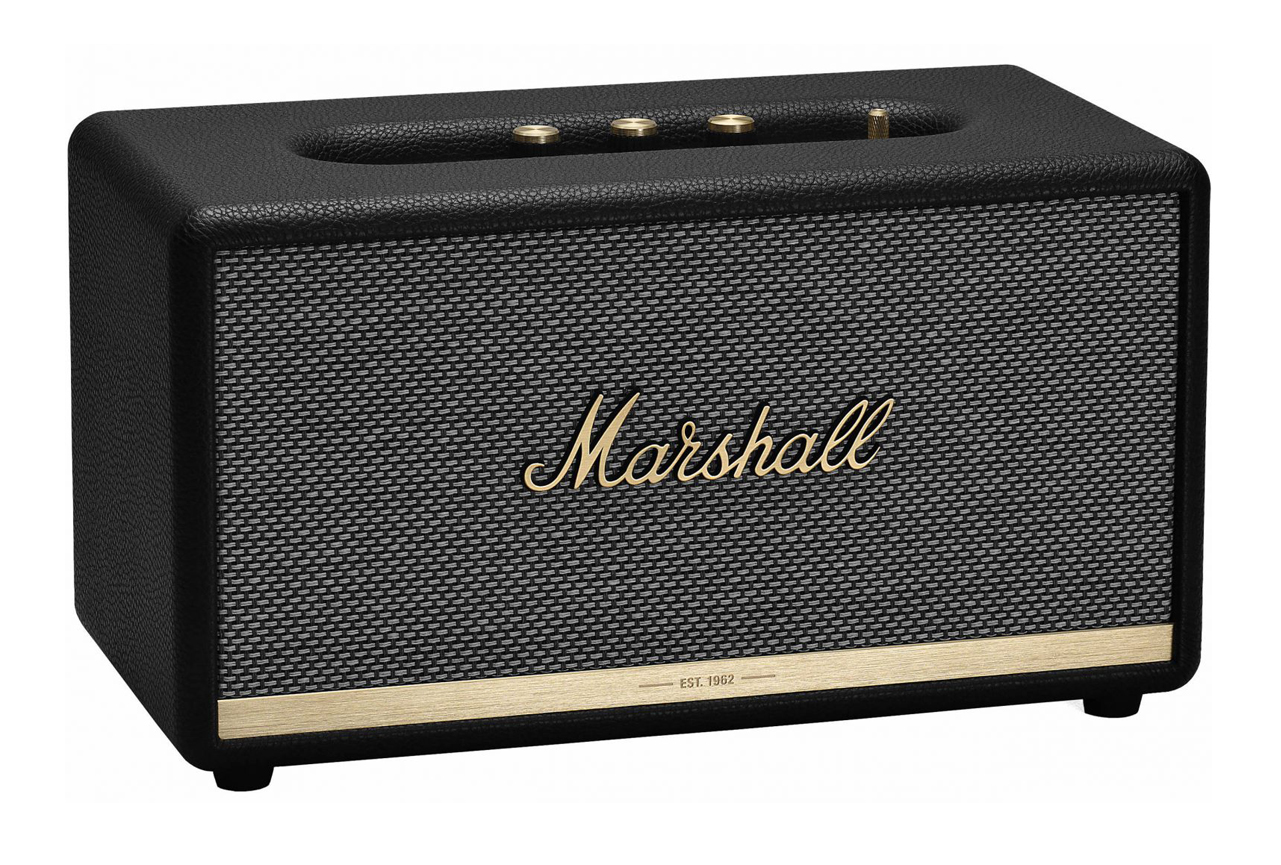 Marshall Stanmore II
144
speaker
With a global score of 144, the Marshall Stanmore II ranks high in our wireless home speaker database.
The Marshall Stanmore II delivered decent to very good performances across all our use cases, making it a versatile choice. Because it's a forward-firing device, it is meant to be placed near a wall, which also neatly hides the purely functional back panel. When it comes to sound, the Marshall Stanmore II produces a generally pleasant tonal balance without too many resonances or nodes (a node is a lack of frequencies in specific area, the opposite of a resonance), and it has a very pleasing low midrange. It was among the loudest of the devices we've tested — a fitting result, given the brand's history. The Stanmore II has a good dynamic performance in most use cases, with good impact, attack, and bass precision.
As for drawbacks, the Marshall Stanmore II is lacking in high mids, high-end extension, low-end extension, and a bit of 70 Hz (in the low bass range) that impacted bass punch.
The high midrange tends to get very aggressive at loud volumes, and dynamic performance at very loud and max volumes isn't very good, as the device loses bass precision, and distortion is also an issue at those high volumes. The Stanmore II struggles some with localizability because the sonic image is a bit blurry, the wideness is narrow, and distance performance is affected by the lack of high-end extension and high mids. Peak clipping appears on kick drum hits at all volumes.
Sub-scores explained
The DXOMARK Speaker overall score of 144 for the Marshall Stanmore II is derived from a range of sub-scores. In this section, we will take a closer look at these audio quality sub-scores and explain what they mean for the user, and we will show some comparison data from two of the device's competitors, the Google Home Max and the Denon Home 250.
Playback attribute comparisons
Timbre
142
Bowers & Wilkins Formation Wedge
DXOMARK timbre tests measure how well a speaker reproduces sound across the audible tonal range and takes into account bass, midrange, treble, tonal balance, and volume dependency.
Playback timbre comparison
The Marshall Stanmore II has a timbre score that places it among the top devices our engineers have tested thus far, and it performed well across the various use cases and with a variety of types of music and other content in this key attribute.
The Marshall speaker has a pleasant tonal character in general, with a minimum of nodes or resonances. The device lacks high-end extension and some high midrange, however, which leads to somewhat dark representations of our test tracks. Low-end extension was also somewhat lacking, especially in the very low range of 50 Hz to 70 Hz (where you get that rumbly bass feeling), and that sometimes impairs bass performance.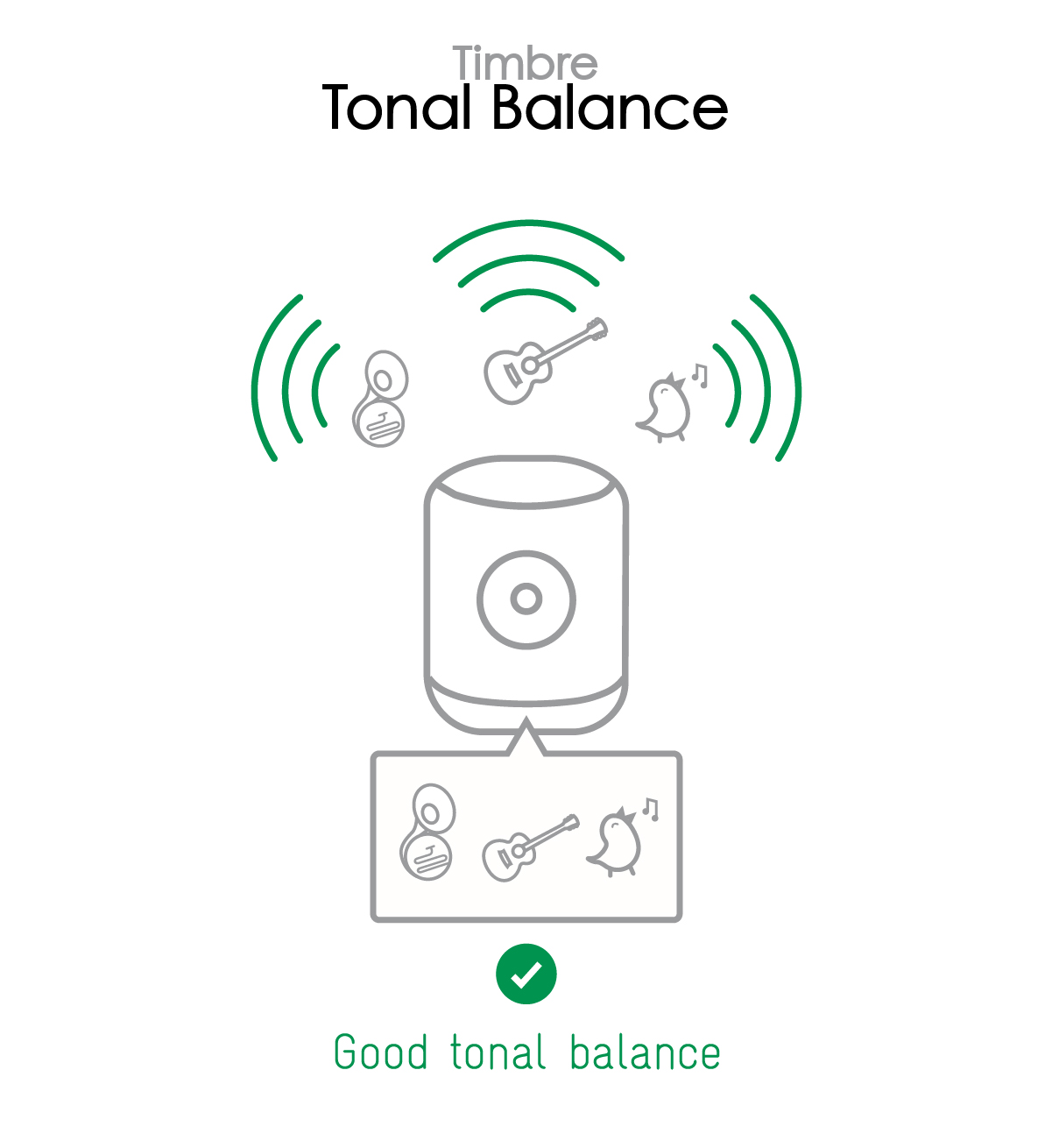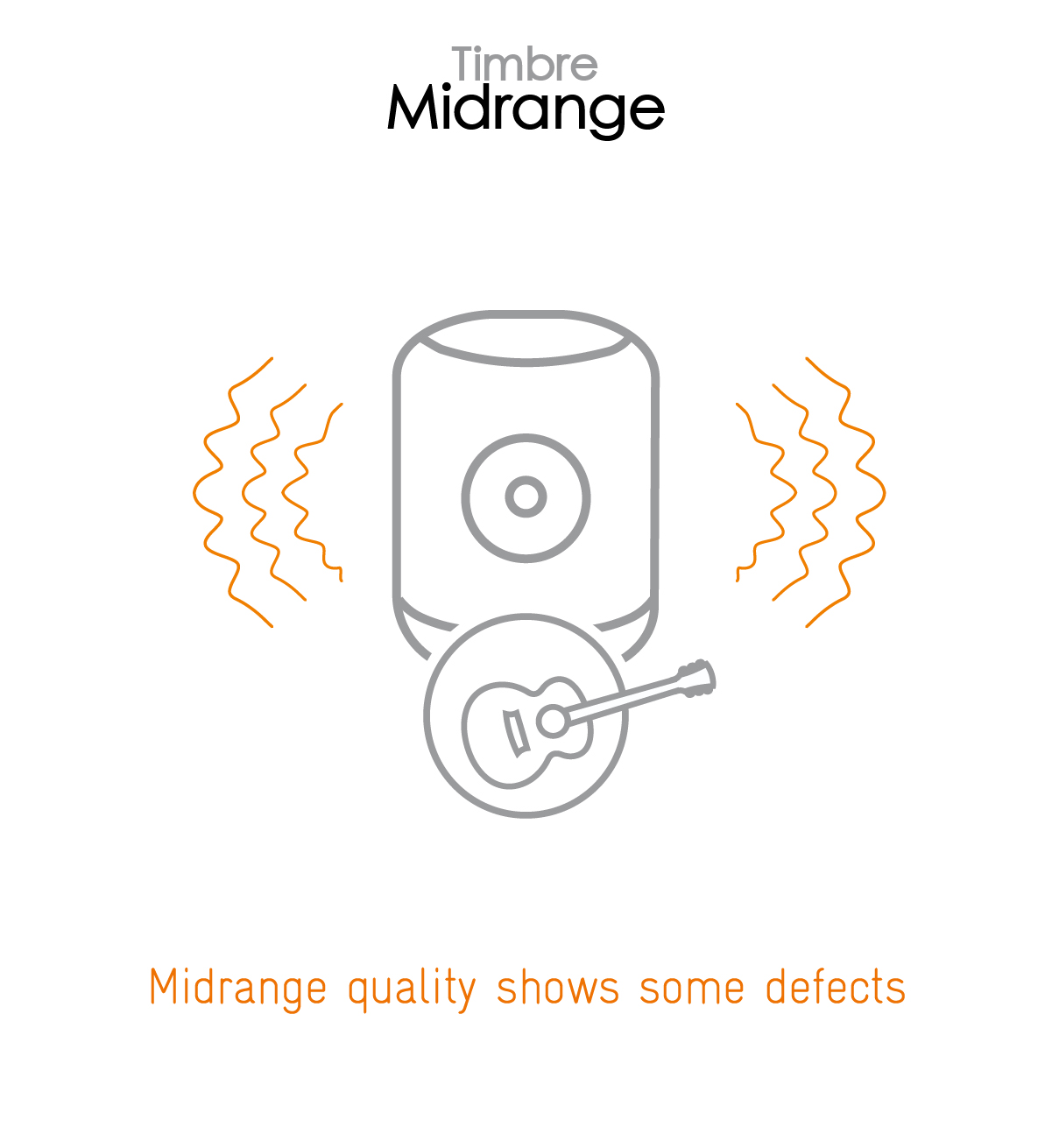 At high volumes, the midrange has a tendency to become harsh and aggressive. The device struggles in noisy environments because of the lack of high-end extension and high mids, but effective low midrange keeps voices from getting completely lost. The Stanmore II is pleasing at low volumes, but low-end content tends to become boomy.
Music playback frequency response
Dynamics
126
Bowers & Wilkins Formation Wedge
Our dynamics tests measure how well a device reproduces the energy level of a sound source, taking into account attack, bass precision, and punch.
Playback dynamics comparison
Overall, the Marshall Stanmore II had a strong showing in this attribute, with punchy, snappy dynamics marked by good attack and bass precision, even though the device lacks some low-end extension. At louder volumes, however, bass precision and punch begin to falter. At maximum volume, the speaker becomes very limited and distorted in the bass, which heavily affects bass precision.
Spatial
85
Bowers & Wilkins Formation Wedge
Our spatial tests measure a speaker's ability to reproduce stereo sound in all directions, taking into account localizability, balance, wideness, distance, and directivity. Please note that wideness is 0 on mono speakers and on speakers that cannot deliver a significant stereo effect.
Playback spatial comparison
The Marshall Stanmore II had an average score in the Spatial attribute. The wideness is rather narrow, and localizability mediocre, with voices sometimes a bit blurry and indistinct in the sonic image. Distance performance was impaired by a by a lack of high extension and high mids, though in reflective environments, as in the bathroom use case scenario, the distance performance improved.
Because the speakers are front-firing with a rear-exit bass port, performance was impaired from the sides and rear.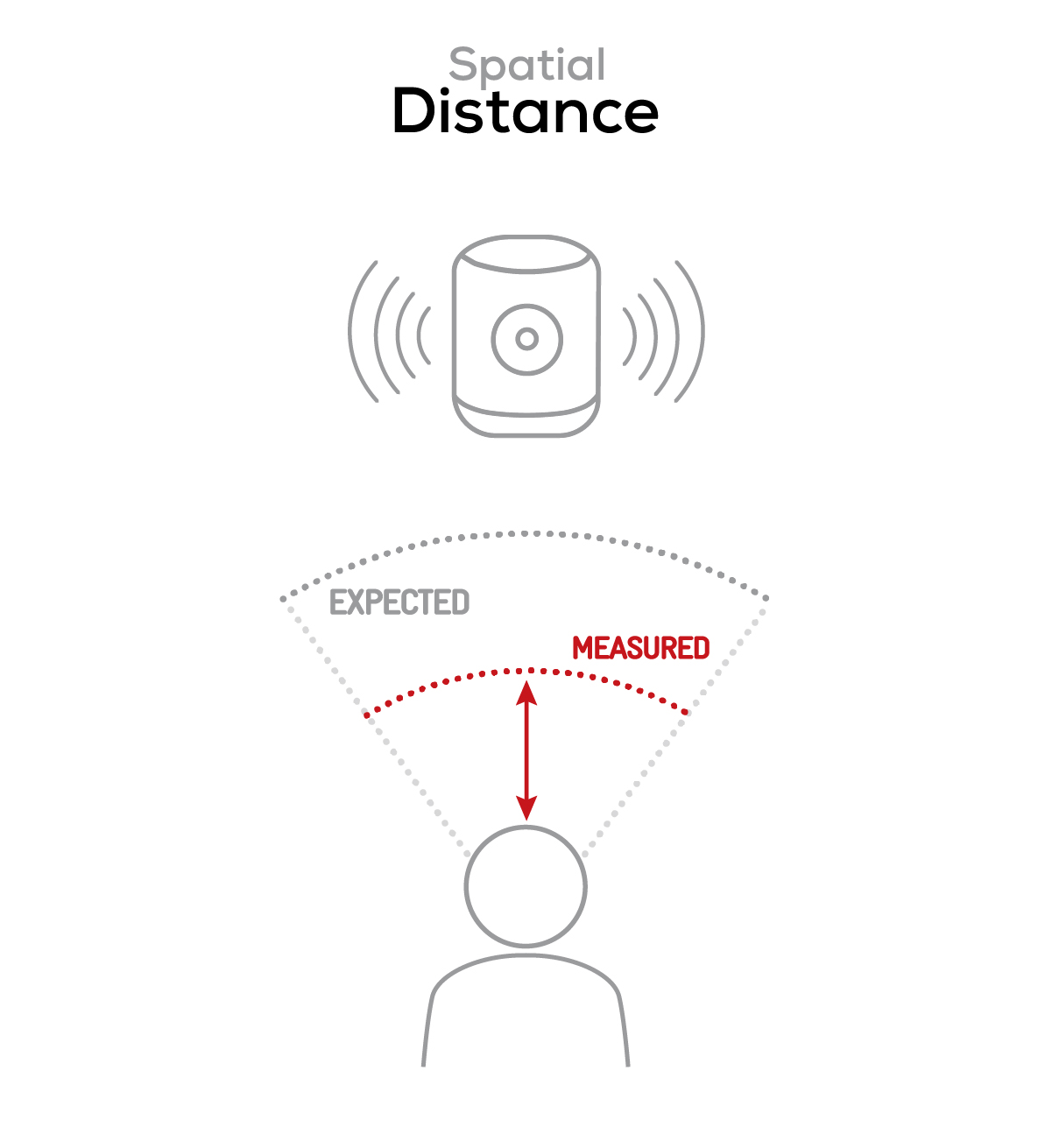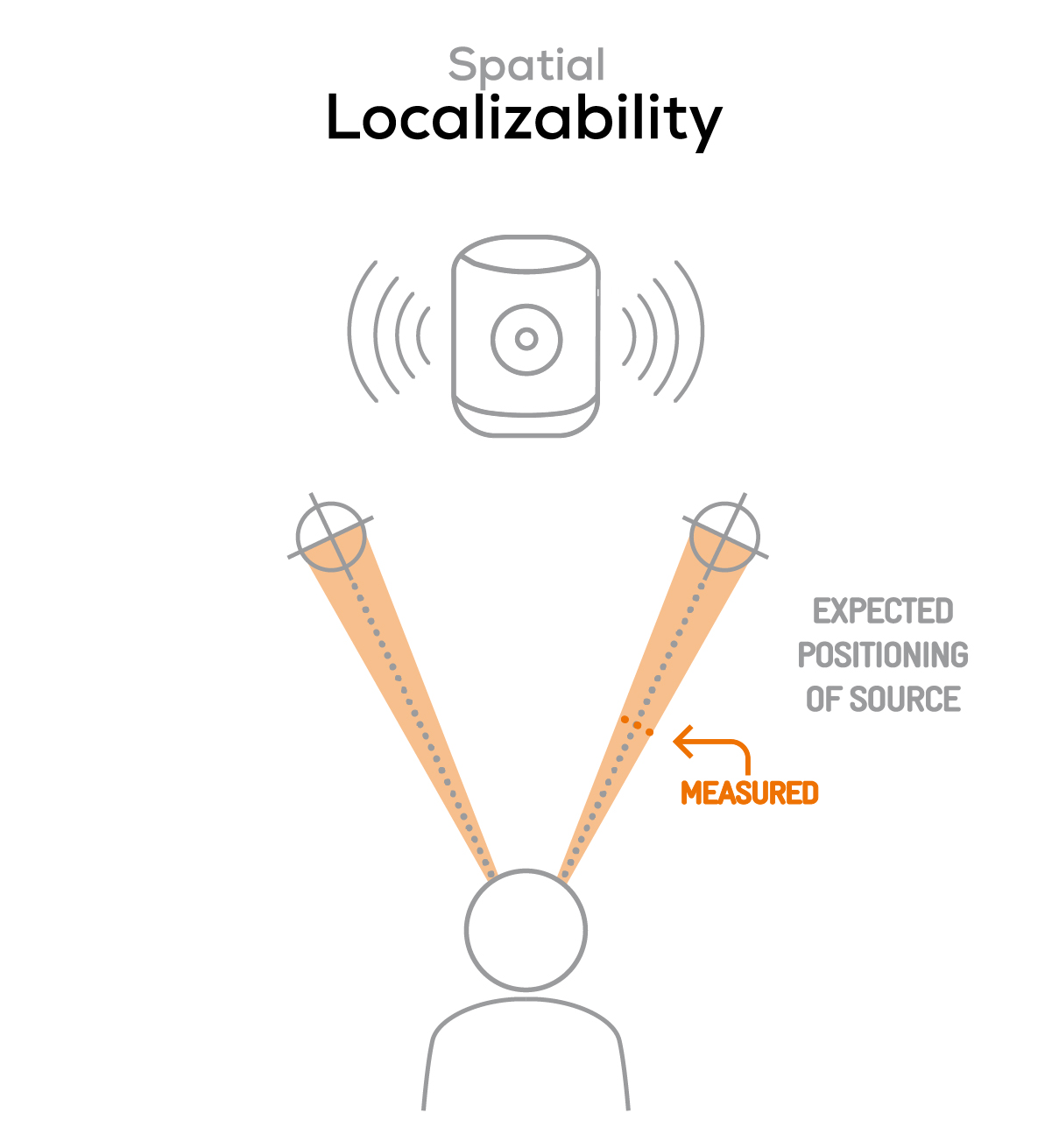 Volume
120
Bluesound Pulse Mini 2i
Our volume tests measure both the maximum loudness a speaker is able to produce and how smoothly volume increases and decreases based on user input.
Playback volume comparison
Playback volume consistency comparison
The volume performance of the Marshall Stanmore II was impressive. The maximum volume was the among the loudest we've tested.
Here are a few sound pressure levels (SPL) we measured when playing our sample recordings of hip-hop and classical music at maximum volume:
| | | | | | | |
| --- | --- | --- | --- | --- | --- | --- |
| | Correlated Pink Noise | Uncorrelated Pink Noise | Hip-Hop | Classical | Latin | Asian Pop |
| Marshall Stanmore II | 96.9 dBA | 94.2 dBA | 91.8 dBA | 85.3 dBA | 93.1 dBA | 84.3 dBA |
| Google Home Max | 91.9 dBA | 88.9 dBA | 88.9 dBA | 81.9 dBA | 89.3 dBA | 82.4 dBA |
| Denon Home 250 | 89.2 dBA | 84.8 dBA | 86.1 dBA | 81.6 dBA | 85 dBA | 81.1 dBA |
Artifacts
Our artifacts tests measure how much source audio is distorted when played back, along with such other sound artifacts as noise, pumping effects, and clipping. Distortion and other artifacts can occur both because of sound processing and because of the quality of the speakers.
Playback artifacts comparison
The  Marshall Stanmore II had a very good score in the artifacts attribute, with very few discernible problems. Peak clipping can happen at any volume setting when the music or other content has a heavy bass presence, such as loud kick hits; this may be attributable to an overshoot on compression or a physical issue with the speaker. At maximum volume, distortion and extreme limiting occur.
Playback total harmonic distortion
Conclusion
The Marshall Stanmore II is a good all-around performer, matching or surpassing the scores of much more expensive devices in our database rankings. It performs well in a variety of settings and situations, with a generally pleasant tonal balance. The Stanmore II also had a good showing in the dynamics attribute, with good impact, attack, and bass precision. It's also capable of being quite loud, though some issues emerge when playing music at maximum and loud volumes, where the dynamics performance falters and distortion begins to appear.
Pros
Good overall tonal balance
Among loudest devices we've tested
Good dynamics across most use cases
Cons
Stereo scene not very wide; not great localizability and distance
Slight lack of high mids, low-end extension, high-end extension