Introduction
The Olympus OM-D: the digital version of the OM line
This new camera fits right in to the OM line and will appeal to demanding and adventurous photographers. We had a chance to see this camera yesterday in Paris, and here are a few first impressions: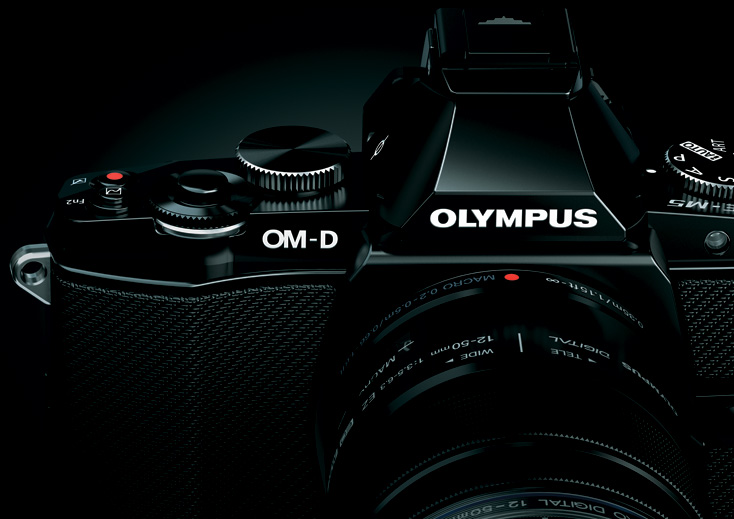 Compactness, tropicalized housing, and integrated viewfinder
The first thing we noticed was how compact this camera truly is, with Olympus taking full advantage of the 4/3 sensor format. And as soon as we handled it, we could tell that its size in no way compromised its ergonomics: this camera has a very nice feel to it, light-weight (425g), and with an optional grip available to provide even greater user comfort.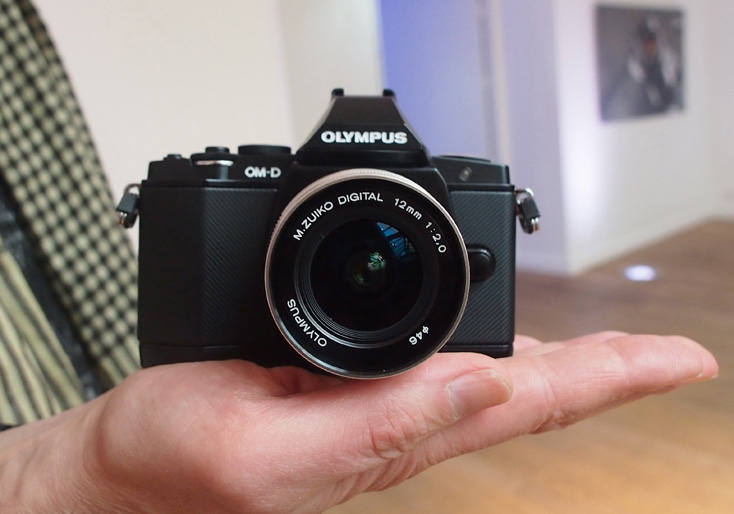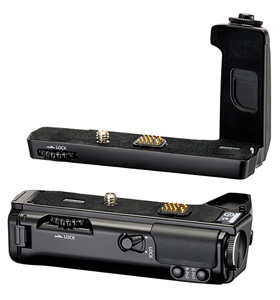 Olympus keeps its promises in terms of compactness. The OM-D E-M5 fits in your hand — the same size as or smaller than cameras such as the Panasonic GF2 and the Sony NEX 5N.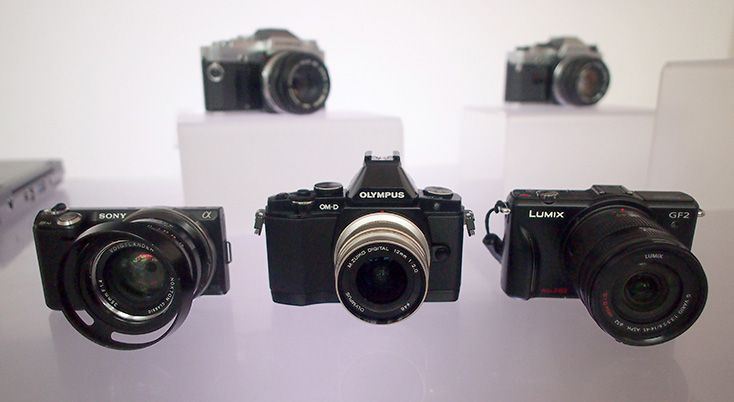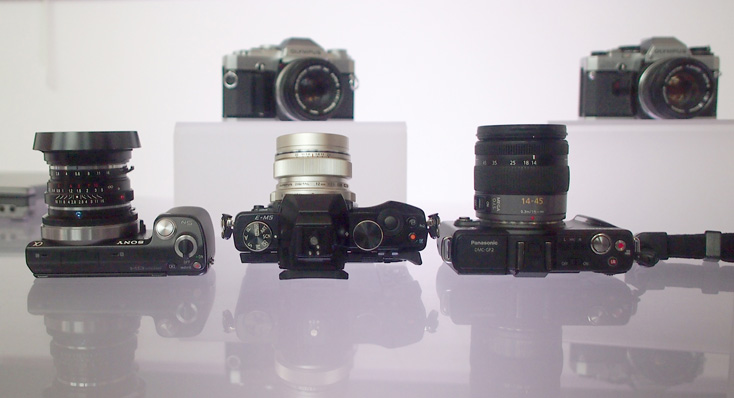 A 16-Mpix sensor
The technical specifications of the OM-D's sensor are very close to those for Panasonic's GX1, GH2, and GF3 cameras. While the Olympus marketing team has not formally confirmed that the OM-D uses the very same sensor, our upcoming DxOMark measurements will certainly make this clear one way or the other. In any case, although we expect to see pretty much the same sensor results for the OM-D as for the Panasonic models, it's always possible that there may be some surprises in store.
With respect to the old PEN line, the OM-D gains in resolution, going from 12M pix for the PEN to 16 Mpix. The OM-D's sensor can provide sensitivities up to ISO 25,600, although it remains to be seen just what kind of image quality a 4/3-format sensor can produce at such an extreme ISO.
The OM-D also comes with a new shutter that features two different burst modes :
With autofocus ("Continuous AF" mode), 4.2 frames per second
Without autofocus ("Single AF" mode), 9 frames per second
Autofocus
One of the weak points for the PEN line has been its autofocus (notoriously slower than certain Panasonic models). With the advent of the OM-D, Olympus announced a noticeable improvement thanks to its new, faster sensor. In fact, Olympus announced a measured gain of 20% between a PEN EP3 and the OM-D using a M.ZUIKO DIGITAL ED 12-50mm f3.5-6.3 EZ lens (lens data available soon on DxOMark).
Another slight modification to the autofocus is the new "semi-predictive" followup tracking mode. The autofocus is now equipped with 35 collimators.
Viewfinder
The integrated viewfinder is a real plus and something that the Olympus PEN series didn't have. While simply a detail for certain photographers, it can be a real show-stopper for others. Users of the OM-D will enjoy the 1.44-million-pixel electronic viewfinder that provides comfortable viewing at 100%. Those with vision problems can apply corrections from –4 to +2 diopters.
The OM-D also has a ring to allow photographers to adjust the framing ratio as well as the high- and low-light settings.
Stabilization
Stabilization has been a somewhat delicate topic for Olympus, bringing to mind the comparison between the Nikon 1 and the Olympus PEN EP-3 — a painful experience for Olympus, in fact (see Nikon Rumors' Nikon 1 v1 vs Olympus PEN EP3). Determined to learn from its past, Olympus has announced a completely redesigned system that features a sensor stabilized along 5 axes and rolling shutter compensation. We will be sure to test this!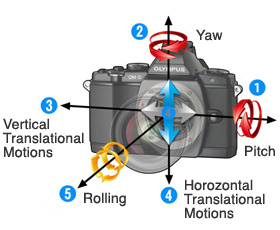 A few other things worth noting
A touch screen on a single-tilt axis (we frankly expected something better…)
Better maintenance support
Available in silver or black
Price: around $1000 for just the body. So far no kits have been announced, but we anticipate that Olympus will offer one with a M.ZUIKO DIGITAL ED 12-50mm f3.5-6.3 EZ tropicalized lens (price to be determined).
The Olympus OM-D E-M5 compared to…
With the 2012 advent of the Olympus OM-D E-M5, the Olympus micro 4:3 line splits in two: the Pen E-P3, E-PL3 and E-PM1 models intended for amateurs, and this new high-end camera, conceived and developed as upscale (tropicalized finition), high-tech (with advanced technical features), and retro (with a design that hearkens back to the silver and black OM line) all at once.
Where does this new hybrid fit among other interchangeable-lens compact cameras? Let's take a look at how the Olympus OM-D E-M5 stacks up against some relevant models.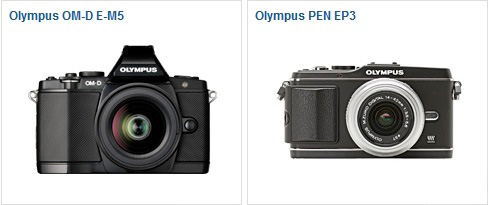 The new micro 4:3 OM-D E-M5 tops off the Olympus hybrid line, surpassing the former micro 4/3 flagship, the Pen E-P3. From the point of view of functionality, the two cameras are very close, but the new OM-D E-M5 distinguishes itself from the Pen E-P3 with its integration (at last!) of a 16Mpix Live MOS sensor (more compelling vis-à-vis high sensitivity than the Pen E-P3's 12Mpix sensor), and a magnesium alloy housing with a tropicalized finish (and in fact, the OM-D E-M5 is the only digital hybrid on the market that is "anti-runoff").
The OM-D E-M5 also brings with it Olympus's image stabilization system that corrects camera movement along 5 axes. The two Olympus hybrids share the same AMOLED 3″ touchscreen, but the OM-D E-M5's screen can be tilted to offer greater freedom of movement.
If the Pen E-P3 positioned itself as being upscale and retro, the OM-D E-M5 takes it up another notch both in terms of its traditionally-oriented ergonomics and with its silver and black finish that resembles that of the OM-1 and OM-2 (etc.) — combining the look of the 1970s with the technology of the 2010s.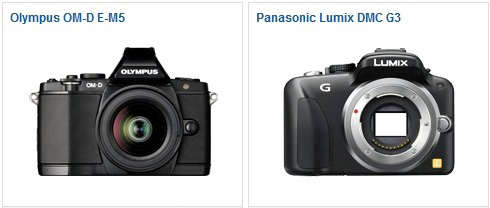 Lacking integrated stabilization, a tropicalized finish, and OLED screen technology, the Panasonic Pen E-P3 is soundly beaten by the much more upscale Olympus OM-D E-M5. But the two hybrid cousins share the same sensor and video mode, and further, they share the same autofocus system speed.
Geared more toward amateurs, the Panasonic G3 is lighter, less expensive, and has the advantage of a fully-articulated touchscreen display.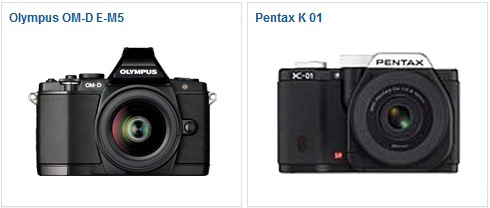 Let's now quit the micro 4:3 universe in search of other alternatives to the OM-D E-M5, starting with one of the most recently-announced models, the Pentax K-01. Pentax also adopted a retro design — and a more daring one at that, thanks to the input of Australian designer Marc Newson. The Pentax K-01 has nothing new to offer with respect to an integrated viewfinder and other ergonomic details important to amateur and expert photographers alike, but as with the OM-D, it offers integrated (if rather conventional) image stabilization.
Short of a truly bad surprise, the Pentax K-01 will provide superior image quality to that of the OM-D E-M5 because it uses a sensor renowned for its sensitivity and dynamic range, the 16Mpix CMOS (which fits into the APS-C's intrinsically larger body). And even though the Olympus OM-D E-M5 can take advantage of some very nice micro 4/3-compatible lenses (Olympus M.Zuiko Digital and Panasonic Lumix G lines), the Pentax K-01 uses the much broader array of Pentax K-mount lenses.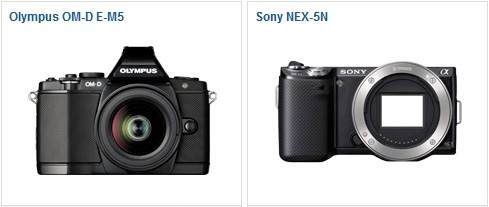 While outclassed by the OM-D, the Sony NEX-5N still has many good qualities. Even though its ergonomics leaves something to be desired (no viewfinder, less direct access to advanced functions and settings, not as high-quality a finish), it has a great asset up its sleeve — combining the image quality of a 16Mpix Sony Exmor APS-C sensor (the benchmark since its release) with an ultra-compact camera body format.
The compactness of NEX hybrid cameras, however, is often thwarted by use of the cumbersome and unprepossessing line of Sony E lenses. Even so, videographers will certainly be attracted by the Sony NEX-5N's ability to shoot Full HD at 60p. A camera for amateurs, its price is 40% less than that of the OM-D E-M5.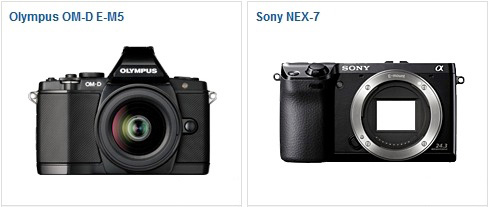 In contrast to the Olympus OM-D's conservative approach, the Sony NEX-7 offers carefully-designed but totally innovative ergonomics. While Sony's Tri-Navi system takes some getting used to, it makes an astronomical number of parameters and functions available at the touch of a dial.
The NEX-7 is likely the most high-tech compact hybrid currently available, with its 2.36Mpix OLED viewscreen and its new 24Mpix very-high-definition Exmor sensor that offers Full HD video recording at 60p.
Clearly there are many different aspects to defining an upscale compact hybrid!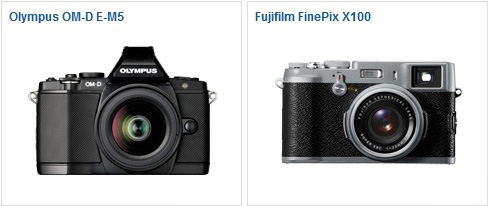 A retro look, solid ergonomics, an upscale finish: these are some of the characteristics that the Fujifilm X100 shares with the OM-D E-M5 — but that's where the comparison ends. The X100 doesn't allow for changing lenses and offers no alternative to its very nice 23mm f/2.0 lens — an entirely different approach to that of Olympus.
The Fujifilm's 12Mpix APS-C sensor works extremely well with its Fujinon lens at high sensitivities, and its innovative, big and bright hybrid viewfinder is almost too scalable.
But the expert-level OM-D is still more versatile with its micro 4:3 mount, its Full HD video mode, and its highly up-to-date functionality.
A camera to go wild over? Maybe!
With this very interesting compact and robust camera, Olympus has certainly succeeded in rekindling the OM flame. Of course we still need to analyze the sensor and then the various lenses available (from both the Olympus and Panasonic lines).
This all said, its positioning is very promising, given that there are precious few hybrid cameras whose specs come close to those of the Olympus OM-D.