Introduced earlier this year as OnePlus's latest flagship, the OnePlus 7 Pro packs a lot of punch into a premium phone that is priced below many of its competitors, starting with a 6.67-inch Fluid AMOLED QHD+ display that can run at 90 Hz. A Snapdragon 855 SoC, along with 6GB/12GB of RAM and either 128GB or 256GB of storage ensure that it can handle a multi-application workload. Rounding out the specs are a 48MP main camera that includes separate ultra-wide-angle and telephoto camera modules. As is now common in audio specs for flagship devices, the OnePlus 7 Pro supports Dolby Atmos and has a dedicated microphone for noise cancellation.
We put the OnePlus 7 Pro through our rigorous DXOMARK Audio test suite to measure its performance both at playing audio back through its built-in speakers and at recording sound using its built-in microphones. In this review, we'll break down how it fared in a variety of tests and in several common use cases.
Audio specifications include:
Dual stereo speakers with Dolby Atmos
Dedicated microphone for noise cancellation
About DXOMARK Audio tests: For scoring and analysis in our smartphone audio reviews, DXOMARK engineers perform a variety of objective tests and undertake more than 20 hours of perceptual evaluation under controlled lab conditions. This article highlights the most important results of our testing. Note that we evaluate both Playback and Recording using only the device's built-in hardware and default apps. (For more details about our Playback protocol, click here; for more details about our Recording protocol, click here.)
Test summary
65
audio
The OnePlus 7 Pro scored well overall compared to the other Android phones we have tested so far, achieving an Overall Audio score of 65. That puts it well ahead of the Sony Xperia 1 at 45 and the Honor 20 Pro at 53, although significantly behind the Huawei Mate 20 X's 75. Impressively, it nearly matches the Overall score of the larger and newer Samsung Note 10+ (66 points); however, it was definitely below the Apple iPhone XS Max (74), and weaker across the board than Apple's newest flagship phone, the iPhone 11 Pro Max.
Breaking down the 7 Pro's Overall score, playing back audio is clearly the phone's strong suit, with a Playback score of 68. It generally performed well across all our playback tests. Speakers are well-positioned to avoid being inadvertently muffled by a hand, but their asymmetric placement does interfere with accurate sound stage rendering. Bass is somewhat lacking, which pulls down the phone's Timbre and Dynamics sub-scores somewhat.
In terms of use cases, the 7 Pro is strong across our tested scenarios of music playback, movie watching, and gaming. Its music playback performance is nearly as good as the top flagship iPhone models we have tested so far, although at high volumes there are some disturbing high-frequency resonances. Its performance for movies and music is definitely stronger than for gaming audio.
Its Recording score of 56 is quite weak across the board compared to its Playback score, except for its ability to accurately reproduce loud scenes. Recorded voices often sounded unnatural and metallic, with their sound envelopes compromised by excessive compression. Background sounds are not well suppressed when recording video in noisy locations.
Both voices and background sounds also suffer from audible distortion. This weakness showed up in all of our use cases, especially when recording selfie videos with the front-facing camera. Its best performance was for memo recording and "general life" videos. The 7 Pro's omni-directional microphone also makes it difficult to accurately reproduce the directionality of an audio source.
Sub-scores explained
The DXOMARK Audio overall score of 65 for the OnePlus 7 Pro is derived from the Playback and Recording scores and their respective sub-scores. In this section, we'll take a closer look at these audio quality sub-scores and explain what they mean for the user.
Playback
Timbre
Black Shark 5 Pro
Best: Black Shark 5 Pro (89)
Our Timbre tests measure how well a phone reproduces sound across the audible tonal range, including bass, midrange, and treble. Overall, the 7 Pro does a good job of accurately reproducing tones and keeping them in balance across the full tested range, giving it a Timbre sub-score of 61. As you can see from the frequency response chart below, though, bass response is weak. There can also be disturbing high-frequency resonances at maximum volume.
Music playback frequency response
Dynamics
Black Shark 5 Pro
Best: Black Shark 5 Pro (81)
Our Dynamics tests measure how well a device reproduces the energy level of a sound source, and how precisely it reproduces bass frequencies. With a Dynamics sub-score of 65, the 7 Pro achieves one of the higher scores we've seen for this category. Sound dynamics are best for movies and music, but not quite as strong for gaming audio. In general, bass is the 7 Pro's major weakness here, including an issue when bass becomes sloppy at high volumes due to a lag in compression response.
Spatial
Black Shark 5 Pro
Best: Black Shark 5 Pro (88)
Our Spatial tests measure how well a device accurately portrays the original location of instruments or other sound sources used in a recording. The 7 Pro does a good job of placing sound sources overall, balancing them between locations and accurately representing their distance. When playing audio tracks with a lot of bass, however, the asymmetric speaker placement can lead to uncentered audio and a sloppy sound stage rendering, although the 7 Pro did an excellent job of reproducing a good sound stage for classical music.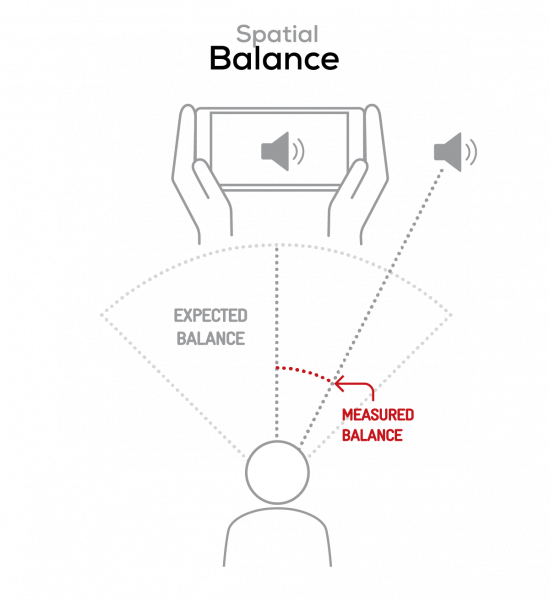 Good spatial balance in most scenarios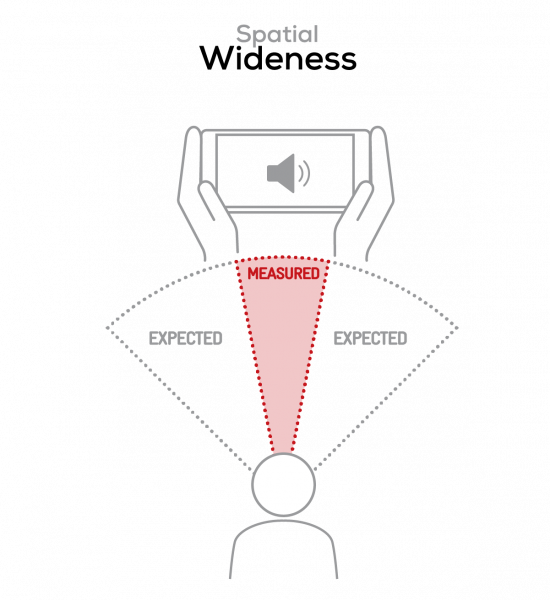 However, the sound stage has little width and locating audio sources is difficult when holding the device in portrait mode. The 7 Pro would benefit from specific tuning of audio playback for portrait mode.
Volume
Nubia RedMagic 7 Pro
Best: Nubia RedMagic 7 Pro (91)
Our Volume tests measure both the overall loudness a device is able to reproduce and how smoothly volume increases and decreases based on user input. The 7 Pro does a good job of smoothly changing volume levels, although some may feel that it has too many discrete volume steps. It performs particularly well at low volumes, with accurate volume steps, although its minimum volume is perceptually too loud. Maximum volume performance is not as strong as that of other flagship phones we've tested.
You can see the effect of the range of volume settings in this chart showing the actual loudness (acoustic power) generated for each of the device's volume steps. Note the high loudness level of the minimum volume setting:
We carried out objective measurements in our laboratories using recordings of both hip-hop and classical music played at the maximum user volume step:
| | |
| --- | --- |
| Hip-Hop | Classical |
| 74.9 dBA | 71.4 dBA |
Artifacts
Xiaomi Redmi K50 Gaming
Best: Xiaomi Redmi K50 Gaming (113)
Our Artifacts tests measure how much source audio is distorted when played back through a device's speakers. Distortion can occur both because of sound processing in the device and because of the quality of the speakers. The 7 Pro does a good job of limiting distortion, helping it achieve a very good Artifacts sub-score of 84. Some tracks demonstrate volume pumping, which detracts from the phone's score here, but most of the audible artifacts occur because of bass distortion that can be annoying at high volume. The 7 Pro's clever speaker positioning helps it avoid occlusion artifacts, as it is less likely that holding the phone with one's hand will cover the speakers.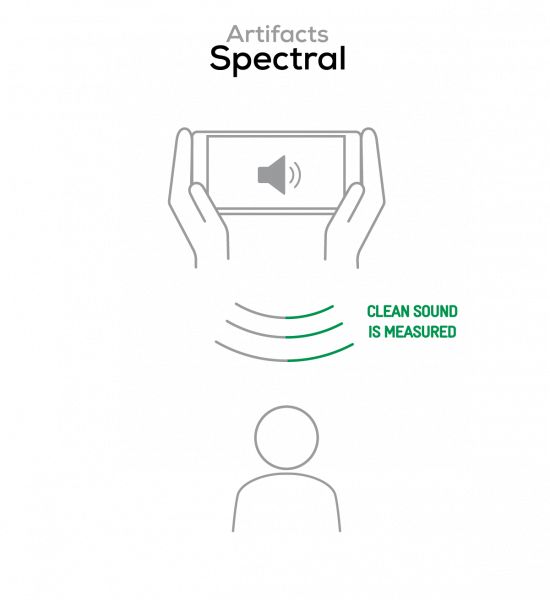 Distortion is well controlled on audio playback.
Recording
Timbre
Honor Magic3 Pro+
Best: Honor Magic3 Pro+ (91)
The 7 Pro doesn't do a particularly good job of accurately preserving the tonal range of audio sources. Mid-range tones can sound metallic, especially voices when using the recording app, and bass tones are lacking. Selfie video recordings suffer from audible resonances that are distracting.
You can see in this graph the inconsistent treble response when recording, along with the lack of low-frequency bass:
Life video frequency response
Dynamics
Black Shark 5 Pro
Best: Black Shark 5 Pro (81)
The 7 Pro does a reasonable job of accurately preserving the energy levels of both music and voice when recording, earning it mid-pack Dynamics sub-score of 63. The speaker's voice envelope is well preserved when recording memos, but the phone's performance is hampered in other situations because it alters energetic sounds, which come across as unnatural due to aggressive volume compression. The problem is worse when recording a concert with electronic instruments.
Spatial
Black Shark 4S Pro
Best: Black Shark 4S Pro (78)
Our Spatial sub-score measures how well a device creates a recording that allows a listener to accurately place sound sources within the real-world soundscape. The 7 Pro does a relatively weak job here, with a Spatial sub-score of 43 that is below most of the other phones we've tested.
The 7 Pro's low Localizability and Wideness sub-scores are attributable to the single-channel recording it uses in all tested modes except for video recording with the main camera, which is in stereo. When recording video, voices tend to be imprecise and sound too far away. The device performs better when recording meetings, where voices typically originate from a variety of places in the room.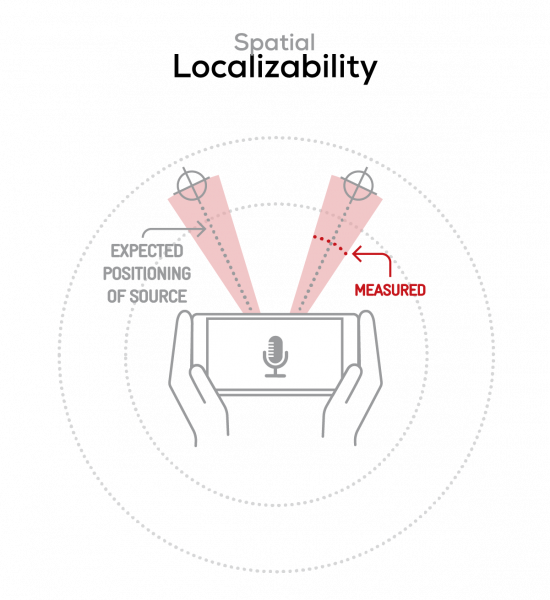 Poor spatial localizability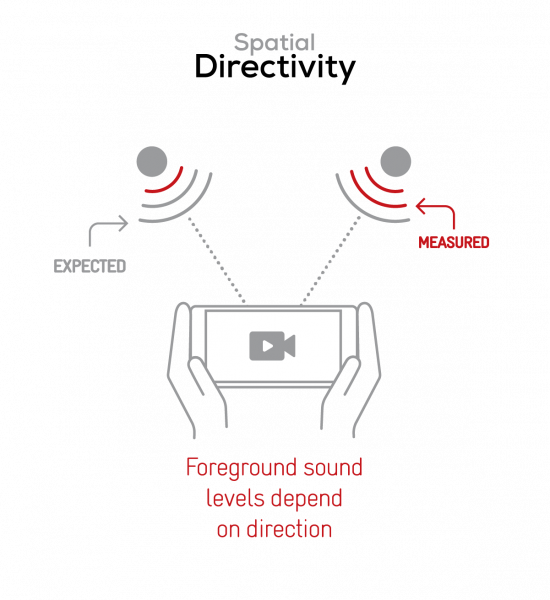 Volume
Black Shark 5 Pro
Best: Black Shark 5 Pro (99)
Recording volume is something of a bright spot for the 7 Pro, which achieved a Volume sub-score of 73. Maximum loudness is particularly good, thanks in large part to the phone's aggressive compression, which reduces the risk of distortion at high volumes. By contrast, however, recording levels in the Memo app tended to be too low. Here are our test results, measured in LUFS (Loudness Unit Full Scale); note that results lower than –24 are unacceptable.
| | | | |
| --- | --- | --- | --- |
| Meeting | Life Video | Selfie Video | Memo |
| -28.2 LUFS | -16.3 LUFS | -15.1 LUFS | -23.6 LUFS |
Artifacts
Black Shark 5 Pro
Best: Black Shark 5 Pro (97)
Audio recorded with the 7 Pro suffers from a variety of artifacts in every scenario we tested other than memo recording. We often heard volume pumping along with audible distortion when recording voices. Compression is too aggressive, especially in Selfie mode.
You can hear some of the artifacts for yourself in this sample recording:
One positive thing is that the 7 Pro was able to record appropriately even when the user accidentally placed a hand over the area of the microphone, which on some other smartphones causes occlusion (a drop in overall sound).
Background
Black Shark 5 Pro
Best: Black Shark 5 Pro (60)
Sound recording professionals often use highly-directional microphones to isolate sound sources and keep out background noise. Smartphones, however, rely on the same small microphones for everything, so suppressing background noise also relies heavily on the device's audio processing. The 7 Pro does very poorly in this area, failing to render background sound well. Background noises are distorted and sound unnatural; there is also a disturbing effect caused by the automatic volume (gain) control that frequently alters the background volume from one second to the next, depending on the voice content. When background noise levels are low, they are sometimes more quiet than they should be.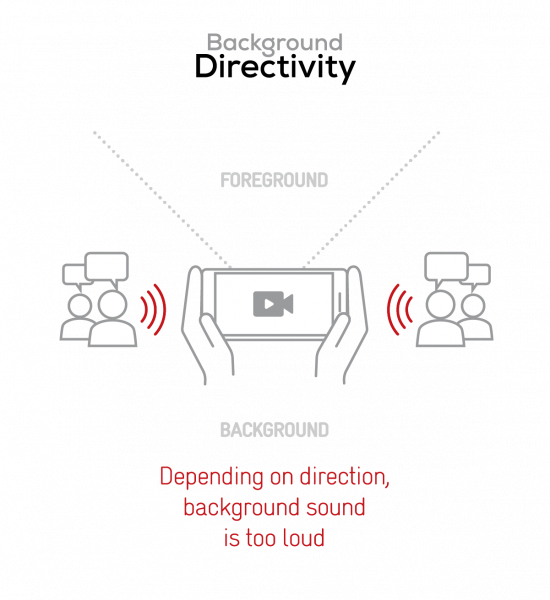 Background directivity is poor.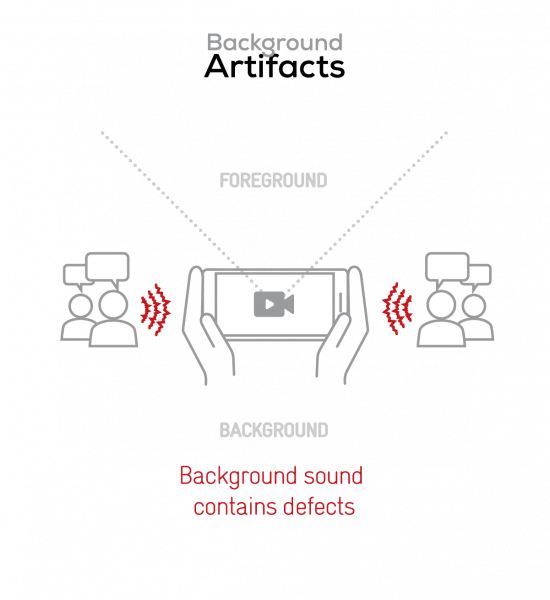 Background sounds are distorted.
Conclusion
The OnePlus 7 Pro puts in a generally solid performance for playing most types of audio, especially movies and music. Lack of bass power is a problem, despite the device's reasonable overall volume. Its performance when recording audio is not nearly as strong, and is hampered by very audible artifacts that especially affect background sounds and voices.
Playback
Pros
Decent overall playback performance
Relatively few artifacts
Speaker positioning mostly avoids hand occlusion
Cons
Lack of bass affects timbre and dynamics
Asymmetric speaker placement affects spatial performance
Recording
Pros
Decent overall recording performance
Can record loud scenes without distortion
Cons
Voices often sound metallic
Compression is too aggressive, lowering voice quality
Too much distortion of both voices and background sounds