OnePlus on Tuesday launched its 2021 flagship smartphone, the OnePlus 9 Pro, its much-anticipated follow-up to last year's OnePlus 8 Pro.
This year OnePlus heralds a partnership with an iconic name in photography, Hasselblad, a leader in medium-format cameras, with the stated aim of "taking mobile photography to the next level," particularly in terms of color, according to OnePlus.
The 9 Pro is packed with top-end technology, including Qualcomm's Snapdragon 888 chipset, which in addition to plenty of processing power, also provides 5G connectivity. The 4500 mAh battery supports fast as well as wireless charging, and audio specs include dual stereo speakers and noise cancellation support, as well as Dolby Atmos.
The 6.7-inch AMOLED LTPO display offers a variable refresh rate up to 120 Hz that automatically adjusts to the current user scenario.
OnePlus plans to make the 9 Pro available in North America and Europe as well as in China and India at a starting price of $969 for the 8 RAM / 128 GB model and $1,069 for the 12 RAM / 256 GB model.
Now let's take a closer look at the camera specs.
Camera: Promising ultra-wide and 12-bit RAW
An overview of the OnePlus 9 Pro rear camera specifications indicates some interesting features, particularly for the ultra-wide, which now comes with a larger sensor, and the primary camera. (You'll find more details about the individual camera modules further below). First let's have a look at some of the general camera improvements on the OnePlus 9 Pro.
The OnePlus 9 Pro introduces 12-bit RAW to smartphones. Compared to 10-bit RAW on most current models, the additional 2 bits should help achieve smoother tonal transitions and generally allow for more leeway when making exposure or color adjustments in post processing. This said, smartphones often achieve the best image quality when using multi-frame processing, which is applied only to JPG files but usually not RAW. So 12-bit RAW will likely be most interesting overall to expert photographers who want maximum control over processing. On the other hand, OnePlus might provide something similar to Apple ProRAW, which is a type of multi-frame RAW file. We'll have to wait and see.
In addition, dual-native ISO may improve the sensor's dynamic range in the RAW domain.
Further development includes a new tilt-shift mode that uses software to simulate the effects of a tilt-shift lens, reducing converging verticals when pointing the camera up and allowing for a miniature effect when using the lens at long distance.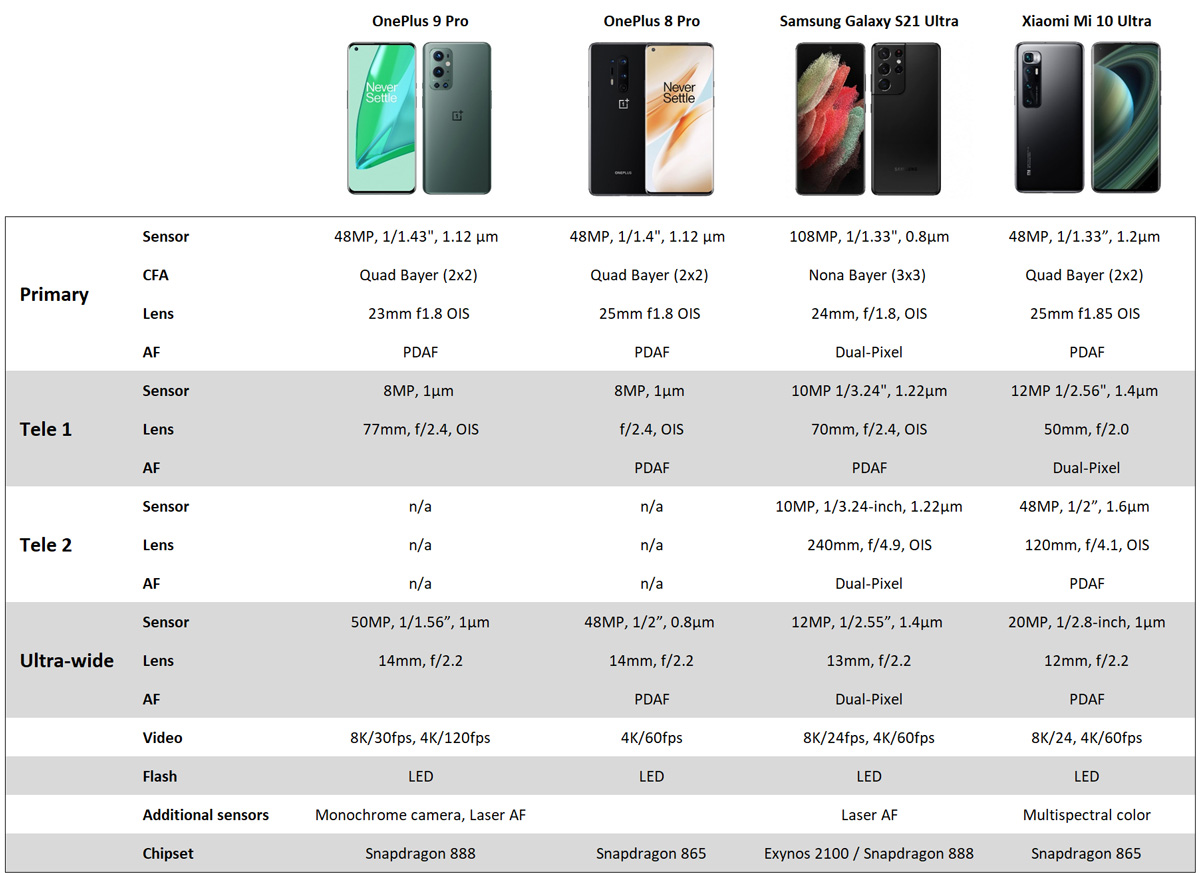 Primary camera: 12-bit RAW and dual-native ISO
The primary camera's sensor looks very similar to last year's OnePlus 8 Pro flagship and features a 48 MP 2×2 OCL Quad-Bayer sensor. The design helps increase the sensitivity of the sensor, and with phase detection available across all pixels, autofocus performance should be accurate and fast for all subject sizes, especially in low light.
Last year's OnePlus 8 Pro's autofocus performance was decent but left some room for improvement, especially in low-light and high-contrast scenes, where we measured delays between the push of the shutter and final capture. We expect the new model to improve in this area.
In addition to the 12-bit RAW and dual-native ISO mentioned above, DOL HDR may help expand dynamic range. DOL HDR (Digital Overlap HDR) combines different exposures into one single frame, optimizing image information in the brightest and darkest parts of the scene and avoiding image artifacts. This works for both video and still images.
Focal length of the primary module is advertised at 23 mm, giving a slightly wider field of view compared with the 8 Pro's 25 mm. Aperture remains unchanged at f/1.8, though, and like virtually all current high-end phones, the new OnePlus comes with optical image stabilization.
Ultra-wide: Lots of potential
While the primary module looks largely unchanged compared to its predecessor, OnePlus has made important changes to the ultra-wide. A Sony IMX 766, 50 MP, 1/1.56″ sensor provides a sensor surface of 50mm2, compared with 31mm2 on the OnePlus 8 Pro. On paper, this allows for a higher photon flow than on many flagship rivals, including the Samsung Galaxy S21 Ultra and the Apple iPhone 12 Pro Max. Only the Huawei Mate 40 Pro+ gets pretty close.
With a 14 mm-equivalent focal length and f/2.2 aperture, lens specs look identical to the OnePlus 8 Pro, but it's of course the larger sensor that should make a difference. Overall hardware specifications of the OnePlus 9 Pro's ultra-wide camera look very promising, especially when combined with the Snapdragon 888's powerful imaging features. In short, the camera looks to have the potential to achieve a new top score in the Wide category when we get to test it.
Tele: Decent specs but no long-range tele lens
OnePlus has made fewer changes to the tele module than to the ultra-wide. With an 8 MP sensor, an equivalent focal length of 77 mm, OIS, and an f/2.4 aperture, the specs are very similar to the setup on the OnePlus 8 Pro. The 3x tele-lens should provide good results at short- and medium-range tele settings, but the lack of a long tele-lens means the OnePlus will likely struggle to compete with the best in class at long-range tele distances, such as the Samsung Galaxy S21 Ultra.
Video: Now with 8K support and 4K at 120fps
In the video department, the OnePlus 9 Pro comes with 8K recording at 30 fps — a step up from the 8 Pro, which was limited to 4K resolution. Such high video resolution might not be required by everyone but it is a great option to have, as it allows more flexibility in post production — for example, for cropping, along with letting you grab high-res still images from your video clips.
In addition, the new OnePlus lets you record 4K footage at 120 fps, providing high-resolution slow-motion video. Those who need even faster frame rates can opt for lower resolutions and use the 1080p/240 fps or 720p/480 fps modes.
While 8K mode provides lots of benefits, OnePlus will likely have made some compromises to achieve such a high video resolution, just like its competitors. Even when used at full resolution instead of binning mode, the 48 MP sensor might not provide enough resolution to enable the cropping required for electronic video stabilization; it may have to apply digital zooming to video footage after stabilization in order to achieve full 8K resolution.
In any case, the processor has to provide enough computing power to process 30 frames per second, so some features that are available at lower resolutions might not be available at 8K settings.
New tech and promising ultra-wide but no long tele
The OnePlus 9 Pro comes with a host of new features and technologies, such as 12-bit RAW and dual-native ISO, that should help improve image quality, especially when shooting in challenging conditions. The ultra-wide camera looks really promising, too, and we'll be surprised if it does not land in one of the top spots in our Wide ranking. On the downside, tele shooters might have hoped for a little more zoom reach from the new device. With only a 3x optical tele, it will be difficult to keep up with devices featuring dedicated long tele-lenses.