Oppo brought out its premium Find X3 Neo model in March 2021; its launch price of $799 puts it just one euro away from being classified as "ultra-premium" in our price-based device segmentation. It comes with a 65W charger for its 4500 mAh battery, which powers a quad camera setup (among other premium features).
We ran the Oppo Find X3 Neo through our comprehensive Battery protocol tests and will present its most significant results in this review.
Key specifications:
Battery capacity: 4500 mAh
65W charger included
6.55-inch 1080 x 2400, 90 Hz OLED display
Qualcomm Snapdragon 865 (7nm) chipset, 5G
Tested ROM / RAM combination: 256 GB + 12 GB
About DXOMARK Battery tests: For scoring and analysis in our smartphone battery reviews, DXOMARK engineers perform a variety of objective tests over a week-long period both indoors and outdoors. This article highlights the most important results of our testing. (See our introductory and how we test articles for more details about our smartphone Battery protocol.)
Test summary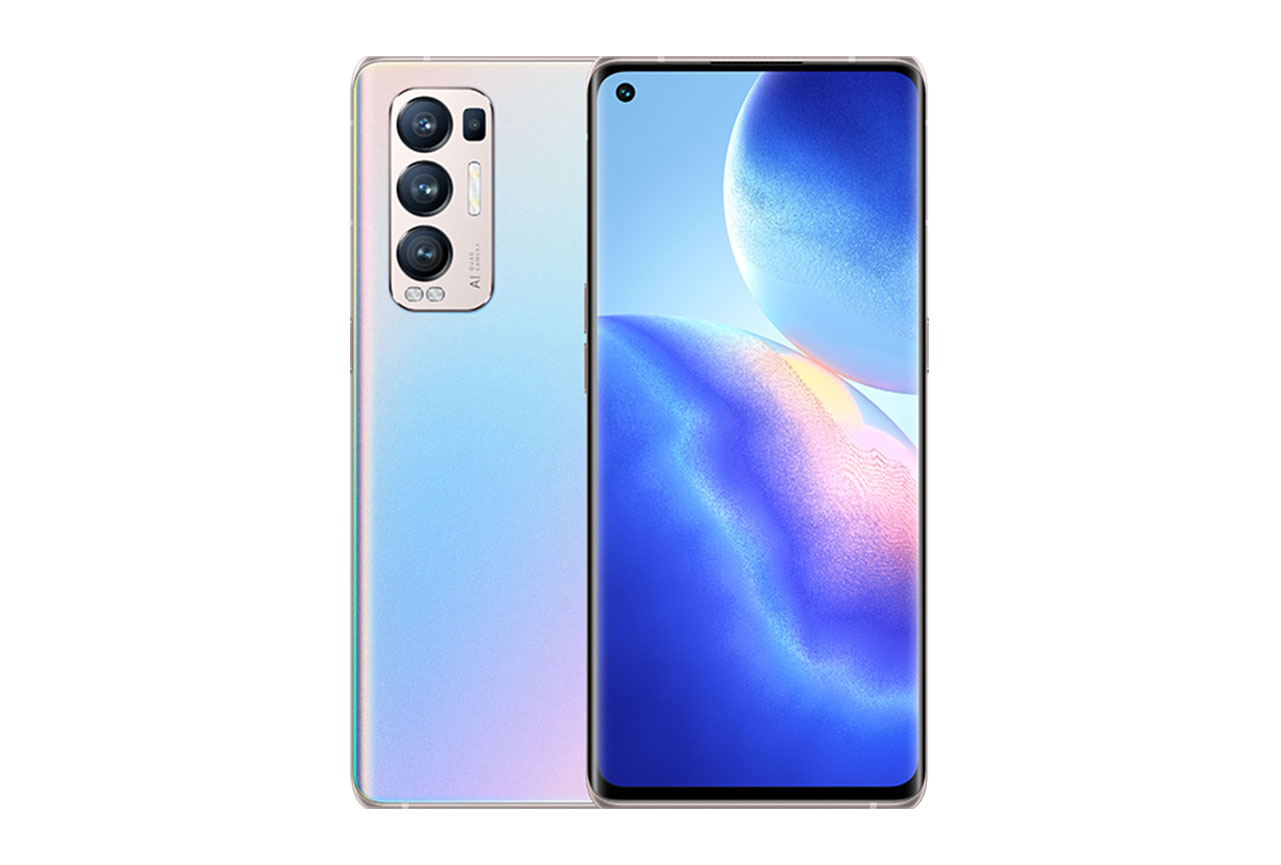 Oppo Find X3 Neo
81
battery
Position in Global Ranking
#8
6. Xiaomi Redmi Note 10 Pro
84
9. Apple iPhone 12 Pro Max
78
9. Xiaomi Redmi Note 10 5G
78
17. Motorola Moto G9 Power
70
17. Samsung Galaxy S21 Ultra 5G (Snapdragon)
70
21. Samsung Galaxy A52 5G
67
23. Samsung Galaxy S21 5G (Exynos)
63
28. Samsung Galaxy S21 Ultra 5G (Exynos)
57
Position in Premium Ranking
#1
2. Samsung Galaxy S21 5G (Exynos)
63
Pros
Excellent charging experience
Provides more than 2 days of autonomy for average use
Quick boost provides more than 5 hours of autonomy
Cons
Very high residual consumption
Poor performance using GPS navigation
The Oppo Find X3 Neo provides 51 hours of autonomy in average use, which is fairly good for a device in its segment. Its biggest strength is its charging, with its 65W charger taking the battery from empty to full in just a few seconds over 36 minutes.
We compared the Oppo Find X3 Neo's performance in several key categories with another premium device, the Vivo X51 5G, and with two high-end devices, the Xiaomi Mi 10T Pro 5G and the OnePlus 8T; battery capacity, charger, display type and resolution, and processor specifications for all four devices are shown in the table below.
| | | | | |
| --- | --- | --- | --- | --- |
| | Oppo Find X3 Neo | Vivo X51 5G | Xiaomi Mi 10T Pro 5G | OnePlus 8T |
| Battery (mAh) | 4500 | 4315 | 5000 | 4500 |
| Charger (W) | 65W | 33W | 33W | 65W |
| Display type | OLED | AMOLED | IPS LCD | AMOLED |
| Resolution | 1080 x 2400 | 1080 x 2376 | 1080 x 2400 | 1080 x 2400 |
| Processor | Qualcomm Snapdragon 865 (7 nm) | Qualcomm Snapdragon 765G (7 nm) | Qualcomm Snapdragon 865 (7 nm) | Qualcomm Snapdragon 865 (7 nm) |
Autonomy (60)
How long a battery charge lasts depends not only on battery capacity, but also other aspects of the phone's hardware and software. The DXOMARK Battery autonomy score is composed of three performance sub-scores: (1) Stationary, (2) On the go, and (3) Calibrated use cases. Each sub-score comprises the results of a comprehensive range of tests for measuring autonomy in all kinds of real-life scenarios.
75h
Light
Active: 2h30/day
51h
Moderate
Active: 4h/day
32h
Intense
Active: 7h/day
The Find X3 Neo brings a solid performance in the Typical Usage Scenario, delivering an autonomy of more than 2 days in a moderate (average usage), and performing as well as the Xiaomi Mi10T Pro, which features a slightly bigger battery (5000 mAh)
The Oppo Find X3 Neo's overall autonomy score of 60 puts it in the lead over the devices used in our comparison here. Of note is that the Oppo Find X3 Neo's superlative battery linearity means that users can trust its battery indicator and that the final 20% of a charge will last longer than they might expect.
Let's take a look at some of its specific results for our autonomy sub-attributes.
Stationary
Vivo Y72 5G
Best: Vivo Y72 5G (104)
A robot housed in a Faraday cage performs a set of touch-based user actions during what we call our "typical usage scenario" (TUS) — making calls, video streaming, etc. — 4 hours of active use over the course of a 16-hour period, plus 8 hours of "sleep." The robot repeats this set of actions every day until the device runs out of power. 
The Oppo Find X3 Neo provides 59 hours — nearly 2.5 days — of TUS autonomy, which is around 14 hours longer than the Vivo X51 5G and 13 hours longer than the OnePlus 8T; only the Xiaomi Mi 10T Pro 5G with its larger battery did (a little) better:
Typical Usage Scenario discharge curves
On the go
Samsung Galaxy M51
Best: Samsung Galaxy M51 (96)
Using a smartphone on the go takes a toll on autonomy because of extra "hidden" demands, such as the continuous signaling associated with cellphone network selection, for example. DXOMARK Battery experts take the phone outside and perform a precisely defined set of activities while following the same three-hour travel itinerary for each device.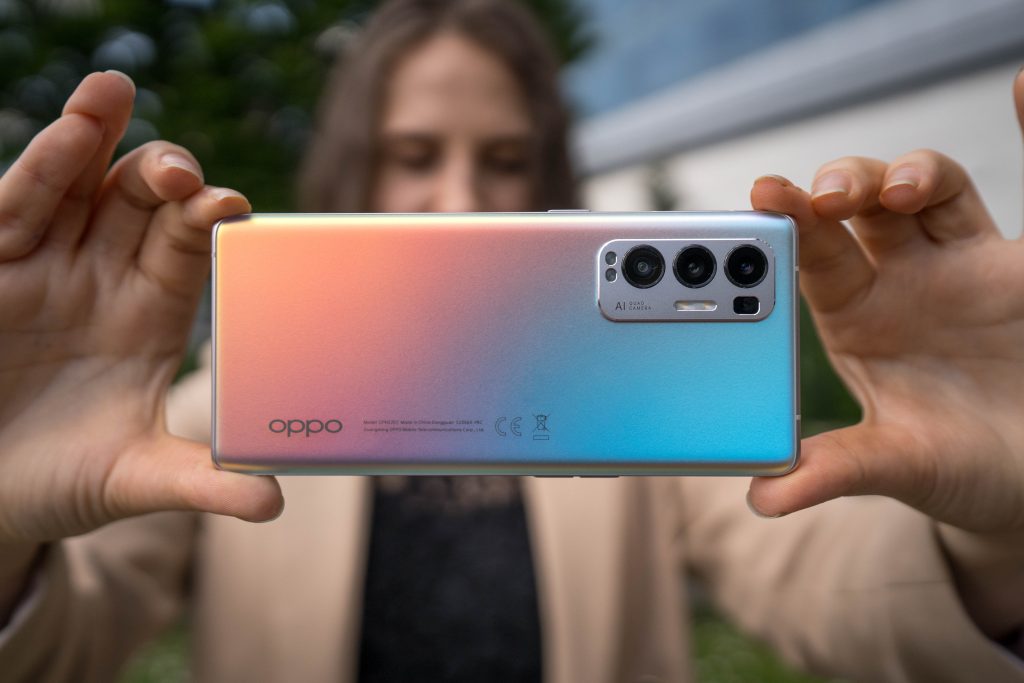 The Oppo Find X3 Neo's battery put in a solid performance when using the camera.
The Find X3 Neo did not do quite as well in our on the go tests as it did in stationary testing. Its performance was solid for social apps and camera, although these results are simply average compared to our entire database. However, although the Vivo X51 5G did worse, the Oppo device also delivered a disappointing performance for GPS navigation.
Estimated autonomy for on the go use cases (full charge)
Calibrated
Samsung Galaxy M51
Best: Samsung Galaxy M51 (100)
For this series of tests, the smartphone returns to the Faraday cage and our robots repeatedly perform actions linked to one specific use case (such as gaming, video streaming, etc.) at a time. Starting from an 80% charge, all devices are tested until they have expended at least 5% of their battery power.
As for our calibrated use case tests, the Oppo Find X3 Neo turned in a mixed performance compared to its rivals, coming in a bit lower in gaming. That said, its scores for making phone calls and for 4G and WiFi video streaming tied or topped the competition, and it was way ahead of the pack for music streaming.
Estimated autonomy for calibrated use cases (full charge)
Charging (101)
The DXOMARK Battery charging score is composed of two sub-scores, Full charge and Quick boost. Full charge tests assess the reliability of the battery power gauge; measure how long it takes to charge a battery from 0 to 80% capacity and from 80 to 100%; and measure how long and how much power the battery takes to go from an indicated 100% to an actual full charge. With the phone at different charge levels (20, 40, 60, 80%), Quick boost tests measure the amount of charge the battery receives after being plugged in for 5 minutes. 
Power consumption and battery level during full charge
Full charge
Oppo Find X3 Pro
Best: Oppo Find X3 Pro (104)
Our Battery protocol engineers don't usually give direct advice, but they couldn't help themselves this time, writing, "Forget about charging your phone overnight!" This is because the Oppo Find X3 goes from empty to an 80% charge in just a shade under 23 minutes, and among its rivals, only the OnePlus 8T comes close (at a bit more than 25 minutes); the other two devices take around 20 minutes longer.
Quick boost
When plugging in the smartphone for 5 minutes, users will recover up to 8 hours of usage when the battery gauge indicates 20% battery is left, which is the highest performance in our database so far. And of particular interest to gamers is the 21 seconds that the Oppo device takes to add 1% of power to the battery (the Vivo X51 5G is just as fast, but the OnePlus 8T is even faster at 17 seconds).
Oppo Find X3 Neo
Vivo X51 5G
Xiaomi Mi 10T Pro 5G
OnePlus 8T
Autonomy boost (hh:mm)
20%
8:20
3:47
3:50
5:42
40%
6:26
3:52
3:58
5:17
60%
5:29
3:54
3:48
4:22
80%
4:14
2:51
3:23
2:30
Percentage boost
20%
22.1 %
11.6 %
9.5 %
17.9 %
40%
17 %
11.9 %
9.9 %
16.6 %
60%
14.5 %
11.9 %
9.5 %
13.7 %
80%
11.2 %
8.7 %
8.4 %
7.8 %
Energy consumed
20%
4712 mWh
2473 mWh
2416 mWh
3847 mWh
40%
3637 mWh
2534 mWh
2498 mWh
3565 mWh
60%
3103 mWh
2551 mWh
2397 mWh
2941 mWh
80%
2399 mWh
1866 mWh
2131 mWh
1685 mWh
Efficiency (87)
Our Efficiency score comprises two sub-scores, Charge up and Discharge. Charge up is the efficiency of a full charge (how much energy is drained from the wall outlet vs the energy capacity of the battery, as well as the efficiency of the charger and its residual consumption). Discharge is how much current the smartphone drains from the battery when in use (the ratio of battery capacity over autonomy). Better autonomy with a smaller battery means better efficiency.
Charge up
The Oppo Find X3 Neo's 65W in-box adapter is extremely efficient; however, it draws significant power from the outlet when the phone fully charged — and even when the Find X3 Neo is detached, so users would do well to unplug the charger from the wall outlet when not in use.
Discharge
Apple iPhone 12 mini
Best: Apple iPhone 12 mini (121)
With good performance in most use cases, the Oppo Find X3 Neo handily beat the competition in terms of power consumption.
Conclusion
Although the Oppo Find X3 Neo's results for autonomy were not by any means earthshaking, its performance was largely satisfactory; and that said, it did very well for power efficiency. But thanks to its highly efficient and powerful 65W charger, the Oppo Find X3 Neo turned in a truly outstanding performance for charging that nearly all other devices will have a hard time beating.
In the Press