As smartphones become more intricate and specialized for certain functions like gaming, along comes the Realme C21, which focuses on basic uses. That doesn't mean that Realme has skimped on the popular must-have smartphone features. The phone, which was released earlier this year, comes equipped with a triple camera, a rather large 5000 mAh battery, powered by MediaTek's Helio G35 processor. The 6.5-inch screen has a "mini-drop" notch in the center. Other features include fingerprint unlocking and a three-card tray that allows for two dual sim cards and a memory card.
We put it through our display protocol test.
Key display specifications:
Display Type: LCD, 400 nits maximum brightness (typical)
Display: 6.5 inches, (89.5% screen-to-body ratio)
Dimensions: 165.2mm x 76.4 mm x 8.9 mm
Resolution: 720 x 1600 pixe

ls

,
Aspect ratio: 20:9 ratio (~270 ppi density)
Refresh rate: 60 Hz
Chipset: MediaTek Helio G35 (12 nm)
About DXOMARK Display tests: For scoring and analysis in our smartphone and other display reviews, DXOMARK engineers perform a variety of objective and perceptual tests under controlled lab and real-life conditions. This article highlights the most important results of our testing. Note that we evaluate display attributes using only the device's built-in display hardware and its still image (gallery) and video apps at their default settings. (For in-depth information about how we evaluate smartphone and other displays, check out our articles, "How DXOMARK tests display quality" and "A closer look at DXOMARK Display testing.")
Test summary
Scoring
Sub-scores and attributes included in the calculations of the global score.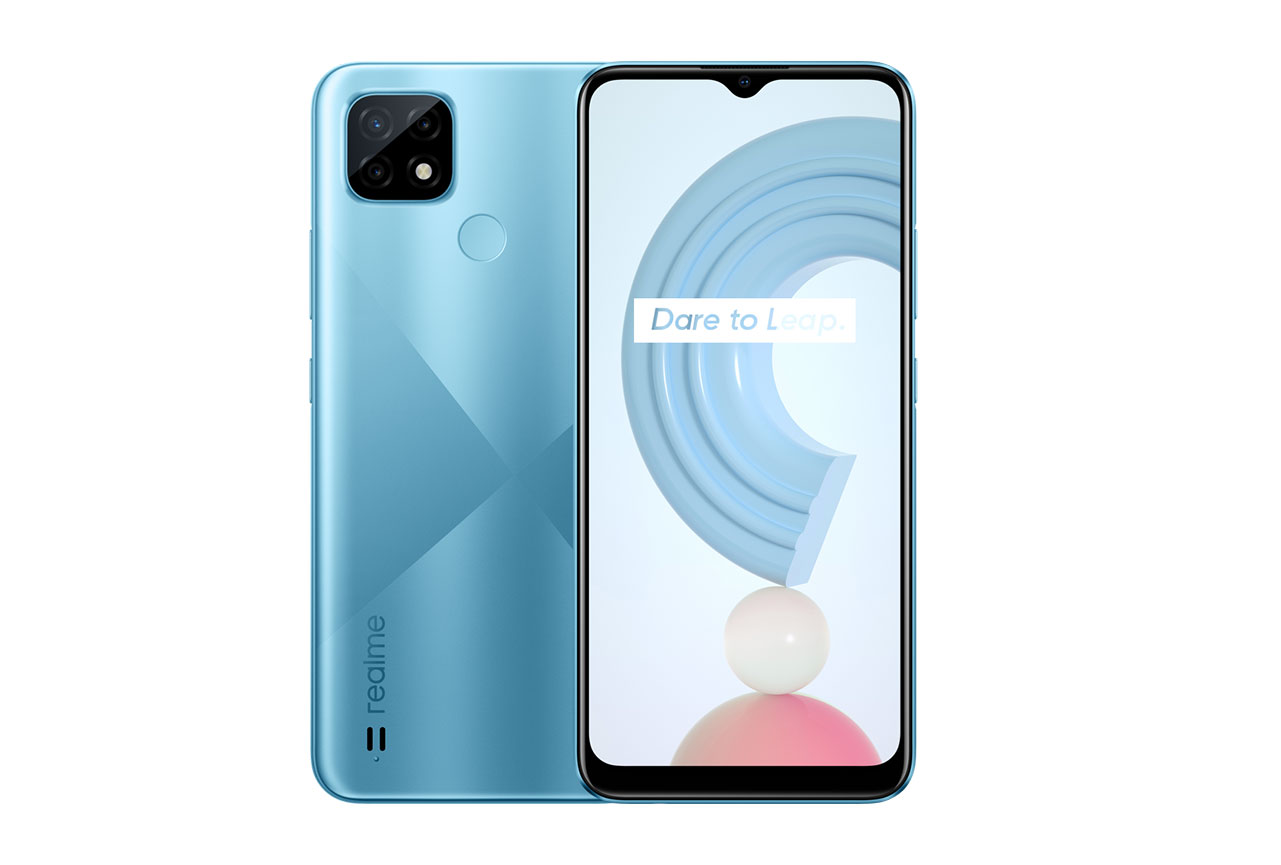 Realme C21
52
display
Please be aware that beyond this point, we have not modified the initial test results. While data and products remain fully comparable, you might encounter mentions and references to the previous scores.
Position in Global Ranking
102
nd
1. Apple iPhone 14 Pro Max
149
2. Apple iPhone 13 Pro Max
145
7. Samsung Galaxy S22 Ultra (Snapdragon)
136
9. Samsung Galaxy S22+ (Exynos)
135
11. Samsung Galaxy S22 Ultra (Exynos)
134
12. Samsung Galaxy S22 (Snapdragon)
133
12. Samsung Galaxy S22 (Exynos)
133
15. Samsung Galaxy S21 Ultra 5G (Snapdragon)
131
15. Samsung Galaxy S21 Ultra 5G (Exynos)
131
17. Samsung Galaxy S21 FE 5G (Snapdragon)
130
22. Samsung Galaxy Z Fold3 5G
129
22. Samsung Galaxy Note20 Ultra 5G (Snapdragon)
129
28. Samsung Galaxy Z Flip3 5G
128
28. Samsung Galaxy Note20 Ultra 5G (Exynos)
128
30. Apple iPhone 12 Pro Max
127
34. Vivo X70 Pro (MediaTek)
125
34. Vivo X60 Pro 5G (Snapdragon)
125
48. Oppo Reno6 Pro 5G (Snapdragon)
123
48. Samsung Galaxy S20 Ultra 5G (Exynos)
123
52. Apple iPhone SE (2022)
122
65. Apple iPhone 11 Pro Max
116
70. Samsung Galaxy A52 5G
111
74. Samsung Galaxy A52s 5G
110
79. Xiaomi Redmi K50 Gaming
107
82. Samsung Galaxy A53 5G
104
88. Microsoft Surface Duo
99
97. Samsung Galaxy A22 5G
74
98. Xiaomi Black Shark 3 Pro
69
100. Lenovo Legion Phone 2 Pro
60
Position in Essential Ranking
2
nd
Pros
The touch panel of the device is accurate.
The device is flicker free.
Cons
Brightness of the device is too low for outdoor conditions.
The device does not play HDR10 content and brightness is too low for SDR videos.
The device is not smooth; it is slow to react to touch inputs and shows a lot of frame drops while gaming.
The  Realme C21 display's overall performance is best in basic usage, mainly web browsing. It was able to adapt its screen brightness levels smoothly to changing light conditions.
In particular, the screen's readability and colors were acceptable in average lighting conditions when web browsing.  But once the phone's display was directed to other more advanced and demanding use cases, like gaming, watching HDR movies, or viewing photos, the performance varied.
The device doesn't support playback of  HDR10 videos, which affects the movie-watching experience, considering that most services stream in HDR. In low light, the screen's brightness is on the low side, and dark details in the videos are missing.  Although the device handles full HD videos, UHD videos are noticeably lacking fluidity, and the choppiness makes it difficult to watch comfortably.
For gamers, the device exhibits accurate touch functions, although reactivity is lacking. In addition to frequent frame drops, the screen struggles to manage advanced textures and game effects, and aliasing is visible. All that adds up to a gaming experience that is less than satisfying.
The device's strong point was that it showed no flicker during night reading.  The screen was bright, but the colors had an orange cast. Activating the BLF slightly reduced the screen's brightness as its color shifted to orange.
The graphs below show the Realme C21 brightness and contrast under different lighting environments:
Brightness vs Contrast comparison (0 Lux)
Brightness vs Contrast comparison (30 000 Lux)
When outdoors, the screen's brightness is too low to view photos in the gallery. Users who wear polarized sunglasses will also find the screen difficult to manage because the display appears black when the device is held in a portrait position.

Comparison of the screen in outdoor conditions. From left to right: Realme C21, Xiaomi Mi 10T Pro 5G, Sony Xperia 5 II
Photo credit: DXOMARK; for illustration only
Looking at photos indoors, however,  provides acceptable performance, but there's a noticeable pinkish cast in the colors. When the screen is at an angle, the screen loses a significant amount of brightness, which considerably diminishes its readability.

Comparison of the screens on axis in indoor conditions: Realme C21, Xiaomi Mi 10T Pro 5G, Sony Xperia 5 II
Photo credit: DXOMARK; for illustration only

Comparison of the screens  in indoor conditions when devices are at an angle: Realme C21, Xiaomi Mi 10T Pro 5G, Sony Xperia 5 II
Photo credit: DXOMARK; for illustration only
The charts below show the color reproduction fidelity in 1000 lux lighting in the standard sRGB color space and in DC1-P3 color space. The center of each circle is the target color; anything outside the circle represents a noticeable color difference. The further the tip of the arrow is outside of the circle, the more a user will notice the difference between the color on the display and the original color of the source material.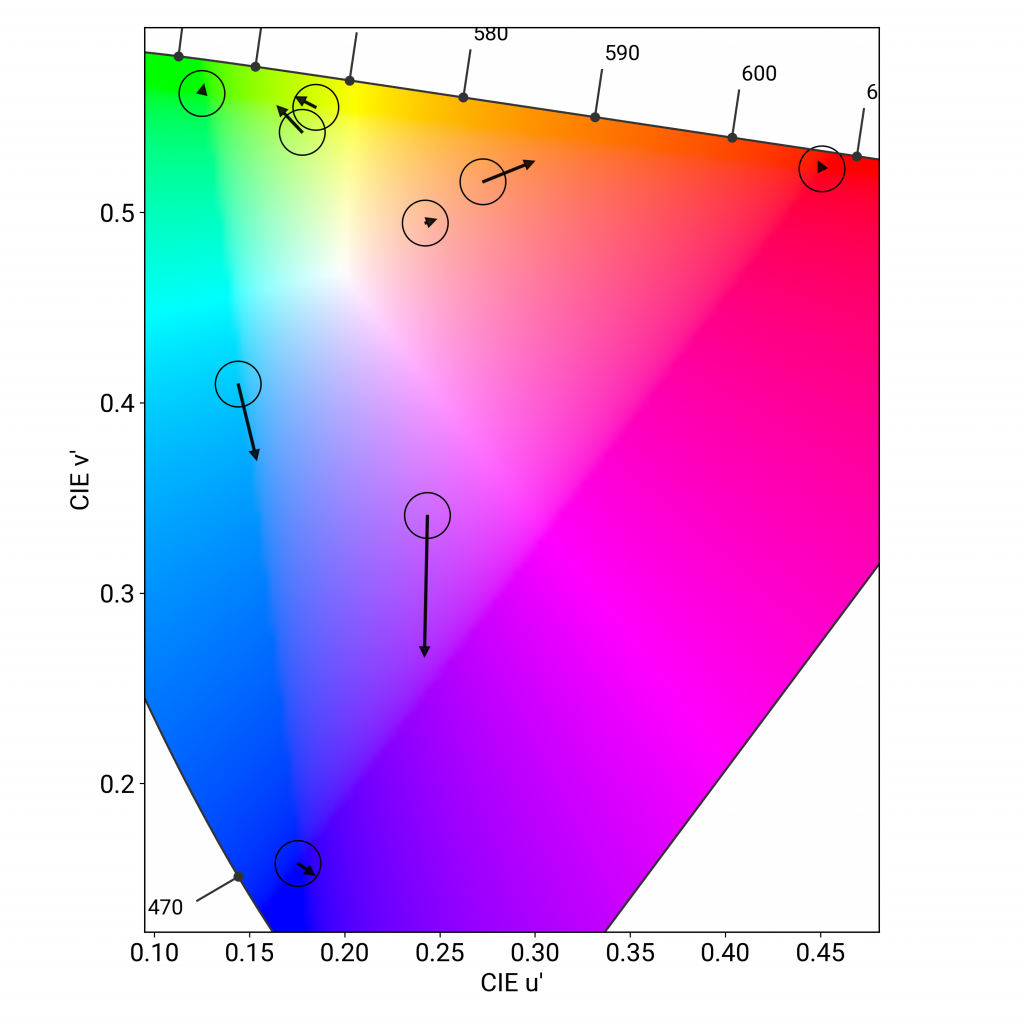 Realme C21, color fidelity in the sRGB color space at 1000 lux.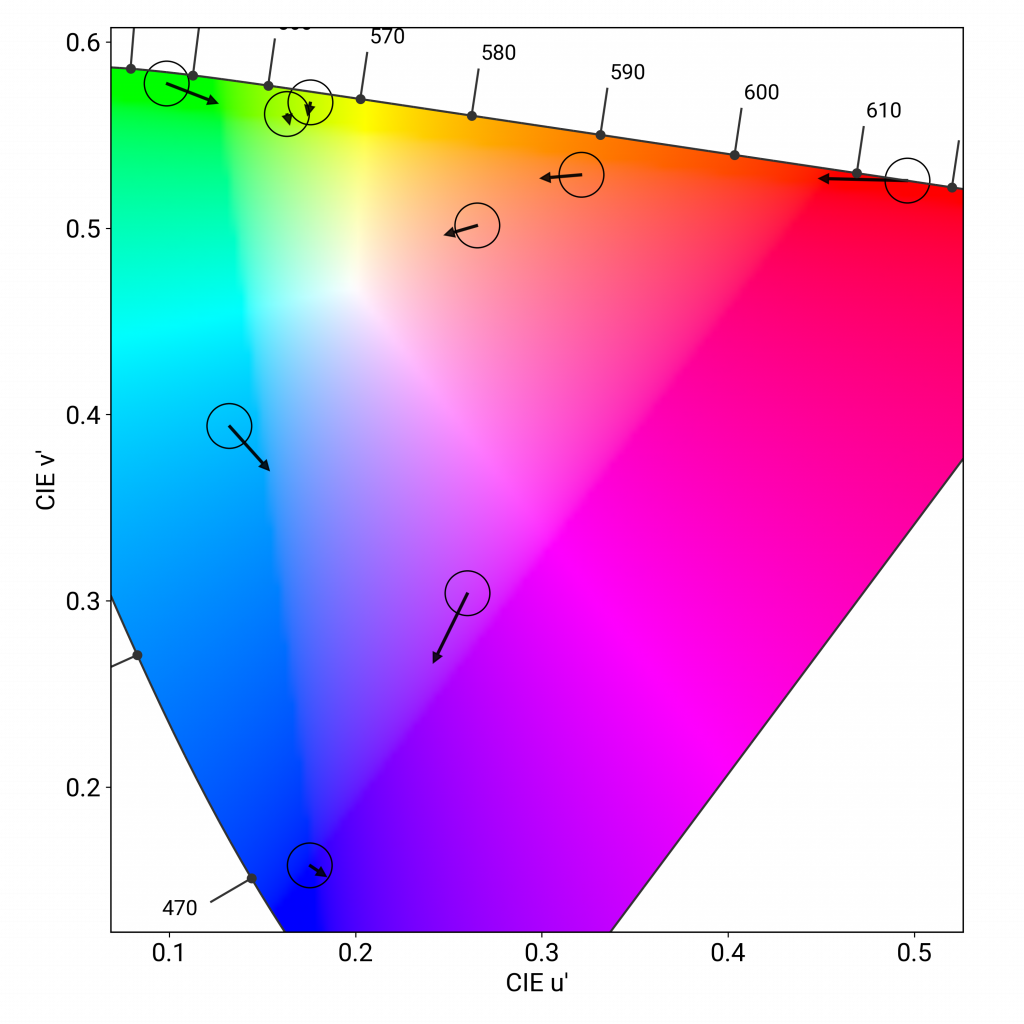 Realme C21, color fidelity in DCI-P3 color space at 1000 lux.
The following chart presents the white point color shift induced when looking at an angle, the white point drifts towards orange: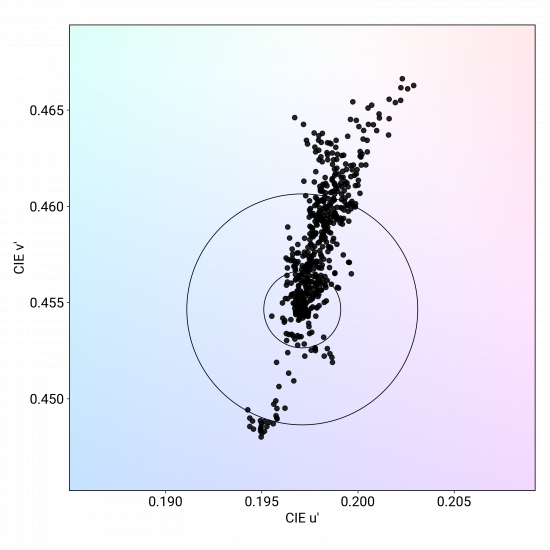 A scatter graph closeup of the C21's white point on angle.
The flicker graph below illustrates one of the device's strong points: It does not flicker. You can notice that the Realme C21 curve never gets near the 0 dB threshold.
Flicker comparison
This graph represents the frequencies of lighting variation; the highest peak gives the main flicker frequency.