Part of Samsung's current flagship family of phones, the Samsung Galaxy S20+ fits between the S20 and the S20 Ultra. It packs a 6.7-inch AMOLED display and a high-end Exynos 990 chipset (Snapdragon 865 in the USA).
We put the Galaxy S20+ through our rigorous DXOMARK Audio test suite to measure its performance both at recording sound using its built-in microphones and at playing audio back through its built-in speakers. In this review, we'll break down how it fared in a variety of tests and in several common use cases.
Audio specifications include:
Stereo speakers with sound by AKG
Surround sound with Dolby Atmos (including Dolby Digital and Dolby Digital Plus)
UHQ 32-bit & DSD64/128 support
High acoustic overload point (AOP) microphone
About DXOMARK Audio tests: For scoring and analysis in our smartphone audio reviews, DXOMARK engineers perform a variety of objective tests and undertake more than 20 hours of perceptual evaluation under controlled lab conditions. This article highlights the most important results of our testing. Note that we evaluate both Playback and Recording using only the device's built-in hardware and default apps. (For more details about our Playback protocol, click here; for more details about our Recording protocol, click here.)
Test summary
66
audio
For a flagship phone, the S20+ doesn't impress with its audio performance compared to its rivals. While it scored a point more than the S10+ model it replaces, and while its overall audio score of 66 isn't bad, it's below the Google Pixel 4 at 68, and well below the top-rated Xiaomi Mi 10 Pro at 76.
Compared to its peers, the S20+ comes in at the lower end of the middle of the pack for playback performance, with its Playback score of 66 one point above the older S10+ and four points below the Pixel 4. It does feature a well-balanced midrange and treble when we tested it with movie and music samples, along with good rendering of the sound stage. It also makes it relatively easy to locate sounds sources, and balance was good between the stereo channels. However, the S20+ was short on bass reproduction at all listening volumes, and the overly loud high-frequency response at maximum volume impaired the gaming experience.
By contrast, the S20+ was an excellent performer in our recording tests, with an overall Recording score of 69, putting it four points ahead of the S10+ and six ahead of the Pixel 4—although still behind the 74 of the highly-rated Huawei V30 Pro. In particular, tonal range reproduction is excellent, with voices clear and very intelligible; sound dynamics are also well preserved. Good directivity from the microphones also helps with audio quality when recording selfie videos. One weak spot is inconsistent spatial rendering of sound sources depending on the application in use. Recording volume level performance is also only average.
Sub-scores explained
The DXOMARK Audio overall score of 66 for the Galaxy S20+ is derived from its Playback and Recording scores and their respective sub-scores. In this section, we'll take a closer look at these audio quality sub-scores and explain what they mean for the user.
Playback
Timbre
Our timbre tests measure how well a phone reproduces sound across the audible tonal range and takes into account bass, mid-range, treble, tonal balance, and volume dependency.
The S20+ does a decent job of overall tonal reproduction, achieving the same 60 timbre sub-score as the S10+—but that is six points below the Pixel 4, and a dramatic 18 points below the category-leading 78 of the Mi 10 Pro. It is hampered by a lack of bass, which is offset by well-balanced mid-range and treble. Tonal balance is particularly strong at maximum volume except in our Gaming use case, where a lack of bass and excessive high-frequency response hampered the audio experience.
You can see in the chart below that the S20+ suffers from a noticeable lack of bass response compared to the Pixel 4:
Music playback frequency response
Dynamics
Our dynamics tests measure how well a device reproduces the energy level of a sound source.
The S20+ does a relatively poor job of preserving sound dynamics compared to other high-end phones, with its sub-score of 54 well below the S10+ at 61 and the Pixel 4 at 67. One highlight is good attack at maximum volume. However, poor bass extension results in limited bass precision and limited punch at lower and normal volumes. Punch is better at maximum volume.
Spatial
The S20+ does an above-average job of providing a good sound stage when playing back audio, performing similarly to other phones in its peer group. It makes it relatively easy to localize sound sources, although less so when held in vertically in portrait orientation. Balance is good in landscape orientation, although when in portrait orientation, listeners perceive sources as coming from above the center of the device. The lack of bass hurts listeners' ability to discern the distances of sound sources, with vocals in particular seeming further away than they should be. Overall, its spatial sub-score of 64 puts the S20+ in a tight pack with the Pixel 4 and the S10+.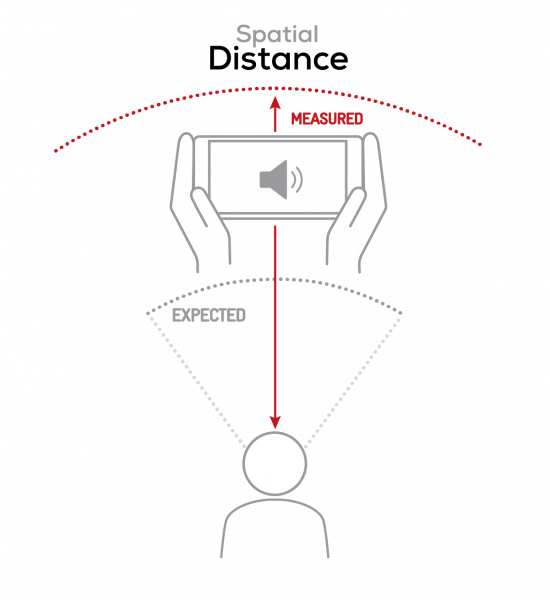 A lack of bass makes vocal sources sound too far away.
Volume
Our volume tests measure both the overall loudness a device is able to produce and how smoothly volume increases and decreases based on user input.
The S20+ does a good job at correctly reproducing volume, as maximum volume is on par with current high-end devices and minimum volume is well tuned. You can see in this chart that its volume steps aren't as linear as those of its peers, but they do consistently increase at each volume step:
Maximum volume levels are in line with the rest of the S20+'s performance—that, is they are OK, but don't come close to the best in this category:
| | |
| --- | --- |
| Hip-Hop | Classical |
| 75.3 dBA | 71.7 dBA |
Artifacts
Samsung Galaxy Note20 Ultra 5G
Our artifacts tests measure how much source audio is distorted when played back through a device's speaker. Distortion can occur both because of sound processing in the device and because of the quality of the speakers.
One very bright spot in audio playback on the S20+ is very clean sound, with few artifacts aside from some bass distortion at maximum volume. There is also some mid-range and treble distortion when gaming at maximum volume. The overall excellent artifacts sub-score of 88 is only one point shy of the category-leading Red Magic 3S, and is aided by good speaker position that minimizes occlusion.
Recording
Timbre
The S20+ does a reasonably good job of reproducing the tonal range of sound sources, matching the Pixel 4's performance, but its timbre sub-score of 76 is disappointingly five points below that of the older S10+. That is due in part to subdued high frequencies that reduce vocal clarity somewhat. Other than being a bit muffled when recording video, voices generally do sound natural overall. Recordings also have undesirable midrange resonances when used to capture meetings.
Overall tonal balance of recordings is good, even at high recording levels. However, there is a lack of extreme treble and bass compared to other high-end devices. You can see in this chart the lack of high end in the test phones' tonal reproduction when recording video:
Life video frequency response
Dynamics
The S20+ does a very good job of preserving the dynamics of recorded sound. Excellent directional independence of the microphones helps it achieve an impressive dynamics sub-score of 68—only two points below the category-leading V30 Pro, and well above the Pixel 4.
Sound envelopes are good, with clearly reproduced voices. However, envelopes deteriorate at high recording volumes due to imprecision in high-frequency reproduction, which reduces the recorded punch and attack of musical instruments.
Spatial
The S20+ does a good job of preserving the spatial orientation of sound sources in recordings, outscoring the Pixel 4 by seven points with a recording spatial sub-score of 56. But it isn't any match for such top performers as the category-leading V30 Pro, which clocked in at 74. One particular strength on the S20+ is that it maintains the distance of sources well, making sources easy to localize. Wide sound scenes are also well preserved. Unfortunately, the memo app records only in mono, which detracts from the spatial score.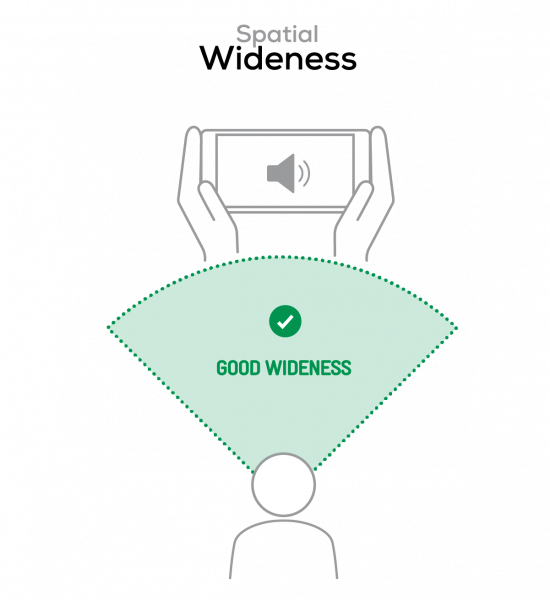 The S20+ does a great job of preserving wide sound scenes when recording video.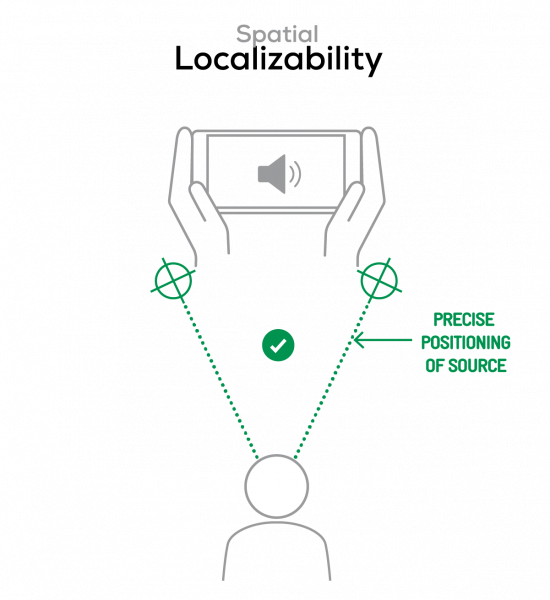 The S20+ makes it easy to detect the location of sound sources.
The S20+ also does an excellent job of having the microphones directionally emphasize the speaker when recording selfie videos. It does this using beam forming, which we explain in more detail in our article on Audio Zoom.
Volume
The S20+ achieves a mid-pack recording volume sub-score of 66—a dramatic improvement over the S10+ (as the maximum recording level has been greatly increased) and only a point behind the Pixel 4. While the recording levels aren't as high as they could be, they are consistent across applications, which is helpful if you expect to do a variety of different types of recording and don't want to change the phone's recording volume when you switch applications.
The table below shows that overall loudness levels of recordings made with the S20+ are definitely within acceptable ranges:
| | | | |
| --- | --- | --- | --- |
| Meeting | Life Video | Selfie Video | Memo |
| -27.5 LUFS | -21.4 LUFS | -21.4 LUFS | -22.8 LUFS |
Artifacts
Just as with playback, the S20+ produces very clean audio recordings, giving it one of our highest recording artifact sub-scores—77 points. That puts it way above the S10+ and the Pixel 4, and only 5 points behind the category-leading ASUS ROG Phone 2. It has some quirks, though. Shouting voices can introduce distortion and volume pumping, especially when recording selfie videos. In loud environments, some bass distortion and hissing is noticeable. The microphones can also suffer from occlusion, which in turn makes voices less intelligible.
You can hear for yourself the S20+'s relatively clean recordings in one of the sample clips we use for measuring artifacts:
Background
The S20+ does a very good job of accurately recording background noises, and keeping them sounding natural, even though they lack extreme bass and treble response. Moreover, there is also some booming of the background when recording selfie videos, which introduces audible distortion in loud urban scenes. On the plus side, the S20+ does a good job of emphasizing sound from the subject when recording selfie videos, which helps make those recordings more intelligible by attenuating sound coming from the sides and back of the phone.
Conclusion
If you're looking for a flagship phone with category-leading speakers, the Galaxy S20+ isn't it, especially if you want to pump out bass. The sound it does provide, though, is fairly well balanced and features solid mid-tones and treble. Speaker placement is good and helps prevent accidental occlusion. As far as use cases go, its playback performance for listening to music is a bit stronger than for watching movies or gaming.
The S20+ is a much stronger choice when it comes to recording audio, representing a large improvement over the S10+ and Pixel 4 comparison devices. Its only real weakness here is that recording performance varied based on the application used. That said, performance was solid across all of our tested recording use cases.
Playback
Pros
Well-balanced midrange and treble when listening to music or watching movies
Good spatial rendering, with good localizability and stereo balance
Cons
Tonal reproduction lacks bass at all volumes
Excessive high-end at maximum volume impairs the gaming experience
Recording
Pros
Good preservation of tonal range
Clear and intelligible recording of voices
Great preservation of sound dynamics
Microphone directivity improves selfie videos
Cons
Inconsistent spatial performances depending on the app used
Improved volume preservation over the S10+, but still behind current competitors