We put the Sonos Era 100 through our rigorous DXOMARK Audio test suite to measure its performance at playing back audio. In this review, we will break down how it fared in a variety of tests and several common use cases.

Overview
Key specifications include:
Wireless protocols: AirPlay
Wired connectivity: Jack
Height: 18.25cm, Width: 12.0cm, Depth: 13.0cm
Weight: 2000g
Speakers: Three class-D digital amplifiers, two angled tweeters, one midwoofer

Test conditions:
Tested with iPhone WSPK
Communication protocol used: AirPlay 2 within the Sonos app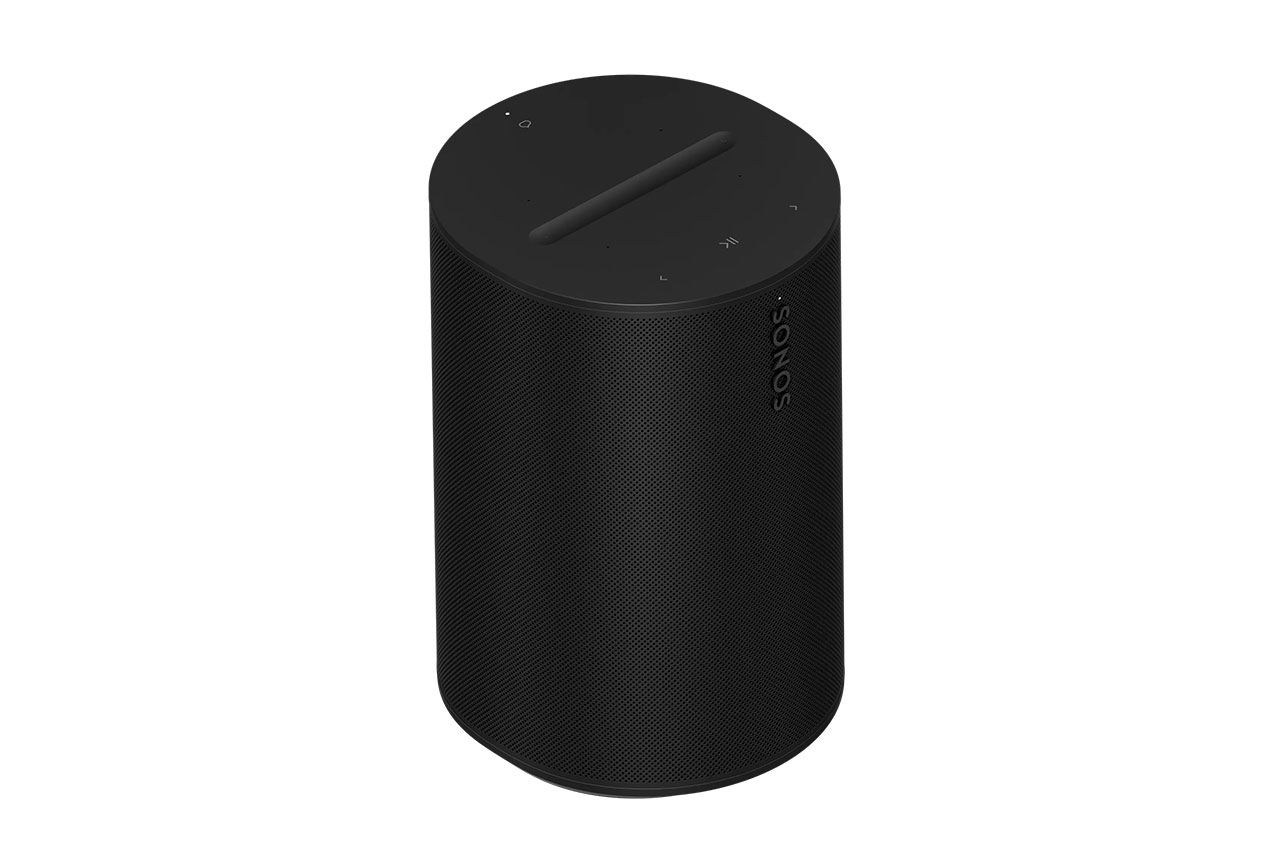 Sonos Era 100
144
speaker
Pros
Well-rounded speaker with good performance across all attributes
Very clean bass, good low midrange warmth
Consistent and solid dynamics performance
Homogeneous rendition all around the speaker
Cons
Severe notch at around 3.2 kHz induces a lack of clarity
Bass can sound slightly compressed at high volume.
In our DXOMARK Speaker test, the Sonos Era 100 proved to be a well-rounded option and delivered great performance across all use cases. It consistently offered a pleasant tonal balance at all volume levels and adapted nicely to any room, even with demanding acoustics. Bass was clean and had a nice roundness to it, and midrange offered pleasant warmth as well. Dynamics performance was solid across the board, with sharp attack, precise bass and good punch for the speaker's small dimensions. While the stereo rendition did not offer great wideness, it was still a plus point over monophonic options. In addition, the Era 100's sound quality was pretty consistent at all listening angles around the speaker, making it an unexpected alternative to true 360° speakers. Volume step distribution was very consistent as well.
Listen to the tested speaker's playback performance in this comparison with its competitors:
Harman Kardon Citation 200
Test summary
About DXOMARK Wireless Speaker tests: For scoring and analysis in our wireless speaker reviews, DXOMARK engineers perform a variety of objective tests and undertake more than 20 hours of perceptual evaluation under controlled lab conditions. This article highlights the most important results of our testing. Note that we evaluate playback using only the device's built-in hardware. (For more details about our Speaker protocol, click here.)
The following section gathers key elements of our exhaustive tests and analyses performed in DXOMARK laboratories. Detailed performance evaluations under the form of reports are available upon request. Do not hesitate to contact us.

The DXOMARK Speaker overall score is derived from a range of sub-scores. In this section, we will take a closer look at timbre, dynamics, spatial, volume, and artifacts, and explain what they mean for the user.

Timbre
142
Bowers & Wilkins Formation Wedge
DXOMARK timbre tests measure how well a speaker reproduces sound across the audible tonal range and takes into account bass, midrange, treble, tonal balance, and volume dependency.

Playback timbre comparison
The Era 100's timbre performance was excellent, with a natural tonal balance in most use cases. Bass was precise and had good presence, and treble and midrange sounded rich and warm across all use cases. The only noticeable drawback was an occasional lack of clarity.
While treble was overall great, we did observe some inconsistencies, with some frequencies lacking around 3.2 kHz. Midrange was satisfyingly warm but sometimes failed to sound really clear, which can be attributed to the aforementioned treble inconsistencies. Bass was well controlled and powerful, without smothering the higher frequencies. However, it would have been even better with some additional low-end extension.
At higher sound pressure levels, bass was slightly less powerful than expected but remained mostly free of distortion. It is worth noting that according to Sonos, the speaker comes with an adaptive equalization feature called TruePlay, which uses the speaker's microphone to better adjust the equalizer to the room's acoustics. For our tests, the microphone was enabled, and the Era 100 seemed to perform well across a variety of locations, even in reverberant acoustics.
With the two tweeters located on the left and right side of the front panel, the listening experience was clearly the best when placing the speaker directly in front of the listener. However, it also performed surprisingly well when listening from either side, with only a slight loss of treble.
Music playback frequency response
Dynamics
124
Bowers & Wilkins Formation Wedge
Our dynamics tests measure how well a device reproduces the energy level of a sound source, taking into account attack, bass precision, and punch.

Playback dynamics comparison
Dynamics performance was very good. Attack sounded sharp across all use cases, and bass was very precise, except at high volume, where slight compression became noticeable. Punch was very good all around, even at the lowest and highest volume levels.
Spatial
100
Bowers & Wilkins Formation Wedge
Our spatial tests measure a speaker's ability to reproduce stereo sound in all directions, taking into account localizability, balance, wideness, distance, and directivity. Please note that wideness is 0 on mono speakers and on speakers that cannot deliver a significant stereo effect.

Playback spatial comparison
Even though Sonos does not claim 360° sound rendition for the Era 100, the speaker provided a surprisingly consistent tonal balance and volume across all listening angles, almost rivaling true omnidirectional speakers. Wideness was not great, but the Era 100 offered a very satisfying balance between directivity and stereophony. Localizability and distance perception were both accurate and realistic in our tests.
Volume
125
Bluesound Pulse Mini 2i
Our volume tests measure both the maximum loudness a speaker is able to produce and how smoothly volume increases and decreases based on user input.

Playback volume comparison
Playback volume consistency comparison
The volume performance was good overall. Loudness at maximum volume was very decent for a device of the Era 100's size, and volume steps very consistent from the lowest to the highest level.
Here are a few sound pressure levels (SPL) we measured when playing our sample recordings of hip-hop and classical music at maximum volume:

| | | | | | | |
| --- | --- | --- | --- | --- | --- | --- |
| | Correlated Pink Noise | Uncorrelated Pink Noise | Hip-Hop | Classical | Latin | Asian Pop |
| Sonos Era 100 | 87.2 dBA | 85 dBA | 81.7 dBA | 76.2 dBA | 84.9 dBA | 75.4 dBA |
| Sonos One | 85.6 dBA | 83.7 dBA | 79.5 dBA | 75.5 dBA | 81.8 dBA | 74.4 dBA |
| Harman Kardon Citation 200 | 86 dBA | 85.5 dBA | 83.1 dBA | 80.2 dBA | 84.1 dBA | 77.9 dBA |
Artifacts
Our artifacts tests measure how much source audio is distorted when played back, along with such other sound artifacts as noise, pumping effects, and clipping. Distortion and other artifacts can occur both because of sound processing and because of the quality of the speakers.

Playback artifacts comparison
Unwanted audio artifacts were well under control. Aside from some light distortion and compression at high volume, none were noticeable during perceptual testing. Objective measurements showed a pretty severe notch at around 3.2 kHz, indicating that the crossover could be badly tuned. This translates into a lack of clarity in perceptual testing. However, in objective measurements, THD+n peaks are noticeable at this frequency, lowering the score.
Playback total harmonic distortion