Last June, Sonos gave its largest and first all-in-one wireless smart speaker an update. The Five thus replaced the popular Play:5 model with a refreshed design, increased memory and processing power, Bluetooth Low Energy compatibility, and a more stable and powerful Wi-Fi connection. As for audio, the revamped speaker promises studio-quality sound with deep bass, crisp high-end response, and an ultra-wide sound stage. The multi-room pioneering company chose the same architecture as for the Play:5: three high-excursion woofers and three tweeters along the top of the device — including two side-firing tweeters — powered by six Class-D amplifiers. Trueplay, the device's ability to adapt to its acoustic environment, is still available via the Sonos (iOS) app.
We put the Sonos Five through our rigorous DXOMARK Wireless Speaker test suite. In this review, we will break down how it fared at audio playback in a variety of tests and several common use cases.
Key specifications include:
Three 20-mm tweeters, one 70-mm woofer
Bluetooth Low Energy, 3.5-mm jack input, ethernet port
AirPlay 2 compatible
Humidity resistant
203 x 364 x 154 mm (8.03 x 14.33 x 6.06 in.)
6,36 kg (14 lbs.)
Test conditions:
Tested with iPhone SE for music / Apple TV for movies
Communication protocol used: AirPlay2 for music / 3.5-mm jack input for movies
Firmware version: 13.0.2
About DXOMARK Wireless Speaker tests: For scoring and analysis in our wireless speaker reviews, DXOMARK engineers perform a variety of objective tests and undertake more than 20 hours of perceptual evaluation under controlled lab conditions. This article highlights the most important results of our testing. Note that we evaluate playback using only the device's built-in hardware. (For more details about our Speaker protocol, click here.) The Sonos Five  falls into the Advanced category of devices in the DXOMARK Speaker rankings.
Test summary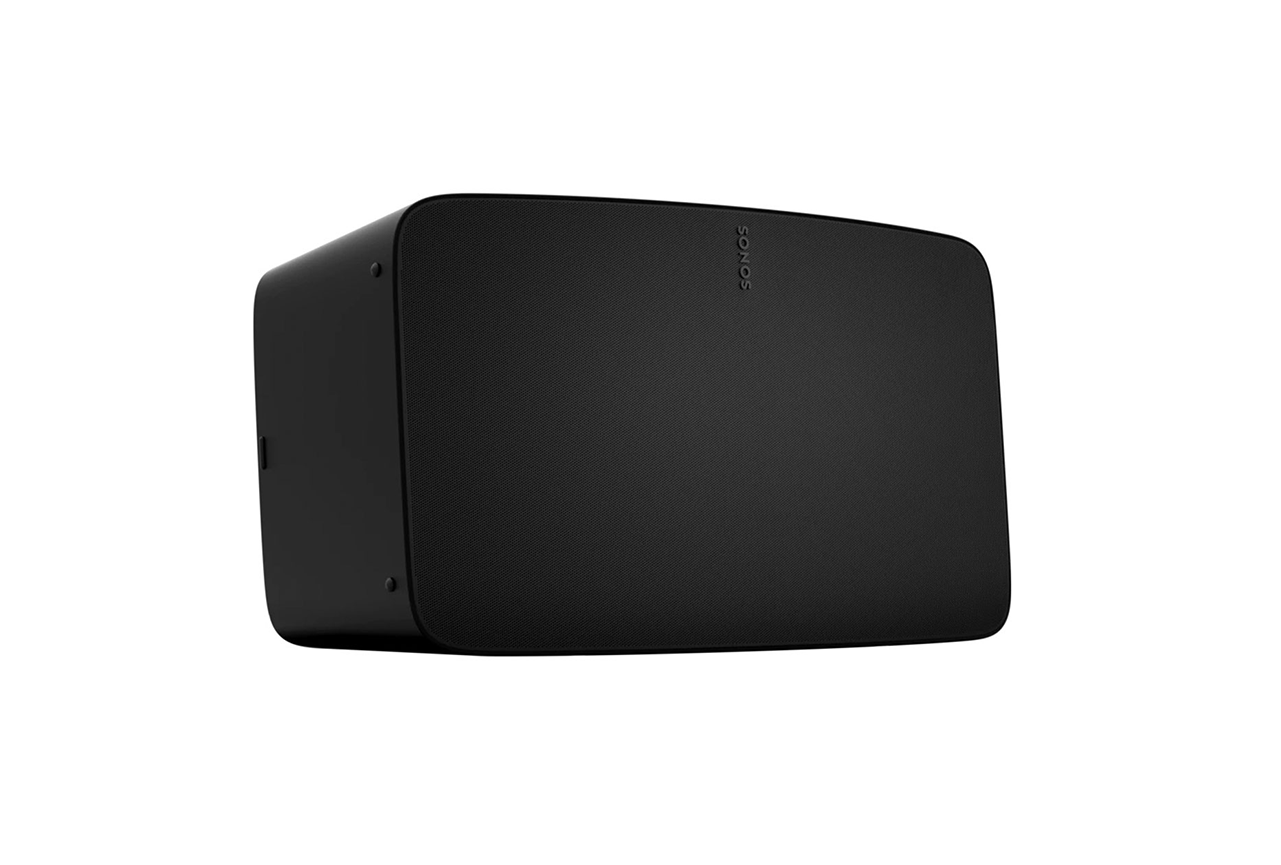 Sonos Five
147
speaker
Pros
Good tonal balance in most use cases, with pleasant treble and high-end extension
Appreciable wideness, especially at close range
Good bass control in reflective acoustical environments, thanks to the TruePlay feature
Impressive punch at high SPL volumes
No problematic artifacts
Cons
The device is rather dark-sounding overall and slightly lacks upper content, especially at low volume.
Boasting a global Speaker score of 147, the Sonos Five fares very well in a wide variety of use cases, taking the lead in our Advanced Speaker rankings. The Sonos Five  is particularly adept when it comes to partying, watching movies, listening to music or podcasts before going to sleep, and in complex acoustics such as a bathroom.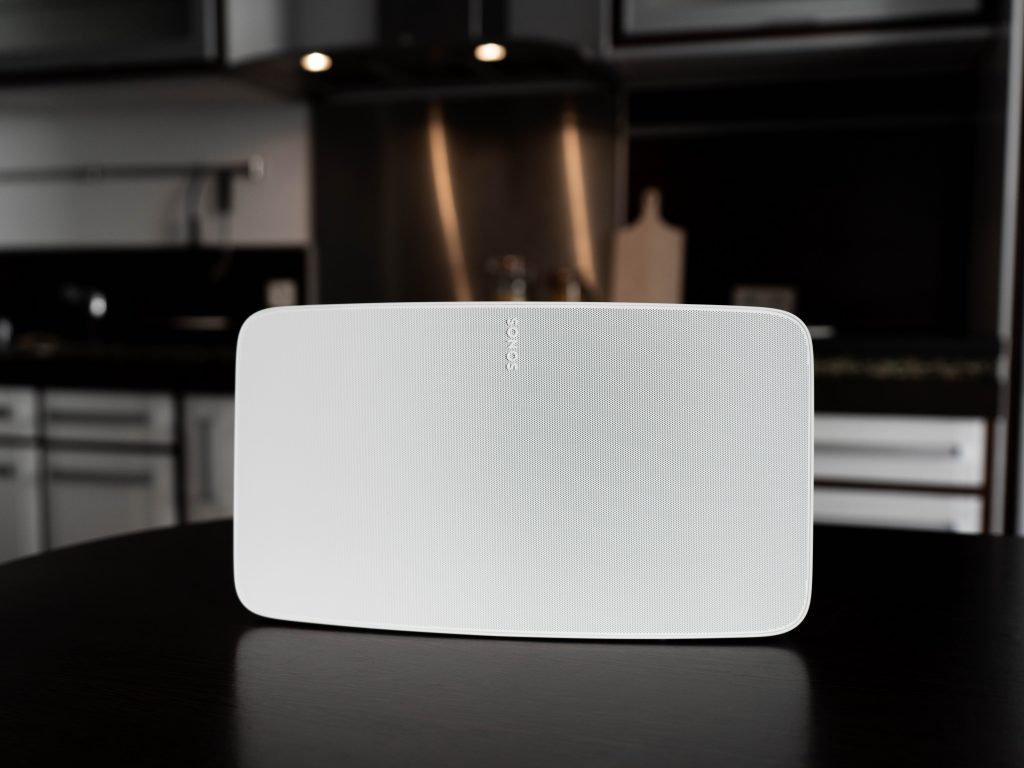 The Five, above, replaces the Play:5 as the largest speaker in the Sonos lineup.
Sonos's largest speaker delivers an impressive maximum volume and demonstrates true skill at controlling associated artifacts. In the Spatial area, the Sonos Five provides precise localizability, a wide sound field, and realistic distance rendering for vocal content. Dynamics attributes are particularly well rendered across all use cases, all types of audio content, and regardless of the volume: even at soft volumes, sounds remain intelligible and impactful. While the frequency response could certainly extend a bit further in the high- and low-end of the spectrum, it nonetheless ensures a harmonious and pleasant balance between ranges.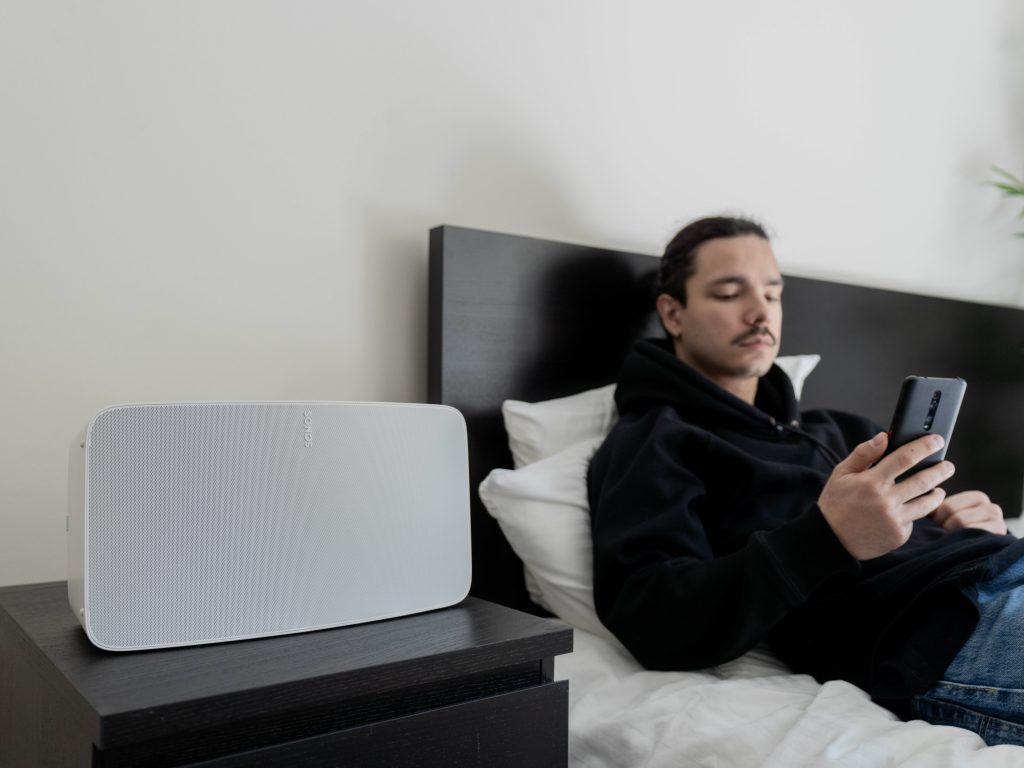 The Sonos Five turns in a very good performance at soft volumes, leaving dynamic content fully intelligible.
As for drawbacks, the Sonos Five is a rather dark-sounding speaker at low volumes, which also impairs the distance rendering. Midrange lacks fullness, and punch can be hindered by the adaptive algorithm, depending on the acoustic environment. Finally, note that it is a front-firing device, and as such, it does not evenly distribute sound at 360°. That said, the loss of information off-axis is less significant than with other front-firing devices.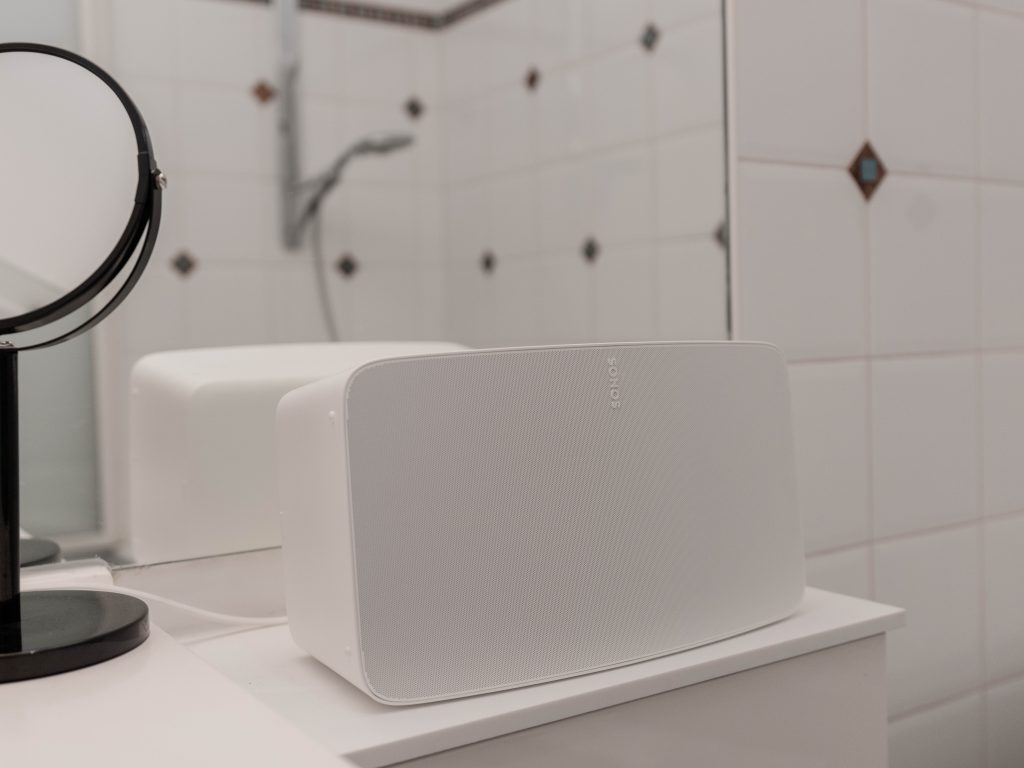 Thanks to its Trueplay feature, the Sonos Five performs well even in highly reflective acoustical environments.
Sub-scores explained
The DXOMARK Speaker overall score of 147 for the Sonos Five is derived from a range of sub-scores. In this section, we will take a closer look at these audio quality sub-scores and explain what they mean for the user, and we will show some comparison data from two of the Five's principal competitors, the Marshall Stanmore II and the Harman Kardon Citation 200.
Playback attribute comparisons
Timbre
143
Bowers & Wilkins Formation Wedge
DXOMARK timbre tests measure how well a speaker reproduces sound across the audible tonal range and takes into account bass, midrange, treble, tonal balance, and volume dependency.
Playback timbre comparison
The Sonos Five delivers a harmonious tonal balance, fairly neutral and pleasant, particularly well-suited for watching movies and listening to electronic and hip hop/pop music. However, midrange lacks fullness, in that it sounds slightly hollow, and the bass response is impaired by occasional resonances. At quieter volumes, the tone gets darker due to recessed treble. On the other hand, at loud volumes, though lacking both high- and low-end extension, the frequency response ensures a good balance between all ranges.
Music playback frequency response
Despite their respective shortcomings, bass, midrange, and treble all score well above average. As shown in the graph above, the Sonos Five (dark blue) delivers a considerably stronger low-end than the Marshall Stanmore II (green). Overall, our protagonist is only 9 points away from the top-scoring device in this category.
Dynamics
127
Bowers & Wilkins Formation Wedge
Our dynamics tests measure how well a device reproduces the energy level of a sound source, taking into account attack, bass precision, and punch.
Playback dynamics comparison
When it comes to dynamics, the Five does considerably well across all use cases (relaxing, partying, friendly gathering, bedtime, bathroom, outdoors, and movies) and with all types of audio content (various genres of music, podcasts, movies), thanks to good punch and snappy attack. Dynamic attributes remain impactful and precise at both quiet and loud listening volumes. Despite noticeable multiband compression, the speaker performs very well at close range. In highly reflective environments such as a bathroom, although controlled bass keeps the low end precise, it also impairs the punch performance.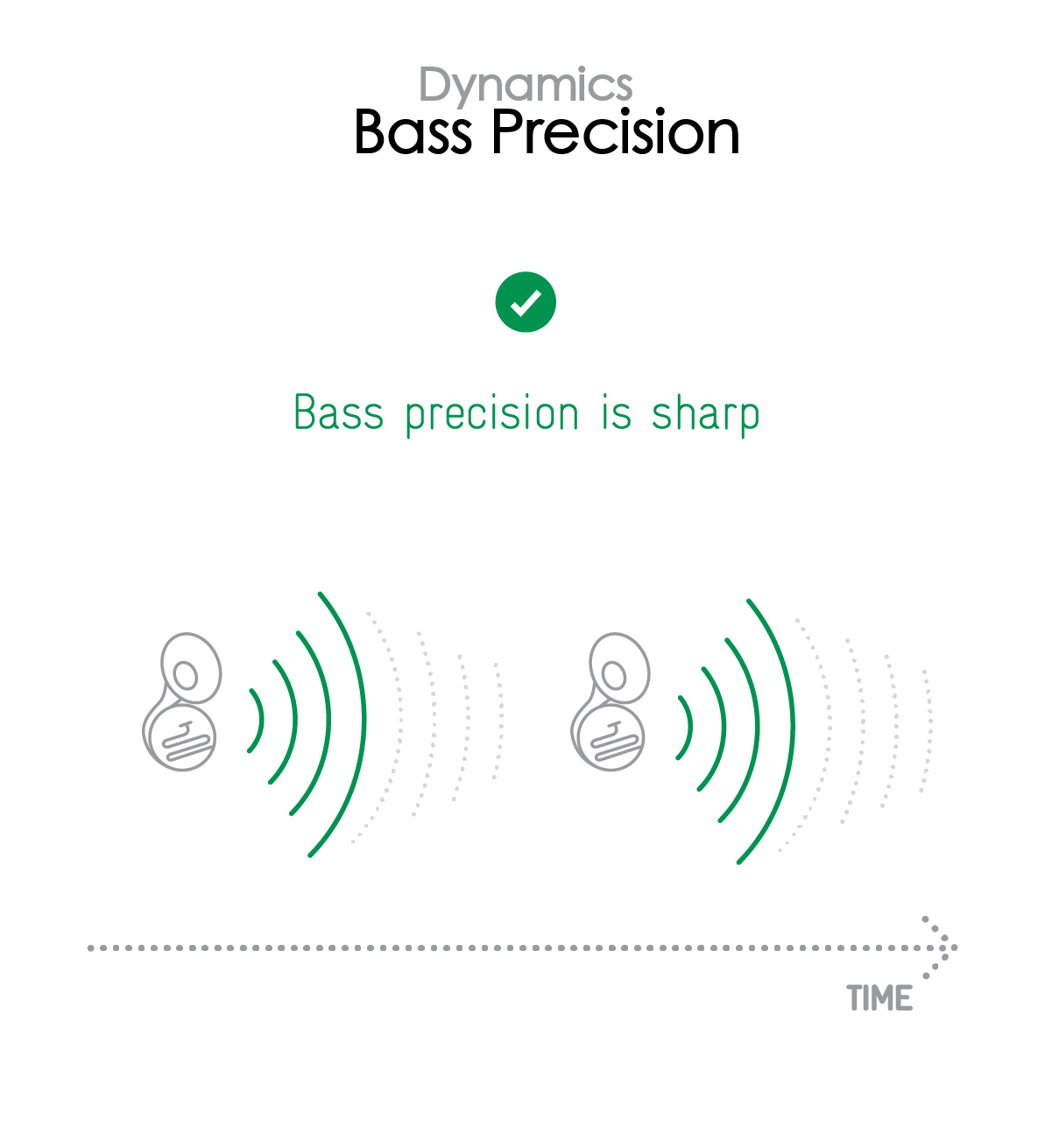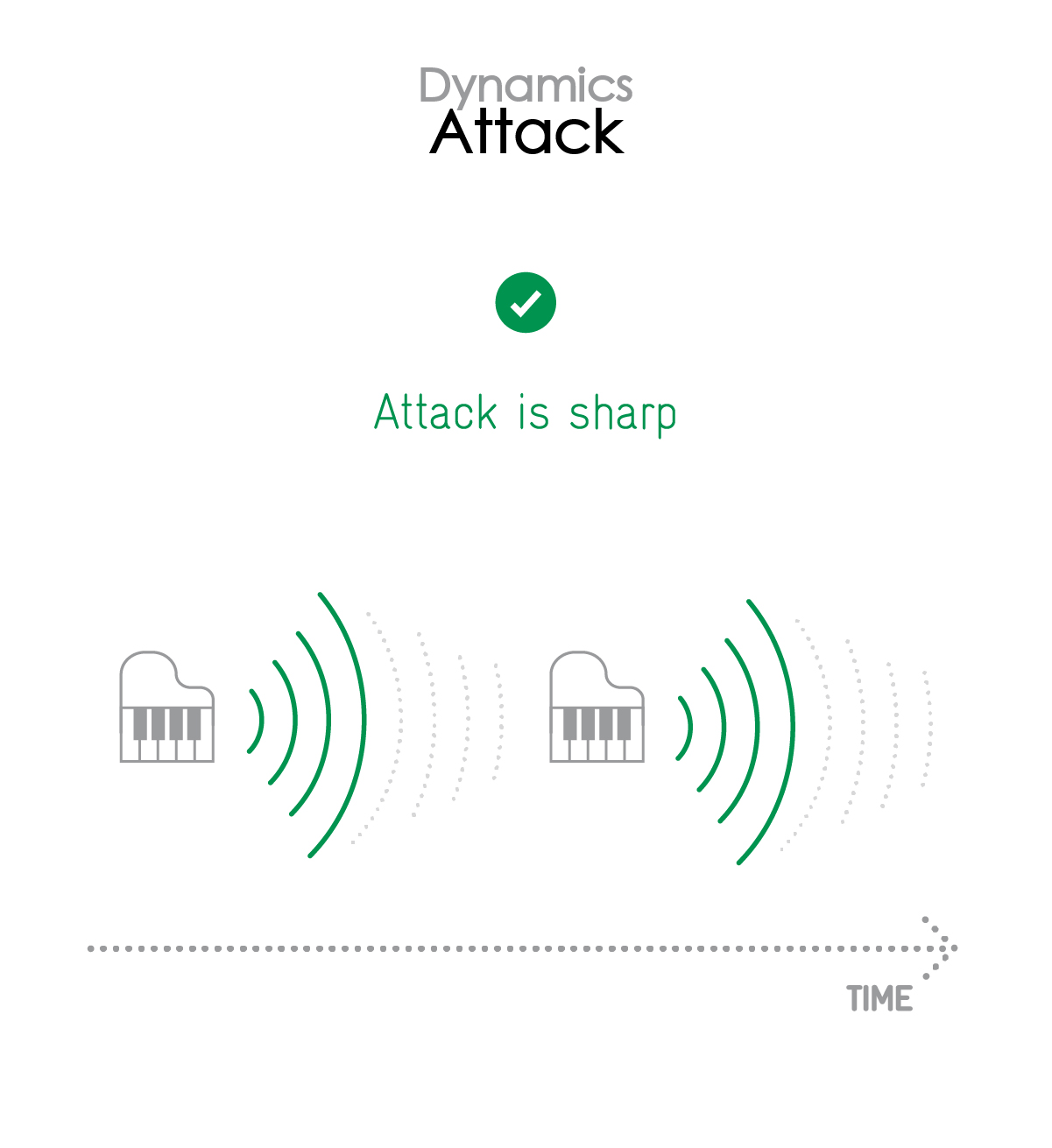 Spatial
98
Bowers & Wilkins Formation Wedge
Our spatial tests measure a speaker's ability to reproduce stereo sound in all directions, taking into account localizability, balance, wideness distance and directivity. Please note that wideness is 0 on mono speakers and on speakers that cannot deliver a significant stereo effect.
Playback spatial comparison
Localizability of the various sources in the sound field is excellent, and distance rendering is particularly realistic for vocal content. However, that same spatial attribute is hindered at lower volumes, due to the lack of high-end extension. Wideness is appreciable overall, especially when listening at closer range (< 1 meter).
As the Five is a front-firing speaker, sound isn't evenly distributed at 360°. It is therefore not the best-suited speaker for outdoor use. But the loss of information when the listener is not in front of the device is not as significant as with other front-firing devices.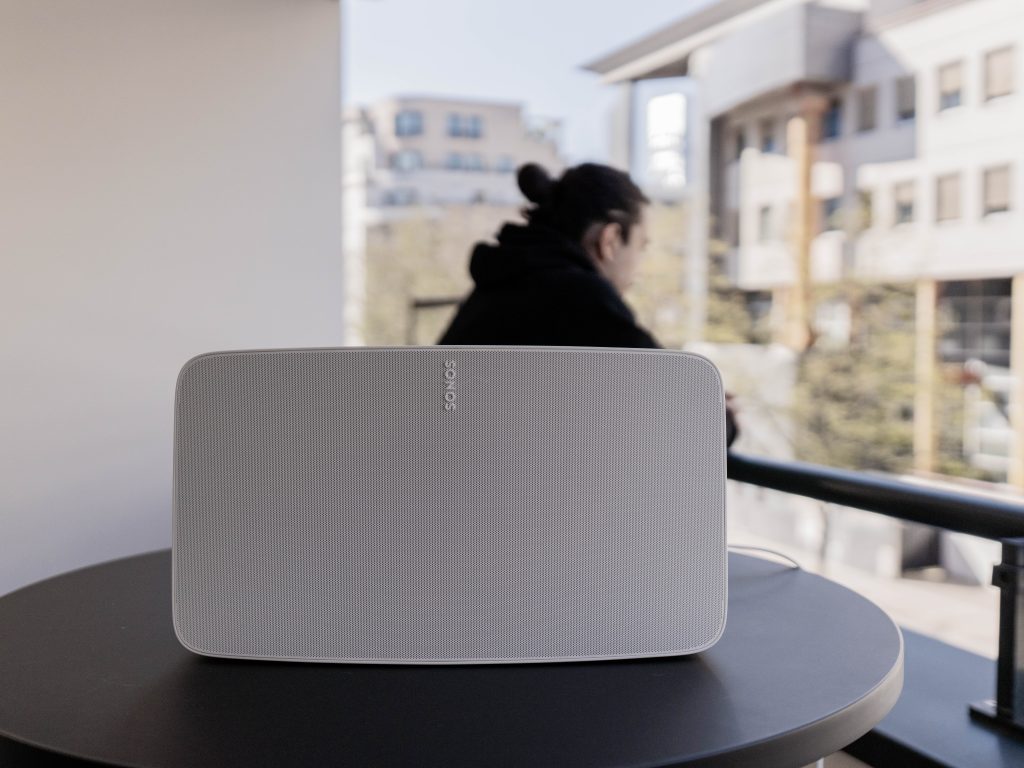 The Sonos Five being a front-firing speaker, sound isn't evenly distributed around it.
Volume
131
Bluesound Pulse Mini 2i
Our volume tests measure both the maximum loudness a speaker is able to produce and how smoothly volume increases and decreases based on user input.
Playback volume comparison
Fittingly, Sonos Five is also one of the loudest we've measured to date. Maximum volume is more than enough to liven up the party, and minimum volume allows dynamic content (such as movies and classical music) to remain fully intelligible. Further, volume steps are consistently distributed overall.
Playback volume consistency comparison
Here are a few sound pressure levels (SPL) measured when playing our sample recordings of hip-hop and classical music at maximum volume:
| | | | | | | |
| --- | --- | --- | --- | --- | --- | --- |
| | Correlated Pink Noise | Uncorrelated Pink Noise | Hip-Hop | Classical | Latin | Asian Pop |
| Sonos Five | 91.7 dBA | 88.9 dBA | 90.1 dBA | 81.6 dBA | 91.4 dBA | 84.6 dBA |
| Marshall Stanmore II | 96.9 dBA | 94.2 dBA | 91.8 dBA | 85.3 dBA | 93.1 dBA | 84.3 dBA |
| Harman Kardon Citation 200 | 86 dBA | 85.5 dBA | 83.1 dBA | 80.2 dBA | 84.1 dBA | 77.9 dBA |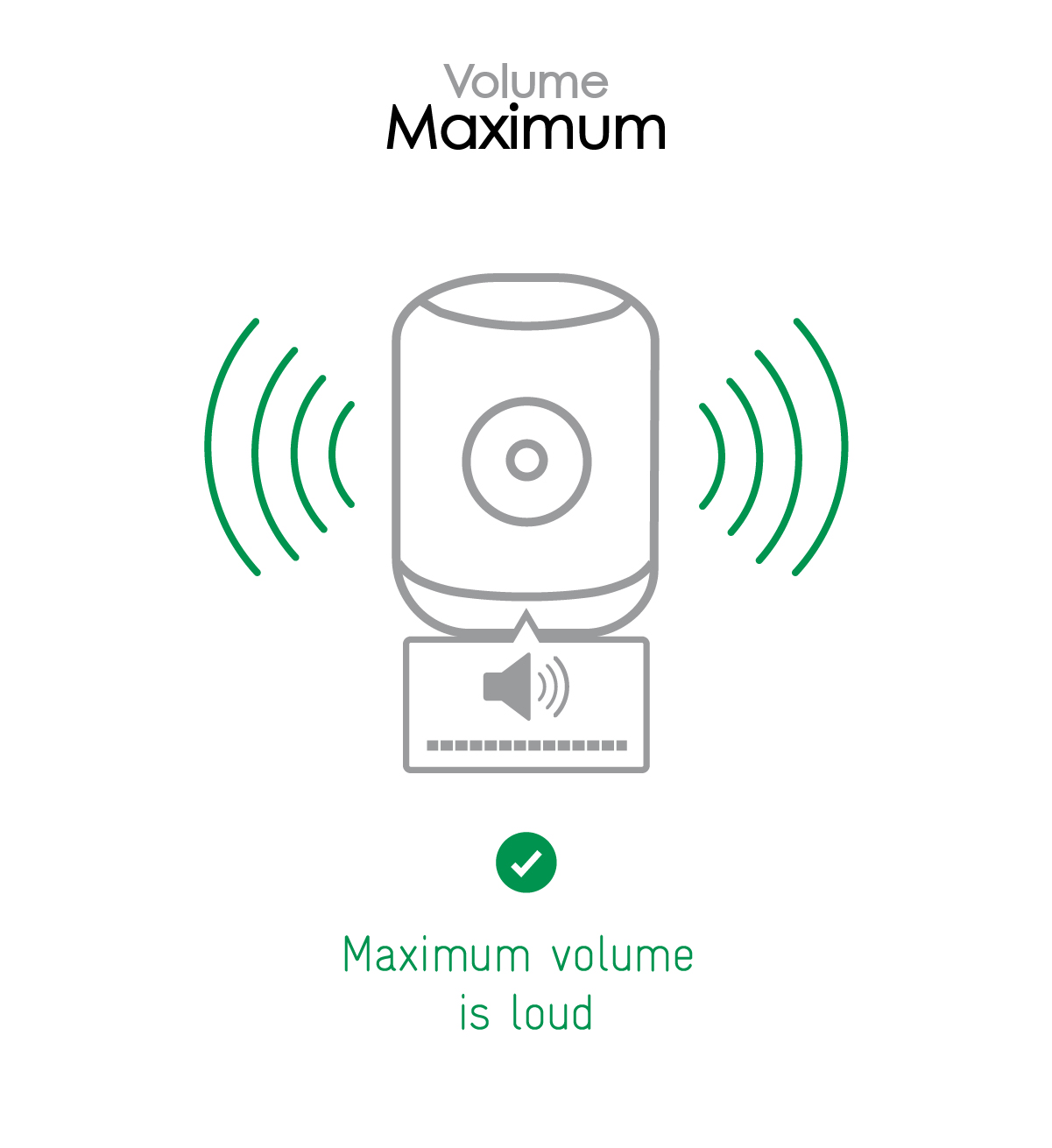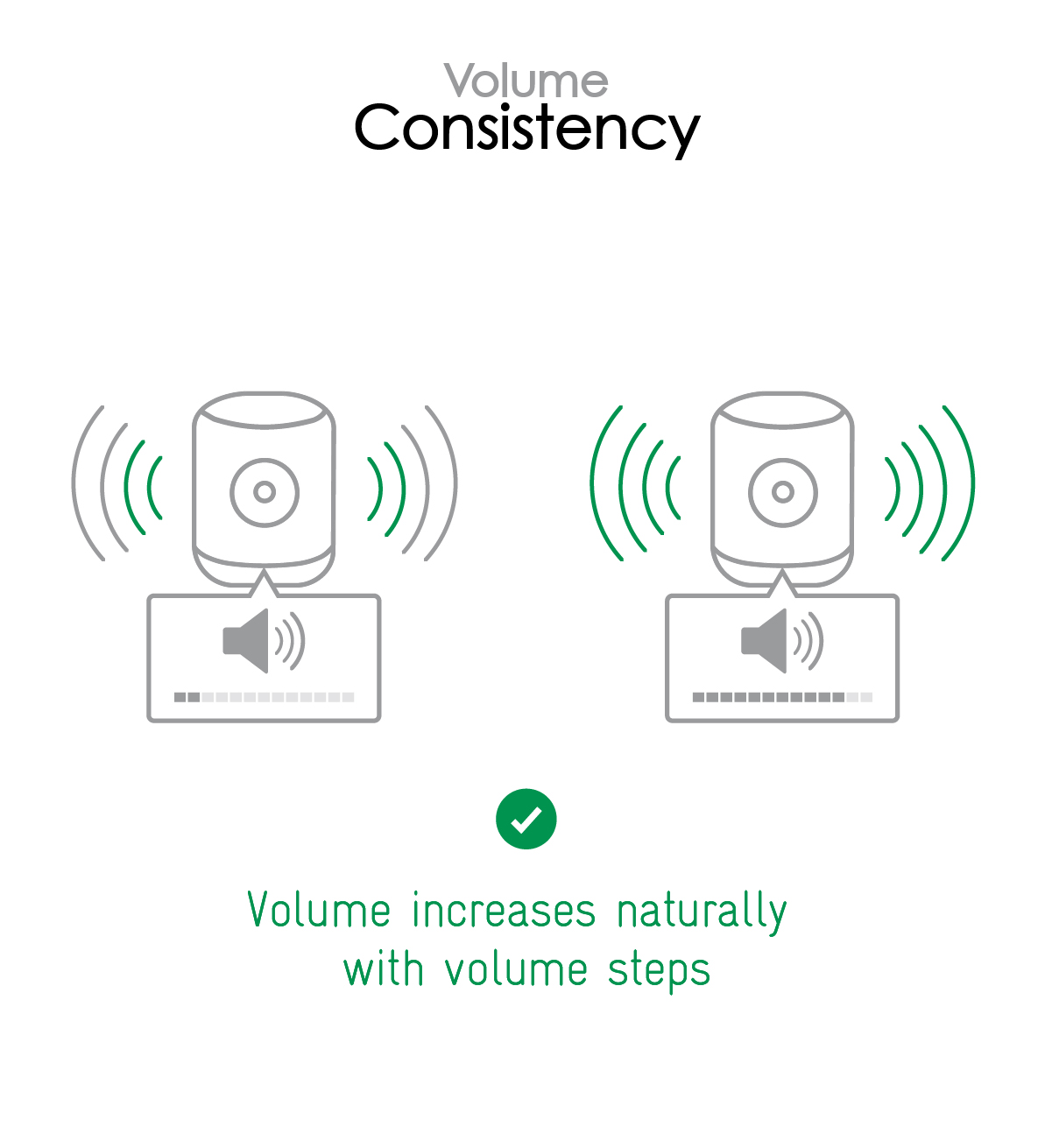 Artifacts
133
Our artifacts tests measure how much source audio is distorted when played back, along with such other sound artifacts as noise, pumping effects, and clipping. Distortion and other artifacts can occur both because of sound processing and because of the quality of the speakers.
Playback artifacts comparison
Thanks to a true mastery of artifacts control, the Five earns the highest score thus far in the Artifacts sub-category.
Playback total harmonic distortion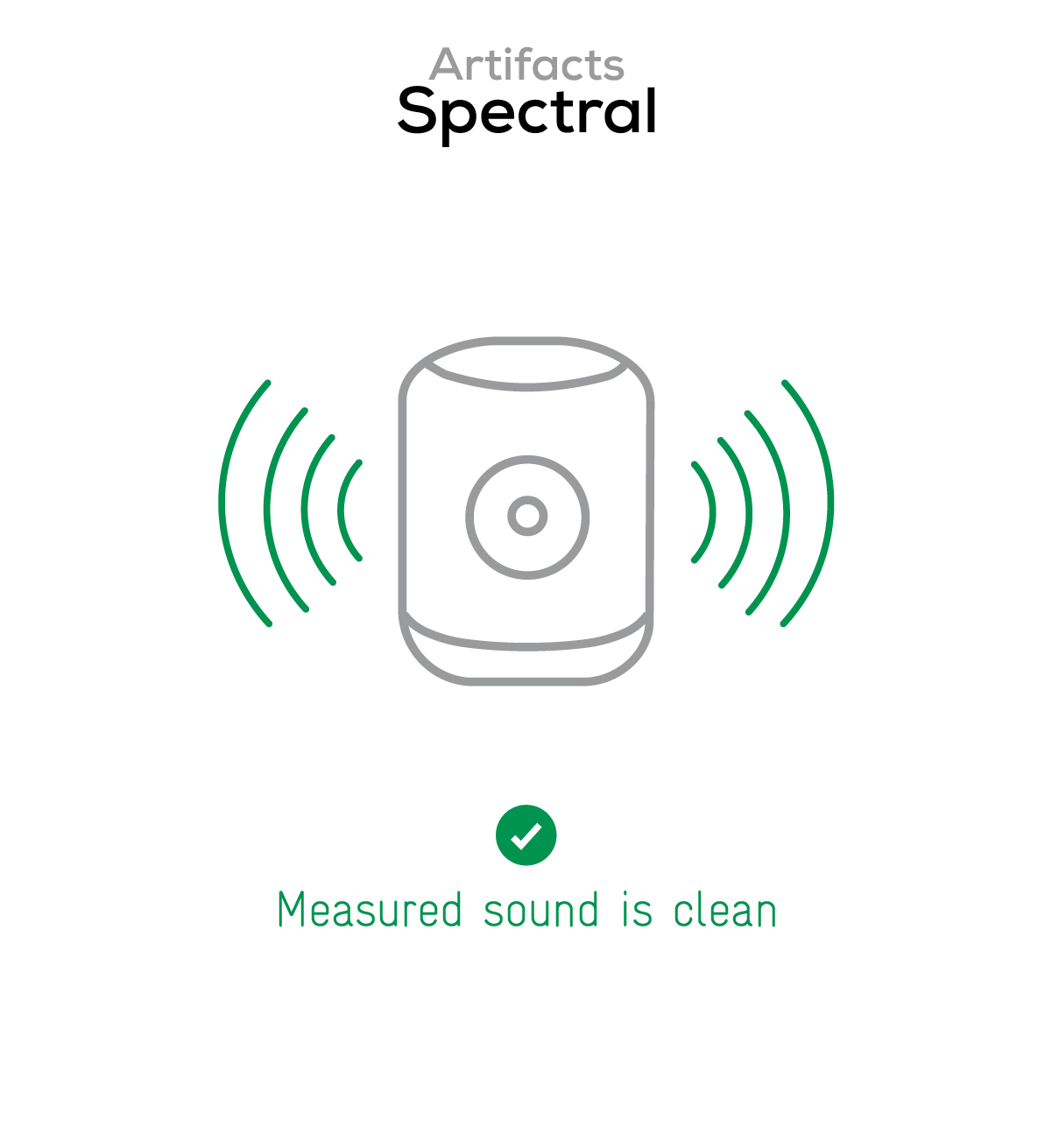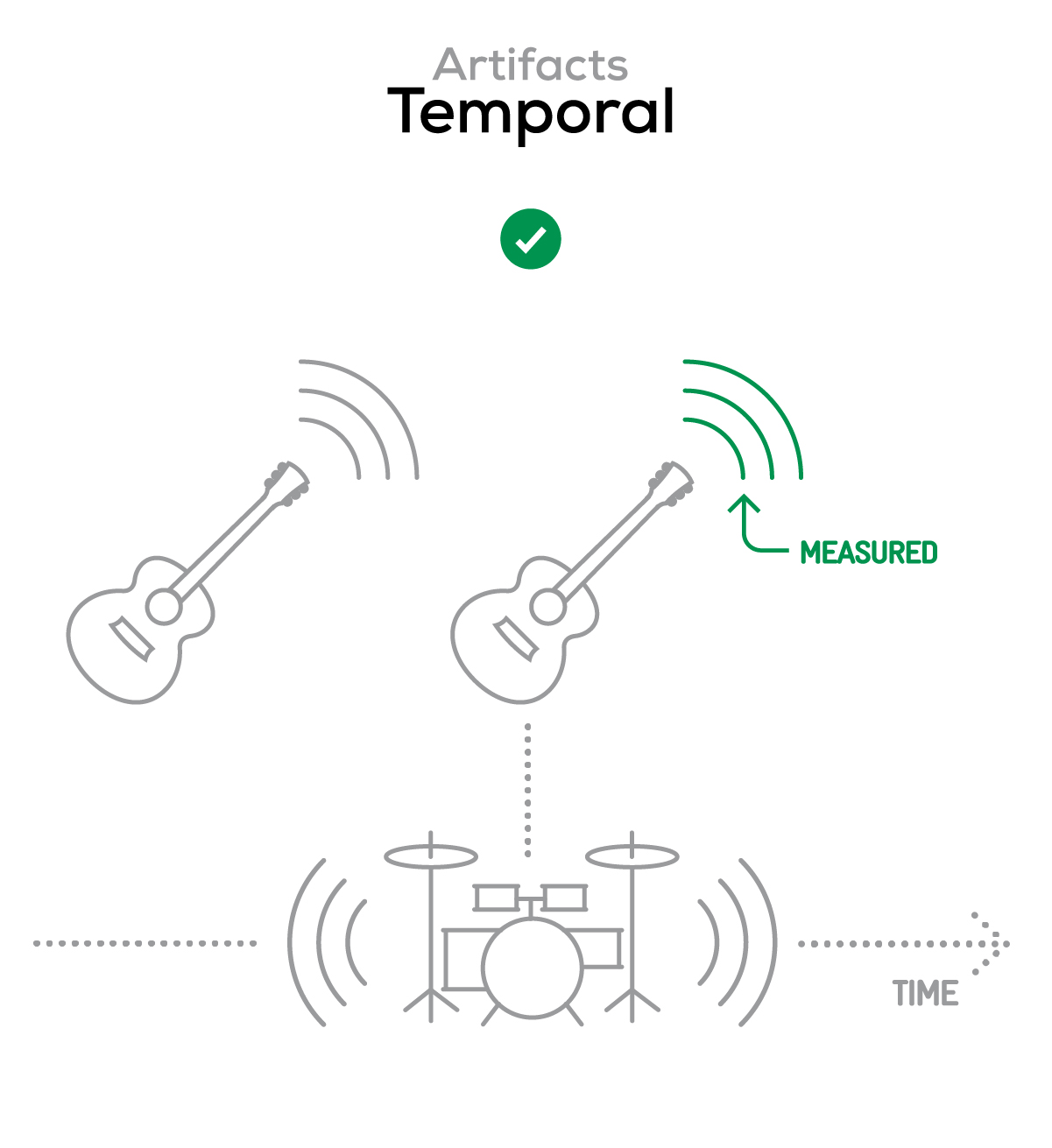 Audio played through the Five's speakers exhibits no perceivable artifacts, whether temporal (compression) or spectral (distortion), regardless of the content (movies, podcasts and various genres of music), the use case, or the listening volume.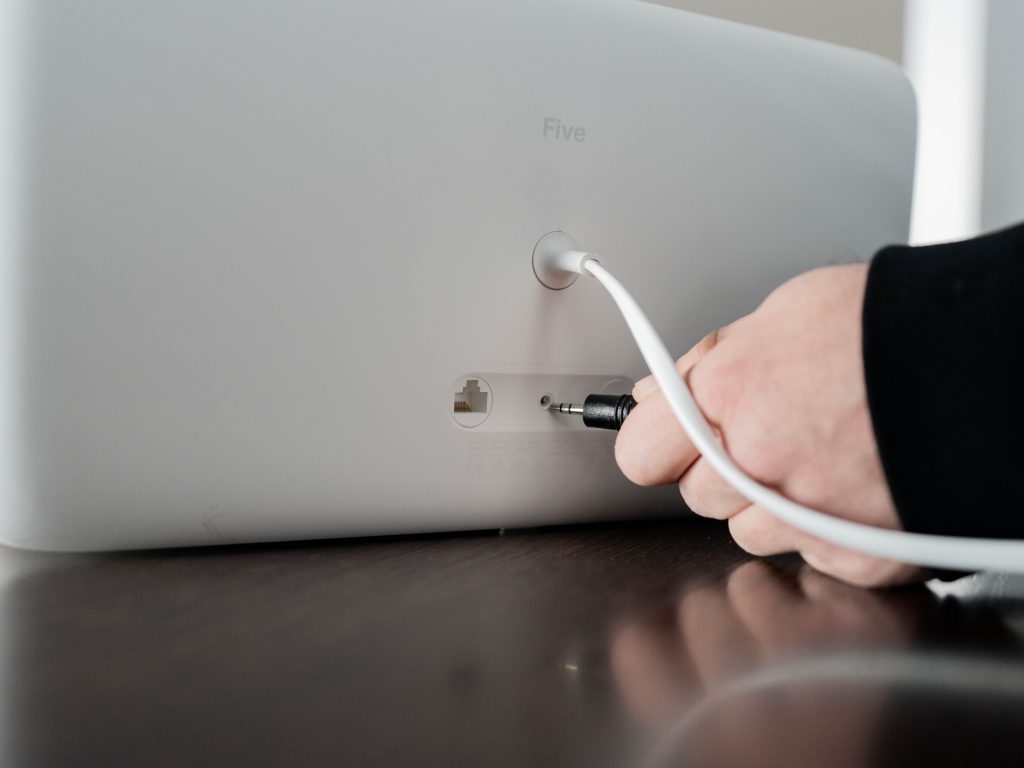 The Sonos Five offers a mini-jack connection that allows for watching videos without latency, or for listening to locally stored files.
Conclusion
The Sonos Five handles the decibels impressively well, and excels at controlling the sonic artifacts that usually come with. Besides its loud volume and low distortion, the Five's good tonal balance, wide sound field, and impactful dynamics (even at quiet volumes!) make it an excellent companion for parties, watching movies, and listening to music or podcasts before going to sleep. Further, its efficient Trueplay feature, along with the fact that it's humidity resistant, makes it also appropriate for bathroom use!