In late 2017, the multi-room wireless pioneering company unveiled its debut smart speaker, the Sonos One. At that time, the modernized version of the Play:1 was the first smart speaker to welcome both Amazon's and Google's assistants, even adding the AirPlay 2 streaming protocol a few months later. Advertised as "the smart speaker for music lovers," the Sonos One promises room-filling sound, crisp and clear high-end frequencies, faithful playback of mid-range vocal frequencies, and deep, rich bass.
Early 2019, Sonos launched the Gen 2, an acoustically identical version of the One updated with a more powerful chipset, better memory, and Bluetooth Low Energy (for setting up the device only, not for streaming audio) — all at the same reasonable price point compared to many of its competitors. This is the version we put through our rigorous DXOMARK Wireless Speaker test suite. In this review, we will break down how it fared at audio playback in a variety of tests and several common use cases.
Key specifications include:
Two drivers (one twitter, one mid-woofer), each with its own Class-D amplifier.
Bluetooth LE and AirPlay 2. No 3.5 mm jack, no optical input.
Stereo pair capable.
161.45 x 119.7 x 119.7 mm (6.36 x 4.69 x 4.69 in.)
Humidity resistant
No battery
Alexa, Google Assistant
Test conditions:
Tested with iPhone SE iOS 13.5
Communication protocol used: AirPlay 2
Firmware version: 12.0.5 (build 58180080)
About DXOMARK Wireless Speaker tests: For scoring and analysis in our wireless speaker reviews, DXOMARK engineers perform a variety of objective tests and undertake more than 20 hours of perceptual evaluation under controlled lab conditions. This article highlights the most important results of our testing. Note that we evaluate playback using only the device's built-in hardware. (For more details about our Speaker protocol, click here.)The Sonos One falls into the Advanced category of devices in the DXOMARK Speaker rankings.
Test summary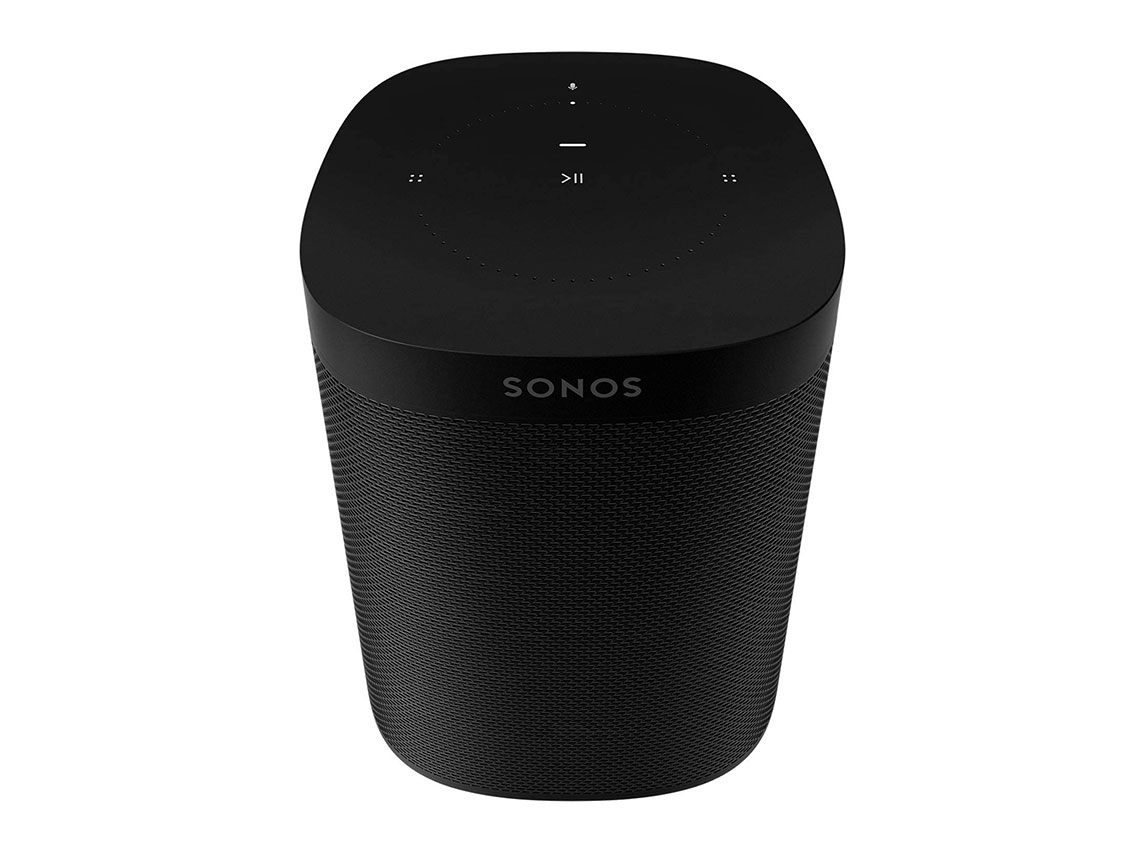 Sonos One
129
speaker
With a global score of 129, the One's audio performance can count on great dynamics, good tonal balance, faithful midrange frequency rendering, and very good maximum volume for its size.
The speaker is also fairly skilled at controlling undesirable sound artifacts in most situations, except at loud volumes. All these qualities, among other criteria tested in our protocol, make the One particularly suited for relaxing at home, watching movies, and listening to music in the bathroom (since it is humidity resistant), or before going to bed.
But "the smart speaker for music lovers" also has its flaws. At loud volumes, high-mids become too prominent, hissing and bass distortion appear, and over-compression affects dynamic attributes. At quiet levels, occasional low-end resonances hamper bass precision, high-end extension is a little lacking, and the first volume steps are a little too abrupt.
Sub-scores explained
The DXOMARK Speaker overall score of 129 for the Sonos One is derived from the Playback scores and their respective sub-scores. In this section, we will take a closer look at these audio quality sub-scores and explain what they mean for the user. In this section, we will take a closer look at these audio quality sub-scores and explain what they mean for the user, and we will show some comparison data from two of the Sonos One's competitors, the Amazon Echo Studio and the Bose Home Speaker 500.
Playback attribute comparisons
Timbre
129
Bowers & Wilkins Formation Wedge
DXOMARK timbre tests measure how well a speaker reproduces sound across the audible tonal range and takes into account bass, midrange, treble, tonal balance, and volume dependency.
Playback timbre comparison
As promised by the manufacturer, from quiet to nominal level, the Sonos One provides highly consistent midrange frequencies, albeit it slightly affected by a few low-mid resonances. Podcasts, as any other kind of vocal content, are particularly well reproduced. The overall balance is pleasant thanks to a fairly good bass performance, and decent treble.
Music playback frequency response
At loud level, high-mids become too prominent and some hissing can be perceived, whereas at quiet volumes, high-end extension is slightly lacking. Additionally, contrary to Sonos' advertised "deep, rich bass," low-end extension could go, well, a little deeper.
Dynamics
116
Bowers & Wilkins Formation Wedge
Our dynamics tests measure how well a device reproduces the energy level of a sound source, taking into account attack, bass precision and punch.
Playback dynamics comparison
At nominal volume, the Sonos One delivers a great performance with precise attack, powerful punch, and good bass precision. Movies fare particularly well on this speaker, as well as classical music — both emblematic of dynamic contents.
At quiet volumes, occasional low-end resonances impair bass precision, which is also affected by audio pumping at loud volume.
Spatial
79
Bowers & Wilkins Formation Wedge
Our spatial tests measure a speaker's ability to reproduce stereo sound in all directions, taking into account localizability, balance, wideness distance and directivity.
Playback spatial comparison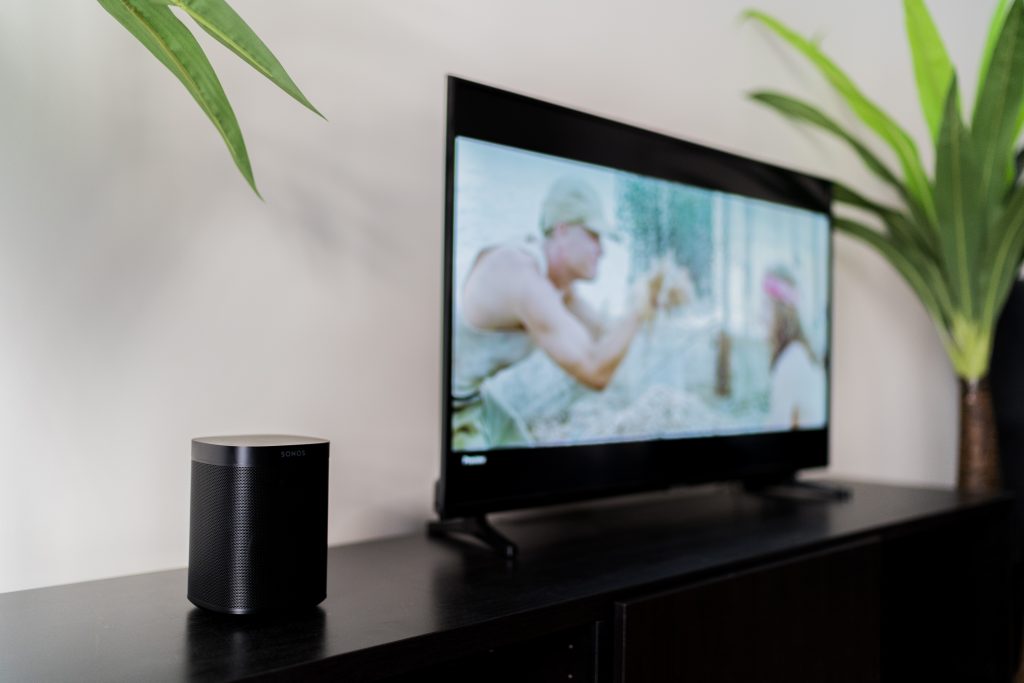 The Sonos One can be integrated in a 5.1 configuration.
The Sonos One is a front-firing mono device. Consequently, its wideness sub-score is nil, and its directivity is quite poor: so much for "room-filling sound." However, note that the Sonos One is pairable in stereo, and can be integrated in a 5.1 configuration.
The left/right balance is excellent (expectedly, since the sound is solely emitted from the center of the device), and localizability of the sound sources is fairly precise. The perceived distance of the sound field is realistic; however, it is slightly impaired by the previously-mentioned low-mid resonances.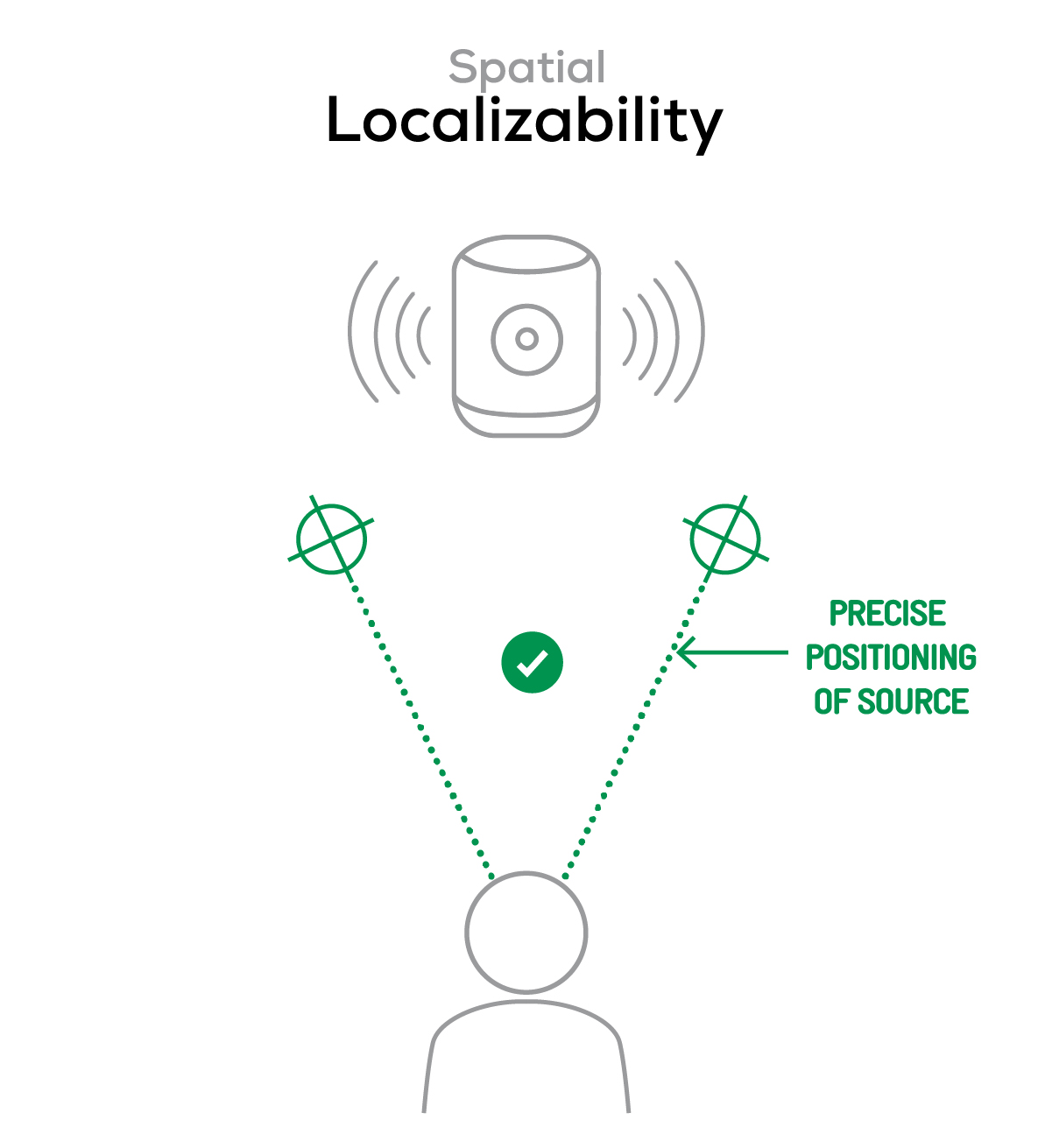 Volume
119
Bluesound Pulse Mini 2i
Our volume tests measure both the maximum loudness a speaker is able to produce and how smoothly volume increases and decreases based on user input.
Playback volume comparison
In volume testing, the Sonos One performs exceptionally well, delivering very good maximum volume considering its size.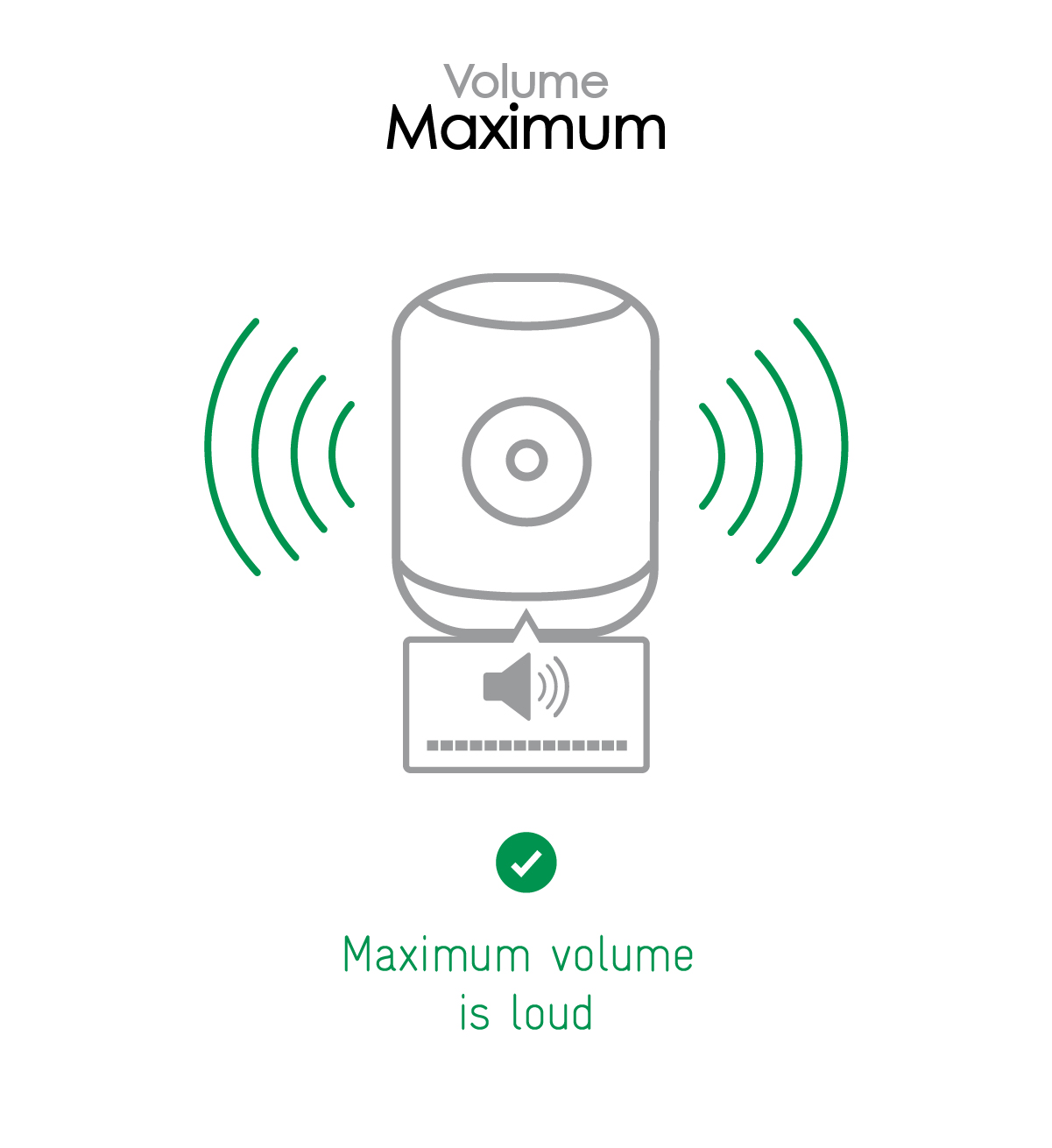 The speaker offers consistent listening levels in all sorts of situations, from playing soft tunes or podcasts before going to bed all the way to blasting big sound when partying, including listening to music during friendly gatherings, in the bathroom or even outdoor.
Playback volume consistency comparison
As shown in the graph above, at low levels, the volume step curve is not linear enough, the gap between first and second step being particularly abrupt. Here are a few sound pressure levels (SPL) we measured when playing our sample recordings of hip-hop and classical music at maximum volume:
| | | | | | | |
| --- | --- | --- | --- | --- | --- | --- |
| | Correlated Pink Noise | Uncorrelated Pink Noise | Hip-Hop | Classical | Latin | Asian Pop |
| Sonos One | 85.6 dBA | 83.7 dBA | 79.5 dBA | 75.5 dBA | 81.8 dBA | 74.4 dBA |
| Amazon Echo Studio | 84.8 dBA | 79.6 dBA | 81.1 dBA | 72.2 dBA | 80.7 dBA | 75.6 dBA |
| Bose Home Speaker 500 | 84 dBA | 81.9 dBA | 82.3 dBA | 78.2 dBA | 83.2 dBA | 75.4 dBA |
Artifacts
Our artifacts tests measure how much source audio is distorted when played back, along with such other sound artifacts as noise, pumping effects, and clipping. Distortion and other artifacts can occur both because of sound processing and because of the quality of the speakers.
Playback artifacts comparison
As mentioned in the dynamics section, at loud volumes, the Sonos One suffers from very noticeable pumping, affecting the temporal artifacts sub-score. In the spectral artifacts area, bass distortion can be perceived from nominal to loud volumes.
Playback total harmonic distortion
That all said, the artifacts performance is good overall, with little to no perceptible artifacts in numerous use cases (relaxing at home, bedtime, gatherings, kitchen, and even movies). Furthermore, the audio latency induced by AirPlay2 is unnoticeable when watching videos.
Conclusion
Evidently, Sonos' first smart speaker is certainly not its first speaker. The One delivers a high-quality audio performance with great dynamics (attack, punch, and bass precision), good tonal balance, consistent midrange frequencies, and excellent maximum volume — especially considering its size. The Sonos One meets its limits at loud volumes: high-mids can become aggressive, over-compression manifests, and bass distortion becomes quite noticeable. Furthermore, the mono front-firing speaker does not deliver "room-filling sound," and although the overall bass performance is undoubtedly above average, low-end extension is a little lacking, resulting in bass that isn't as rich or deep.
All in all, while there's still a margin for improvement, the Sonos One certainly constitutes a great choice if you're looking for audio quality at a reasonable price, all packed in a compact speaker.
Pros
Particularly well-reproduced vocals (podcasts, etc.), thanks to highly consistent midrange frequencies
Tonal balance is fairly good from quiet to nominal volumes.
Great dynamics performance at nominal volume with precise attack, powerful punch, and good bass precision
The distance of the sound sources is realistic, and their localizability is fairly precise.
Considering its size, the speaker delivers very satisfying maximum volume.
Cons
Low-end extension is lacking.
At loud level, hissing occasionally appears and high-mids become quite prominent.
High-end extension is slightly lacking at soft volumes.
Punch and bass precision are impaired by pumping at loud volumes.
Since the device is front-firing, sound is unevenly distributed around the speaker.
The sound field is particularly narrow (wideness is nil).
Bass distorts from nominal to loud volumes.