The Sonos Roam, released in April, is the newest, smallest, and least expensive device in the Sonos line. It is truly small, weighing less than a pound and only 6.61 inches high and 2.44 inches wide. As the name indicates, it's built for mobility and for outdoor adventure. The brand says it can be submerged in up to 3 feet of water for as long as 30 minutes and still come out functional. Further, the Roam can be paired with another Roam speaker or other Sonos devices indoors to create a custom soundscape. It can be controlled with Alexa or Google Assistant.
The brand says Roam's "precision-engineered acoustics deliver the clarity, depth, and fullness you would expect from a much larger speaker." With a price tag of less than $200, the Sonos Roam is in DXOMARK's Essential category.
Our engineers put the Sonos Roam through our rigorous DXOMARK Wireless Speaker test suite. In this review, we will break down how it fared at audio playback in a variety of tests and several common use cases.
Key specifications include:
AirPlay2, Bluetooth. USB port
Height: 6.61 inches (168 mm). Width: 2.44 in. (62 mm) x 2.36 in. (60 mm)
0.95 lbs (0.43 kg)
Speakers: 2 class-H digital amplifiers driving one tweeter and one mid-woofer
Test conditions:
Tested with iPhone
Communication protocol used: AirPlay2
About DXOMARK Wireless Speaker tests: For scoring and analysis in our wireless speaker reviews, DXOMARK engineers perform a variety of objective tests and undertake more than 20 hours of perceptual evaluation under controlled lab conditions. This article highlights the most important results of our testing. Note that we evaluate playback using only the device's built-in hardware. (For more details about our Speaker protocol, click here.) The Sonos Roam falls into the Essential category of devices in the DXOMARK Speaker rankings.
Test summary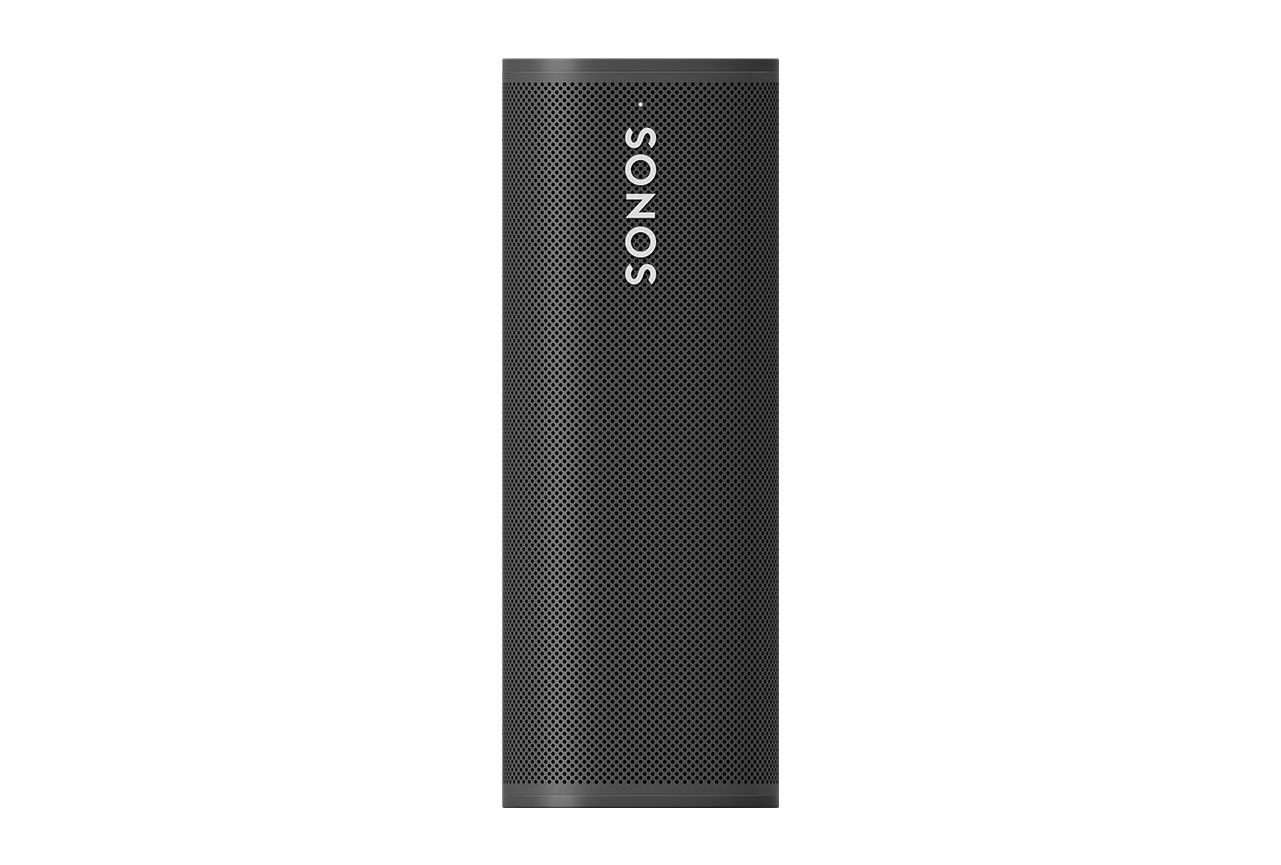 Sonos Roam
114
speaker
Pros
Natural tonal balance
Good volume for its size
Pleasant listening at low levels and close range
Cons
Significant lack of bass and low midrange
Lack of high-end extension
Pumping and distortion at high volumes
With a global score of 114, the Sonos Roam ranks high in our Essential category (less than $200) in our wireless home speaker database. In fact, the slightly more expensive Sonos One currently holds the top rank in that group with a 129, and the Roam slots into a tie with the Google Nest Audio in the no. 3 spot.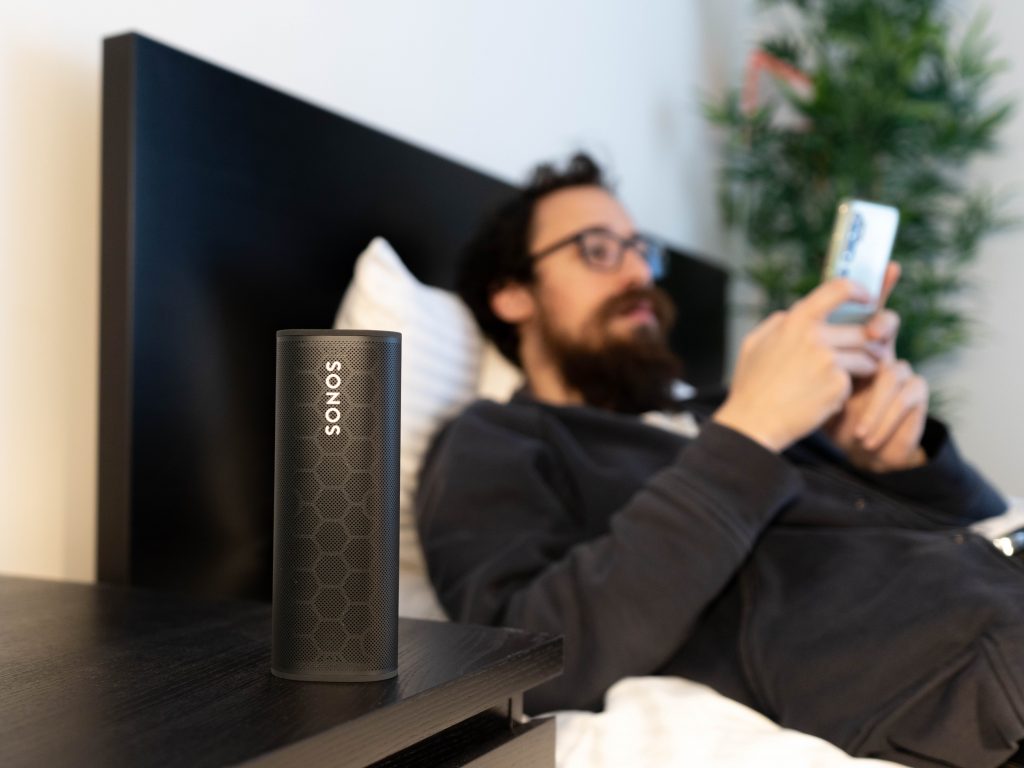 The Sonos Roam's sound is most pleasant at low levels and at close range.
The Sonos Roam produces a fairly natural tonal balance. Considering its small size, it produces a satisfying level of loudness. The sound is most pleasant at low levels and at close range.
Perhaps not surprisingly, considering how small it is, there is a significant lack of bass and low midrange. High-end extension is also lacking. Bass is imprecise. As for artifacts, our engineers noted pumping at high sound pressure levels (SPL), as well as distortion.
Sub-scores explained
The DXOMARK Speaker overall score of 114 for the Sonos Roam is derived from a range of sub-scores. In this section, we will take a closer look at these audio quality sub-scores and explain what they mean for the user, and we will show some comparison data from two of the device's competitors, the Sony SRS-XBR43 and the Apple HomePod mini.
Playback attribute comparisons
Timbre
114
Bowers & Wilkins Formation Wedge
DXOMARK timbre tests measure how well a speaker reproduces sound across the audible tonal range and takes into account bass, midrange, treble, tonal balance, and volume dependency.
Playback timbre comparison
The Sonos Roam produces a generally pleasant and natural-sounding timbre, but our engineers also judged it to be somewhat shallow and bland. The tonal balance is focused on a hollow but clear midrange, dulled by a subtle lack of treble and high-end extension. The tonal balance presents a disturbing lack of low midrange.
The device also lacks low-end extension and bass overall, again not surprising considering its small size. The tonal balance improves for the listener at closer range. The Roam also lacks high-end extension, an absence that becomes more noticeable when listening from the sides or rear of the speaker.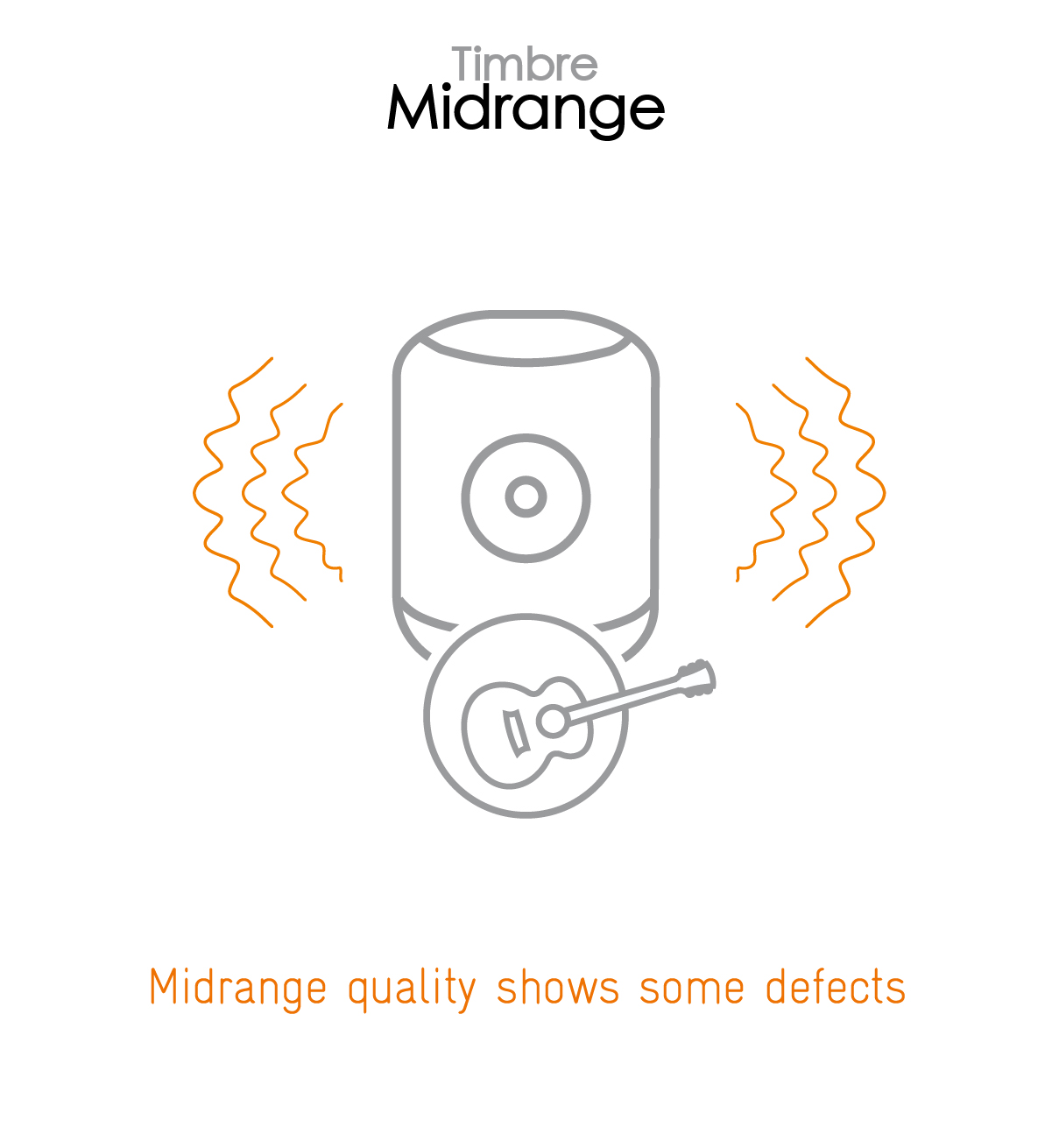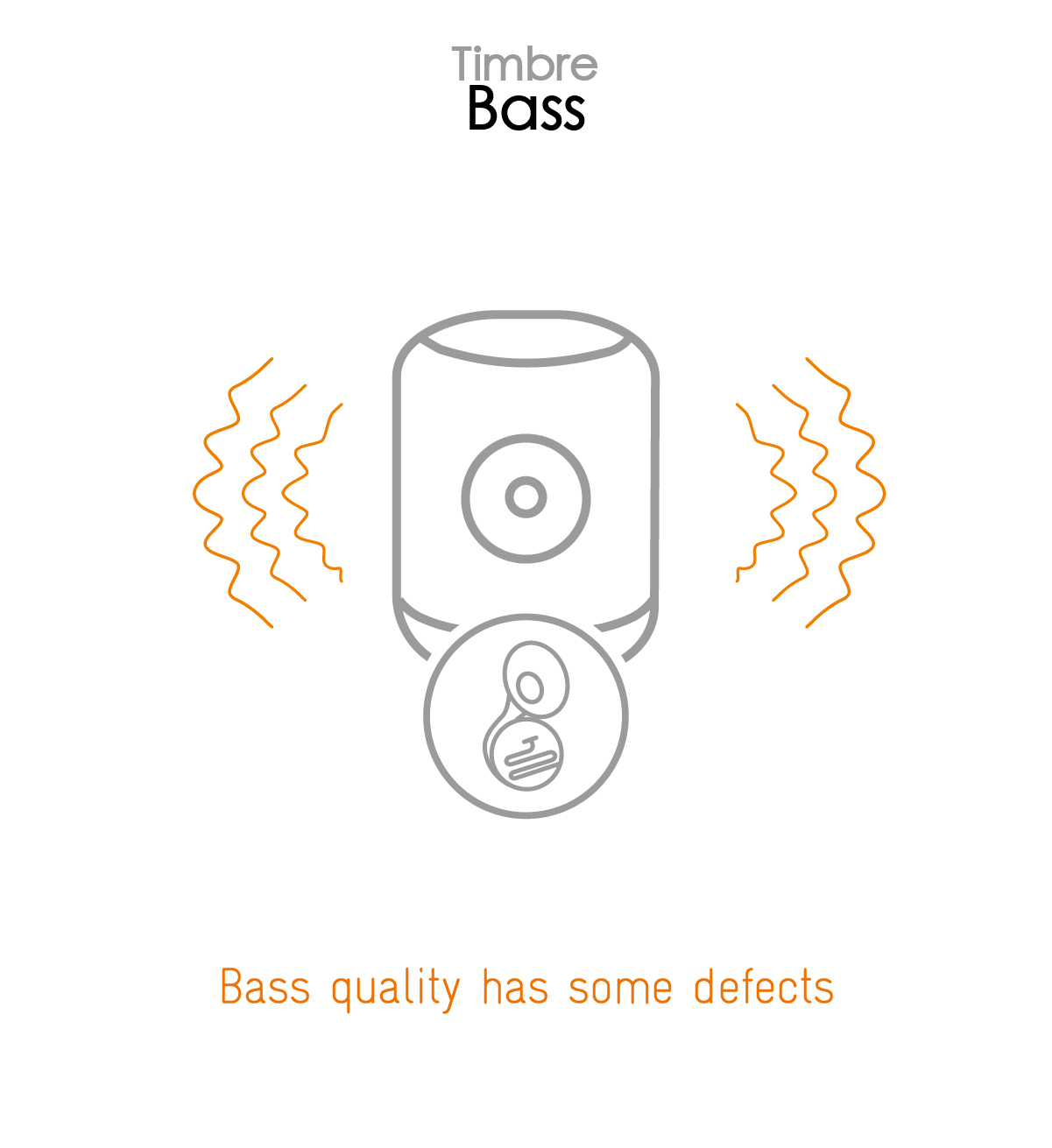 At low volume, tonal balance becomes more enjoyable and satisfying. At high and maximum volume levels, on the other hand, the lack of bass and low mid becomes problematic and treble starts to hiss; furthermore, significant audible distortion occurs.
Music playback frequency response
Dynamics
99
Bowers & Wilkins Formation Wedge
Our dynamics tests measure how well a device reproduces the energy level of a sound source, taking into account attack, bass precision, and punch.
Playback dynamics comparison
The Sonos Roam received a middle-of-the-road score on dynamics; its larger brand sibling, the Sonos One, for example, scored a 129 in this attribute. Attack rendition is sufficient, but it worsens at higher volumes. Transients are lost when the listener is on the sides of or behind the speaker.  Punch is mediocre in most use cases — not terrible, but suffering from a lack of low-mid energy. Bass is very imprecise, with only the attack part of the envelope preserved. There is no bass sustain or decay.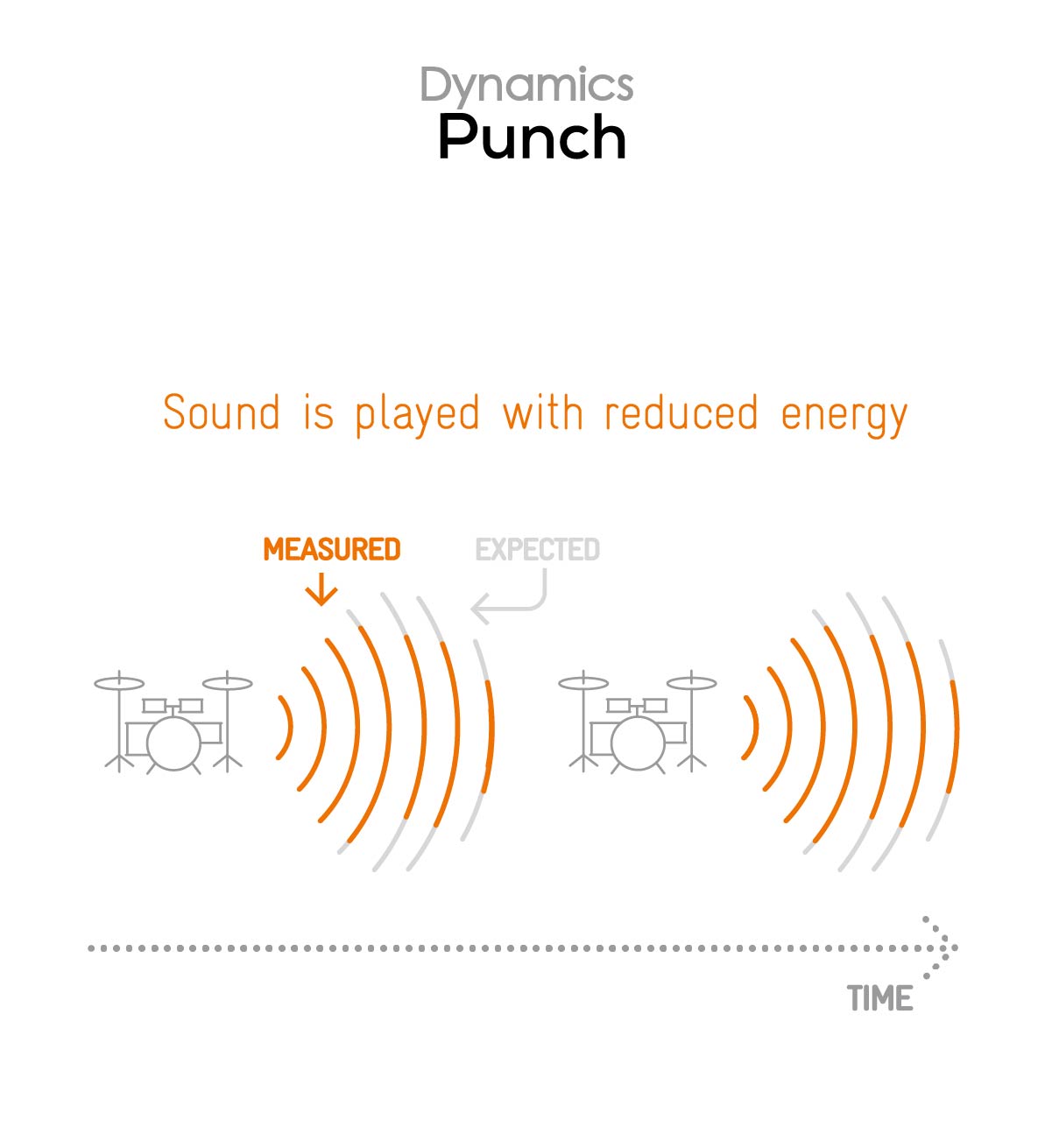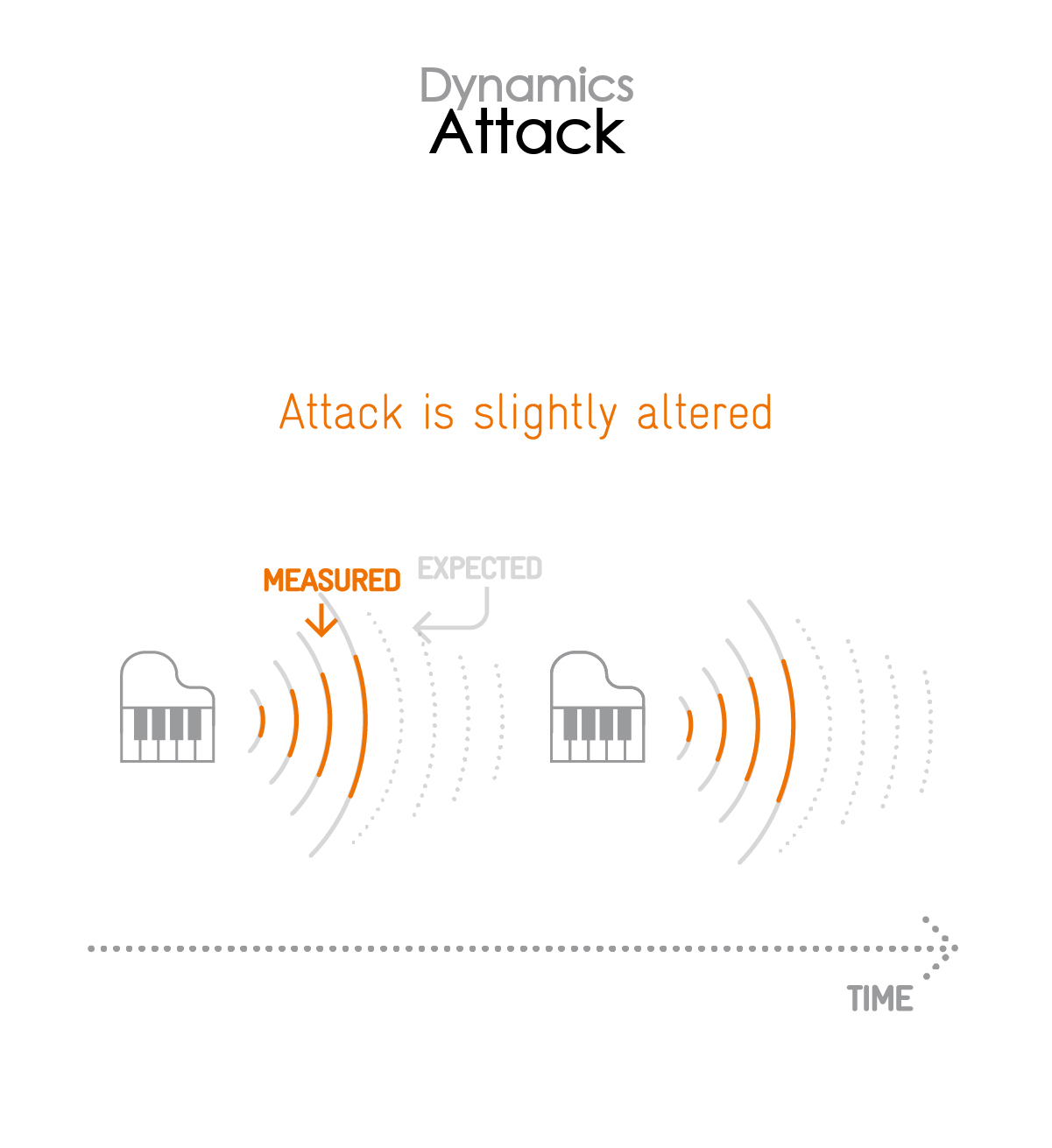 Global compression is noticeable but not disturbing at nominal volumes. At higher SPLs, however, the amount of pumping becomes an issue as dynamics qualities suffer greatly.
Spatial
73
Bowers & Wilkins Formation Wedge
Our spatial tests measure a speaker's ability to reproduce stereo sound in all directions, taking into account localizability, balance, wideness, distance, and directivity. Please note that wideness is 0 on mono speakers and on speakers that cannot deliver a significant stereo effect.
Playback spatial comparison
The spatial performance of the Sonos Roam was average. Localizability was not perfect, but generally decent. Overall, distance feels accurate compared with reference, but sometimes it was a bit off.
Volume
110
Bluesound Pulse Mini 2i
Our volume tests measure both the maximum loudness a speaker is able to produce and how smoothly volume increases and decreases based on user input.
Playback volume comparison
Playback volume consistency comparison
In the volume attribute, the Sonos Roam was impressive for its size. The SPL was strong at maximum volume, but the Roam was subject to artifacts — mainly pumping, but our engineers detected distortion as well. The speaker performs well at low volume and close range.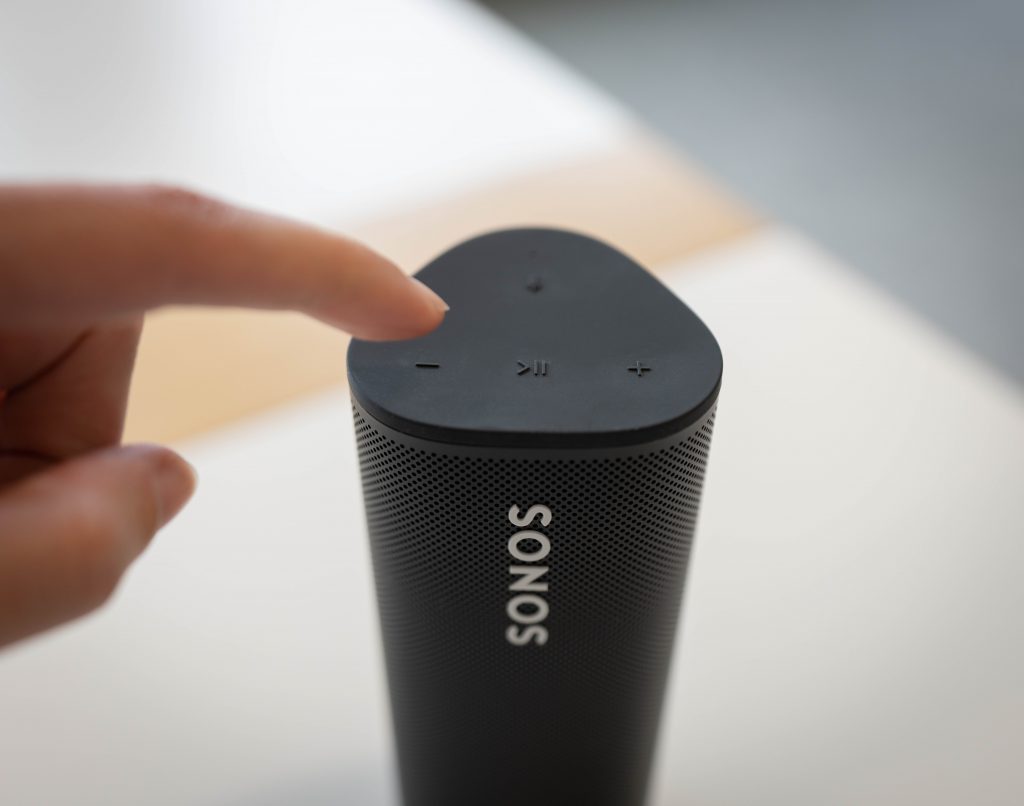 The Sonos Roam was impressive for its size in the volume attribute.
Here are a few sound pressure levels (SPL) we measured when playing our sample recordings of hip-hop and classical music at maximum volume:
| | | | | | | |
| --- | --- | --- | --- | --- | --- | --- |
| | Correlated Pink Noise | Uncorrelated Pink Noise | Hip-Hop | Classical | Latin | Asian Pop |
| Sonos Roam | 80.7 dBA | 78 dBA | 75 dBA | 70.3 dBA | 77.5 dBA | 69.9 dBA |
| Sony SRS-XB43 | 88.9 dBA | 86 dBA | 86.2 dBA | 78.5 dBA | 87.1 dBA | 79.7 dBA |
| Apple HomePod mini | 70.2 dBA | 67.7 dBA | 69 dBA | 63.5 dBA | 70.5 dBA | 62.8 dBA |
Artifacts
Our artifacts tests measure how much source audio is distorted when played back, along with such other sound artifacts as noise, pumping effects, and clipping. Distortion and other artifacts can occur both because of sound processing and because of the quality of the speakers.
Playback artifacts comparison
The Sonos Roam turned in a decent artifacts performance, even outpacing the Sonos One (which had a 93) in this area. There is slight compression at nominal volume, and pumping and distortion emerge at high SPL.
Playback total harmonic distortion
Conclusion
Sonos emphasizes the Roam's convenience, portability, and durability outdoors, as well as saying its performance is bigger than its petite form. Considering that diminutive form, the Roam performed well overall here, especially when comparing it with similarly priced and sometimes larger devices. In terms of volume performance, it definitely outperforms its size. On the other hand, the Roam is lacking bass and low-end, as well as some high-end, which would potentially give it a fuller and more satisfying timbre at higher volumes.