Sony's FE 16-35mm f/2.8 GM lens is part of its flagship G Master line of performance optics. With this lens, Sony strove for both peak performance and consistency across its focal range — and the lens achieves both. The addition of 2 XA (Extreme Aspherical) elements to its design complements three aspherical elements, all of which help it achieve both its remarkable resolution and smooth bokeh. An 11-blade rounded aperture helps make the bokeh even more attractive. Sony has also incorporated a dust- and moisture-resistant design as well as nano AR coatings to help reduce ghosting and flare.
Key Specifications:
E-mount lens / Full-frame format
Aperture range: f/2.8 – f/22
Two ELD (Extra-Low Dispersion) elements
Three aspherical and two XA elements
Nano AR and fluorine coatings
Direct-drive Supersonic Wave AF motors
Eleven-blade circular diaphragm
Dust- and moisture-resistant construction
Weight: 680 grams
Overall lens image quality
The new Sony FE 16-35mm lens reaches new scoring heights in the category of wide-angle zoom lenses, as well as a category record score for Sharpness — both when compared to other E-mount lenses and to what is possible with high-end lenses for other mounts. When shot on the Sony A7R II body, it scores 42 Overall, with a Sharpness score of 34. Obviously some of the strength of its results is due to the quality of the Sony A7R II body we used for testing, but it requires a top-of-the-line lens to bring the best out of a top-notch camera body.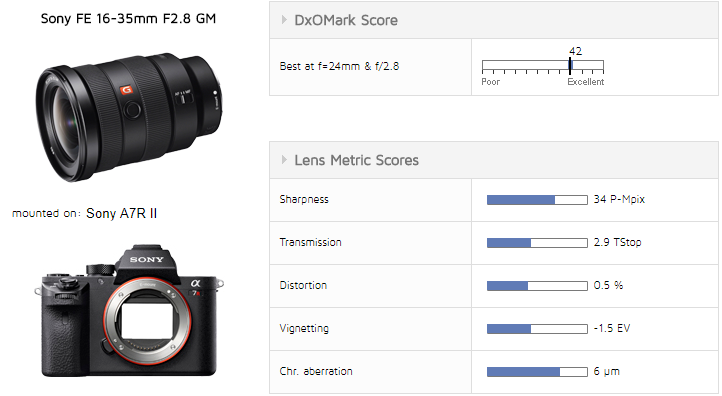 The Sony's sharpness performance is especially impressive, as it retains its ability to render high-resolution images across its entire focal range. It also delivers that sharpness from wide-open at f/2.8 until diffraction starts to get in the way at smaller apertures: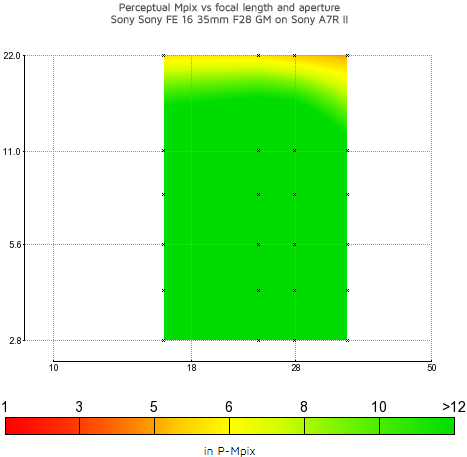 The lens also does a very good job controlling chromatic aberration. That's particularly important, as aberration is very hard to fix in post-processing. Here you can see that chromatic aberration is limited for all except the very shortest focal lengths: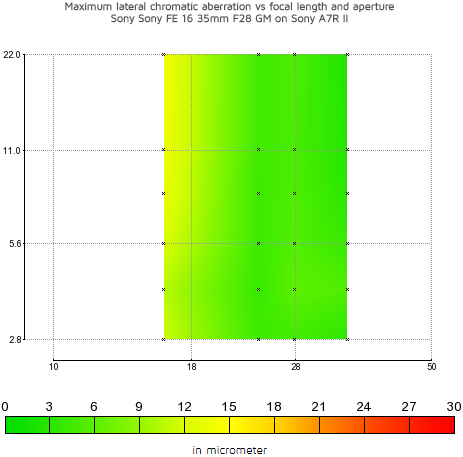 Image quality compared to its competitors
The Sony's Overall score of 42 puts it 6 points ahead of its nearest competitor, the Canon EF 16-35mm f/2.8L III USM, while its Sharpness score of 34 is a remarkable 10 points ahead: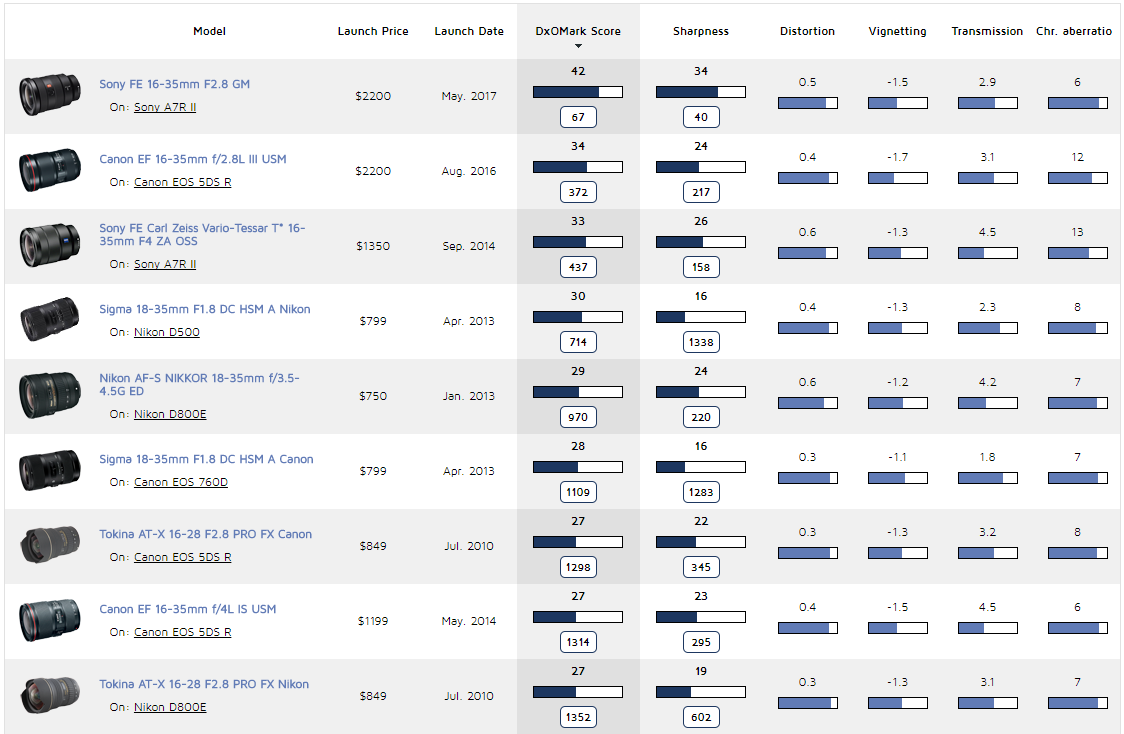 Click here to open our interactive DxOMark lens ranking tool
Another big strength of the Sony is that its image quality remains very consistent across its entire focal range — a relief for those accustomed to having to remember to coddle their lenses if they are weak at some parts of their range. Sony's sharpness, for example, is ahead of its competitors over its entire zoom range.
The lens is also impressive for its light transmission. While it may not seem exciting to say that a lens rated f/2.8 measures out at a T-Stop of 2.9, its competitors are all over 3. It is in the middle of the pack for vignetting — something fairly easy to address in post-processing — and has relatively little chromatic aberration, which is something much harder to correct after the fact.
In-depth comparisons
While this lens doesn't compete directly with all of the others we've shown, since some (like the Canon) don't offer a Sony E-mount model, it's still useful to see how it compares against the other best lenses out there. Remember, though, that these lenses are at their best when paired with a high-end camera body like the Sony A7R II we used for testing. If you're using an older model, or one with an APS-C sensor, be sure to click on our interactive test results to get an idea of how well the lens can be expected to perform with your camera. Here we compare the Sony to Canon's top-of-the-line (and similarly-priced) Canon EF 16-35mm f/2.8L III USM lens mounted on a Canon EOS 5DS R.
Geometric distortion
One place where the Sony does fall behind the Canon lens is in geometric distortion, suffering from slightly more than the Canon across its entire focal range, with the problem getting worse at the longer end. Fortunately, geometric distortion is one of the more fixable issues if you process the image using software that includes a profile of the lens: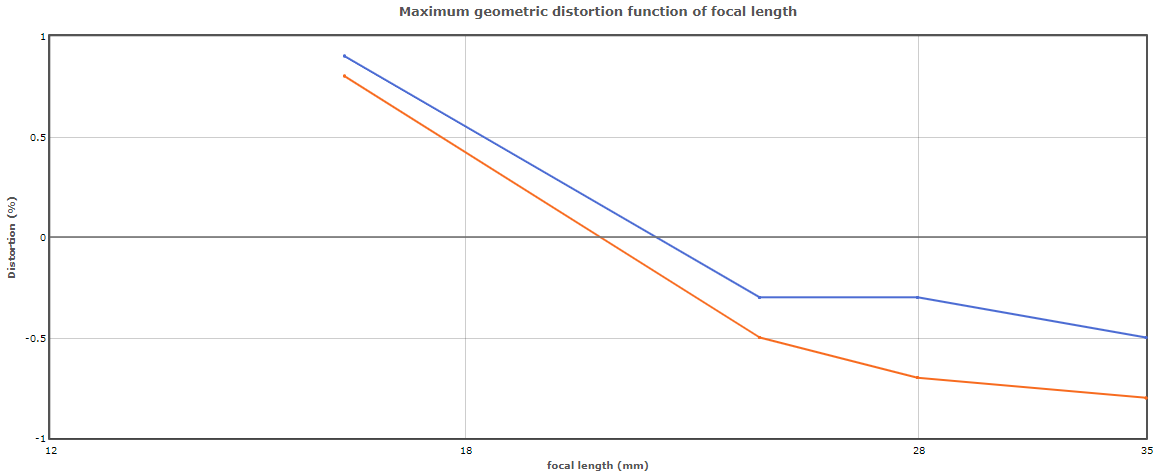 Sharpness
While both the Sony and the Canon are remarkably sharp across the entire image, the Sony is particularly sharp in the center of the frame. The Sony does suffer from slightly more astigmatism further out towards the edges (astigmatism is the difference between the vertical and horizontal acutance measurements in the chart below):

A budget-conscious alternative
For budget-conscious buyers, or those with a lower-end camera body that can't take full advantage of the new Sony GM lens, the Tokina wide-angle zoom is an alternative. However, you'll be sacrificing image quality, dropping from an overall score of 42 to 27, with lower measurements in almost all categories: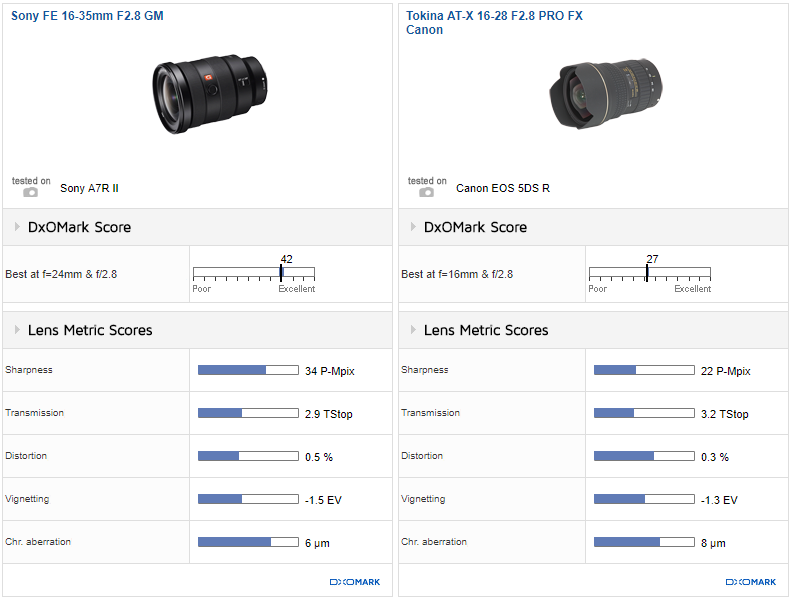 Conclusion
With the new Sony EF 16-35mm f/2.8 lens, you are simply getting better quality images for about the same price you would pay for many of its f/2.8 wide-angle zoom competitors. Obviously this comes with the caveat that it helps you only if you are shooting with E-mount Sony cameras, especially their latest high-end models.
In this review we have compared the Sony 16-35mm lens to its most direct rivals from Sony and other brands. Remember that some of them are for other camera systems and mounts, so the comparisons are not strictly head-to-head. As usual, you can create your own comparisons and in-depth analyses using our interactive lens comparison tool.