We put the Sony LSPX-S3 through our rigorous DXOMARK Audio test suite to measure its performance at playing back audio. In this review, we will break down how it fared in a variety of tests and several common use cases.
Overview
Key specifications include:
Wireless protocols: Bluetooth
Wired connectivity: None
Height: 28.9 cm, Width: 9.4 cm, Depth: 9.4 cm
Weight: 1100g
Speakers: Tweeter (Organic glass cylinder), Woofer (Diameter 46mm)

Test conditions:
Tested with Motorola G8
Communication protocol used: Bluetooth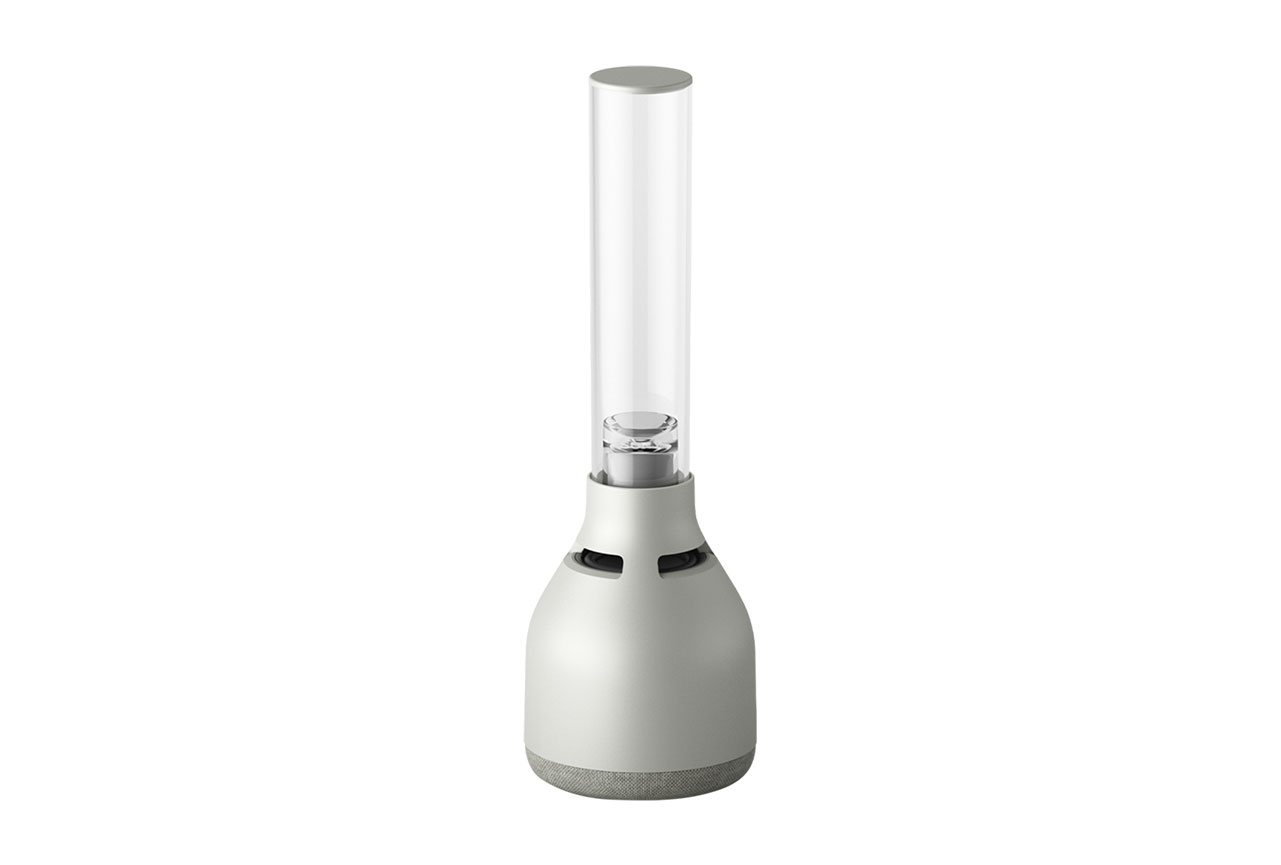 Sony LSPX-S3
89
speaker
Pros
Omnidirectional design
Bass boost feature provides some benefit
Cons
Underwhelming performance overall
Inconsistent treble
With below average results in almost all test categories, the Sony LSPX-S3 did not make it into the upper regions of the DXOMARK Speaker ranking. On the plus side, the omnidirectional design meant that timbre was consistent at all listening angles around the speaker, with the bass boost feature providing some help with the low end. However, our experts still found the tonal balance to be flawed, with weak treble, unclear midrange and a lack of depth.
In terms of dynamics, attack was weak, punch was insufficient and our testers noted a lack of bass precision. The speaker is monophonic by design, leading to a diminished localizability of individual sound sources, which also sounded too distant in our tests. In addition, unwanted artifacts, such as compression, pumping and distortion were quite noticeable.
Listen to the tested speaker's playback performance in this comparison with its competitors:
Test summary
About DXOMARK Wireless Speaker tests: For scoring and analysis in our wireless speaker reviews, DXOMARK engineers perform a variety of objective tests and undertake more than 20 hours of perceptual evaluation under controlled lab conditions. This article highlights the most important results of our testing. Note that we evaluate playback using only the device's built-in hardware. (For more details about our Speaker protocol, click here.)
The following section gathers key elements of our exhaustive tests and analyses performed in DXOMARK laboratories. Detailed performance evaluations under the form of reports are available upon request. Do not hesitate to contact us.

The DXOMARK Speaker overall score is derived from a range of sub-scores. In this section, we will take a closer look at timbre, dynamics, spatial, volume, and artifacts, and explain what they mean for the user.

Timbre
93
Bowers & Wilkins Formation Wedge
DXOMARK timbre tests measure how well a speaker reproduces sound across the audible tonal range and takes into account bass, midrange, treble, tonal balance, and volume dependency.

Playback timbre comparison
Please note that for the purpose of this test, the bass boost function was activated. In this configuration, timbre was not unpleasant overall, but tonal balance was flawed. Treble was insufficient and weak, with a particularly severe lack of information between 5 kHz and 10 kHz. This said, high-end extension was satisfactory. Our lab measurements also highlighted an unusual resonant boost at around 16kHz. This boost disappeared at louder volumes, meaning treble sounded increasingly muffled with volume. Because of a lack of upper midrange presence, midrange was unclear, and the low midrange could sound slightly muddy. This, combined with the lack of treble, resulted in a loss of intelligibility of vocal content, such as podcasts. The bass boost function provided a nice low-end extension, but with a noticeable lack of strength. Upper bass did sound slightly inconsistent, too, leading to a low end that was not quite satisfactory. Given that the speaker is perfectly omnidirectional, timbre performance was consistent across all listening angles.
Music playback frequency response
Dynamics
78
Bowers & Wilkins Formation Wedge
Our dynamics tests measure how well a device reproduces the energy level of a sound source, taking into account attack, bass precision, and punch.

Playback dynamics comparison
The dynamics performance left some room for improvement as well. Attack was weak across all use cases and volume settings, and bass precision was not quite satisfactory either. While bass notes appeared to have a decent attack, sustain was not realistic, despite bass boost being enabled. It was too quiet at best. As for punch, it was deemed insufficient. This could be explained by the muddiness of low midrange, which also lacked support from upper bass. Some pumping and excessive compression also took a toll on Punch.
Spatial
80
Bowers & Wilkins Formation Wedge
Our spatial tests measure a speaker's ability to reproduce stereo sound in all directions, taking into account localizability, balance, wideness, distance, and directivity. Please note that wideness is 0 on mono speakers and on speakers that cannot deliver a significant stereo effect.

Playback spatial comparison
The LSPX-S3 is omnidirectional, with the loudspeaker firing on a vertical axis. It is also monophonic, thus making the assessment of wideness or stereo balance irrelevant. Localizability was inherently diminished by these properties as well. Distance rendition was generally not up to par. Its improper timbre resulted in vocal content sounding too distant.
Volume
72
Bluesound Pulse Mini 2i
Our volume tests measure both the maximum loudness a speaker is able to produce and how smoothly volume increases and decreases based on user input.

Playback volume comparison
Playback volume consistency comparison
Volume performance was quite underwhelming. Volume step distribution was quite inconsistent, with a stall in the first three steps, and a jump between the 4th and 5th steps, making proper tuning of the volume for quiet listening difficult. Our testers also found the maximum volume to not be nearly loud enough, even when considering the speaker's small dimensions.
Here are a few sound pressure levels (SPL) we measured when playing our sample recordings of hip-hop and classical music at maximum volume:

| | | | | | | |
| --- | --- | --- | --- | --- | --- | --- |
| | Correlated Pink Noise | Uncorrelated Pink Noise | Hip-Hop | Classical | Latin | Asian Pop |
| Sony LSPX-S3 | 74.7 dBA | 71.8 dBA | 72.1 dBA | 67.5 dBA | 73.8 dBA | 66.8 dBA |
| Apple HomePod (2nd Gen) | 79.8 dBA | 77.8 dBA | 78.4 dBA | 71.8 dBA | 79.5 dBA | 74.1 dBA |
| Sonos Era 100 | 87.2 dBA | 85 dBA | 81.7 dBA | 76.2 dBA | 84.9 dBA | 75.4 dBA |
Artifacts
Our artifacts tests measure how much source audio is distorted when played back, along with such other sound artifacts as noise, pumping effects, and clipping. Distortion and other artifacts can occur both because of sound processing and because of the quality of the speakers.

Playback artifacts comparison
In line with the results in other categories, artifacts performance was below average. In our tests, the Sony suffered from quite strong compression and pumping, even at nominal volume. Distortion was quite noticeable as well, especially at high volume levels. Objective measurements showed strong peaks of THDN (Total Harmonic Distortion Plus Noise) in multiple zones, namely between 100Hz and 200Hz, with an additional peak at 250Hz. THDN was also unusually high from 2kHz upwards.
Playback total harmonic distortion