Sony added this highly portable wireless speaker to its array of devices in autumn of 2020. Weighing just 1.1 kilos, or about 2.4 pounds, the XB33 has an IP67 rating, meaning it is waterproof, and Sony adds that it can actually be washed. The speaker can be paired or added to groups of like devices, and flashing LED lights add a visual element to the party.
Sony says its design is unique, with a non-circular diaphragm that the company says results in more punchy bass and less distortion. We put the XB33 through our rigorous Audio testing protocol to see how it measures up.
Key specifications include:
Dimensions: 246 mm x 97 mm x 106 mm (width x height x depth)
Weight: 1.1 kg
Drivers: Two full-range speakers, two passive radiators.
Connectivity: Bluetooth 5.0
Test conditions:
Tested with Motorola WSPK for music and Xiaomi Mi TV Box S for video content
Communication protocol used: Bluetooth
About DXOMARK Wireless Speaker tests: For scoring and analysis in our wireless speaker reviews, DXOMARK engineers perform a variety of objective tests and undertake more than 20 hours of perceptual evaluation under controlled lab conditions. This article highlights the most important results of our testing. Note that we evaluate playback using only the device's built-in hardware. (For more details about our Speaker protocol, click here.) The Sony SRS-XB33 falls into the Essential category of devices in the DXOMARK Speaker rankings.
Test summary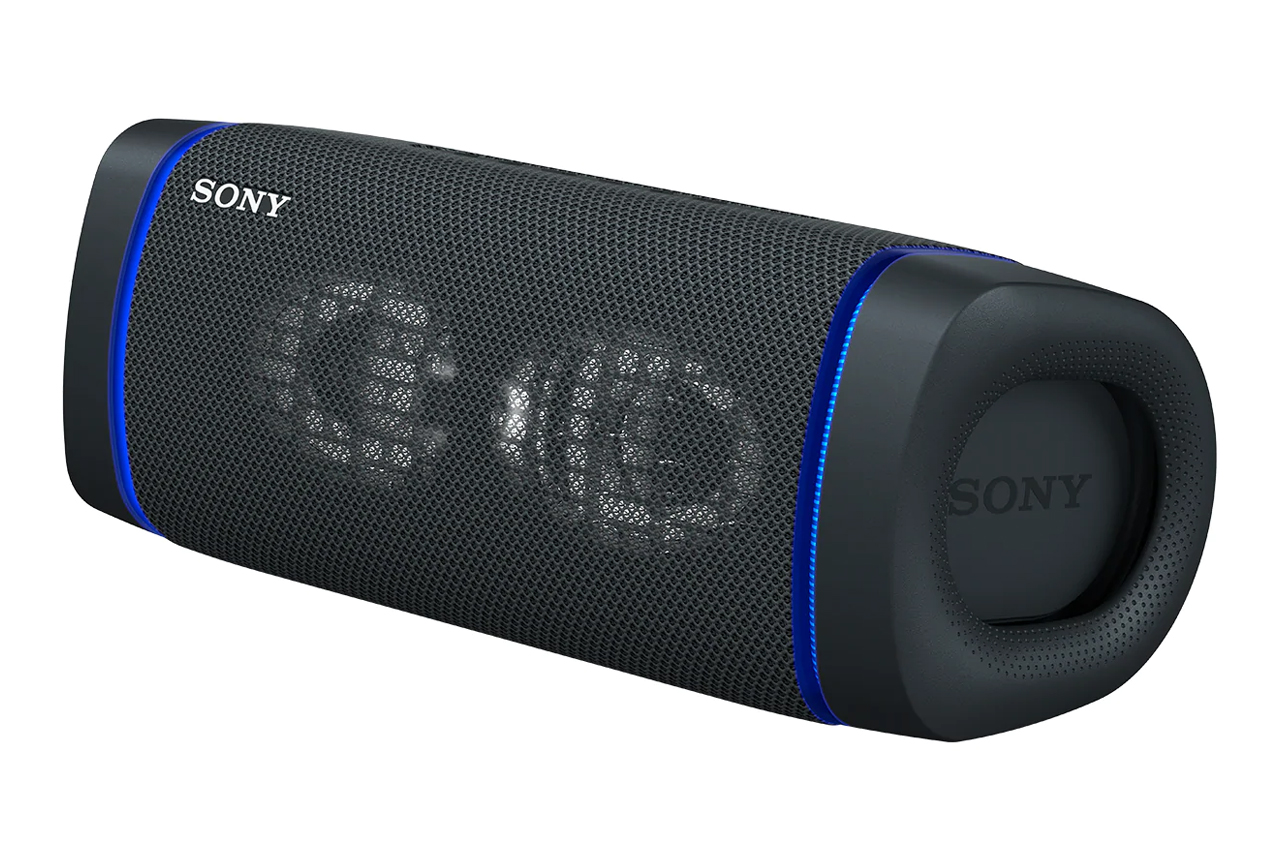 Sony SRS-XB33
113
speaker
Pros
The device produces colorful timbre with added distortion.

Bass rendition is interesting, and low-end extension is impressive for a petite device.

Decent wideness for small speaker.

Good overall loudness for its size.
Cons
Timbre is slightly too midrange-focused and even a bit nasal; treble becomes a bit aggressive at high SPL.
Bass is often too processed and does not sound natural.
Some artifacts are evident at high volume.

Localizability and distance perception are impaired.
The Sony SRS-XB33 lands in the upper tier of the speakers we've tested in the Essential category, with its score of 113 right next to the 114 scored by the Sonos Roam, but a few places down the table from the Sonos One, which holds the top score of 129.
Though small, the device seems engineered to maximize its party potential, with an emphasis on low-end and bass that sometimes comes at the cost of other aspects of the audio experience. The SRS-XB33 is fairly good at high volumes, which again is a plus at gatherings where you want the music to be front and center.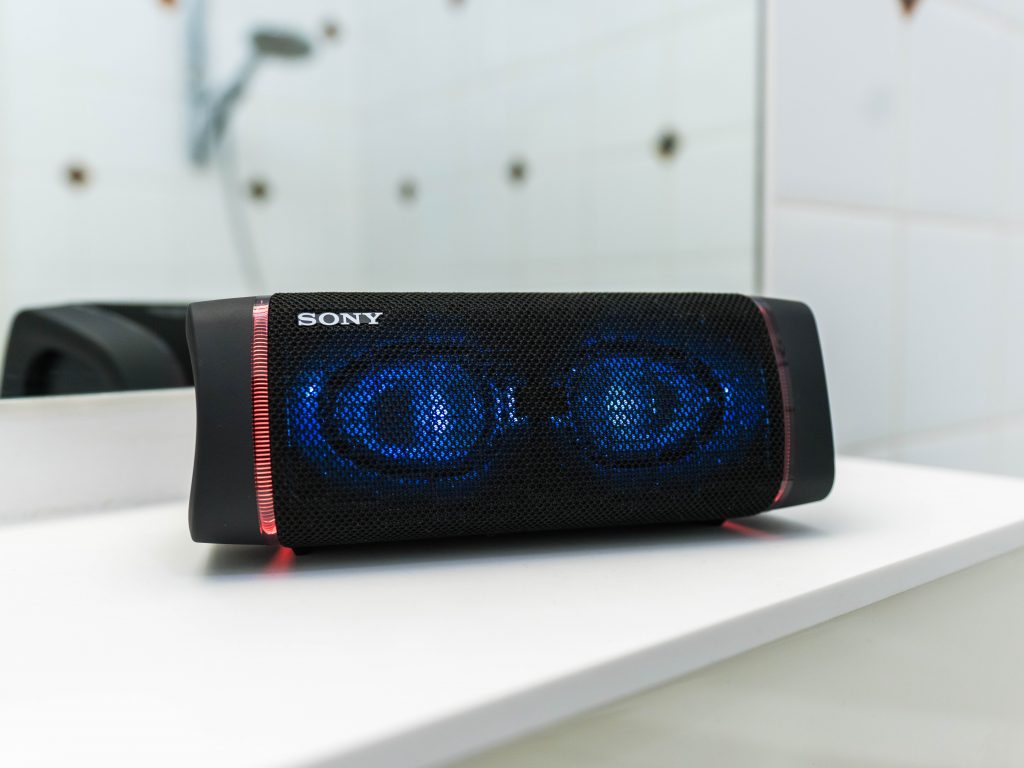 The Sony SRS-XB33 is fairly good at high volumes, making it a good option for social gatherings or parties.
Sub-scores explained
The DXOMARK Speaker overall score of 113 for the Sony SRS-XB33 is derived from a range of sub-scores. In this section, we will take a closer look at these audio quality sub-scores and explain what they mean for the user, and we will show some comparison data from two of the device's competitors, the Sonos Roam and the JBL Charge 5.
Timbre
117
Bowers & Wilkins Formation Wedge
DXOMARK timbre tests measure how well a speaker reproduces sound across the audible tonal range and takes into account bass, midrange, treble, tonal balance, and volume dependency.
Playback timbre comparison
The Sony SRS-XB33 provides a decent overall performance in timbre, with a solid score in this price range, especially considering its size. The tonal balance is overly focused on the midrange, which is often the case in smaller devices. Our engineers described it as colorful, and even interesting, but not very natural-sounding. That said, it's pleasant to listen to across most use cases.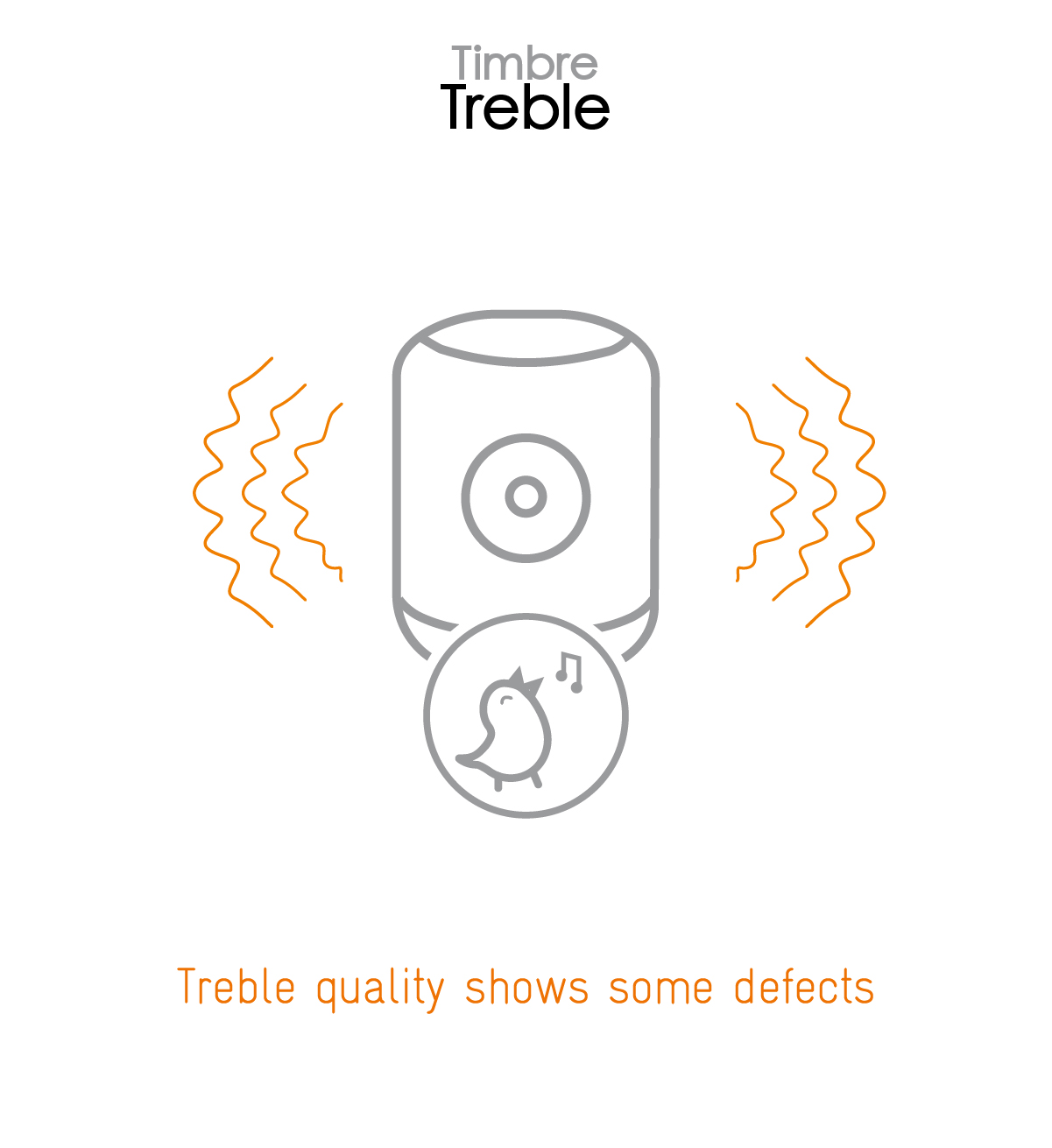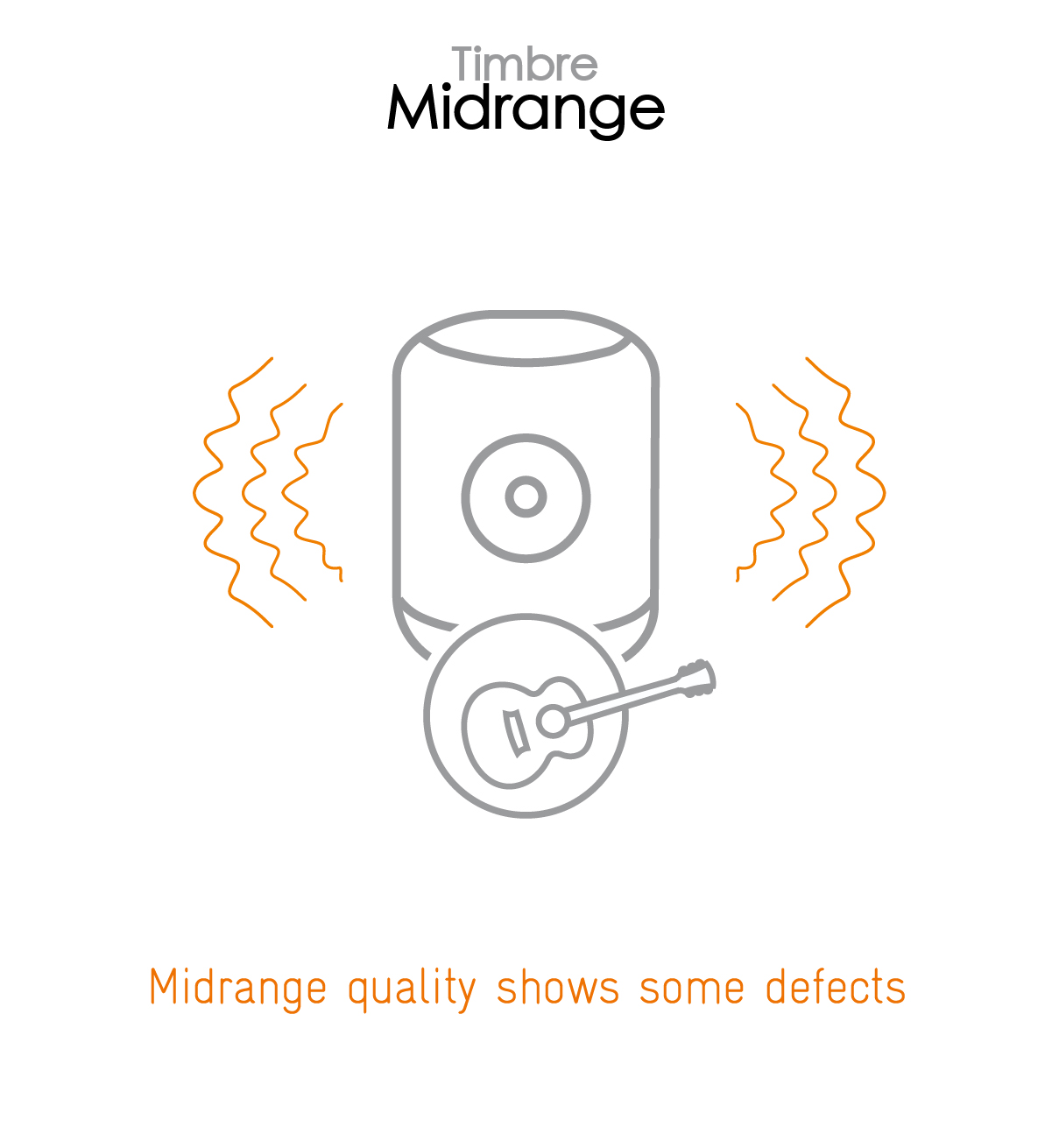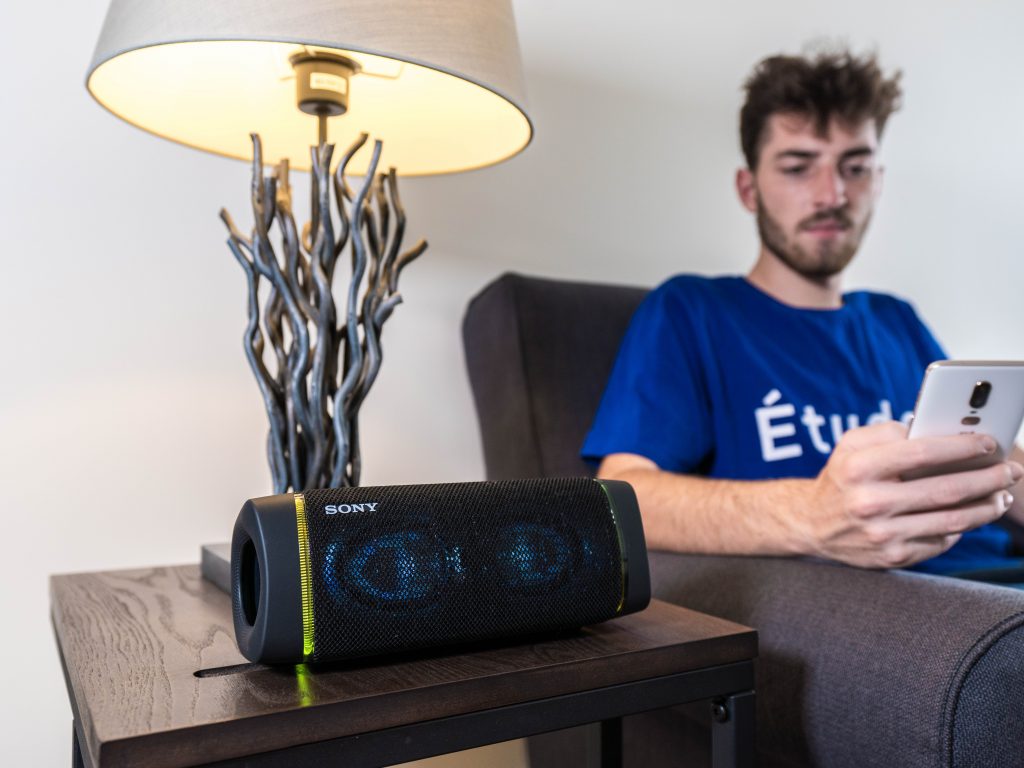 The Sony speaker is pleasant to listen to across most use cases.
Midrange sounds a bit resonant. With a lack of low midrange roundness and high midrange clarity, this results in some content such as voices sounding a bit nasal or even thin at times. On the bright side, that tendency allows voice-related content to cut through in noisy environments such as in the kitchen use case. It does not become too aggressive at higher sound pressure levels, though more low midrange in this case would be a plus.
Music playback frequency response
Treble is slightly dull but adequate, lacks consistency at lower volumes, and becomes somewhat harsh at higher volumes. Bass artificially enhanced by distortion is evident. That enhancement does produce a sense of fullness, though the resulting bass may sound a bit boomy or boxy in some cases, such as the bathroom use case or when close to the device — again, it doesn't sound natural. Despite the added color, extreme low end could be more present, especially in high SPL scenarios where there are more downsides than positives.
Dynamics
102
Bowers & Wilkins Formation Wedge
Our dynamics tests measure how well a device reproduces the energy level of a sound source, taking into account attack, bass precision, and punch.
When testing the SRS-XB33, our engineers observed that the dynamics seemed very processed. Attack is adequate, but feels quite rounded instead of sharp and on point most of the time, and somewhat blurry and imprecise in the video use case.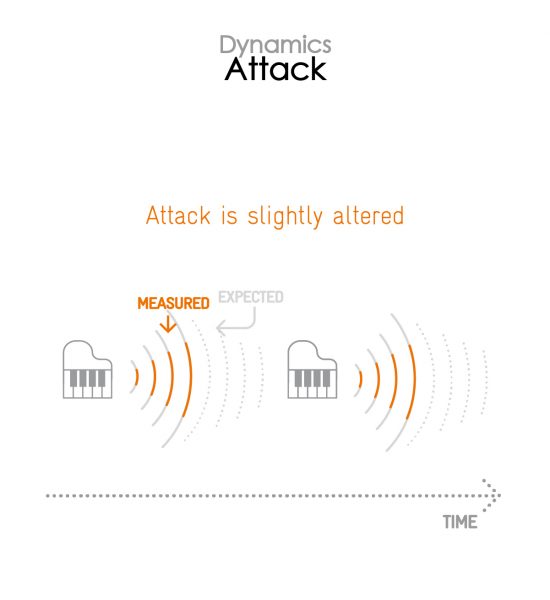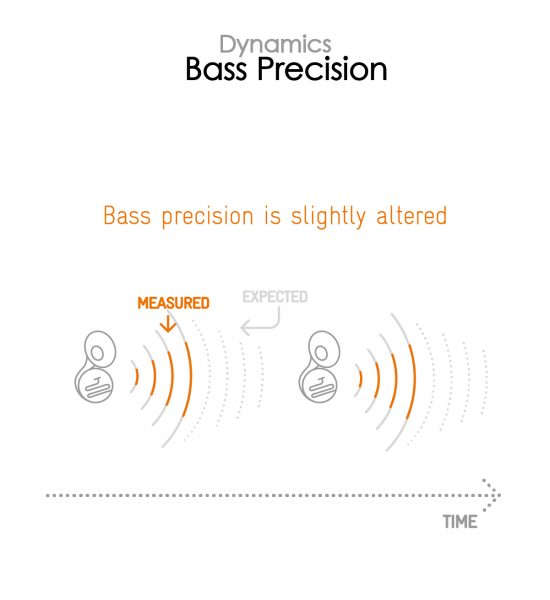 Added compression and slight distortion make the bass envelope sound the most processed. Sustain in the low end is exaggerated most of the time, which is not a problem if you want impressive bass rendition at parties, but it does not contribute to bass precision in a neutral way. In high SPL scenarios, bass attack is very distorted and imprecise. As for the lower SPL scenarios, tamer bass rendition would be a plus. Punch is fairly on target, despite the slight lack of low-mid energy and muddy low end. At higher SPL, treble harshness overcomes punch to some degree.
Playback dynamics comparison
Spatial
63
Bowers & Wilkins Formation Wedge
Our spatial tests measure a speaker's ability to reproduce stereo sound in all directions, taking into account localizability, balance, wideness, distance, and directivity. Please note that wideness is 0 on mono speakers and on speakers that cannot deliver a significant stereo effect.
Playback spatial comparison
With two forward-facing speakers, the SRS-XB33 does produce stereo sound, although the wideness, while decent considering the small size of the device, is not exceptional.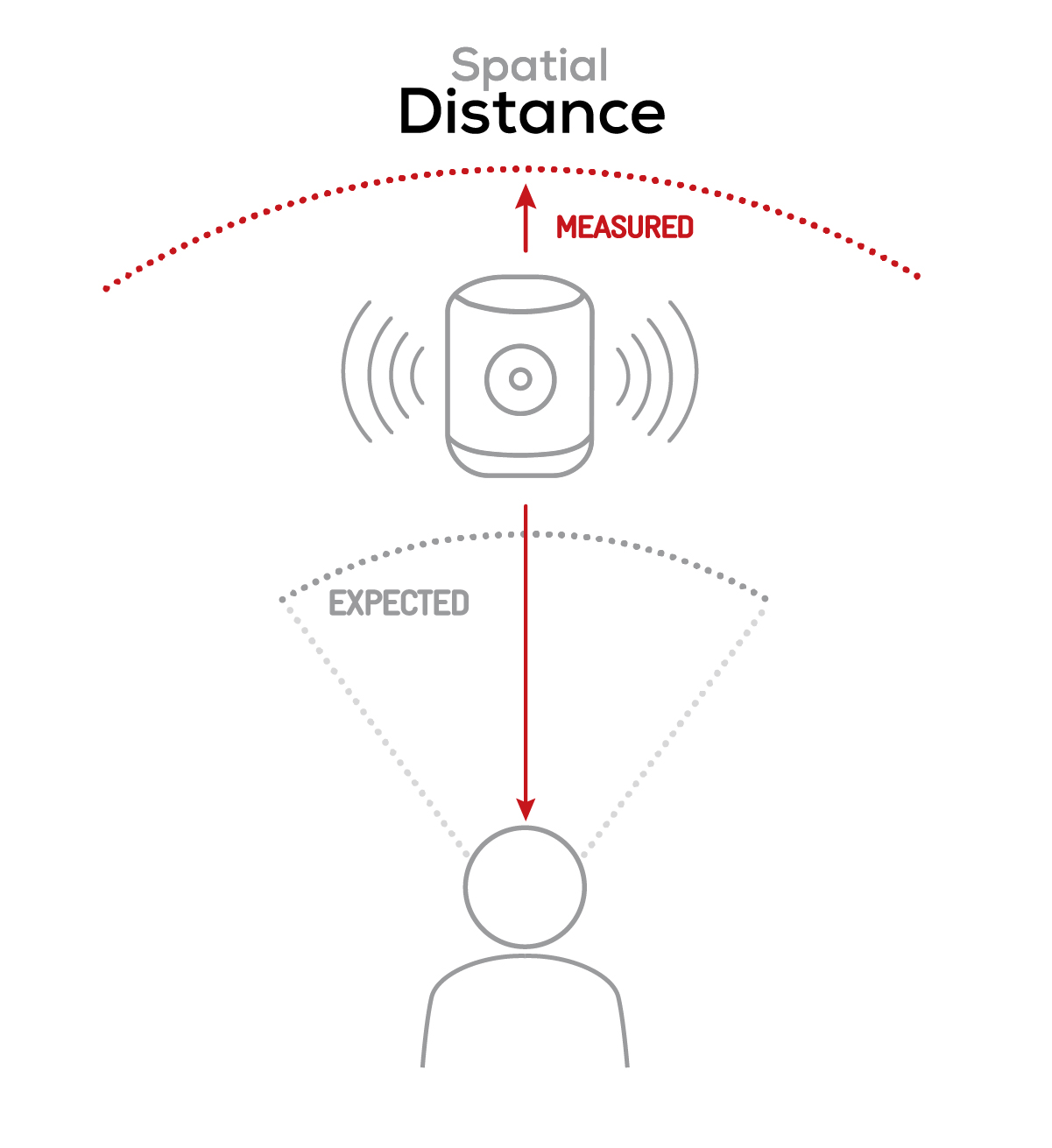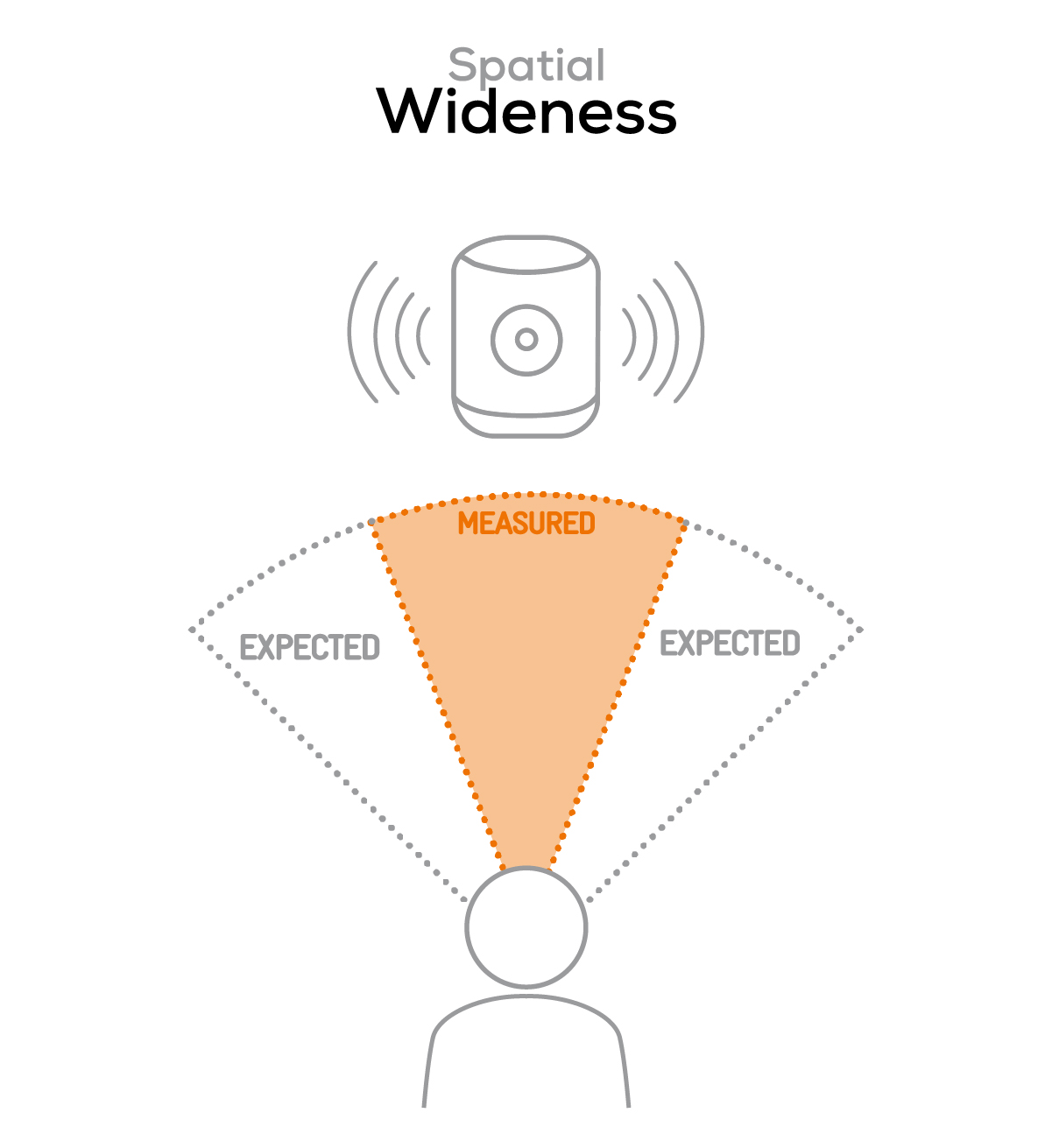 Not a strong point for the Sony device, localizability is nonetheless good most of the time. Because the timbre lacks both body and presence, distance perception is a weak point. Voices sound distant, veiled, and lacking in clarity.
Volume
86
Bluesound Pulse Mini 2i
Our volume tests measure both the maximum loudness a speaker is able to produce and how smoothly volume increases and decreases based on user input.
Playback volume comparison
Volume consistency is slightly off-kilter, with the first few volume steps especially being very different, as you can see in the chart below.
Playback volume consistency comparison
The Sony SRS-XB33 produces pretty good loudness at maximum volume for a speaker of its size. And at low SPL, the performance is mostly on the mark, despite the exaggerated bass envelope. At high SPL, however, there's a little too much aggressiveness and a few artifacts as well. Here are a few sound pressure levels (SPL) we measured when playing our sample recordings of hip-hop and classical music at maximum volume:
| | | | | | | |
| --- | --- | --- | --- | --- | --- | --- |
| | Correlated Pink Noise | Uncorrelated Pink Noise | Hip-Hop | Classical | Latin | Asian Pop |
| Sony SRS-XB33 | 84.2 dBA | 81.1 dBA | 81.9 dBA | 74.1 dBA | 82.3 dBA | 75.8 dBA |
| Sonos Roam | 80.7 dBA | 78 dBA | 75 dBA | 70.3 dBA | 77.5 dBA | 69.9 dBA |
| JBL Charge 5 | 72.2 dBA | 69.3 dBA | 69.9 dBA | 61.4 dBA | 71.6 dBA | 63.7 dBA |
Artifacts
Our artifacts tests measure how much source audio is distorted when played back, along with such other sound artifacts as noise, pumping effects, and clipping. Distortion and other artifacts can occur both because of sound processing and because of the quality of the speakers.
Playback artifacts comparison
The Sony speaker had a below-average score in the artifacts attribute. In our perceptual testing, engineers perceived compression and a multi-band dynamic treatment as well as some distortion, especially on bass — which was probably intentional, considering the brand's pitch for the XB33 as a party device.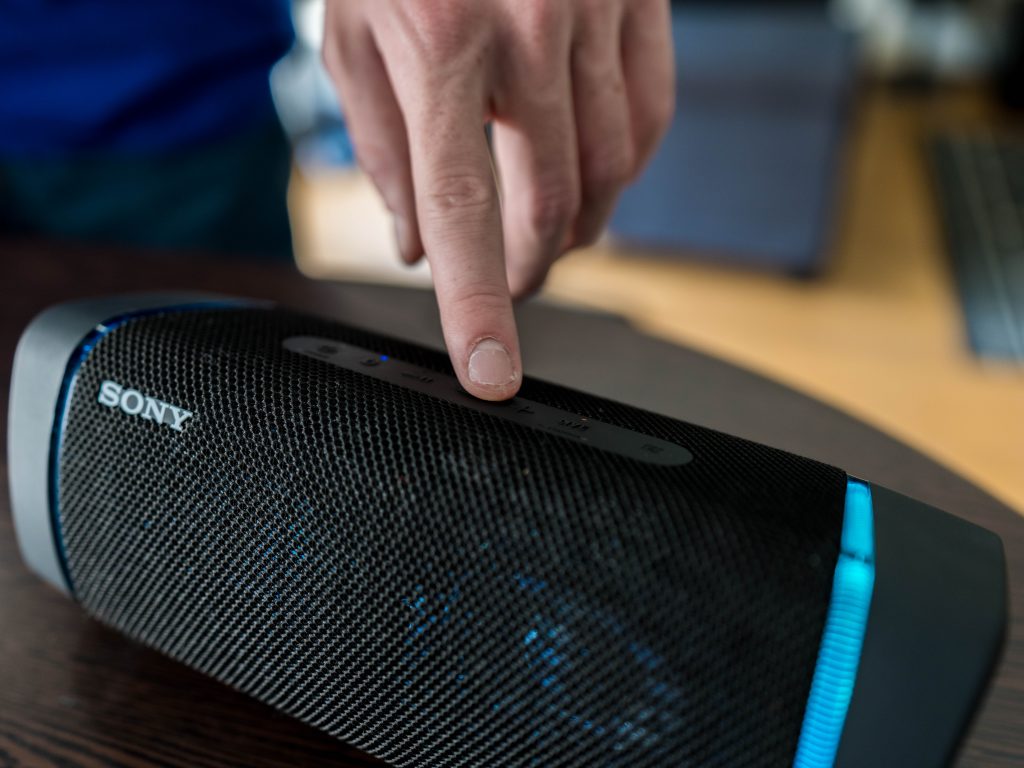 Erratic distortion and other sound artifacts are noticeable on the Sony SRS-XB33.
When playing in high SPL scenarios, the speaker produces erratic distortion, and the dynamics sub-attributes also suffer flaws at the same time.
Playback total harmonic distortion
Conclusion
The Sony SRS-XB33 has a few drawbacks, especially in the artifacts and spatial attributes, but overall, and especially for its size and price point, it delivers a satisfying performance that puts it among the better devices we've tested in the Essential category.