We put the Sony SRS-XG300 through our rigorous DXOMARK Wireless Speaker test suite to measure its performance at playing back audio. In this review, we will break down how it fared in a variety of tests and several common use cases.

Key specifications include:
Wireless protocols : None
Wired connectivity : Jack
Height: 13.8 cm. Width: 31.8 cm. Depth: 13.6 cm
Weight : 3000.0 g
Speakers: dual woofers and tweeters.

Test conditions:
Tested with Motorola WSPK
Communication protocol used: Bluetooth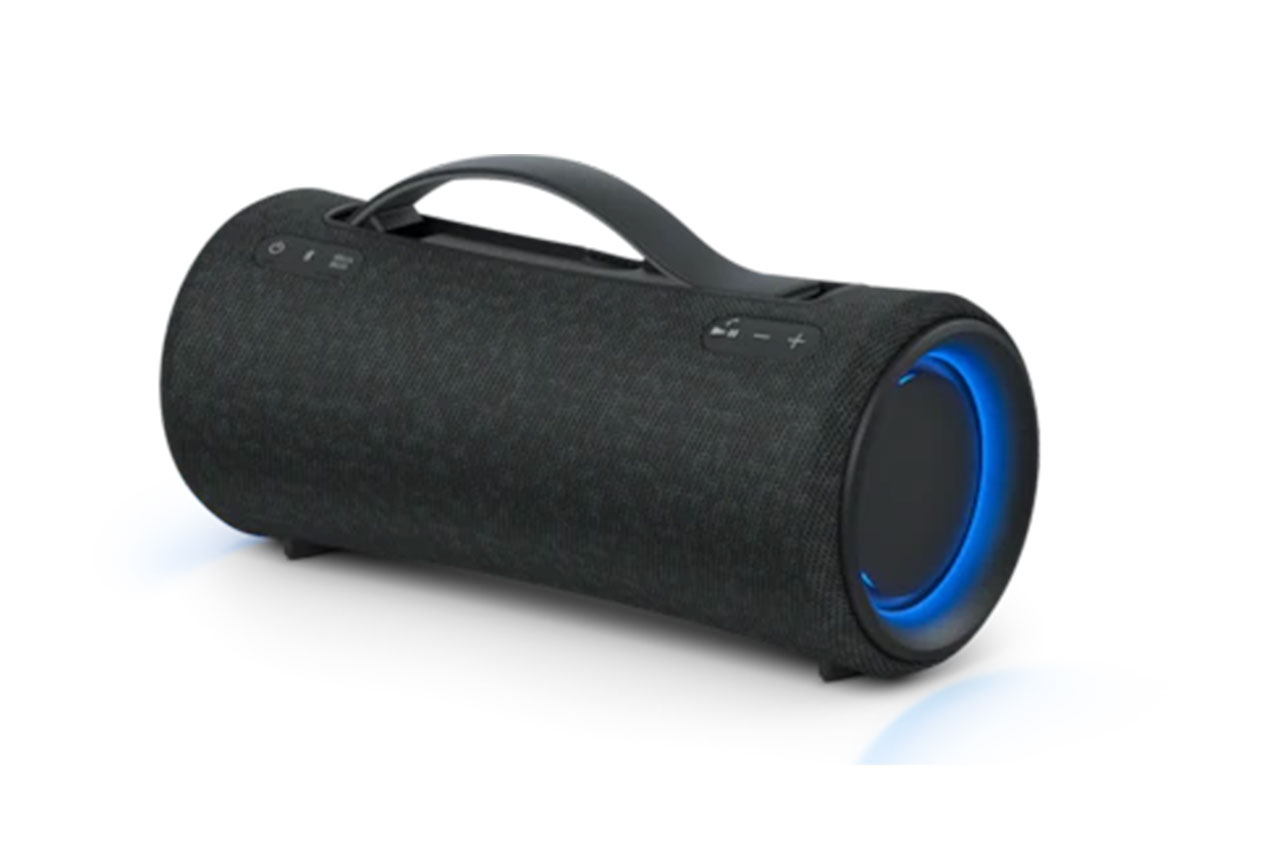 Sony SRS-XG300
116
speaker
Pros
Good and pleasant  timbre overall, even at high-SPL
Good distance rendition
Maximum volume is loud
Cons
Poor bass rendition and precision, and unrealistic fake bass processing
Limited wideness for a device  this size
Lacks punch
The Sony SRS-XG300 is an affordable portable speaker from the company's SRS series, providing a pleasant sound signature and a decent overall performance.
The speaker showed its versatility with good results not only in our outdoor and party use cases, and other high SPL scenarios but also in the more toned-down bedtime and relaxing use cases. Its audio performance was steady and reliable, whether plugged into an outlet or powered by its own battery.
The main drawback was the SRS-XG300's bass performance, which was overprocessed, resulting in an unnatural fake sound that lacked impact.
Listen to the tested speaker's playback performance in this comparison with its competitors:
Test summary
About DXOMARK Wireless Speaker tests: For scoring and analysis in our wireless speaker reviews, DXOMARK engineers perform a variety of objective tests and undertake more than 20 hours of perceptual evaluation under controlled lab conditions. This article highlights the most important results of our testing. Note that we evaluate playback using only the device's built-in hardware. (For more details about our Speaker protocol, click here.) The following section gathers key elements of our exhaustive tests and analyses performed in DXOMARK laboratories. Detailed performance evaluations under the form of reports are available upon request. Do not hesitate to contact us.
The DXOMARK Speaker overall score is derived from a range of sub-scores. In this section, we will take a closer look at timbre, dynamics, spatial, volume, and artifacts, and explain what they mean for the user.
Timbre
118
Bowers & Wilkins Formation Wedge
DXOMARK timbre tests measure how well a speaker reproduces sound across the audible tonal range and takes into account bass, midrange, treble, tonal balance, and volume dependency.

Playback timbre comparison
The device offered a pretty good timbre performance overall. Tonal balance was warm and pleasant despite an overall slightly muffled sound rendition. This is partly explained by a lack of high-end extension and of brightness in general. Sound rendition was sometimes tinny, especially impairing the device's performance while rendering female voices. However, despite a lack of clarity in the upper midrange, the low-midrange rendition offered a pleasant warmth. Bass rendition was a real drawback because the low-end was very shallow, as it mostly relied on artificial bass enhancement, which made it sound quite inaccurate and unrealistic. Turning off the device's "Mega Bass" feature did not solve this issue, and neither did turning it on to make the low-end extension deeper. At high SPL, the device still lacked bass, but midrange and treble rendition remained consistent amid less low-midrange emphasis and improved clarity.
Music playback frequency response
Dynamics
98
Bowers & Wilkins Formation Wedge
Our dynamics tests measure how well a device reproduces the energy level of a sound source, taking into account attack, bass precision, and punch.

Playback dynamics comparison
The speaker's dynamics performance was average. Attack rendition was indirectly impaired by lackluster timbral information, such as the lack of clarity and high-end extension. This, among other factors, resulted in a lack of overall sharpness, which was especially noticeable on elements such as drums. Bass precision was hindered by the overall lack of bass and low-end extension, and even more so by the processing, which was rough around the edges. Indeed, this bass enhancement did not do justice to the dynamic envelope, exaggerating sustain quite a bit. The speaker also lacked punch in most cases.
Spatial
83
Bowers & Wilkins Formation Wedge
Our spatial tests measure a speaker's ability to reproduce stereo sound in all directions, taking into account localizability, balance, wideness, distance, and directivity. Please note that wideness is 0 on mono speakers and on speakers that cannot deliver a significant stereo effect.

Playback spatial comparison
The device offered a good spatial performance overall. Some wideness is noticeable but it could be wider considering the size of the device. The speaker offers good localizability overall, but due to its lack of upper midrange clarity, some sources were hard to pinpoint. Distance rendition was very good with musical content, but it sometimes was impaired by the lack of clarity in the upper midrange. However, voices were perceived at a correct distance in  podcasts and in mainly vocal content.  The device's front-firing speaker also limited the spatial reach at the sides and at the back of the speaker.
Volume
106
Bluesound Pulse Mini 2i
Our volume tests measure both the maximum loudness a speaker is able to produce and how smoothly volume increases and decreases based on user input.

Playback volume comparison
Playback volume consistency comparison
Volume performance was very good, and the speaker is capable of a good sound at maximum volume.  Loudness levels were unaffected whether the device was plugged into a power source or running on its battery.  The only annoyance was with the volume's first steps, which were inconsistent until 60 dBA was reached.
Here are a few sound pressure levels (SPL) we measured when playing our sample recordings of hip-hop and classical music at maximum volume:

| | | | | | | |
| --- | --- | --- | --- | --- | --- | --- |
| | Correlated Pink Noise | Uncorrelated Pink Noise | Hip-Hop | Classical | Latin | Asian Pop |
| Sony SRS-XG300 | 88.9 dBA | 85.9 dBA | 85 dBA | 79.2 dBA | 85.9 dBA | 79.9 dBA |
| Sony SRS-XB33 | 84.2 dBA | 81.1 dBA | 81.9 dBA | 74.1 dBA | 82.3 dBA | 75.8 dBA |
| JBL Xtreme 3 | 91.4 dBA | 87.3 dBA | 86.2 dBA | 81.3 dBA | 86.3 dBA | 80.1 dBA |
Artifacts
Our artifacts tests measure how much source audio is distorted when played back, along with such other sound artifacts as noise, pumping effects, and clipping. Distortion and other artifacts can occur both because of sound processing and because of the quality of the speakers.

Playback artifacts comparison
Artifacts performance was very good, with neither distortion nor pumping issues most of the time. The only exception was the lower part of the spectrum, where distortion was quite heavy and became especially noticeable at maximum volume. The speaker was not suited for movie-watching in general because of the high audio-video latency in Bluetooth mode.
Playback total harmonic distortion