We put the Soundcore Motion X600 through our rigorous DXOMARK Audio test suite to measure its performance at playing back audio. In this review, we will break down how it fared in a variety of tests and several common use cases.

Key specifications include:
Wireless protocols : Bluetooth (with LDAC support)
Wired connectivity : Jack
Height: 12.0 cm. Width: 30.0 cm. Depth: 8.1 cm
Weight : 1980.0 g
Speakers: 5 Audio drivers and 3 amplifiers
Test conditions:
Tested with Sony Xperia
Communication protocol used: Bluetooth LDAC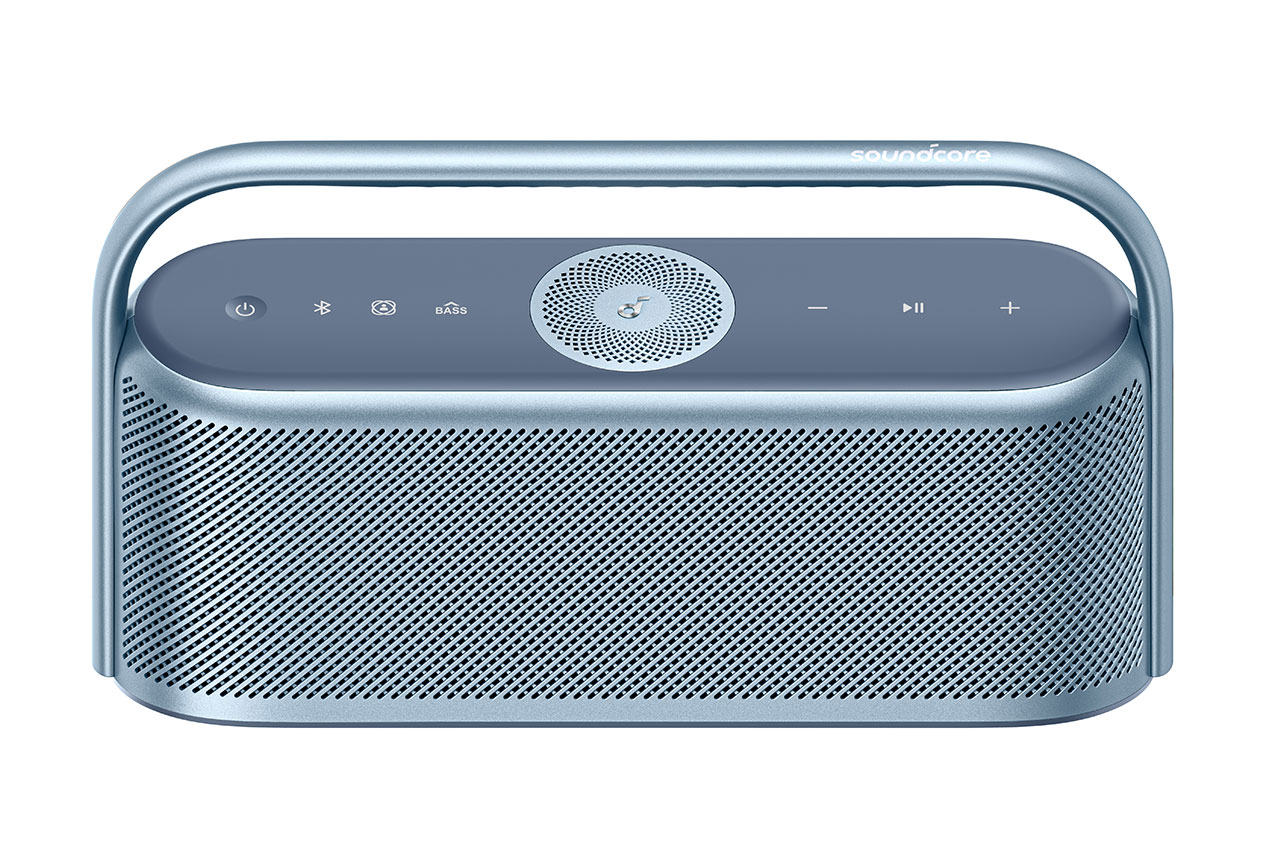 Soundcore Motion X600
132
speaker
Pros
Exceptionally good spatial features, especially wideness, thanks to the "immersive spatial audio" feature
Versatile tonal balance, with good brightness and deep low-end extension if all options are enabled
Excellent maximum volume and volume consistency
Very clean, very few artifacts
Cons
Underwhelming timbre when used in default, without any options activated
Dynamics performance is not up to par with other attributes
Lack of upper bass / low midrange if EQ stays untouched
The Soundcore Motion X600 is a portable speaker that sounds bigger than it looks, boasting features such as "immersive spatial audio," a bass boost, as well as a 9-band custom graphic EQ. Such versatility allows one to customize the speaker's sound to their preference.
Our audio experts put the Motion X600 to the test and found that this speaker excels with its diverse features enabled. Thanks to its wide and immersive sound stage, the Soundcore is among the best- performing speakers in the Spatial attribute. Despite the speaker's small size, it effortlessly reached the second spot in Volume at the time of writing.
Without its features activated, the base sound from the speaker could at times be underwhelming, amid a limited dynamics performance. But the range of choices to personalize the speaker's sound in order to overcome a few shortfalls makes this an extremely versatile device for all types of situations and environments.
Overall, the Motion X600 earns an impressive score of 132 in our Wireless Speaker test. At the time of writing, it is our current top score in the Essential price segment (<$200), and even outshines many speakers from the Advanced price segment.
Listen to the tested speaker's playback performance in this comparison with its competitors:

Test summary
About DXOMARK Wireless Speaker tests: For scoring and analysis in our wireless speaker reviews, DXOMARK engineers perform a variety of objective tests and undertake more than 20 hours of perceptual evaluation under controlled lab conditions. This article highlights the most important results of our testing. Note that we evaluate playback using only the device's built-in hardware. (For more details about our Speaker protocol, click here.)
The following section gathers key elements of our exhaustive tests and analyses performed in DXOMARK laboratories. Detailed performance evaluations under the form of reports are available upon request. Do not hesitate to contact us.

The DXOMARK Speaker overall score is derived from a range of sub-scores. In this section, we will take a closer look at timbre, dynamics, spatial, volume, and artifacts, and explain what they mean for the user.

Timbre
124
Bowers & Wilkins Formation Wedge
DXOMARK timbre tests measure how well a speaker reproduces sound across the audible tonal range and takes into account bass, midrange, treble, tonal balance, and volume dependency.

Playback timbre comparison
The Soundcore Motion X600 offers multiple options to customize its timbre to one's liking. The bass boost accentuates the lower spectrum and seemingly extends its depth, the "immersive spatial audio" also changes timbre quite drastically, and finally, the Soundcore app has a 9-band graphic EQ that is completely configurable. For the purpose of perceptual evaluation, the EQ feature stayed deactivated. The "spatial" and "bass" features, however, were tested on diverse content and stayed on for most of the tests.
Without either of those options, the Motion X600 seemed to lack brightness and air, as well as upper bass, or bass in general. The "bass" button perceptually extended the low-end and effectively boosted sub-bass, but it didn't seem to affect upper bass and low midrange. As a result, the frequency region between 100Hz and 300Hz sounded a bit empty in both scenarios. In some rare cases, the bass boost could be a bit boomy (as in the bathroom use case) or  prominent, overshadowing the upper spectrum (especially if no other option is enabled). Nevertheless, in most use cases, the bass boost was beneficial to timbre because it brought great depth to it.
The "spatial" feature brought life to a previously dull treble, making it much clearer and brighter. Upper midrange was also impacted both directly and indirectly, as it became objectively more homogeneous, while the enhanced treble breathed a bit more air into it. On the other hand, this mode induced some subtle resonances in treble, which would make it sound a bit metallic or harsh. This was, however, very negligible compared to the upsides that the "spatial" feature brought to the table.
Listening to the Motion X600 at high or maximum volume showed good consistency of its tonal balance. Shortcomings such as the lack of upper bass / low midrange, or treble harshness, did not seem to be exacerbated at high SPL. All in all, tonal balance was very satisfying, with no downside that could not be fixed by the very versatile 9-band EQ. Still, the Soundcore's default timbre (without the options) is somewhat underwhelming and could be improved.
Music playback frequency response
Dynamics
112
Bowers & Wilkins Formation Wedge
Our dynamics tests measure how well a device reproduces the energy level of a sound source, taking into account attack, bass precision, and punch.

Playback dynamics comparison
Although its performance in the Dynamics area was generally satisfying, the Motion X600 is not quite up there.
Attack sharpness was fine at nominal or high volume, but it tended to be slightly blurred out when the "spatial" feature was enabled, or somewhat crushed by compression when loud bass was present and the boost was active. Whether or not the features were enabled, attack sounded a bit dull at soft volume.
Bass precision was quite good in most use cases, especially with the bass boost enabled. A slight lack of sustain held back the performance, but envelope was accurate, even at high SPL (even though compression may come into play).
The Motion X600 was not the punchiest speaker, as its low midrange / upper bass region lacked energy. Additionally, compression hindered its ability to really shine. However, the device still managed to perform decently, thanks to the "bass" feature's sub bass boost, which brought back a bit of "oomph" in elements such as drums, making the low-end impactful.
Spatial
108
Bowers & Wilkins Formation Wedge
Our spatial tests measure a speaker's ability to reproduce stereo sound in all directions, taking into account localizability, balance, wideness, distance, and directivity. Please note that wideness is 0 on mono speakers and on speakers that cannot deliver a significant stereo effect.

Playback spatial comparison
The Soundcore Motion X600 performed exceptionally well in spatial, thanks to its immersive audio feature. Its performance, notably in wideness, was comparable to larger, more expensive speakers.
Distance rendition was directly enhanced by the "spatial" feature, as it allegedly transformed the stereophonic sound scene into a 3-channel up-mix; perceptually, voices coming from the center tended to stand out much more than without the option, and they were perceived to be extremely close by.
With or without the feature enabled, the speaker presented a flawless stereo balance. Its directivity score was also surprisingly good, as its timbre and volume consistency around the sides and back was better than similar speakers.
Wideness was overwhelmingly great for a speaker of this size. The "immersive spatial audio" feature seemed very effective at enhancing the wideness of the sound stage beyond the speaker's physical dimensions, without weakening the center.
Localizability was also very good, especially considering the processing behind wideness enhancement, which didn't impair localizability too much.
Volume
136
Bluesound Pulse Mini 2i
Our volume tests measure both the maximum loudness a speaker is able to produce and how smoothly volume increases and decreases based on user input.

Playback volume comparison
Playback volume consistency comparison
The speaker's volume performance was excellent. Maximum volume was undeniably loud for a speaker of this size and price range. Volume consistency was excellent, and better than most speakers in comparison.
Here are a few sound pressure levels (SPL) we measured when playing our sample recordings of hip-hop and classical music at maximum volume:

| | | | | | | |
| --- | --- | --- | --- | --- | --- | --- |
| | Correlated Pink Noise | Uncorrelated Pink Noise | Hip-Hop | Classical | Latin | Asian Pop |
| Soundcore Motion X600 | 89.6 dBA | 86.3 dBA | 85.1 dBA | 77.9 dBA | 84.9 dBA | 79.6 dBA |
| JBL Charge 5 | 72.2 dBA | 69.3 dBA | 69.9 dBA | 61.4 dBA | 71.6 dBA | 63.7 dBA |
| Marshall Stanmore III | 94.3 dBA | 91.6 dBA | 89.9 dBA | 82.7 dBA | 91.6 dBA | 83.7 dBA |
Artifacts
Our artifacts tests measure how much source audio is distorted when played back, along with such other sound artifacts as noise, pumping effects, and clipping. Distortion and other artifacts can occur both because of sound processing and because of the quality of the speakers.

Playback artifacts comparison
The Soundcore managed artifacts very well. Some compression was noticeable when the bass option was enabled, even at nominal volume. However, it didn't get too extreme at high volume or even maximum volume. Some bass distortion was also highlighted by the THD+N measurements and could be heard at high volume with some bass-heavy contents. Otherwise, the experience was mostly free of artifacts.
Playback total harmonic distortion