Tamron introduced the second generation (G2) of its popular 150-600mm f/5-6.3 Di VC lens in September 2016, bringing a new look to match that of more recent SP optics, along with improved weather sealing. Inside, Tamron updated the construction of the lens with 21 elements arranged in 13 groups, and there are 3 low-dispersion elements to reduce chromatic aberration. In addition, the front element of the G2 optic has a fluorine coating to help repel dirt.Thanks to the new construction, the G2 lens's minimum focusing distance is 2.2m (86.6 in), improved from 2.7m (106.3 in) with the original lens. However, at 260.2 x 108.4 mm (10.24 x 4.27 in) and 2.01 kg (70.9 oz), it's a little bigger and heavier than the G1 optic, which measures 105.6 x 257.8 (4.16 x 10.15 in) and weighs 1.95 kg (68.78 oz).
Please note: This is the second time that we have tested this lens. When we rechecked the original test data from December 2016, we found an error that impacted the results. We used a new lens on the Canon EOS 5D SR for this retest.
Key Specifications:
Full-frame format
Available in Canon, Nikon, and Sony (A) mounts
Maximum aperture: f/5 – f/6.3
2.2m minimum focus distance
21 elements in 13 groups
3 low-dispersion elements
9-blade circular diaphragm
95mm filter thread
Weight: 1.95 kg (68.78 oz)
Overall lens image quality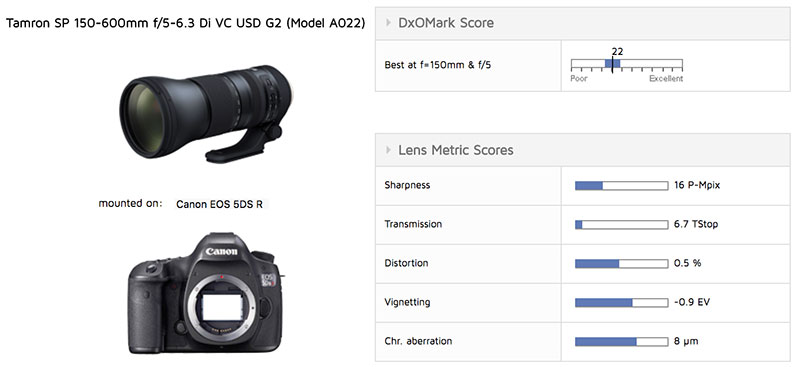 With an overall score of 22, the Tamron SP 150-600mm f/5-6.3 Di VC USD G2 improves upon the original Tamron SP 150-600mm f/5-6.3 optic, which achieved a score of 21.
Considering the full gamut of our measurements, it looks like it's advisable to use the G2 lens at f/11 or wider throughout the full focal length range.
Our results show that the lens sharpness is good for much of the focal length range, but it drops off at the longest point, which is a shame (although not unexpected), as many photographers are likely to purchase it for the maximum reach. We achieved the best results at 600mm when we kept the aperture at its widest (f/6.3).
Image quality compared to its competitors
Tamron makes the 150-600mm G2 lens in Canon, Nikon, and Sony (A) mounts, so it's interesting to compare its performance with optics from other manufacturers.
The Tamron lens's overall score of 22 puts it 4 points behind the Canon 100-400mm f/4.5-5.6L IS II, which is pretty good given the higher price of the L-range optic. The new Sony 100-400mm lens is better still, but even that can't match the performance of the Sigma 120-300mm, which has a more restricted focal length range.
It's the sharpness values of these higher-scoring lenses that really sets them apart and it shows where the extra money goes.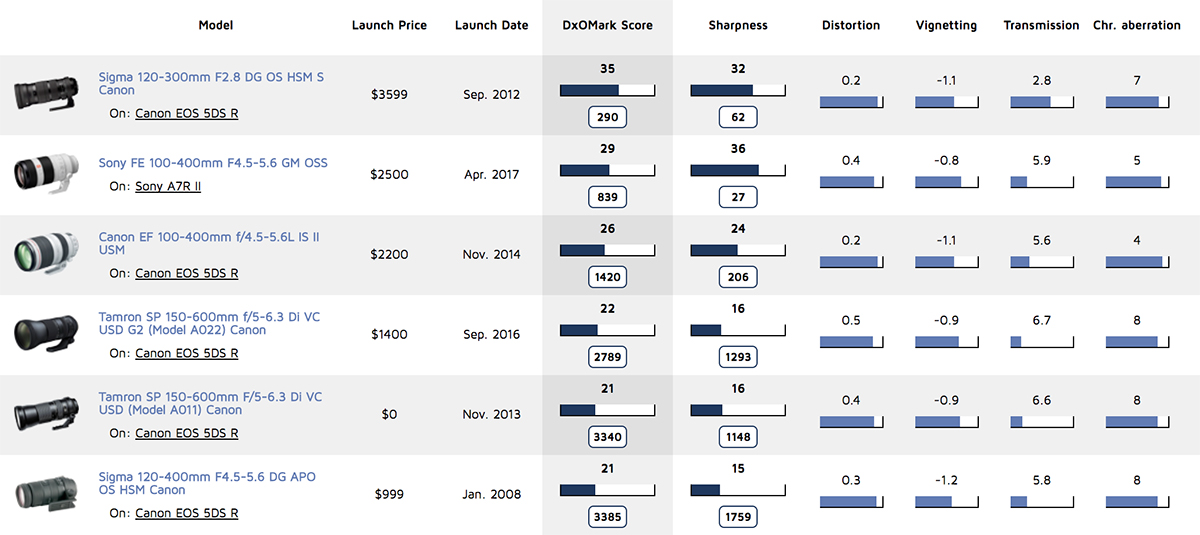 Click here to open our interactive DxOMark lens ranking tool
Note that both of the Tamron 150-600mm lenses beat the older Sigma 120-400mm f/4.5-5.6, indicating that modern design can enable a lens with a broader focal length range to produce better results than one with a more restricted range.
In-depth comparisons
In this section, we're going to compare the G2 lens with the original Tamron 150-600mm lens and the Canon 100-400mm f/4.5-5.6L IS II. We tested all three lenses on the full-frame 50Mp Canon 5DS R to make the results directly comparable.
Sharpness
The second-generation Tamron lens distinguishes itself from the first with more uniform sharpness across the whole imaging frame at each measured focal length and aperture. However, at 600mm and f/11 or smaller apertures, the G1 lens is a little sharper. Nevertheless, the Canon 100-400mm lens consistently beats both Tamron lenses and has very good sharpness across the field of view.
The graph below shows the sharpness profile of the three lenses at their longest focal length and f/11. Closing the apertures down further reduces sharpness, and at f/40, all three score below 60% acutance.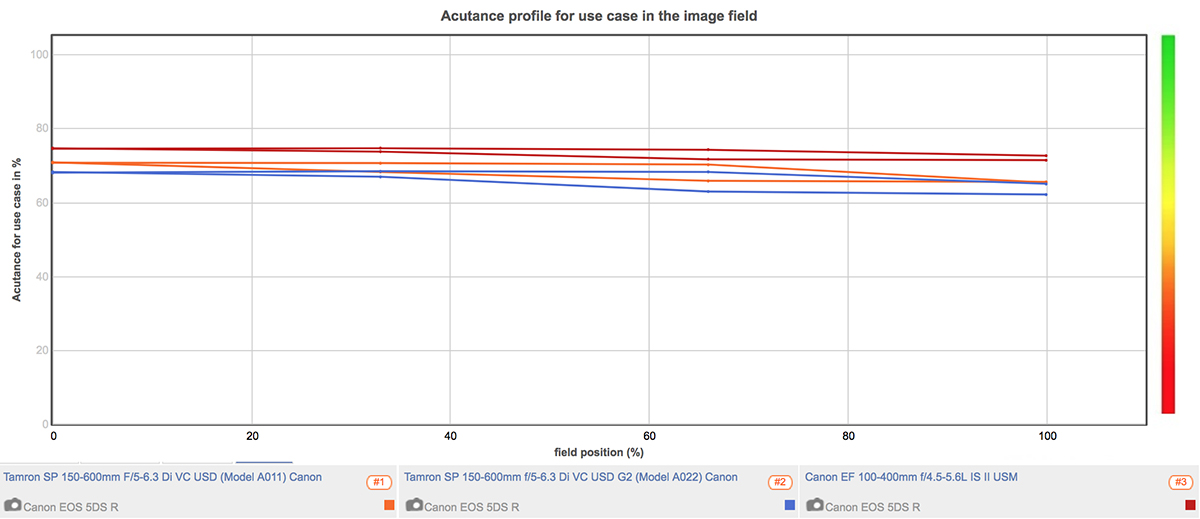 The Canon 100-400mm is clearly the better performer for sharpness. The fact that its horizontal and vertical acutance lines overlie each other in some areas, and are very close at others, means that astigmatism isn't a major issue. The Tamron lenses exhibit a greater degree of astigmatism, but it shouldn't be problematic.
Chromatic aberration
The graph below shows the chromatic aberration values at the three lenses' longest focal lengths and widest apertures.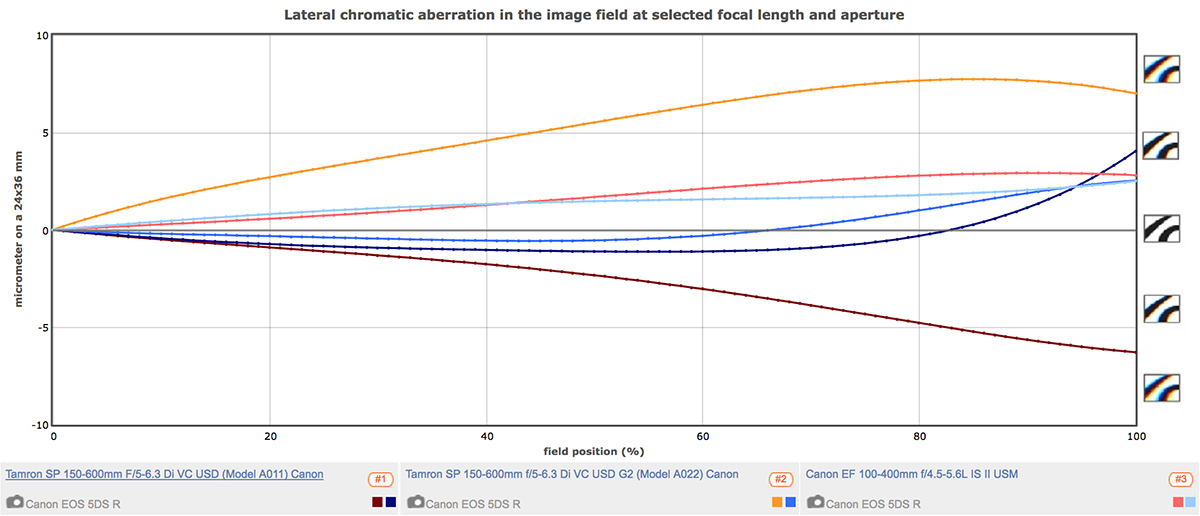 The closeness to the zero point of the Canon 100-400mm chromatic aberration plot lines indicates that it controls chromatic aberration better than either of the Tamron lenses, but let's not forget that it's 200mm shorter. Both Tamron optics exhibit aberration of greater than 5um from around half-way between the center of the image and the edges, and it will be noticeable along high-contrast edges.
Chromatic aberration can usually be corrected in raw file processing, but it's something to bear in mind if you're shooting high-contrast scenes such as birds in flight.
Geometric distortion
Interestingly, the Canon 100-400mm has slight barrel distortion at the 100mm end, but this quickly changes to pincushion as focal length increases. The two Tamron lenses' shortest focal length is longer than the point at which the Canon lens's distortion switches to pincushion, and this is the only shape of distortion they exhibit.
At –0.5% and 0.4%, the distortion in the Tamron G2 lens's images will be noticeable with subjects having a strong linear element, but it's unlikely to be a major issue with wildlife and nature photography.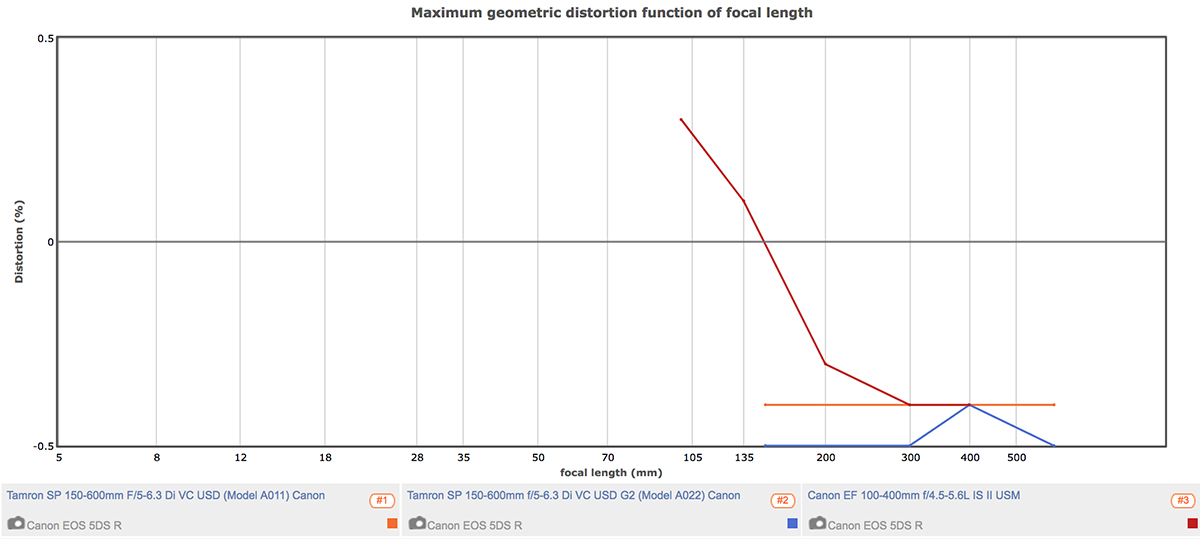 Vignetting
The graph below shows the degree of corner shading visible in images from the three lenses at their shortest focal length and widest aperture (when it will be most noticeable).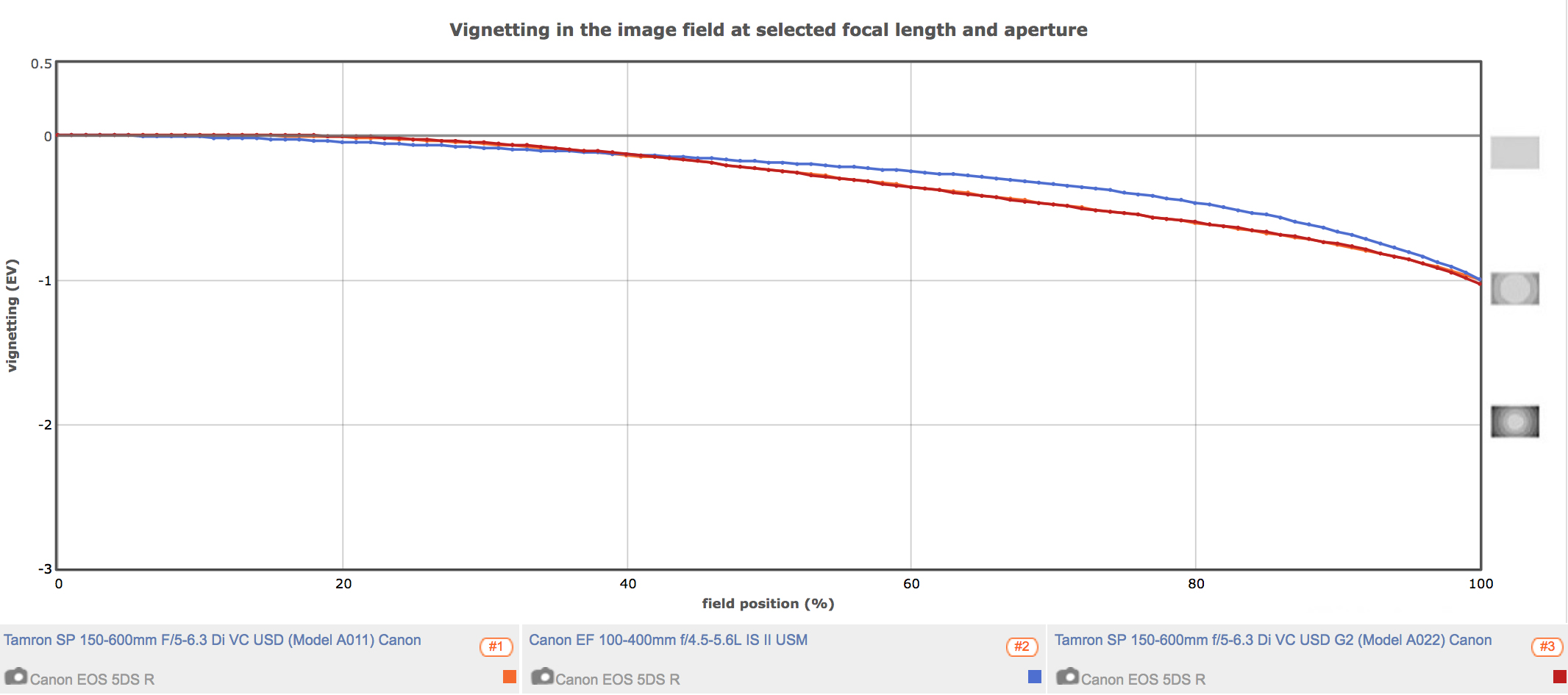 The two generations of the Tamron 150-600mm exhibit the same vignetting profile and produce images with corners that are just a fraction darker than those captured by the Canon 100-400mm lens. None of the lenses produces really objectionable levels of vignetting, and there's a fairly smooth gradation from none to –1EV at the very edges.
A budget-conscious alternative
If you're on a tighter budget than allows for the Tamron 150-600mm G2, there are a few alternatives. Sigma's 150-600mm f/5-6.3 DG OS HSM Contemporary lens, for example, costs considerably less at around $989, but has yet to be put through our testing process (such tests for long telephoto optics are very time consuming).
If you can accept the reduction in maximum focal length, the older Sigma 120-400mm f4.5-5.6 DG APO comes close to the performance of the Tamron lens, falling just one point below it, but with better distortion control and transmission. It vignettes a little more, however, and lags slightly behind for sharpness.
For many, the 200mm reduction in maximum focal length is too great and some may prefer the Sigma 150-500mm f/5.6-6.3, which is more affordable than the Tamron lens but makes more image quality compromises.

Conclusion: Great value for money
High-quality fast and long telephoto lenses are expensive to develop and manufacture, so they command a high price. The Nikon AF-S NIKKOR 600mm f/4E FL ED VR, for example, retails for over $12,000, while the Canon EF 600mm f/4L IS II USM costs in excess of $11,000. So naturally there have to be a few compromises to make a long lens more affordable. With a launch price of $1,400, the Tamron SP 150-600mm f/5-6.3 Di VC USD G2 represents good value, delivering good sharpness across the frame, plus distortion and vignetting that are well-controlled for its intended use — photographing wildlife and sport.
In this review we have compared the Tamron SP 150-600mm f/5-6.3 Di VC USD G2 lens to the previous model from Tamron and its most direct rivals from Canon and other brands. Remember that some of them are intended for use with other camera systems and mounts, so the comparisons are not strictly head-to-head. As usual, you can create your own comparisons and in-depth analyses using our interactive lens comparison tool.