The TCL 10 Pro first came out in May 2020, touted as an economical but high-performing Android device. In this review, we present a summary of our test results for its display.
Key display specifications:
6.47-inch AMOLED screen, 19.5:9 aspect ratio
~89.5% screen-to-body ratio
Small top center notch
Resolution: 1080 x 2340 px, screen pixel density: 398 ppi
About DXOMARK Display tests: For scoring and analysis in our smartphone and other display reviews, DXOMARK engineers perform a variety of objective and perceptual tests under controlled lab and real-life conditions. This short-format review highlights only the most important results of our testing. Note that we evaluate display attributes using only the device's built-in display hardware and default apps. (For in-depth information about how we evaluate smartphone and other displays, check out our articles, "How DXOMARK tests display quality" and "A closer look at DXOMARK Display testing.")
Test summary
Scoring
Sub-scores and attributes included in the calculations of the global score.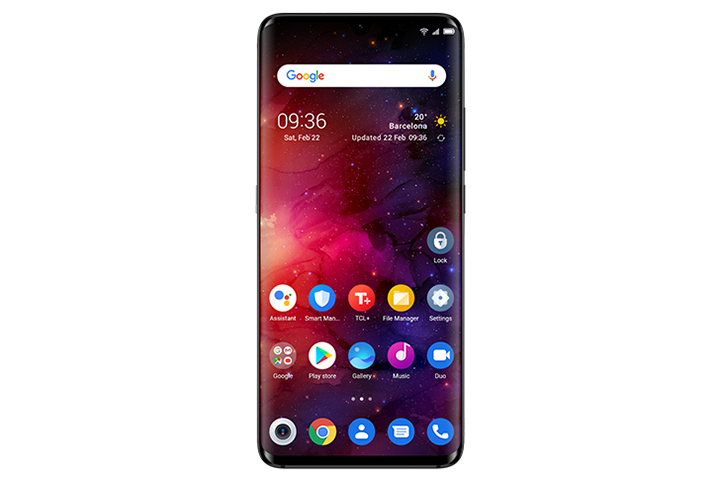 TCL 10 Pro
111
display
Please be aware that beyond this point, we have not modified the initial test results. While data and products remain fully comparable, you might encounter mentions and references to the previous scores.
With an overall score of 83 points, the TCL 10 Pro landed in fifth place (out of nine tested devices), although that placement is a bit misleading, given both its score and its performance were more in line with the upper-tier devices than with the bottom tier. In fact, it bested all of the higher-scoring devices in two out of six attribute categories, readability and video.
At 74 points, the TCL 10 Pro came in first place in our readability tests, beating the overall Display leader, the Samsung Galaxy Note20 Ultra 5G, by one point. Our testers found the TCL's display brightness levels more than suitable for indoor and low-light conditions, especially for users that prefer devices in the brighter range. In the comparison photo below, for example, you can clearly see many more details in the TCL 10 Pro's rendering of the man's suit: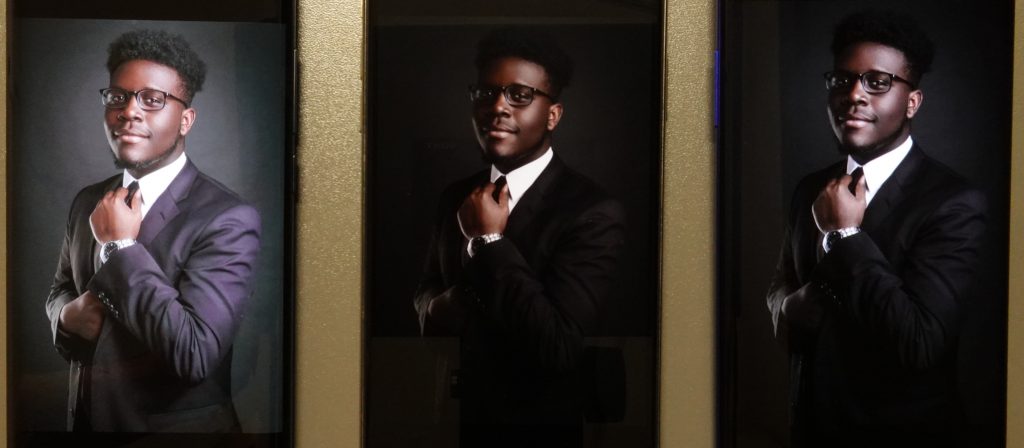 Indoor lighting, from left to right: TCL 10 Pro, Apple iPhone 11 Pro Max, OnePlus 8 Pro
And even in very low light conditions, the TCL's rendering is just a tad brighter than either of the comparison devices (the Apple iPhone 11 Pro Max and the OnePlus 8 Pro):

Low-light brightness, from left to right: TCL 10 Pro, Apple iPhone 11 Pro Max, OnePlus 8 Pro
This all said, the TCL 10 Pro's readability is not quite so good in outdoor conditions.
After such a good performance for readability, color (63) was something of a let-down for the TCL 10 Pro, as it was produced overly saturated colors in nearly all conditions — indoors (where it also showed a slight pink cast at times), and outdoors in both sunlight and shade. Nor was this the only problem: in the comparison below, our testers used a reference photo of a model with black hair to perceptually evaluate color fidelity; as you can see, the TCL 10 Pro renders the model's hair as dark brown with light brown highlights.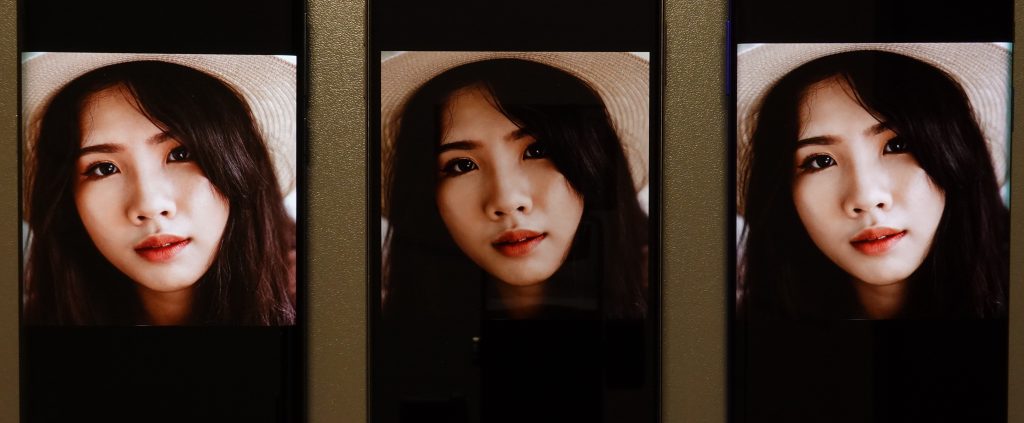 Indoor color, from left to right: TCL 10 Pro, Apple iPhone 11 Pro Max, OnePlus 8 Pro
While the TCL 10 Pro does show a white point adaptation and is smooth in the process, it has a noticeable yellow-green cast when viewed at an angle, and our objective measurements back up the perceptual test findings. The left-hand chart below shows the TCL 10 Pro's overall color tendencies on-angle. In the right-hand chart (essentially a closeup of the left chart), each dot represents a measurement taken at a discrete angle and distance from the device; dots falling outside the outer circle are noticeable. As you can see, the TCL 10 Pro moves toward yellow-green: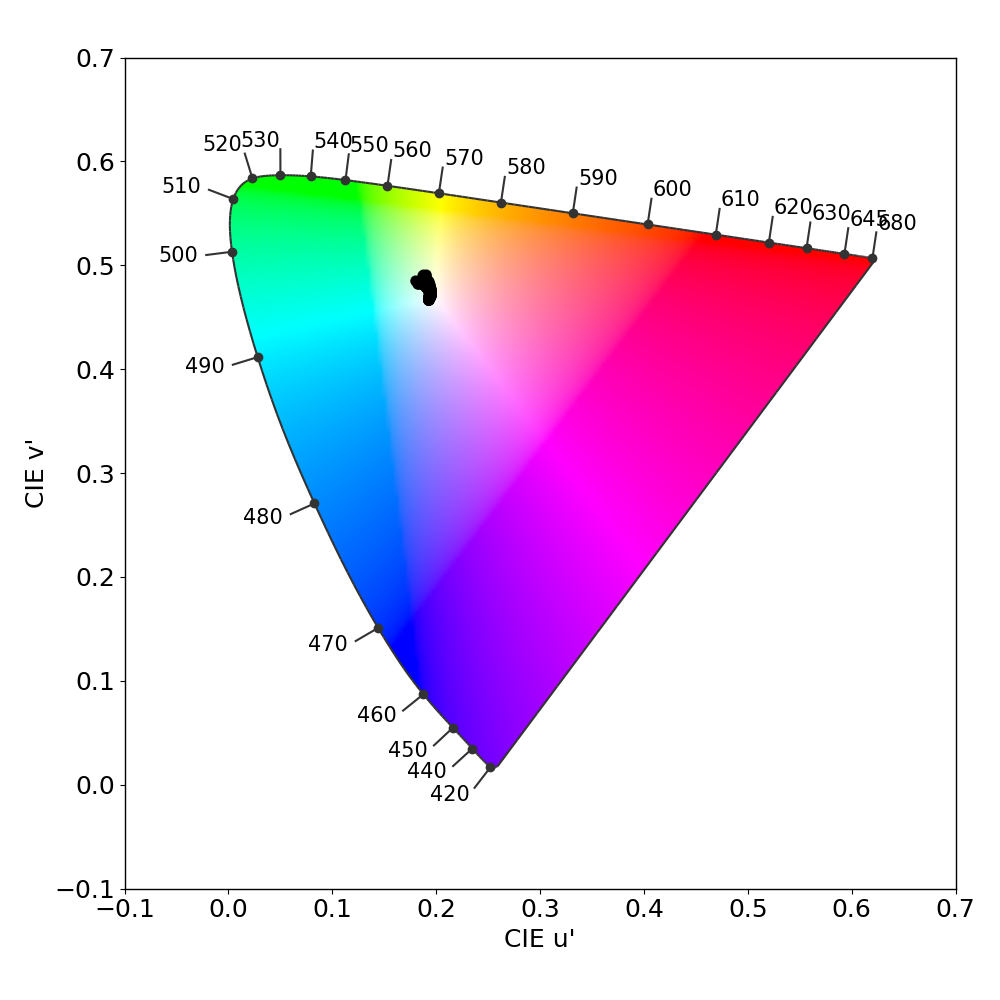 White point on angle, TCL 10 Pro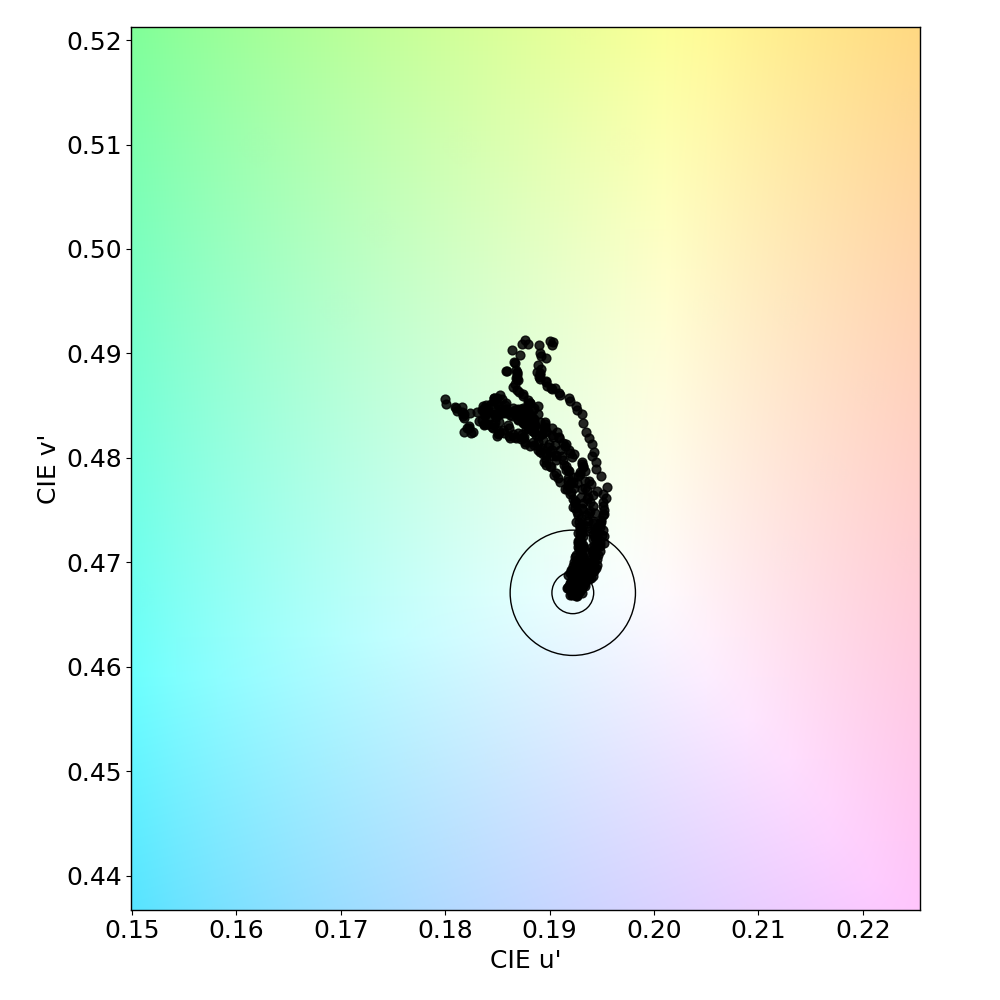 White point on angle color scatter, TCL 10 Pro
Furthermore, the TCL10 Pro shows color shifts along its edges, and shifts strongly to orange when the blue light filter is on.
Video (89) was another category in which the TCL device did well, again besting the frontrunners, thanks to luminance levels that are well-adapted to HDR10 content, along with good rendering of darks and midtones that made watching videos very satisfying overall. In the comparison photos below, the TCL 10 Pro's color is accurate, whereas the iPhone 11 Pro Max's rendering has a strong yellow cast.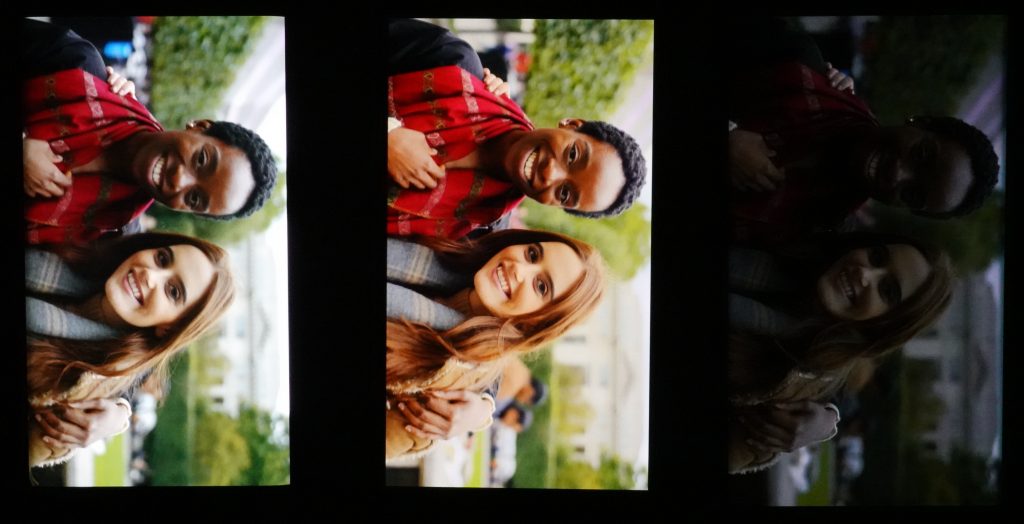 Video color, from left to right: TCL 10 Pro, Apple iPhone 11 Pro Max, OnePlus 8 Pro
On the downside, its last-place score for motion (68) really took a toll on the TCL 10 Pro's overall ranking, with the display showing a lot of frame drops or stutter at 30 fps and 60 fps; of more concern, perhaps, is that the device froze when playing HDR video at 60 fps, and paused before playing SDR UHD 60 fps video. It also shows some visible frame duplications.
In terms of touch (60), the TCL 10 Pro is accurate when zooming on a picture, but it isn't smooth enough when web browsing, showing some frame drops; this said, it is quite reactive. When gaming, however, the device is not smooth at all and shows some steps.
As for artifacts (80), the TCL 10 Pro's notch is visible, especially in full-screen mode when looking at pictures or playing games. But although it's slightly visible, aliasing is well managed overall. The device had some problems dealing with ghost touches.
Conclusion
Although its overall score placed the TCL 10 Pro squarely in the middle of our first round of display rankings, the TCL 10 Pro put in anything but a middling performance, coming in first place for both readability and video. It was nowhere near as impressive for color, but its worst performance was for motion, where it came in dead last. It did a little better for touch, but still landed in the bottom half of the bunch because of its disappointing gaming performance. In short, given its extremes, whether the TCL 10 Pro is a good choice depends more than usual on how you intend to use it.
Pros
Readability is enjoyable in low-light and indoor conditions.
Watching video is pleasant in low-light conditions.

The blue light filter effectively reduces blue light without impacting the color gamut.

Aliasing is absent when playing video games.
Cons
Brightness is too low for good readability outdoors.
Device does not play HDR10 UHD 60 fps videos properly.
Gallery app colors are generally not very accurate.
Jerkiness impacts the user experience when gaming.
Touch is not smooth enough.