With 2019 slowly but surely coming to an end and all major smartphone launches of the year behind us, now seems like a good time to recap and have another close look at the many smartphone camera reviews we have published this year, and pick our favorite smartphones for you (note we will still test a number of smartphone cameras before the end of the year and update this list accordingly if necessary).
As of this writing, we've tested 31 smartphone main cameras this year, covering everything from very affordable budget devices to the flagship models from all major brands. At device launches over the past twelve months, we've seen important innovations in terms of hardware, with some models boasting as many as five individual cameras (for example, the Nokia 9 PureView and the Xiaomi Mi 9 CC Pro Premium Edition), as well as new and improved computational methods on the software side of things.
As one would expect, these technological developments have resulted in notable performance improvements compared to previous years, and 2019 has seen new highs for our overall DXOMARK Camera scores as well as for most sub-scores. The overall score is a great indicator for a smartphone's all-round camera capabilities, but if you have more specific imaging requirements, it's best to dive deeper and have a closer look at the sub-scores as well. —And that's exactly what we've done in compiling the list below. So without further ado, here are our favorite smartphone cameras for 2019, by category:
Best all-rounder: Huawei Mate 30 Pro / Xiaomi Mi CC9 Pro Premium Edition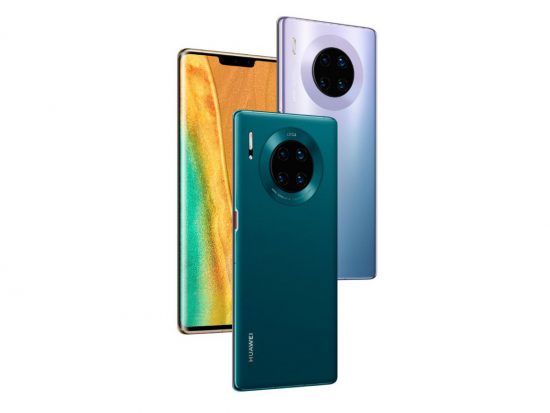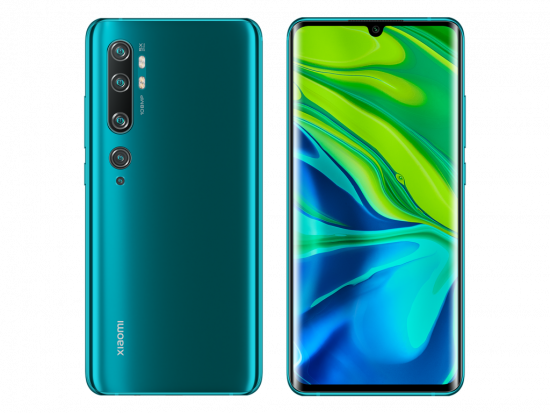 Xiaomi Mi CC9 Pro Premium Edition
The Huawei Mate 30 Pro and Xiaomi CC9 Pro Premium Edition currently share the top spot in the DXOMARK Camera rankings, making both devices an excellent choice for mobile photographers who need top-end performance in any mobile photo or video situation.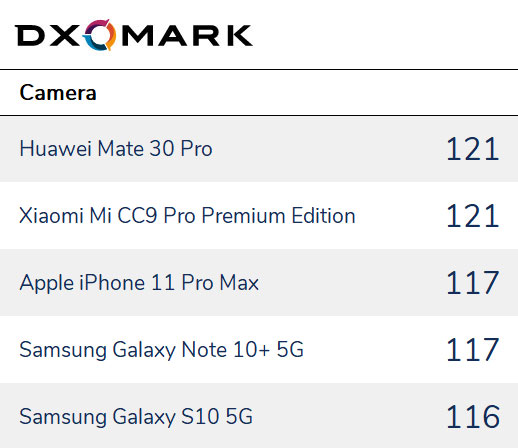 Both devices come with cutting-edge camera hardware but differ in some areas. The Huawei features a primary camera with a 40Mp Quad-Bayer sensor and a f/1.7-aperture lens. It's accompanied by a 3x tele-module and an ultra-wide camera with a very large (1/1.54″) sensor and a lens with an 18mm-equivalent field of view.
The Xiaomi manages to top the Huawei in terms of camera modules, offering a total number of five. The primary camera with a 108MP Quad-Bayer sensor produces 27MP image output. There is also a 20MP ultra-wide camera with a 16mm-equivalent field of view, and not one but two tele-lenses: a short telephoto that provides a 2x zoom factor (50mm equivalent), and a long telephoto that multiplies the primary camera's equivalent focal length by approximately 3.5 (94mm-equivalent). (There's also a dedicated macro camera that we did not test, as it falls outside our DXOMARK Camera test protocol.)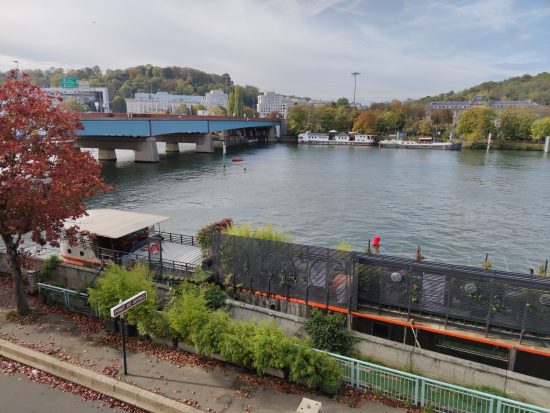 Overall, the two cameras' test results are excellent in virtual all areas, and the differences between the two for most sub-scores are fairly minor. However, if you have very specific requirements, it might be worth having a closer look at the differences to pick one of our top-ranked devices over the other.
The Huawei achieves a slightly better Photo score, mainly due to better management of image noise and artifacts. Thanks to its dual tele-lens approach, the Xiaomi performs better when zooming, though, delivering excellent quality across the entire zoom range; further, it also offers a slightly wider field of view with its ultra-wide camera than the Huawei. In terms of video, the Xiaomi just edges out the Mate 30 Pro, largely thanks to better color rendering, lower noise levels, and more reliable video autofocus. No matter which of the two you pick, though, you're shooting images and video with one of the very best smartphone cameras currently on the market. (Note, though, that the availability of the Xiaomi Mi CC9 Pro Premium Edition is currently limited to some Asian markets.)
For more information, detailed test data, and image and video samples, read our full reviews:
If you're invested in Apple's iOS ecosystem, the iPhone 11 Pro Max is a safe bet for any mobile photographer. At 124 points, it lags a little behind the best in class in terms of Photo score, but still delivers very good results in most conditions; moreover, it is currently our joint number one device for Video.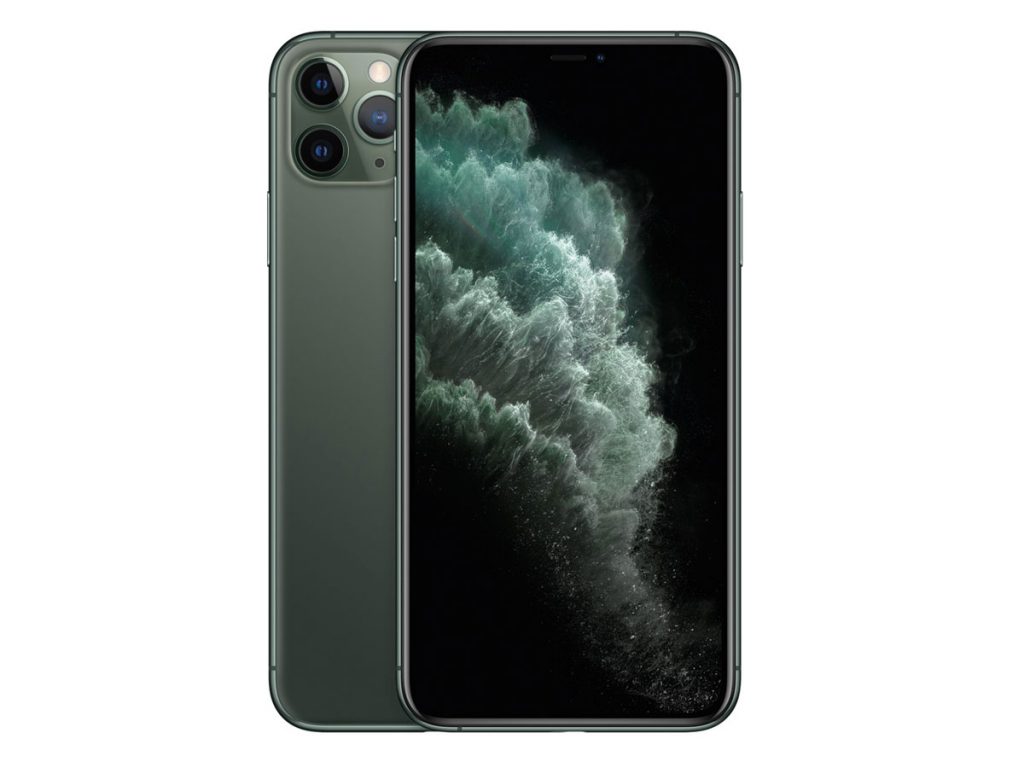 Modern smartphones are capable of recording high-quality video footage at high resolution, and with a Video score of 102, Apple's latest flagship, the iPhone 11 Pro Max, is the best of the bunch.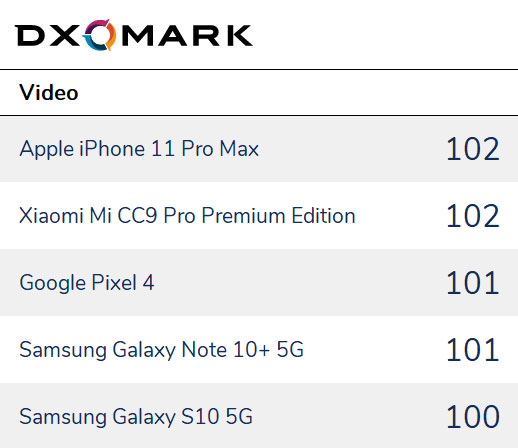 It's one of only a few smartphones capable of recording HDR footage, which results in a very wide dynamic range, and the Apple clips show highlight and shadow details even in difficult high-contrast conditions. Moreover, exposure is generally good in most conditions. iPhone footage also shows very pleasant color rendering, with only some white balance instabilities when recording indoors.
Apple iPhone 11 Pro Max, outdoor video, static
Apple iPhone 11 Pro Max, outdoor video walking
Detail is excellent as well, especially when using the 4K resolution mode, and image noise is very well under control in bright light. (It can become a little more visible when recording in dimmer conditions, however.) In addition, the iPhone's autofocus system performs well in video mode, with smooth transitions and good tracking capabilities, and the stabilization does a good job at keeping things steady most of the time. Only when recording while walking is a jello effect frequently visible in iPhone video clips.
Apple has always put a lot of emphasis on the video performance of its devices. This has resulted in huge popularity among the mobile video community and an abundance of choices in terms of mobile video accessories, such as external microphones, video grips, and lighting solutions, as well as video editing apps. In combination with excellent video output quality, this makes the latest top-end iPhone an ideal choice for mobile videographers, journalists, vloggers, and other content creators who want to shoot high-quality video with extremely lightweight and compact equipment.
For more information, detailed test data, and image and video samples, read our full review and article on new camera features on the iPhone 11 Pro Max:
The Xiaomi Mi CC 9 Pro Premium Edition achieved the same high Video score as the iPhone 11 Pro Max in our testing, with fairly minimal differences between the two. Thanks to its HDR recording and mobile video ecosystem, the iPhone just edges it out, but video shooters who prefer the Android operating system cannot go wrong with the Xiaomi. Just make sure you can actually get hold of one, as it is not currently available in all markets.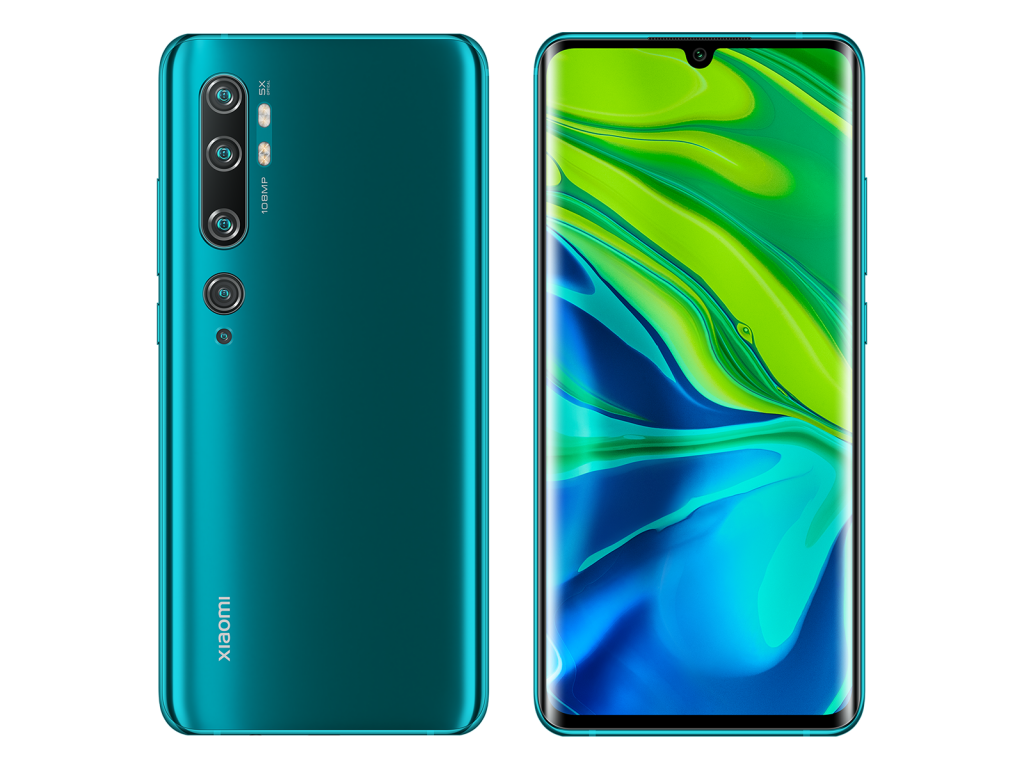 Xiaomi Mi CC9 Pro Premium Edition
Zoom is still one of the very few areas—if not the only area—where conventional compact cameras still have the edge over smartphones. However, thanks to the advent of dedicated optical tele-lenses, smartphones have been able to reduce the gap considerably over the past two years or so, and the Xiaomi Mi CC9 Pro Premium Edition is the device that comes closest to "real camera" zoom performance.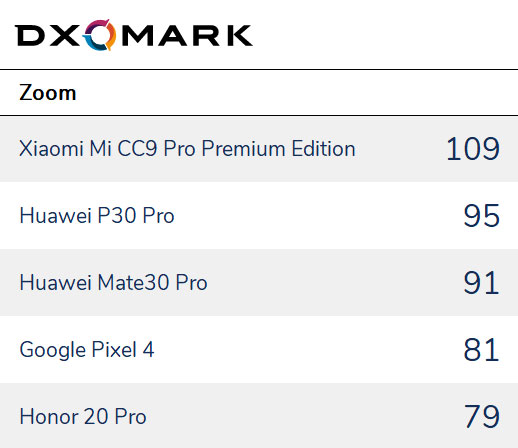 It crushed the competition in our tests and set a new high Zoom sub-score of 109, thanks to a complex and innovative zoom system that is currently unrivaled. It uses two different focal length telephoto cameras, as well as an imaging pipeline that has been optimized for this unusual setup, to provide high-quality telephoto images across our entire range of tested focal lengths. The cameras start by offering true optical zoom at 2x and at a roughly 4x standard smartphone focal length. In contrast to most other devices with dedicated tele-cameras that we have tested, the Xiaomi does a particularly good job of producing quality telephoto images at both its native focal lengths and at other tested focal lengths in between.
In our testing, the Xiaomi preserved fine details noticeably better than even on the best competitors at medium and long range. Some artifacts are visible in zoomed images, especially ringing, but despite that room for improvement, the latest Xiaomi flagship is currently the device of choice for those who require the ability to zoom in on their smartphone cameras.
For more information, detailed test data, and image and video samples, read our full review:
The Huawei P30 Pro cannot quite keep up with the Xiaomi in terms of image detail, especially at longer zoom distances, nor in between the native focal lengths of its primary and dedicated tele-cameras. However, thanks to a 5x tele-module with folded optics and clever image-merging technology, it is not far off, and might be easier to get ahold of in many countries than the Xiaomi, which is currently reserved for certain Asian markets only.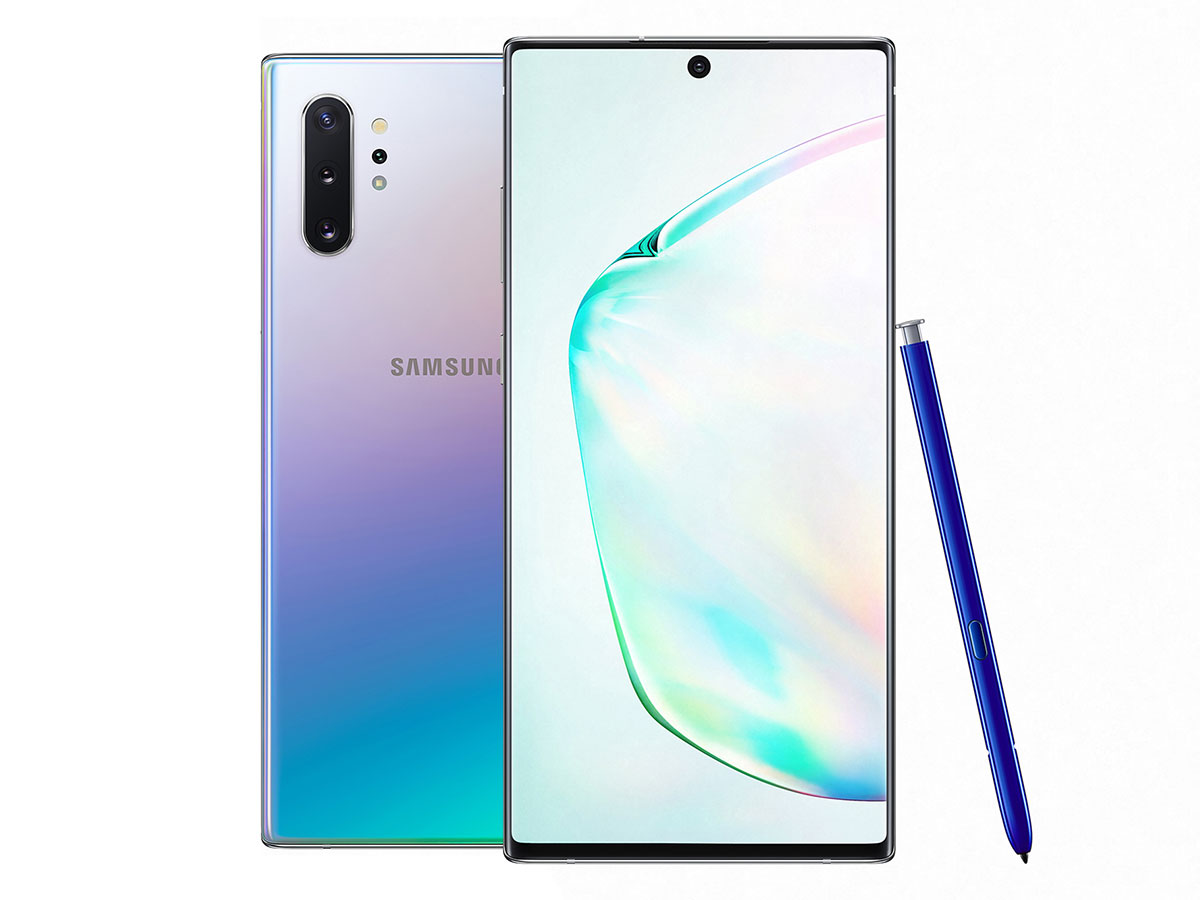 Samsung Galaxy Note 10+ 5G
If interior images, landscapes, and group shots make up an important proportion of your photographic portfolio, you are likely to appreciate the ultra-wide cameras that have become pretty much a standard feature on high-end smartphones over the past couple of years or so. Not all ultra-wide cameras are the same, though—we found huge differences in our test results in terms of both effective field of view and general image quality.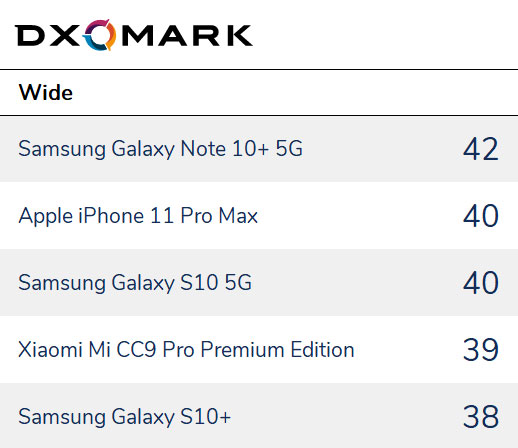 If you want to make sure your ultra-wide images cover a very wide angle of view and show good image quality across a variety of shooting situations, the Samsung Galaxy Note 10+ 5G is the smartphone of choice in 2019. With a Wide sub-score of 42, it is currently the best device for this test category in our database, thanks to a combination of one of the widest fields of view in the business (12mm-equivalent), with very good image quality in bright outdoor conditions as well as under typical indoor lighting.
Despite its very wide lens, the Samsung is capable of maintaining good image quality across all tested focal lengths (from 12mm- to 20mm-equivalent). Some artifacts—for example, face deformation towards the corner of the frame (anamorphosis) and chromatic aberrations are quite noticeable, but this is true for most ultra-wide cameras; this said, the Note 10+ 5G generally controls distortion is well, with it only slightly visible in the corners of the frame.
Target exposure is generally accurate, and images show a wide dynamic range; we observed some clipping only indoors. Color rendering is good as well, with vivid and pleasant colors, and the auto white balance system produces good results even under artificial lighting. As for detail, the Samsung does well in outdoor conditions, but loses some points when shooting under typical indoor lighting. Noise is quite visible in blue skies, even when shooting in bright light, and noise levels indoors are slightly higher than the best-in-class devices.
As with all current ultra-wide cameras, there is still some room for improvement for the Galaxy Note 10+ 5G, but is still the current best pick if an ultra-wide camera is high on your list of priorities.
For more information, detailed test data, and image and video samples, read our full review:
Also consider: Apple iPhone 11 Pro Max
The iPhone 11 Pro Max's ultra-wide camera performed almost on the same level in our tests as the Galaxy Note 10+ 5G's. However, the iPhone offers a slightly more narrow field of view and there's generally more image noise in all conditions. On the plus side, the iPhone rendered fine detail and textures better.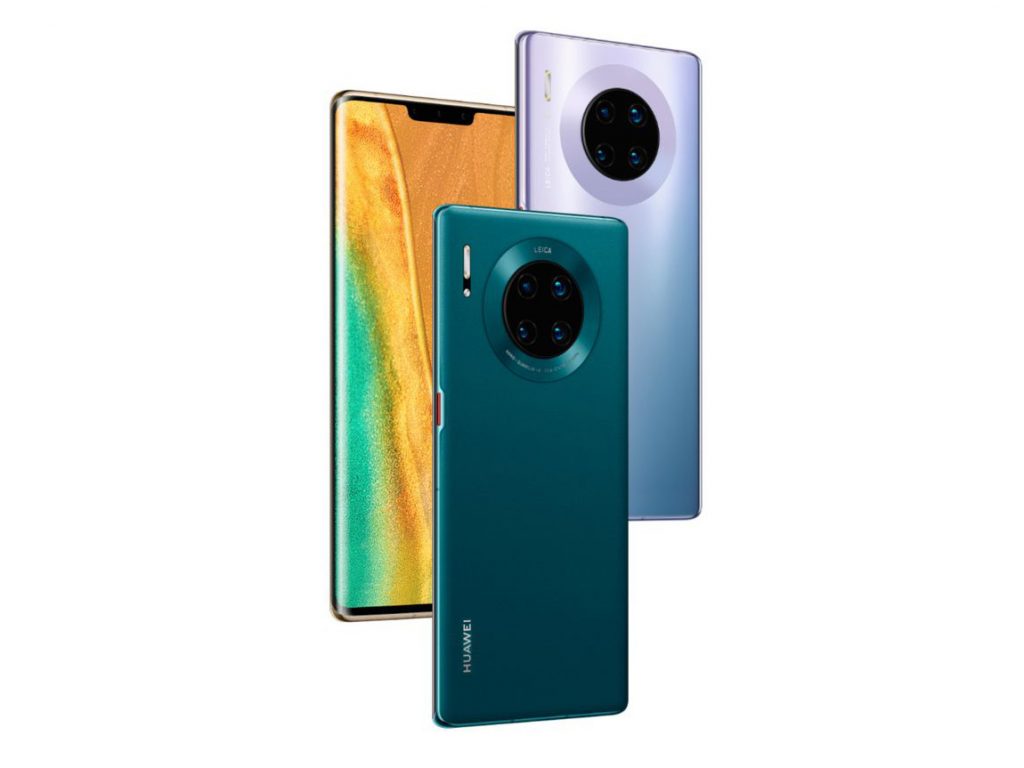 Until not too long ago, smartphone cameras were capable of achieving good results in bright light conditions, but you wanted to make sure to carry your DSLR or large-sensor compact camera with you when shooting low-light or night images. Things have changed now. Thanks to a combination of new sensor technologies and innovative computational imaging methods, many of the latest generation of high-end smartphones are more than capable of delivering good results in dim conditions—and the Huawei Mate 30 Pro is the best among them.
Its primary camera uses an unusually large 1/1.7″ Quad-Bayer sensor, and Huawei has implemented frame-stacking technology and other computational trickery to enhance the camera's light-gathering capabilities even further. As a result, the Mate 30 Pro scores an impressive 61 points in our Night tests, the currently best score in our ranking.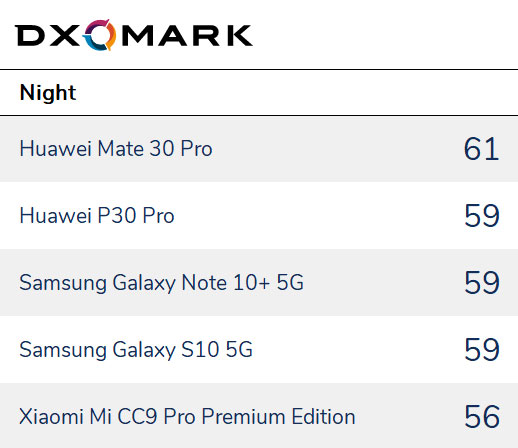 This score is based on good exposure and color saturation down to extremely low light levels, and on well-exposed cityscape shots with wide dynamic range and low noise levels. The latter is a particular strength of the Huawei when shooting in low light, even if under close inspection, detail can look a little soft in low-light conditions.
In addition, the Mate 30 Pro deploys an interesting flash-triggering strategy in flash-auto mode. When the scene is bright enough for the camera to achieve an accurate target exposure, low noise, and good detail, the flash does not trigger. When it gets too dark, it triggers the flash, which secures good exposure and detail on faces, but means that the background will be underexposed. This is generally a sensible strategy for capturing good image quality in almost any low-light situation.
The Huawei also comes with a dedicated night mode that performs fairly well for landscape scenes, with low noise and decent target exposure. We did observe some color issues when using this mode, though—for example, overaccentuated green areas. All in all, though, the Mate 30 Pro can't be beaten for low-light smartphone photography, and is a safe bet for anyone who regularly takes images in dim conditions.
For more information, detailed test data, and image and video samples, read our full review:
Also consider: Huawei P30 Pro
The P30 Pro uses very similar hardware in its primary camera as its cousin Mate 30 Pro, and therefore (unsurprisingly) delivers quite similar results. Night images tend to show higher noise levels than the Mate 30 Pro, but overall, the P-series model still performs remarkably well in low light.