The TMall Genie X5, produced by the Chinese corporate giant Alibaba, was introduced in May 2020 as a larger, more sophisticated upgrade to the much smaller X1, with a variety of features that aim to set it apart, particularly for sound quality. This includes what the brand describes as a "self-learning dynamic EQ" algorithm that adjusts the way the speaker plays to optimize the sound for particular styles of music. On the aesthetic front, the cylindrical device even has subtle lighting around the base that shifts colors and pulsates in rhythm with your music.
There are two speakers and one woofer, which the brand says produces a 360-degree immersive sound.
The device can be paired with electronic devices such as TVs, mobile phones, tablets, and other devices.
We put the TMall Genie X5 through our rigorous DXOMARK Speaker test suite to measure its performance at playing audio back through its built-in speakers. In this review, we will break down how it fared in a variety of tests and several common use cases.
Key specifications include:
Speakers: Two tweeters and one woofer
Wireless connection: Wifi, Bluetooth
Available connection protocols: Bluetooth
Voice control: AliGenie Assistant
Supported language: Mandarin
Weight: 810 grams (~1 lb 13 oz)
Dimensions: 21.8 centimeters (9.2 inches) high and 10.8 cm (4.25 inches) in diameter.
Output power: 12W
Test conditions:
Tested with Motorola G8 remote
Connection protocol: Bluetooth
About DXOMARK Wireless Speaker tests: For scoring and analysis in our wireless speaker reviews, DXOMARK engineers perform a variety of objective tests and undertake more than 20 hours of perceptual evaluation under controlled lab conditions. This article highlights the most important results of our testing. Note that we evaluate playback using only the device's built-in hardware. (For more details about our Speaker protocol, click here.) The TMall Genie X5 falls into the Essential category of devices in the DXOMARK Speaker rankings.
Test summary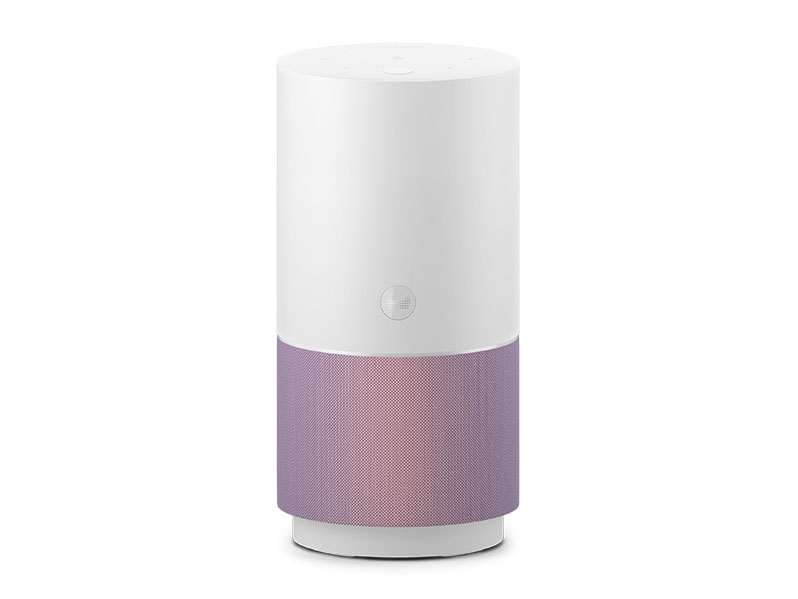 TMall Genie X5
92
speaker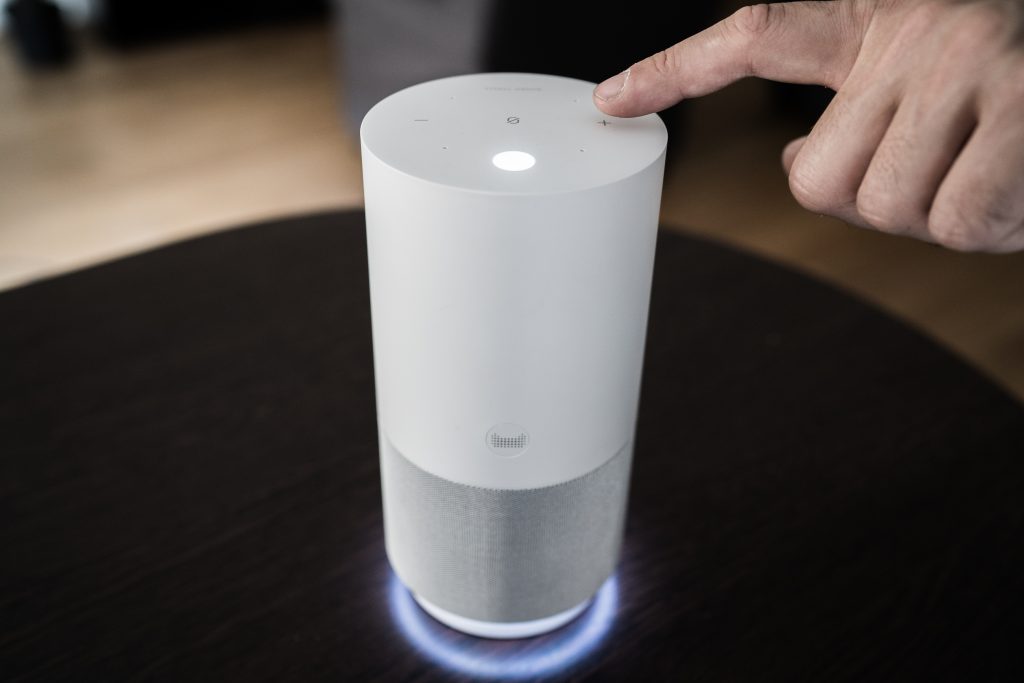 The TMall Genie X5 was introduced by Chinese corporate giant Alibaba as an upgrade to the smaller and less sophisticated X1.
At its low-budget price, the TMall Genie X5 provides decent value. But its overall score places it at the low end of the spectrum among our Essential segment of wireless speakers (priced under 200 euros). It showed decent performance, especially when placed in the center of the room, where its 360-degree sound is an advantage for directivity. Its midrange scores were solid, and it produced good reproduction of voice content. There was a definite lack of bass precision, however, and the device did not score well for attack. Localizability was below average because of a lack of high-end and clear upper mids.
In terms of our use cases, the device scored well in providing background music for a small gathering and in the outdoor scenario, both cases where the 360-degree setup is an advantage. It also did well in the kitchen and bedroom scenarios. But while our engineers noted that it was loud at maximum volume for its size (being smaller than other such devices), it's not a good choice for a house party with loud music because when played loud or at maximum, the device lacks bass and high-end extension, and the punch performance is rather limited. It received low marks in providing sound for movies and videos, in part because it's designed to be at its best in the center of the room, not next to a television. Worth noting: as with many other wireless speakers with similar design, the X5's wideness score was zero because it cannot reproduce stereo content. (Pairing the X5 with another device to achieve stereo sound is possible, but it's not part of the DXOMARK testing protocol.)
Sub-scores explained
The DXOMARK Speaker overall score of 92 for the TMall Genie X5 is derived from a range of sub-scores. In this section, we will take a closer look at these audio quality sub-scores and explain what they mean for the user, and we will show some comparison data from two of the Genie X5's principal competitors in the Essential category, the Xiaomi XiaoAI Speaker HD and the Yandex Station.
Playback attribute comparisons
Timbre
Bowers & Wilkins Formation Wedge
Best: Bowers & Wilkins Formation Wedge (152)
DXOMARK timbre tests measure how well a wireless speaker reproduces sound across the audible tonal range and takes into account bass, midrange, treble, tonal balance, and volume dependency.
Playback timbre comparison
Music playback frequency response
The TMall Genie X5 earned a below-average score for timbre. A lack of high extension impaired tonal balance, and the midrange was not terribly consistent — slightly out of balance between high-mids and low-mids.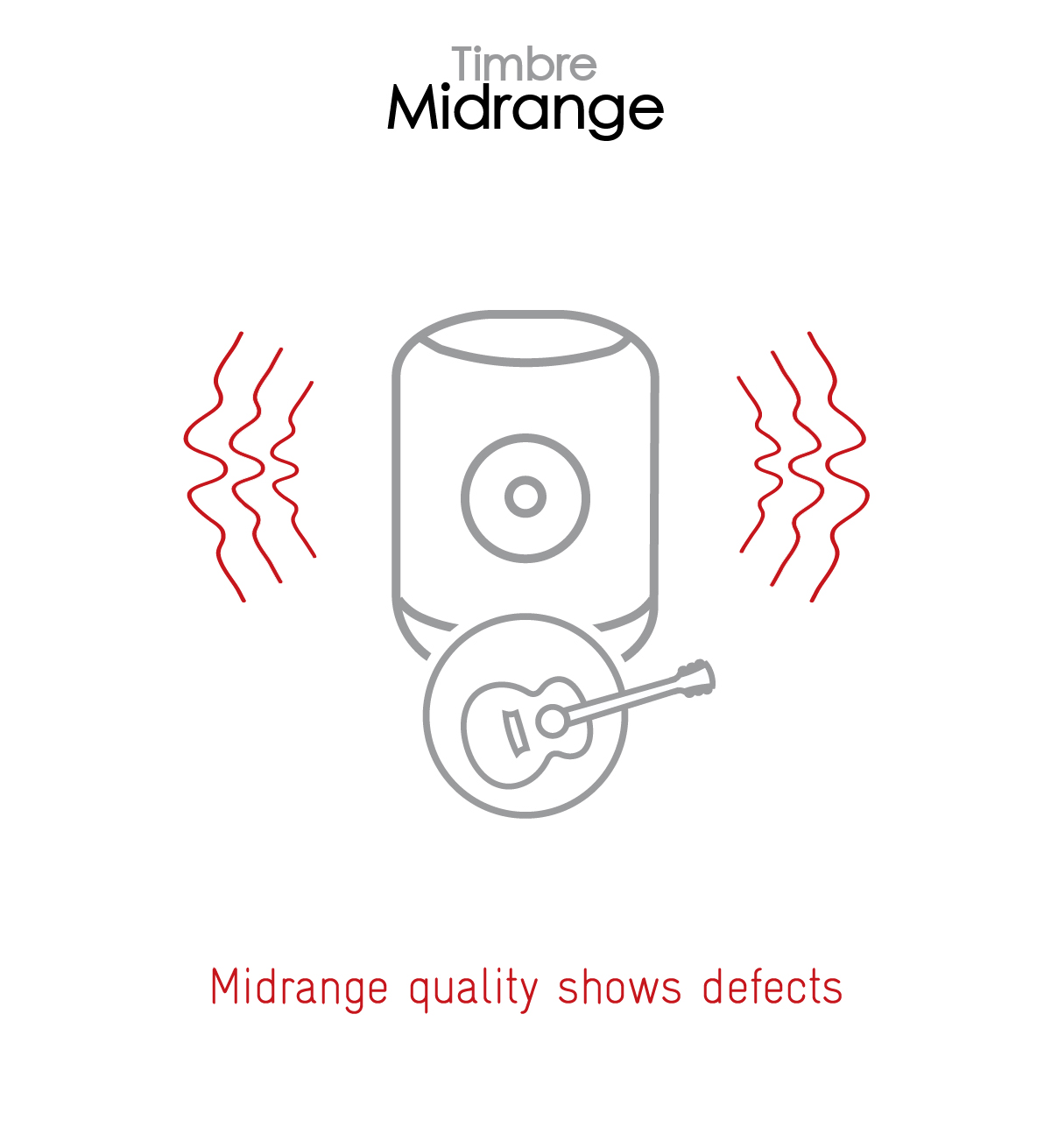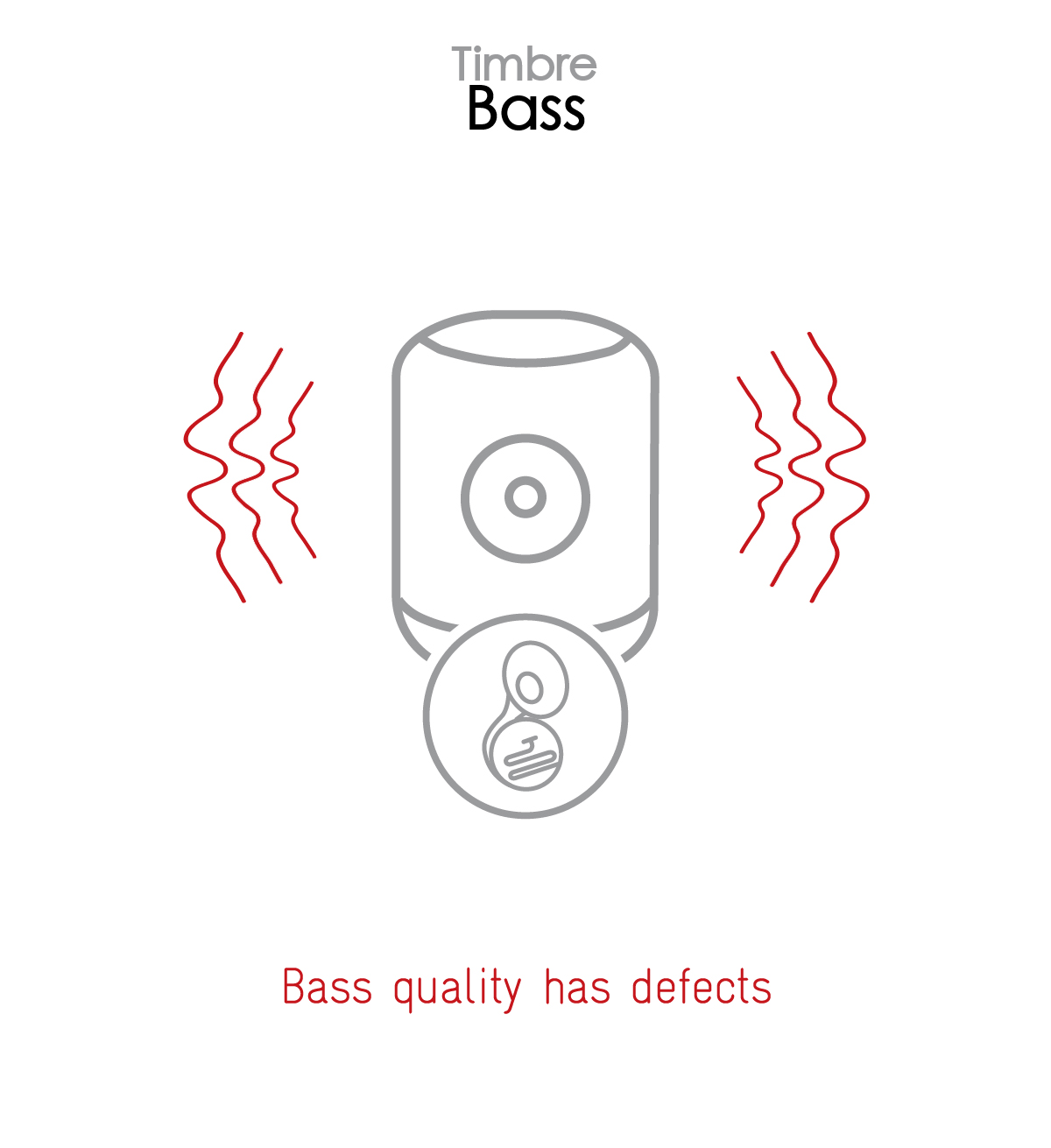 Compared with other devices with similar specs, the X5 lacked bass extension. In the podcast use scenario, the X5 struggled with voice rendering, particularly a lack of clarity and bass on low male voices.
Dynamics
Bowers & Wilkins Formation Wedge
Best: Bowers & Wilkins Formation Wedge (137)
Our dynamics tests measure how well a device reproduces the energy level of a sound source, taking into account attack, bass precision, and punch.
Playback dynamics comparison
Problems in reproducing bass also hurt the TMall Genie X5's score in dynamics, which was below average in the Essential test group. Our engineers noted a lack of punch because of weak low-mids. The bass precision was reduced by a lack of bass extension, and attack was impaired by a lack of high content, leading to an imprecise restitution of transients. In the movie use case, however, the transients were precise.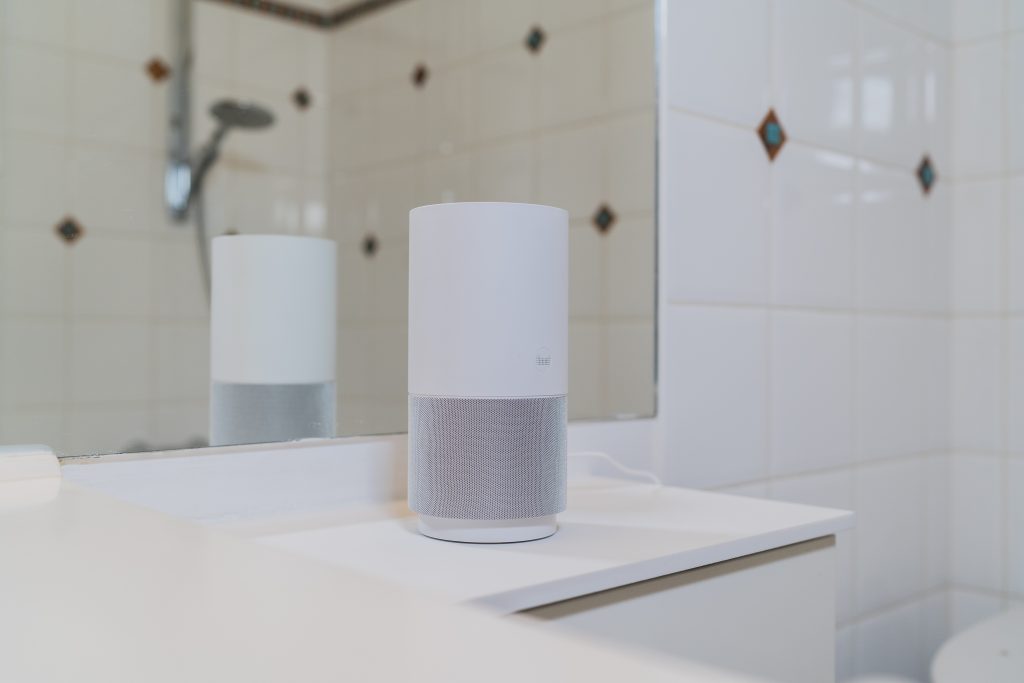 The tonal balance of the the TMall Genie X5 remained consistent, whatever the orientation of the device.
Spatial
Bowers & Wilkins Formation Wedge
Best: Bowers & Wilkins Formation Wedge (111)
Our spatial tests measure a speaker's ability to reproduce stereo sound in all directions, taking into account localizability, balance, wideness, distance, and directivity. Please note that wideness is 0 for mono speakers and for speakers that cannot deliver a significant stereo effect.
Playback spatial comparison
The 360-degree orientation of the TMall Genie X5 functioned well, producing tonal balance consistently, whatever the orientation of the cylinder. Distance, however, was impaired by the lack of clarity on upper-mids. Balance performance was good because everything was nicely centered. Localizability was hindered by a lack of precision on the high end and upper-mids. It's worth noting that the device, like many others with similar specs, does not reproduce stereo content — and that's why the wideness score is zero.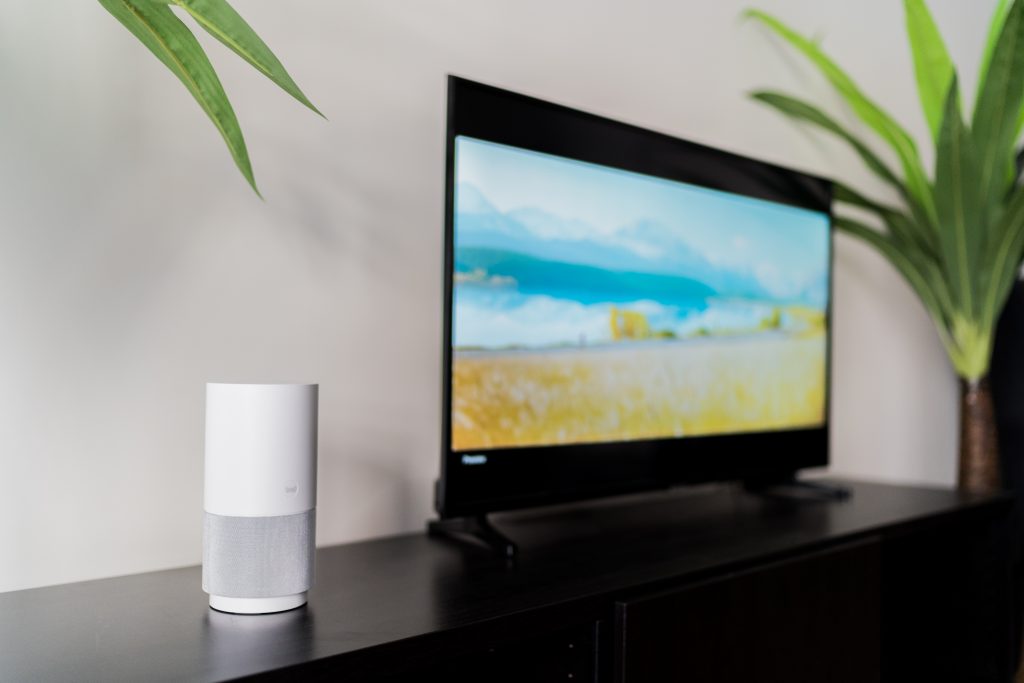 The TMall Genie X5, while scoring well overall in spatial, had a lower score when used to watch movies or videos.
Volume
Yandex Station
Best: Yandex Station (136)
Our volume tests measure both the maximum loudness a speaker is able to produce and how smoothly volume increases and decreases based on user input.
Playback volume comparison
Our engineers were impressed with the TMall Genie X5's loudness at maximum volume for a device of this compact size, but because of that small size, it's not particularly loud compared with other such devices. It's not ideal for playing loud music at a house party, for example. It performed fairly well in a variety of use-case scenarios where low or medium volume levels are required, including the kitchen, bathroom, and relaxing.
Playback volume consistency comparison
Here are sound pressure levels we measured when playing our sample recordings of hip-hop and classical music at maximum volume:
| | | | | | | |
| --- | --- | --- | --- | --- | --- | --- |
| | Correlated Pink Noise | Uncorrelated Pink Noise | Hip-Hop | Classical | Latin | Asian Pop |
| TMall Genie X5 | 75.4 dBA | 73.8 dBA | 72.1 dBA | 67.1 dBA | 73.9 dBA | 66.3 dBA |
| Xiaomi Mi Smart Speaker HD | 75.5 dBA | 72.6 dBA | 74.1 dBA | 65.6 dBA | 75.3 dBA | 68.9 dBA |
| Yandex Station | 91.7 dBA | 89 dBA | 86.7 dBA | 79.4 dBA | 89.2 dBA | 80.2 dBA |
Artifacts
Sonos Five
Best: Sonos Five (133)
Our artifacts tests measure how much source audio is distorted when played back, along with such other sound artifacts as noise, pumping effects, and clipping. Distortion and other artifacts can occur both because of sound processing and because of the quality of the speakers.
Playback artifacts comparison
The TMall Genie X5 scored fairly well in the area of artifacts, placing third among the Essential segment of wireless speakers we tested. Our engineers noted few artifacts overall, though there was a slight distortion on low-frequency content at high volume.
Playback total harmonic distortion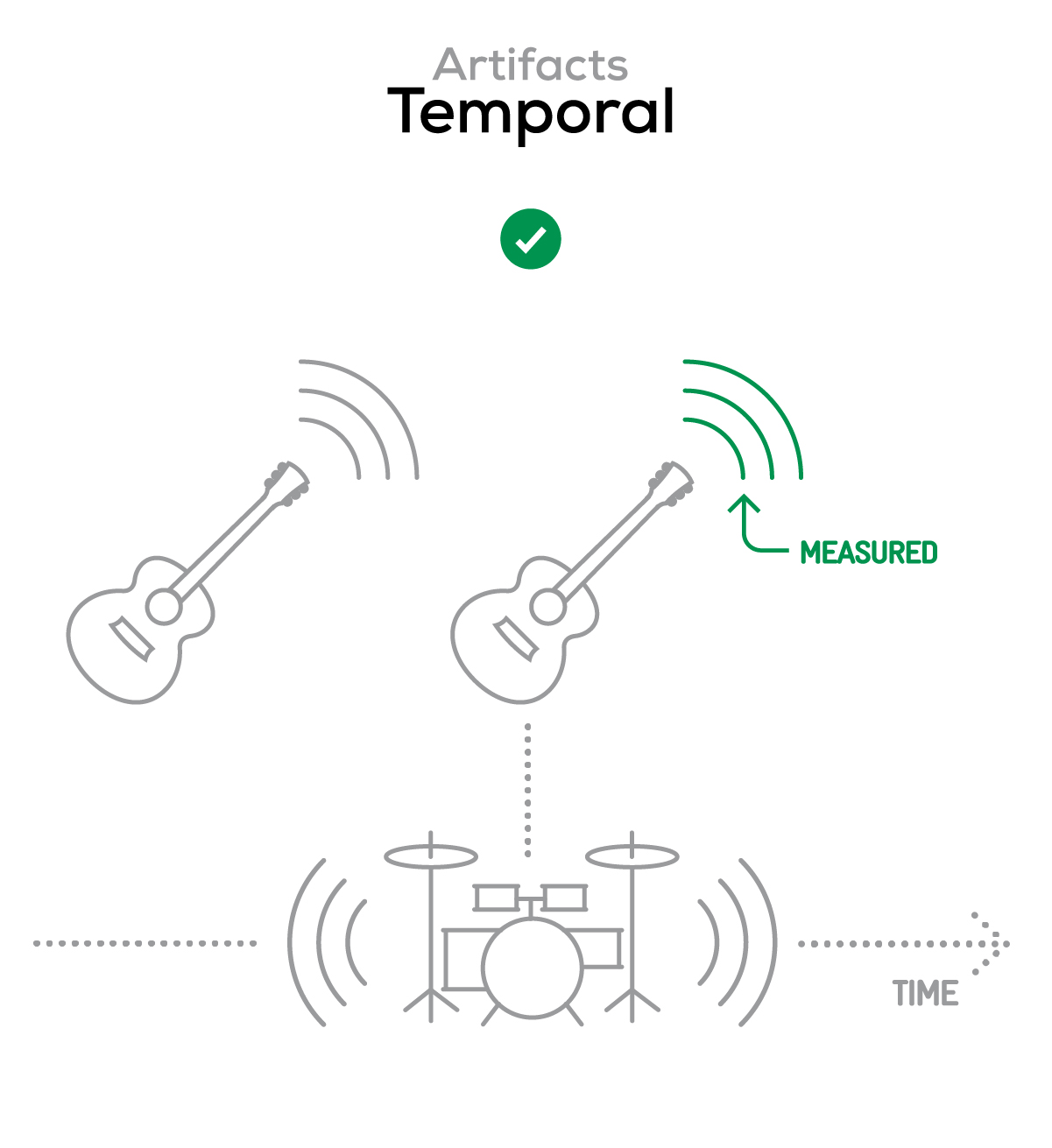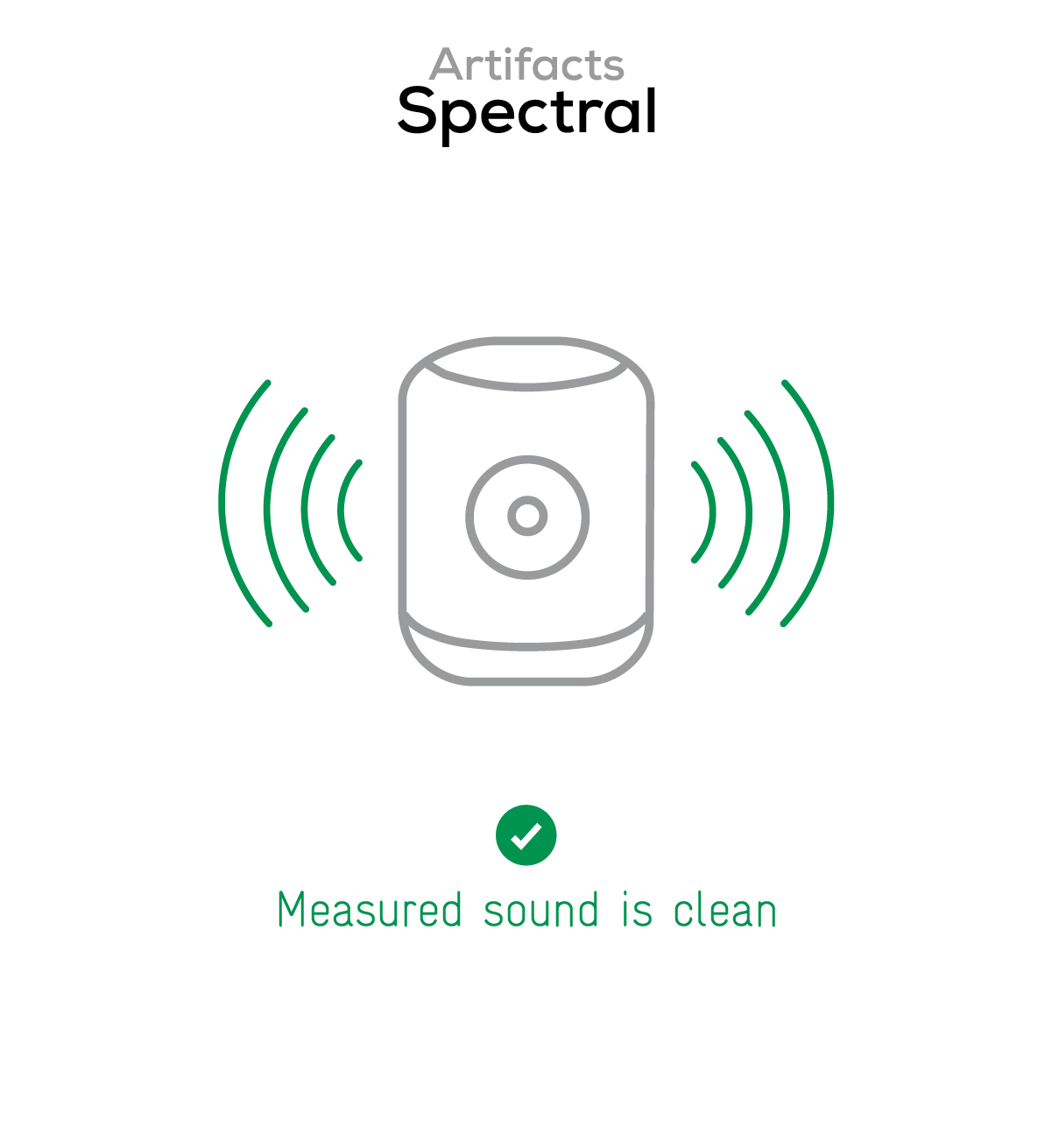 Conclusion
At the low price point it occupies, the TMall Genie X5 provides decent value. As promised, its 360-degree sound design produces good directivity, providing sound throughout the room when placed centrally. It scored above average in distance thanks to good midrange and good restitution of voice content. Among its drawbacks is a huge lack of bass precision. The lack of high-end impaired the clarity of voices, as well as attack.
Pros
Decent value for money
Sound is evenly distributed at 360° around the speaker.
Good midrange (and therefore voice) restitution
Maximum volume is good considering the speaker's compact size.
Cons
Bass precision is severely lacking.
Low male voices lack fullness and clarity.
Localizability of the sound sources is below average, due to recessed high ends.
Poor performance in tonal balance