Introduction
In the small-size zoom category, here is Panasonic's very-wide-angle (114°) lens. Compact, its focal length is the equivalent of a 14-28 mm over the entire field. This is the widest-angle fisheye currently available for micro 4/3 mounts. Only the aging Olympus ZUIKO DIGITAL ED 7-14mm F4.0 furnishes an equivalent focal length, but it requires an adapter ring.
Measurements
Let's take a look at the Panasonic LUMIX G Vario 7-14mm's DxOMark scores.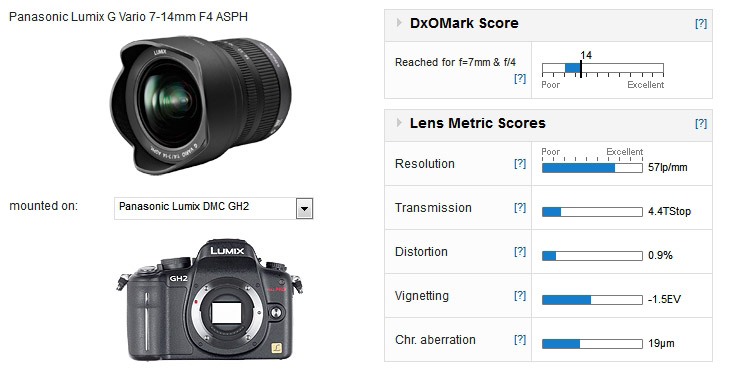 The pluses:
The minuses:
Not bright (4.4 T-stop).
Quite strong vignetting (–1.5EV).
Strong chromatic aberrations (19µm).
High-priced.
Comparison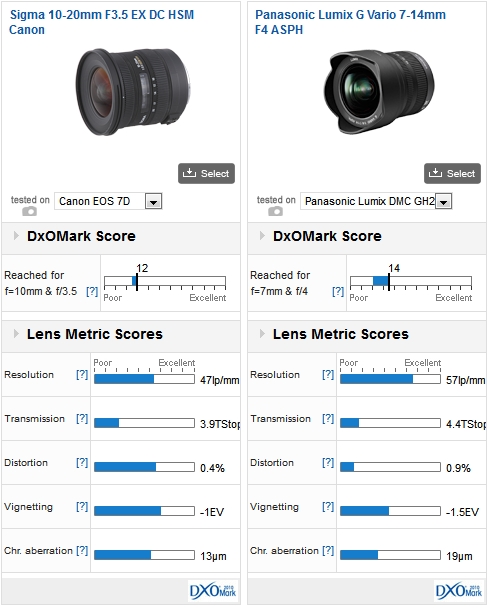 The strengths and weaknesses of the Panasonic (mounted on a Canon EOS 7D) when compared to the Sigma 10-20mm F3.5 EX DC HSM (mounted on a Panasonic Lumix DMC GH2 APS-C):
The pluses:
Controlled vignetting.
Very good resolution.
The minuses:
Not as bright (4.4 T-stop).
The measured distortion is higher (the distortion present in RAW files is systematically corrected for RGB image files in the camera).
Conclusion
The Panasonic Lumix G Vario 7-14mm F4 ASPH is a very nice fisheye lens with impressive sharpness. The distortion is strong but is corrected during processing. Still, beware: the price is very high for a lens that isn't very bright. Some photographers may want to opt for the less costly Olympus MZUIKO DIGITAL ED 9-18mm f/4-f/5.6 instead.
Olympus M. Zuiko Digital ED 12mm f/2.0: standalone results
The first test results for the M. Zuiko Digital ED 12mm f/2.0 seem to indicate that that is indeed the case: a very satisfactory DxOMark overall score of 19 and a specific resolution metric of 53 lp.mm — a real success for Zuiko.
Let's dig a little deeper into the details — but first, a word up-front: PEN users will be disappointed with this review, because we are going to analyze the Zuiko Digital ED 12mm f/2.0 on a … Panasonic camera. No, we certainly haven't forgotten the Olympus line, and we will be publishing the results for all PEN cameras (EP1, EP2,EP3, EPL1, EPL2 and EPM1) very soon. But while we're waiting for the Olympus OM-D to become more widely available (and for its DxOMark test results), the Panasonic GH2 has the best resolution metrics for this lens type, so….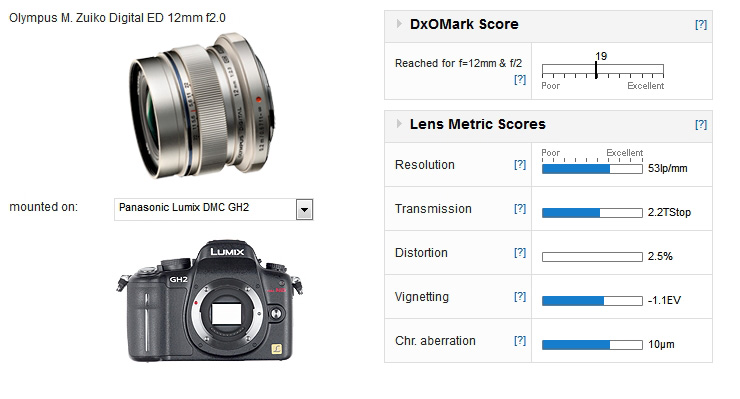 | | |
| --- | --- |
| Strong points | Weak points |
| Remarkable sharpness: The resolution attained at the center is very high (see graph below). It is still worth noting, however, that the resolution drops significantly in the corners, even at f/5.6 or f/8. | Significant distortion (2.5%) will almost certainly require using software to correct. |
| A bright lens. | |
| Weak vignetting (starting at f/2.8). | |
| Chromatic aberrations are well-corrected for this type of lens. | |
Wide Angle comparison: APS-C vs Nikon 1 vs 4/3 sensor
With its DxOMark score of 19, the Olympus 12mm is in first place on the podium; the Canon 24mm on a Canon EOS 7D, with only one point less, is in second place.
With only 8 points, however, the Nikon 1 10mm scarcely seems to merit a place on the podium at all. This said, it's important to note that there simply isn't a broad selection of lenses for the Nikon 1 line, and the 10mm just isn't bright enough to be able to compete with this much brighter 12mm lens. (We keep hearing that more lenses for the Nikon 1— specifically, brighter lenses — will shortly appear… but we're still waiting for confirmation.)
Bottom line for this comparison: The 12mm has great resolution, and even manages not just to hold its own against the 24mm 1.4 L-series lens mounted on a Canon 7D, but to beat it!
Superior maximum resolution.
Better correction of chromatic aberrations.
Better quality-to-price ratio.
Brighter lens.
Better distortion correction.
Better control of vignetting.
Very compact.
Very light.
Conclusion
With its extraordinary sharpness for a micro 4/3 lens, the Olympus M. Zuiko Digital ED 12mm f/2.0 is a winner.
Pitted against the Nikon 1 NIKKOR 10mm f/2.8, this Olympus 12mm holds an overwhelming advantage. Even more impressive is the fact that this lens can compete with much bigger lenses, such as the Canon 24mm L-series mounted on a 7D.
In short, it really does seem that a high-quality, fully micro 4/3 camera-lens combination is perfectly capable of replacing an APS-C combination — and the Olympus M. Zuiko Digital ED 12mm f/2.0 is a particularly high-quality micro 4/3 lens!
The Olympus M.ZUIKO DIGITAL 17mm f/2.8 is one of the first lenses specifically designed for micro 4/3 cameras in 2009, in conjunction with the M.ZUIKO DIGITAL ED 14-42mm f/3.5-5.6. Its very compact and light-weight design – only 22mm long and weighing only 71g – largely satisfies micro 4/3 users' desires for a compact and light-weight lens to complement their camera bodies.
For the Olympus and Panasonic line, the 17mm f/2.8 is a relatively bright prime lens that is the focal equivalent of a 35mm. Thus it is more oriented toward landscape photography, but its intermediate focal lengths allow for other kinds of photos as well.

With the expansion of the micro 4/3 lens range, however, is this particular lens still a good choice? DxOMark provides some answers by comparing the 17mm f/2.8's performance to that of its younger (2011) cousin, the M. Zuiko Digital ED 12mm f/2.0. But before we compare, let's first take a look at the Olympus 17mm f/2.8's standalone measurements.
The ranking for the Olympus M.Zuiko Digital 17mm f/2.8 is quite low, with a DxOMark score of only 10 points.
| | |
| --- | --- |
| Strong points | Weak points |
| Compact | Weak resolution |
| Light-weight | Significant distortion |
| Vignetting is correct | Very significant chromatic aberrations |
Comparison
Now let's take a look at how this pancake lens compares with the newer 12mm micro 4/3 lens: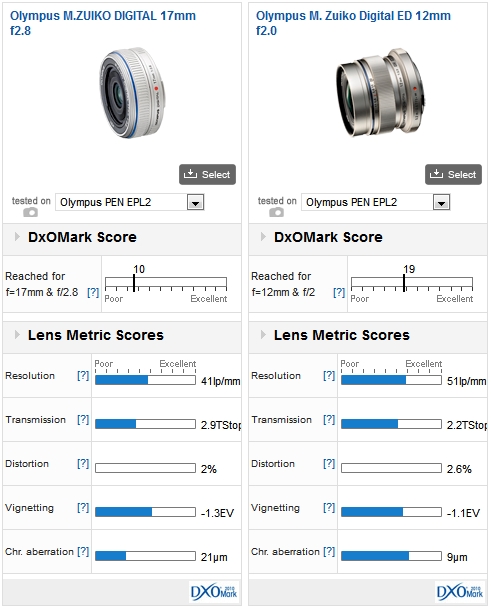 The 12mm's DxOMark score of 19 is nearly double that of the 17mm pancake and is convincingly better for resolution, brightness, and control of chromatic aberrations. By contrast, the 17mm is quite disappointing in nearly every respect.
Unfortunately for those who would like to use an ultra-compact, light-weight pancake lens, there really aren't any other choices yet — even from Panasonic. By contrast, some great alternatives are available, such as the aforementioned 12 mm (equal to 24mm on 24x36mm) for landscape photography — though you can also head toward the Leica 25mm (equal to 50mm on 24x36mm) if you're more interested in the relatively longer focal lengths more associated with reportage, for example. The measurements for these two lenses are remarkable in many respects.
We will be testing two other choices soon, the Panasonic-LUMIX-G-20mm-F/17-ASPH and the Panasonic Lumix G 14mm F/2.5 ASPH. But of course none of these alternatives is as compact nor as light-weight as the pancake lens.
Conclusion
To sum up, Olympus's first micro 4/3 pancake lens was not a masterpiece, and its performance has now been entirely surpassed by the M. Zuiko Digital ED 12mm f/2.0 and the M. Zuiko Digital ED 45mm f/1.8. The 17mm f/2.8's resolution is simply insufficient for taking full advantage of micro 4/3 sensors. (It's also worth noting that even in 2009, Olympus was having difficulties correcting the distortion at short focal lengths for this type of lens.)
All this said, the pancake lens type remains an efficacious solution to the problem of weight and bulkiness, so we should all hope that some future model will address some of the current model's shortcomings.