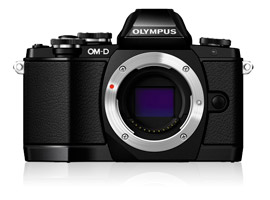 Following on from the firm's hugely popular E-M5 and E-M1 models Olympus has introduced a new 'entry-level' model, the E-M10, sharing most of the features of both siblings. Read on to find out how the new model performs.
After the success of the OM-D E-M5 and high-end E-M1 models, Olympus has created an entry-level model in the form of the new OM-D EM-10. It bears the familiar design and layout of the earlier mid-range E-M5 including a built-in EVF and folding rear LCD, although it's slightly smaller and lighter still. In terms of specification and capabilities the EM-10 shares a lot more with the E-M5 than one might expect. It has a similar 16-Mpix four-thirds CMOS sensor, same 1.44M dot resolution LCD panel in the viewfinder, and it has the related shutter with a 1/4000 sec minimum but with an improved 1/250 sec flash sync.
The new model can even boast of some improvements over the mid-tier model including the higher resolution rear touch panel and the latest TruePic VII level processor of the OMD- E-M1 to handle all the data. This more powerful processor allows 1080/30p MOV movie clips at higher bit rates (24Mbps) than the earlier models and, similarly, allows the E-M10 to achieve 8 fps using single-shot AF (though that drops to 3.5fps when continuous AF is enabled).
The E-M10 also features a small built-in flash and has the firm's in-body stabilization. However, it lacks the coveted 5-axis stabilization system of the E-M1 and E-M5 instead opting for a simpler 3-axis system and with a slightly reduced effectiveness of 3.5 stops (as opposed to 4-stops). Although the OM-D E-M10 ships with the new 'pancake' style 14-42 EZ power-zoom in some markets, in the US, the E-M10 is bundled with the standard 14-42mm kit lens at around $800.
Key specifications
16-Mpix Micro Four Thirds CMOS sensor
8 fps continuous shooting (3.5 fps with C-AF)
Tilting 1.04M dot LCD touchscreen
1.44M dot LCD viewfinder
Wi-Fi with remote control and file transfer to smartphones
Focus peaking
'3-axis' in-body stabilization
Twin control dials
Built-in flash