Best lenses for the 24M-Pix Nikon D7100: Best standard and portrait primes and zooms
By Kevin Carter -
Tuesday October 08 2013
Lens Recommendations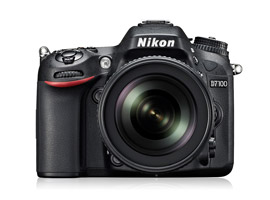 This is the second part of our lens recommendations for the Nikon D7100 where we've analyzed nearly 60 Nikkor and third-party standard and portrait prime and zoom models to assess their optical quality. Read onto find out which of these lenses are the best performers when paired with Nikon's ultra-high resolution 24-Mpix APS-C format semi-pro model.
Introduced earlier this year, the Nikon D7100 has a 24Mpix APS-C format CMOS sensor in line with both the new D5200 and entry-level D3200 models but what makes this particular model stand out is the fact this is the first stock DSLR from the firm to omit an optical low-pass filter (OLPF).As we've previously disclosed in part I, this configuration is capable of revealing extraordinarily high levels of fine detail at low ISOs. In fact, with certain lenses we revealed the new camera is capable of achieving an increase of up to 50% percent in sharpness over the firm's previous 16-Mpix D7000 model.
As a 24Mpix APS-C format camera, the D7100 has an equivalent pixel density to that of a 56-Mpix full-frame 35mm camera without a blur filter (OLPF) in place and is therefore particularly demanding on the quality of the lens mounted. However, while certain models may well be able to out-resolve the sensor and offer significant benefits in detail rendition and sharpness other, lesser quality lenses may also benefit, just not so much.
The labs have analyzed the optical performance of nearly 60 standard and portrait prime and zoom models made by Nikon and third-party makers, including 15 primes between 40-60mm in focal length, a further 20 primes between 70 and 135mm and 23 zooms from the earlier 17-35mm to the newer 24-85mm. As we mentioned in part I, Sigma has yet to ship the high-speed 18-35mm f/1.8 DC HSM A in Nikon mount, and we're still waiting to analyze the Nikon AF-S DX Nikkor 18-140mm f/3.5-5.6G ED VR, but they should arrive soon and both will be analyzed and added to the database.
Further readings for the Best lenses for the 24M-Pix Nikon D7100: Best standard and portrait primes and zooms
To provide photographers with a broader perspective about mobiles, lenses and cameras, here are links to articles, reviews, and analyses of photographic equipment produced by DxOMark, renown websites, magazines or blogs.
---
---
Lens Recommendations
|
October 02, 2013
| | |
| --- | --- |
| | This is part one of our lens recommendations for the Nikon D7100 where we've tested over 120 Nikkor and third-party prime and zoom models to assess image quality. Read onto find out which of these lenses are perform best when paired with Nikon's 24M-Pix APS-C format semi-pro model. |
---
---
---
---
---
---
Comments
18-105 still not listed in comparison ?

Is there any specific reason why the standard 18-105 is still not listed anywhere in these recommended D7100 lens lists ?

It's not in:
Best Standard zoom models for the D7100
http://www.dxomark.com/Reviews/Best-lenses-for-the-24M-Pix-Nikon-D7100-Best-standard-and-portrait-primes-and-zooms/Best-Standard-zoom-models-for-the-D7100

Neither under:
Best Zoom models for the D7100
http://www.dxomark.com/Reviews/Best-lenses-for-the-24M-Pix-Nikon-D7100-Part-I/Best-Zoom-models-for-the-D7100

I mean it's been tested on the D7100 a long while ago, I can review the results separately and by comparison it beats a bunch of lenses that are otherwise in the lists. In fact it seems almost a tie with the previously top of the list 18-135 and the new top of the list 18-140.

Is there just something wrong with the 18-105 on D7100 ? (I doubt it) I've noticed a similar question on these boards a long time ago (october 2013 I think) and the reply was that it would be added soon ... still not. Maybe it's the producer pushing the new 18-140 kit model over the old 18-105 one ?

I don't have anything at stake in this, I have the 18-105 on my D7100 already and I know how much bang-for-buck you get out of it. But several acquaintances now opted for the new 18-140 even though they didn't need the extra reach, just based on the absence of the 18-105 from these lists and even though the D7100 + 18-105 were sold in heavily discounted kits.

Don't get me wrong 18-140 is good ... I liked it myself, but why is 18-105 not here to make the comparison ?


Reply | Read all replies for this comment
First replies for this comment
---
Added by

sharon1

| January 20 , 2014

Sigma art

Hello, I have the D7100 and I want to buy a new prime lens by Sigma.
Sharpness is very important for me , I want a DX crop sensor lens not a full-frame lens.
Is it right that the Sigma 30mm 1.4 art lens performs the best at sharpnes as a DX lens on the D7100 with a sharpness of 15?


Reply | Read all replies for this comment
First replies for this comment
---
Lens use on my D7100 for 15k shots

Most to least:
Nikkor AF-S DX 18-200 f/3.5-5.6 VR II Outdoor daytime events 6k
Tamron SP 17-50mm F/2.8 Di II XR VC LD Aspherical IF Lowlight/indoor events 5k
Nikkor AF-S 85 f/1.8G Landscape/outdoor portraits/low light 2k
Nikkor AF-S DX 35 f/1.8G Street/landscape indoor lowlight 1.4k
Nikkor AF-S 50 f/1.4G .7k
Tamron SP 10-24MM F/3.5-4.5 Di II LD Aspherical IF Street/architecture 0.029k (usually on D5100 as second body)
(All counts just for D7100)

The 18-200 has been a busy lens this Summer, but the 17-50 will catch up before December, I think. The sharpness of the 17-50 over the 18-200 as well as the low light performance make this likely.

The 85 is my favorite prime for its sharpness, the 50 least because of focus hunting in low light. The 35 also ends up on the D5100 second body as needed. I also have a 20yo Quantaray 70-300 f/3.5-5.6 macro, but it is no longer kept in my bag, and only used if nothing else will do.


Reply
---
Added by

Jurcek

| October 08 , 2013

Sigma 85mm F1.4 EX DG HSM Nikon Sharpness 12? (D7100)

Could you explain the result of sharpness for Sigma 85mm F1.4 EX DG HSM Nikon? When I have compared it to Nikon AF-S Nikkor 85mm f/1.4G, Nikon AF Nikkor 85mm f/1.4D IF and Samyang 85mm f/1.4 Aspherique IF, Sigma was given the lowest score of 12.

But after I have reviewed all measurements for sharpness that you published I can't find such large differences.

Sigma 85mm F1.4 EX DG HSM even got the same sharpness result as Tamron SP AF 17-50mm F/2.8 XR Di II LD Aspherical [IF] Nikon. I own both and the difference is immediately noticeable in favor of Sigma.

d7100 d600 d3x
Nikon AF-S Nikkor 85mm f/1.4G 16 20 19
Nikon AF Nikkor 85mm f/1.4D IF 14 16 15
Samyang 85mm f/1.4 Aspherique IF Nikon 14 17 15
Sigma 85mm F1.4 EX DG HSM Nikon 12? 18 16

I assume that there was a typo and that the result is 15...


Reply
---