Best lenses for the 24M-Pix Nikon D7100: Part I
By Kevin Carter -
Wednesday October 02 2013
Lens Recommendations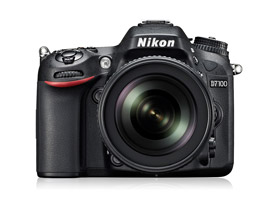 This is part one of our lens recommendations for the Nikon D7100 where we've tested over 120 Nikkor and third-party prime and zoom models to assess image quality. Read onto find out which of these lenses are perform best when paired with Nikon's 24M-Pix APS-C format semi-pro model.
Introduced in February this year, the D7100 is the update to the maker's mid-to-upper range 16.2M-Pix D7000 DX (APS-C) model from 2010. Outwardly it shares a similar (but not identical) design and control layout but it's on the inside where several key enhancements over its predecessor have been implemented.
First, the D7100 adopts a 24Mpix CMOS minus the optical low-pass filter, which promises even finer detail at low ISOs than previous offerings with the same pixel count.
Second, as well as a pentaprism viewfinder with 100-percent coverage, the D7100 also benefits from the 51-point Multi-CAM 3500DX AF system of the D300s with sensitivity down to -2 EV and a center cross-type sensor capable of AF at f/8.
This ensures AF compatibility with the recently announced AF-S Nikkor 800mm f/5.6 fluorite-based telephoto lens with its matched 1.25x converter, as well as the existing AF-S Nikkor 600mm f/4 with a 2x converter.
Maximum continuous shooting is 6fps at maximum resolution (6000x4000 pixels) or 7fps with a 1.3x crop mode. Capture at 14-bit is limited to 5fps, but that's a significant increase in processing power over the 1.5fps of the D300s at the same bit-depth. Besides that, the key points for our lens evaluations, of course, are the effects on image quality of the new 24-Mpix CMOS sensor and the absence of an'anti-aliasing" filter or optical low pass filter (OPLF). With the blur filter removed, we're interested to see just what the benefits are, and perhaps if there any downsides besides moiré or color artefacting.
Nikon D7100 lens database: 126 models from both Nikon and third-party makers measured!
The labs have carefully analyzed the optical performance of nearly 130 models from both Nikon and third-party makers, ranging from the ultra-wide, yet relatively compact DX format Sigma 8-16mm f/4.5-5.6 DC HSM through to the full-frame stabilized Nikon AF-S Nikkor 600mm f/4G ED VR and expensive Nikon AF-S 200-400mm f/4G ED VR II.
Other new models DxOMark have analyzed include the Nikon AF-S NIKKOR 80-400mm f/4.5-5.6G ED VR, Nikon AF-S NIKKOR 18-35mm f/3.5-4.5G ED and the Sigma 30mm F1.4 DC HSM A.
We've not yet tested the new high-speed Sigma 18-35mm f/1.8 in Nikon mount (it was produced in Canon mount first) or the recently announced Nikon AF-S DX NIKKOR 18-140mm f/3.5-5.6G ED VR, but both those models should be available soon and they will be added to our database.
Further readings for the Best lenses for the 24M-Pix Nikon D7100: Part I
To provide photographers with a broader perspective about mobiles, lenses and cameras, here are links to articles, reviews, and analyses of photographic equipment produced by DxOMark, renown websites, magazines or blogs.
---
Lens Recommendations
|
January 16, 2014
| | |
| --- | --- |
| | Following the lens recommendations for Nikon D7100 and entry-level D3200, we've now turned our attention to the new mid-range D5300. We've tested the camera with more than 140 Nikkor and third-party prime and zoom models to assess image quality. Read onto find out which of these lenses have the best image quality when paired with the new camera. |
---
Lens Recommendations
|
October 10, 2013
| | |
| --- | --- |
| | This is the third part in the series of our lens recommendations for the Nikon D7100 where we've analyzed nearly 46 Nikon and third-party telephoto prime and zoom models to assess their optical quality. Read onto find out which of these lenses are the best performers when paired with Nikon's ultra-high resolution 24-Mpix APS-C format semi-pro model. |
---
Lens Recommendations
|
October 08, 2013
| | |
| --- | --- |
| | This is the second part of our lens recommendations for the Nikon D7100 where we've analyzed nearly 60 Nikkor and third-party standard and portrait prime and zoom models to assess their optical quality. Read onto find out which of these lenses are the best performers when paired with Nikon's ultra-high resolution 24-Mpix APS-C format semi-pro model. |
---
---
---
---
---
---
---
Comments
best prime

hello,i just bought a brand new nikon d7100 and im searching for the best value for manue prime lences,im thinking of 35mm 1.8 or 50mm 1.8.which is best?please mention to me the 3 must have first lences,wide-zoom,prime
thank you!


Reply
---
Added by

ChuckL

| July 30 , 2014

Very useful info!

Thanks for the great effort. I'm researching long zoom lenses for sports shooting with my D7100. I own a Sigma 150-500 OS and I was wondering if this lens will be tested on the D7100 at some point? And are there any plans to test using 1.4 and/or 2.0 TCs with the lens on your list?


Reply | Read all replies for this comment
First replies for this comment
---
Added by

nycko

| April 13 , 2014

NIKON 35mm

Hello,

I'm preparing to buy the 30mm f/1.4 sigma ART using with my D7100, my question is, why it is better the 35mm f/1.8G nikon lens, they have the same score, but the sigma is much sharper, should I buy the inexpensive nikon lens...?

thank,s
nycko


Reply | Read all replies for this comment
First replies for this comment
---
1st and 9th

What is the difference between the first
Sigma 50-150mm f/2.8 EX DC APO OS HSM Nikon
and the 9th
Sigma 50-150mm F2.8 EX DC APO HSM Nikon

in the list else then price?


Reply
---
Added by

timoha

| October 21 , 2013

Very nice list, well done

I like these lists alot,

I would like to see one or two cheap lens too, for example 18-105mm or 18-55. But just one or two.

I would also like to see Sigma's 18-250mm

Because I would like to see variety of lens too, how much price and zoom range really effects on quality. But not too many cheap lens :)


Reply | Read all replies for this comment
First replies for this comment
---
nikkor 18-105mm VR

Hello, fantastic and very useful tests you've done here! :)
There is only one major omission, in my modest opinion: the nikkor 18-105mm VR, which is actually a little shaper (and in a more homogeneous way) than the nikkor 18-135mm, especially wide open.
Best regards,
Stefano


Reply | Read all replies for this comment
First replies for this comment
---
First replies for this comment
---
Nikon AF-S DX Nikkor 35mm f/1.8G vs 50mm f/1.8G

This a comment for [url=http://www.dxomark.com/index.php/Reviews/Best-lenses-for-the-24M-Pix-Nikon-D7100-Part-I]this page on the website[/url]
I admit I don't understand why the 35mm has a DxOmark score of 26 on the D7100 (making it a recommented prime) vs 22 for the 50mm while the 50mm seems to [url=http://outperform the 35mm on every single lens metric score]outperform the 35mm on every single lens metric score[/url]...

Did I miss something ?

Thanks. V.


Reply | Read all replies for this comment
First replies for this comment
---
Added by

Zenmonk

| October 06 , 2013

Why do you not split the best lenses test as usually common on DXOmark?

Dear DXOmark team,

why do you not split the best lenses test more detailed for the D7100 as usually common (e.g. D800, D600)?? Instead of just two categories prime and zoom lenses, you could use similar to other "best lenses test" ultra-/wide angle, standard, super/-telephoto lenses??

I also miss a couple of major and interesting lenses such as the Sigma 8-16 4.5-5.6, Nikon 10-24 3.5-4.5G (two quite popular uww lenses), Nikon 16-85 3.5.-5.6G (best/better alternative to the 17-55 2.8?), Nikon 28 1.8 (maybe the interesting standard prime/ focal length for dx?),Nikon 50 1.4, Nikon 50 1.8, Nikon 10.5 2.8 Fisheye, Nikon 70-300 4.5-5.6G.......

Do their absence of listing mean that they are too bad in terms of performance, sharpness... ?

Thank you in advance for answering!

Best regards,


Reply | Read all replies for this comment
First replies for this comment
---
Added by

Ronidxb

| October 04 , 2013

sigma 18-35 review

Dear sir
I daily check ur web for sigma 18-35 review for nikon d7100 and d5200.
Please publish review of this too. I am very very anxious to know about the performance of this lens with the mentioned nikon modal.
Please do something



Reply
---