Canon EF24-70mm f/2.8L II USM review: A Peerless Performer
By Kevin Carter -
Friday January 25 2013
Lens Review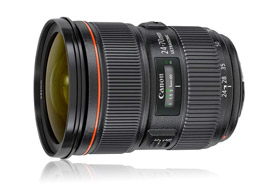 Introduced in February 2012, the EF24-70mm f/2.8L II USM is the long-awaited update to Canon's pro-grade standard zoom and replaces the highly regarded EF24-70mm f/2.8L USM. Designed with the objective of improving image quality and providing greater durability for daily use with digital cameras, it has a completely revised optical design as well as an enhanced mechanical construction. As full-frame lens, it's compatible with the firm's full range of DSLRs including 1.6 (APS-C) and older APS-H (1.3x crop) DSLRs making it an attractive choice to a wide of range users. However, at around $2,500 it's not likely to be a casual purchase.
Billed as Canon's professional standard zoom lens, the EF24-70mm f/2.8L II USM replaces the popular full-frame EF 24-70mm f/2.8L USM model, introduced in 2002. The new lens was developed to address some of the shortcomings of the previous model and so features a redesigned optical configuration as well as a more durable outer barrel and zoom mechanism to maintain performance over its lifetime. Not only that, but the new lens features water-and-dustproof seals around the zoom and focus rings, switches, extending barrel and lens mount.
As well as adopting UD glass, the lens features a Super UD element (with a performance close to that of fluorite) to moderate chromatic aberrations, while three aspherical elements improve peripheral sharpness and reduce the overall size. Despite the increase in filter size from 77mm to 82m, the lens is 10mm shorter than the now discontinued model, and, at 805g (28.39oz), the firm has reduced the weight by 145g (5.1oz) as well.
The redesigned optical construction also eliminates the quirky handling of the previous model. Where the barrel used to extend when selecting the shorter focal lengths, the new lens behaves like one might expect, with the front barrel progressively lengthening at longer focal lengths.
Although this lens appeals primarily to full frame (24x36mm) Canon users, it will still be of interest to those using an APS-C body, where the angle of view behaves like that of a 38-to-112mm. However, while the lens certainly sounds promising (Canon claims the image quality is vastly superior to the previous model), at around $2,500 it had better be good.
Further readings for the Canon EF24-70mm f/2.8L II USM review: A Peerless Performer
To provide photographers with a broader perspective about mobiles, lenses and cameras, here are links to articles, reviews, and analyses of photographic equipment produced by DxOMark, renown websites, magazines or blogs.
---
---
Comments
Incredible

result is not credible. look here: http://www.the-digital-picture.com/Reviews/ISO-12233-Sample-Crops.aspx?Lens=787&Camera=453&Sample=0&FLI=2&API=0&LensComp=618&CameraComp=614&SampleComp=0&FLIComp=2&APIComp=0


Reply
---
Added by

cometer

| December 25 , 2013

Could you also provide the sharpness perceptual Mpixel "numbers" for Canon 5D mark III ?

Could you also provide the sharpness perceptual Mpixel "numbers" for Canon 5D mark III for the 5 measured points @ F4, the 5 measured points @ F5.6, and the 5 measured points @ F8?


Reply | Read all replies for this comment
First replies for this comment
---
Added by

cometer

| December 25 , 2013

could you provide the sharpness perceptual Mpixel "numbers" for Canon 70D?

Since in the sharpness P-Mpix graph the same color code is used for > 12 P-Mpixs, could you provide the sharpness perceptual Mpixel "numbers" for Canon 70D for the 5 measured points @ F4 and the 5 measured points @ F5.6? I'd really like to know how good (sharp) the Canon EF24-70mm f/2.8L II USM performs on 70D @ F4 and F5.6


Reply | Read all replies for this comment
First replies for this comment
---
Added by

cometer

| December 07 , 2013

Suggestion to reveal more into

I noticed that there were several "measured points" in this graph, such as 4 points @ F2.8 and 4 points @ F4, etc. Could you show in somewhere the actual P-Mpix numbers for these points?

BTW, since the number of sensor mega pixels has been growing over 20M in reccent years (such as Nikon D800), I suggest that the color codes should extend to at least 40M.

Finally, are these "measured points" measured @ the center of the lens or the corner? Could you provide both info in the future?


Reply | Read all replies for this comment
First replies for this comment
---
Looking at the graph

looking at the final graph , it seem the nikon scored more than 24 and the canon mark II less then 25, but looking at the real measure the nikon scored 24 and the canon 26.
i suspect something gone wrong there..


Reply
---