Carl Zeiss Apo Sonnar T* 2,0/135 ZF.2 (Nikon) mount lens review: Unsurpassed Moderate Telephoto
By Kevin Carter -
Tuesday December 03 2013
Lens Review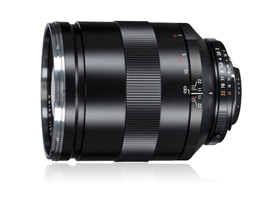 After testing the remarkable Otus 1,4/55 from high-end maker Carl Zeiss we were curious to see if the optical performance of the Apo Sonnar T* 2,0/135 may be close. Read on to find out how well this lens performed.
High speed, short telephoto lenses like this are useful for outdoor portraits, theater and sports under extremely poor lighting conditions. This model from Zeiss features a fast f2.0 initial aperture and an all new, more complex construction using 11 elements than the earlier high-speed designs from the late 80s and early 90s. With anomalous dispersion glass used in the design along with the firm's Apo designation means it should be better corrected for chromatic aberration than the more common achromatic lenses.
This manual focus though aperture coupled model has 'floating' elements for improved image quality at short range and focuses to an unusually close 0.8m (2.62 ft.).
Available in both Canon and Nikon mounts, the Nikon mount (ZF.2) version reviewed here retains a manual aperture collar. It's a useful addition for filmmakers but also provides backwards compatibility with older Nikon SLRs. At $2,500 and weighing 920g (2.02 lb) for the Nikon mount version, this large and heavy lens has a 77mm filter thread and measures 128mm in length.
Further readings for the Carl Zeiss Apo Sonnar T* 2,0/135 ZF.2 (Nikon) mount lens review: Unsurpassed Moderate Telephoto
To provide photographers with a broader perspective about mobiles, lenses and cameras, here are links to articles, reviews, and analyses of photographic equipment produced by DxOMark, renown websites, magazines or blogs.
---
---
---
Comments
Zeiss APO Sonnar T* 2/135 ZF.2 in the real world

The APO Sonnar is a fantastic lens to use. I agree about the need for a good tripod. It is a stellar performer. I love to use it at aperture 2.8. Please have a look at http://www.flickr.com/photos/erik_j_johansson/sets/ There is a set Zeiss Apo Sonnar T* where most pictures are taken with tripod and calm wind conditions. There are also sets from some of my other favorite lenses. All available in full D800 resolution.

Best regards,
Erik


Reply
---
Added by

gouche

| December 05 , 2013

give the zeiss 135mm some fair competitors...

It's my first comment here and I admit I'm a noob. but I am curious about how other popular lenses like "Nikon 135mm f/2.0D AF DC" and "Canon EF 135mm f/2L USM" would score on DxOMark... and the "Sony SAL-135F18Z 135mm f/1.8" makes me even more curious. I hope DxOMark will soon add these lenses to their database and thanx for your great work so far...


Reply | Read all replies for this comment
First replies for this comment
---
Zeiss APO Sonnar 135 ZF.2 2.0

Thanks to the DXO-Team for the test, great work again! Results are exactly as good as my experience with this lens during the last half year. It seems to bee - and it is in my opinion - the best lens avaiable for Nikon at the moment, otus 55mm icluded. The big challenge with it is only not to shake the camera, even if it stands on a tripod...



Reply
---
Thanks DXO!

For answering our requests.
One thing though - $1600 ? I haven't seen less than $2,200 or so.
Otherwise, please let me know where I can get Zeiss lenses so cheap ;-)


Reply | Read all replies for this comment
First replies for this comment
---
Zeiss 135mm APO Test

Looks like you guys got a bad copy. Maybe someone dropped it or smeared vaseline on the rear element. Given the low CA the APO should outscore the Otus on MTF.


Reply | Read all replies for this comment
First replies for this comment
---
Zeiss 135 ZF.2

Emilie
Agree with Peoplewing.
Tests on the Zeiss 135 APO are long overdue :-(
Especially considering the Otus is fresh off the assembly line and has already been tested ...


Reply
---
Test Zeiss APO Sonnar 135 2.0?

One year after the preview of this lens a test with all the helpful DXO data would be a nice christmas present to the community.


Reply | Read all replies for this comment
First replies for this comment
---
Added by

Mokster

| October 04 , 2013

Carl Zeiss Apo Sonnar T* 2/135 ZF.2 Nikon

I hope you are able to get your hands on this lens and test it. It truly is world class, perhaps the best Zeiss lens available for the Nikon users to date.


Reply
---