DxOMark review for the Samsung EX1, Canon Powershot G12, Nikon Coolpix P7000.
Wednesday December 01 2010
Sensor Review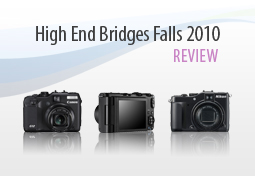 High-end bridge sensors: Questions of size and performance
"Travel light." This was the motto of pocket-sized cameras whose layout and controls were a perfect match to those of much bulkier DSLRs. Moreover, up to a few months ago, buying a DSLR was quite expensive. All this justifies the existence of a market for compact-sized cameras, based on compact sensors, but using reflex-style commands and interfaces.
The leader in this market segment is Canon, with its G series competing with Nikon Coolpix's P series, and more recently with Samsung, a true newcomer. While Canon had good success with its G11, Nikon missed the target —the P6000 did not seduce, mostly because of its so-so image quality. For Samsung, things are easier: they have to make their first entry as perfect as possible to stand a chance in an "expert" and demanding segment. Thus, the Canon G12, the Nikon Coolpix P7000, and the Samsung EX1 were the most anticipated launches for this autumn.
In analyzing these new models, and more precisely the behavior of their (highly similar) sensors, we want to know:
• What do they bring compared to their predecessors?
• What are the differences between our three models?
• How do these models compare with the newly-launched mirrorless cameras?
KEY FEATURES
The three models all have a different history, although their key features are almost identical.
The Canon G11 was a great product, and the G12 largely builds upon it. Sensor size and pixel count remain the same: 10 MP on a 1/1.7" CCD sensor. The major differences between the two generations are that the G12 is now able to record 720p videos, and that Canon added a DSLR-style dial on the right handle.
Nikon also has some experience in the compact domain, although the P6000 was not as good as anticipated. In essence, the P7000 is completely new. Its layout has nothing in common with that of the P6000 (some say that it now looks like a Canon G series camera), and the inside has been completely modified as well. The P6000 had a 13 MP 1/1.7 sensor. The P7000 uses the same kind of 10 MP 1/1.7 CCD sensor as Canon and Samsung.
Although it has an ever-growing selection of cameras, until now Samsung did not have a high-end compact. The EX1 (or TL500 if you live in Northern America) is Samsung's first model in this category. Samsung chose a safe recipe, using the same 10 MP 1/1.7" CCD sensor as the Canon G series.
Further readings for the DxOMark review for the Samsung EX1, Canon Powershot G12, Nikon Coolpix P7000.
To provide photographers with a broader perspective about mobiles, lenses and cameras, here are links to articles, reviews, and analyses of photographic equipment produced by DxOMark, renown websites, magazines or blogs.
---
---
---
---
---
---
---
---