Nikon 1 S1 review: A new product line for the Nikon Hybrid system
By Paul Carroll -
Wednesday February 20 2013
Sensor Review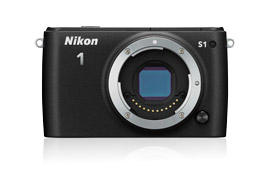 Launched in January 2013 the Nikon 1 S1 is a new product line in the Nikon 1 Hybrid Mirrorless Interchangeable Lens series. Targeted at advanced through to expert enthusiasts after a lightweight camera for photography daytrips and holidays the Nikon 1 S1 features a clean minimalistic design. Utilizing a smaller sensor and lower resolution than most of the Hybrid competition though how will it fare in the DxOMark Sensor Scores?
Late to the Mirrorless Hybrid party Nikon launched their first models, the V1 and J1, in 2011 and keen to catch up, updated V2 and J2 versions quickly followed in 2012. Then January 2013 saw the release of the new Nikon 1 S1 with the same size 1-inch Nikon CX sensor used in their previous Hybrids, which is physically smaller than the Micro Four Thirds or APS-C sensors in most of the competition.
The advantage of the smaller CX sensor however is that Nikon can design tiny lenses and their 1 Nikkor range is great for travelling light. For Nikon enthusiasts though the big draw of the 1 Series is compatibility with some Nikon F mount lenses via the $189 FT1 adapter. So you can use your top quality Nikkor glass and taking account of the x2.7 'crop factor' telephotos like a 300mm offer an incredible 810mm focal length.
The Nikon 1 S1 features the same 10.1-megapixel resolution found on most Nikon Hybrids with the exception of the 14.2-megapixel V2 and J3. There's also an increased 100 – 6400 ISO sensitivity range, 15 fps continuous shooting with autofocus and an Advanced Hybrid Autofocus system, but no hotshot or EVF.
With an initial price tag of $497 including a 11-27.5mm lens the new Nikon 1 S1 is cheaper than the 14-megapixel V2 and J3 but is over $100 more expensive than the original 10-megapixels V1 and J1. It's true to say the S1 does pack a few more features and performance capabilities, but does that extra cash also buy you better image quality? Let's find out.
Further readings for the Nikon 1 S1 review: A new product line for the Nikon Hybrid system
To provide photographers with a broader perspective about mobiles, lenses and cameras, here are links to articles, reviews, and analyses of photographic equipment produced by DxOMark, renown websites, magazines or blogs.
---
---
---
---
---