Nikon AF-D lens reviews
Thursday February 02 2012
Lens Review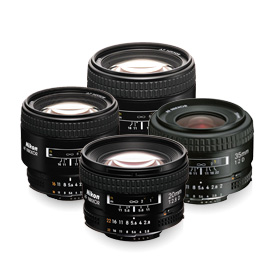 The Nikon Nikkor AF-D series
"Nikonists" still highly appreciate the AF-D-series lenses, all of which appeared in 1994. (Nikon usually adds the "D" after the aperture, as in "50mm f/1.4D AF," rather than "50mm f/1.4 AF-D," but both refer to the same lenses.)
One of the main limitation of these lenses is the absence of an integrated motorized autofocus. But they are compatible with motor-equipped Nikon DSLRs, such as the Nikon D3x. Further, in contrast to the more recent AF-G-series lenses, the AF-Ds have an aperture ring.
Out of curiosity as to why they remain popular to this day, let's just take a quick look at a performance analysis of the following lenses and see what kinds of DxOMark scores they achieve:
Further readings for the Nikon AF-D lens reviews
To provide photographers with a broader perspective about mobiles, lenses and cameras, here are links to articles, reviews, and analyses of photographic equipment produced by DxOMark, renown websites, magazines or blogs.
---
Lens Review
|
March 13, 2012
| | |
| --- | --- |
| | Here is a new series featuring the results of Pentax prime lenses mounted on the compatible camera with the best resolution thus far, the Pentax K5.  (But as usual, you can consult DxOMark to see the results for these lenses when mounted on other compatible camera bodies, such as the Pentax K7 or Km.) |
---