Nikon AF-S Nikkor 300mm and 400mm f/2.8G ED VR lens reviews: legendary performers in the range
By Kevin Carter -
Friday July 19 2013
Lens Review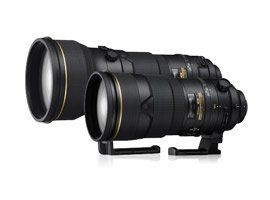 After the publishing the test results on the Nikon 500mm and 600mm f/4 super-telephoto lenses, we've now turned our attention to the 300mm and 400mm f/2.8 versions. Read on to see how well these legendary models perform.
High-speed telephoto lenses like these two are designed to offer the very highest image quality but they're somewhat pricey and restricted to specialist use. Where once the 300mm was the most popular, the 400mm is, arguably the most flexible in the range (especially when used with tele-converters with the aim of maintaining autofocus) and therefore the most sort after today. Both models share a number of similar features including three ED glass elements, Nano Crystal Coat and an ultrasonic type AF motor. Both models also feature the latest 4-stop VR II spec image stabilization and have prices to match.
Further readings for the Nikon AF-S Nikkor 300mm and 400mm f/2.8G ED VR lens reviews: legendary performers in the range
To provide photographers with a broader perspective about mobiles, lenses and cameras, here are links to articles, reviews, and analyses of photographic equipment produced by DxOMark, renown websites, magazines or blogs.
---
---
Comments
Testing of D7100, D5200 and D3200

As mentioned earlier take a chill pill. And take more photos and read less reviews. You have pro-level cameras (when compared to what was available just 5 years ago). If you like the images that you are producing then there is nothing to worry about. If you don't, first check to make sure your technique is up to snuff, and if it is go buy something else you really think is better (and of course tested, you wouldn't want to have any further doubts).

I love reading these tests and they can help guide me to 'value' lenses. I waited for months to see the D600 lens reviews and the results were no surprise. You can see it in the images if you have been shooting for a few years and still have your older lenses and camera bodies for comparison.


Reply
---
First replies for this comment
---
Added by

josa

| July 20 , 2013

Madness?

Take a pill and relax....


Reply
---
First replies for this comment
---
d7100 & 5200

Without wanting to sound conspiratorial and seen the poor results of 3200 ... perhaps not desirable post?


Reply
---
Nikon D7100 and Sigma Art lenses to be tested!

Sorry guys, but it is really silly to find another review for that covers just a few people in photography. People wait for months to see some lens tests for majority users! I am waiting as probably thousands of others for results of lens testings for the Nikon D7100 which is probably the best DX camera, but you choose for months to do everything but not it. What is wrong with that? It's ridiculous!


Reply | Read all replies for this comment
First replies for this comment
---