Nikon D810 sensor review: New DxOMark leader
By Kevin Carter -
Thursday July 24 2014
Sensor Review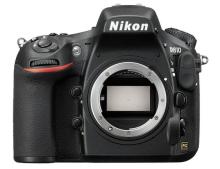 Nikon has enjoyed phenomenal success with both the Nikon D800 and D800E models, and particularly so with latter model with its unusual optical low-pass filter that cancels out the anti-aliasing effects. So it comes as little surprise to see the usual mid-term update, the D810, consolidates the two by offering a newly developed full-frame 36-Mpix sensor without optical low pass filter. We've had the opportunity to put the new camera through its paces this summer in our Paris-based labs. Read on to find out how well the sensor in this new revamped model performs.
The Nikon D800 has been one of the most successful cameras for the company in recent times, despite the relative high price and lofty aspirations. What's perhaps even more remarkable is the more specialist more expensive version, the D800E with its unusual optical low pass filter sans anti aliasing properties has seen demand outstrip supply since its introduction two years ago.
Although not unexpected, this new mid-term upgrade consolidates the two previous offerings with the familiar exterior and 36-Mpix FX format sensor into a single model but does away with the image blurring optical low-pass filter completely. While the pixel count remains the same Nikon claims the sensor is a new model and surpasses its predecessor as the benchmark for high-resolution images.
Besides the sensor the revamped model boasts a number of other refinements. First is the adoption of the new EXPEED 4 level processor introduced with the flagship D4s that with the new sensor permits a lower ISO 64 native sensitivity and a new upper limit of ISO 12,800, plus expansion to ISO 32 to 51,200. The more powerful processor also means the D810 has new higher 5fps burst capability (7fps in DX crop mode) and offers the new Group AF feature of the D4s. Video is naturally another data intensive function and the new model can capture 1080p video from ISO 64 in FX and DX-formats at higher 50/60p rates, useful for slow-motion techniques. There's also manual exposure control, focus peaking and zebra pattern display options for exposure warning plus audio monitoring while filming (displayed in live view mode).
 also adopts a new 3.2-inch 1,229k-dot RGBW LCD that promises a brighter display for improved visibility outdoors. Nikon also state the D810 has a new, re-designed mirror box and shutter assembly with electronic first curtain for reduced vibration found on several rival models from Canon and Sony, and which is crucial addition for photographers looking to maximize the potential of the sensor and lens. The new camera is available for pre-order at $3,296 body only.
For more information, please see our preview of the Nikon D810
Key specifications
•    36.3-Mpix FX-Format CMOS Sensor
•    No optical low pass filter
•    EXPEED 4 type image processor
•    3.2" 1,229k-dot LCD monitor
•    Full HD 1080p video at 60/30/24 fps
•    Continuous shooting to 5 fps in FX mode
•    Expandable sensitivity to ISO 51200
•    51 point Multi-CAM 3500FX AF sensor
•    Electronic front curtain shutter
•    External mic and headphone inputs
Further readings for the Nikon D810 sensor review: New DxOMark leader
To provide photographers with a broader perspective about mobiles, lenses and cameras, here are links to articles, reviews, and analyses of photographic equipment produced by DxOMark, renown websites, magazines or blogs.
---
---
---
---
Comments
D810 Lens compatibility

Hi Guys,
I have just purchased the Nikon 24-70 AF-S 2.8 G lens.
Am I correct to assume that this will work properly on both the D750 and D810?
I also have an older 80-200 2.8 AF-D which, when coupled with my D700 is sharp to the T.
I recently tried it on a DX cam (D3300) and much to my surprise would not perform auto focus.
I am about to purchase the D810 or D750 and before doing so, wanted to get your experience about this lens/ camera compatibility. Thanks in advance.


Reply | Read all replies for this comment
First replies for this comment
---
Added by

abinyah

| September 30 , 2016

D800 + 70-200 VRII and 28-105 Macro

Through a weird happenstance, I ended up getting both a D800 and D2Xs at the same time when I upgraded from my battle hardened F100. I had a bunch of older lenses and one new 70-200VRII when I dove into digital. Surprisingly the best results and the most versatile lens I have is my 70-200 with a Polarizer and my old 28-105 macro + polarizer on my D800. For flower and nature photography, it can't be beat. The 28-105mm came kitted with my F100 about 16 years ago, but for some reason the D800 and 28-105 combo just gives amazingly aesthetic results in macro mode. I've won a few photography awards using that combination.

Why? It could be the fact this low (grainy) resolution lens matches up perfectly with the 36 Mpix D800 (35mm film equivalent of the film era) high resolution camera. Done right it produces some of the most pleasing pictures I've taken, and maybe just delivers the best of both worlds. I learned a lesson that not always the highest resolution lens wins out. Aesthetic matters. So my kit is often my 70-200VRII and my 28-105 macro, polarizer and graduated filter with my D800.


Reply
---
First replies for this comment
---
Nikon D810 quiet mode

Hello.
With the new D810 how quiet is it compared to the D800/e ? I have a D800e and a D7100.. I am considering trading in the D7100 since I tend to use my D800e more. Both cameras i have on quiet mode aren't that quiet. Maybe the shutter has been improved on the D810 ? I heard a Canon EOS 5d -iii and that was very quiet.


Reply | Read all replies for this comment
First replies for this comment
---
Nikon 300mm

Any idea about the real quality of the new 300mm AF VR 4.0 on the D810 ?


Reply
---
Compatibility of Lenses with Nikon D810

Can anyone help me please,
I want to buy Nikon D810 camera because I have the following lenses, but I'm wondering if they're compatible with Nikon D810 or not? Can anyone help with this?

These are the lenses:
NIKKOR 70-200mm 2.8G
NIKKOR 28-70mm 2.8D
NIKKOR 80-400 4.5-5.6D

I'll highly appreciate if anyone can help me with that>

Thanks


Reply | Read all replies for this comment
First replies for this comment
---
I love my D810!

Having owned the D5200 and D7100, I always felt something lacking. While I still love my D7100, I always read that "Full Frame" is better or ""Full frame isn't that much better".

I needed to find out for myself because I didn't want to be bothered with the back and forth debate. I purchased my D810 about 3 months ago and I don't want to shoot with my D7100 any longer. Having purchased FX lens for my DX cameras, I instantly had the lens full focal length. I gained extra sharpness and depth of field to my images. The amount of customization and options for the D810 just made it clear to me that the DX vs FX debate is stupid. FX is the way to go, for me at least. I avoid other websites reviews and I only view DXO Marks as the #1 trusted source, again for me at least as it has never steered me wrong.

I just wish Sigma would send DXO Mark the 50mm 1.4 art lens to see what scores it achieves on the D810. Great work team, love the site and the numbers provided in your test.


Reply
---
Nikon 50mm Lenses for D810

Hello, could someone please help me understand what's going on with the Nikon 50mm lenses scores on the D810? What I mean by that is, I've spent a bit of time comparing the 1.8G, 1.8D, 1.4G and 1.4D and for the life of me I cannot understand why the 1.4D is at the top of the list between all these. Seems to me that between f/4 and f/11, the 1.8D is actually more uniformly sharp than the 1.8G and just about as sharp at that aperture as the 1.4G and in any case it has the least linear distortion out of all of Nikon's 50mm lenses and is rated at 23P-Mpix overall, higher than the rest. How can this be so and why would they not even put the 1.8D on the list? Also, when comparing the sharpness measurements (field maps) between the 1.4G and 1.4D, it seems to me that the 1.4G is actually better than the 1.4D in overall sharpness yet somehow the D got a higher sharpness score and is considered the top Nikon 50mm for the D810? Either I must be missing something obvious here, (entirely possible) or I'm just totally confused (definitely so). Would someone care to explain?


Reply | Read all replies for this comment
First replies for this comment
---
Added by

mbu

| February 24 , 2015

Lens Compatibility

I have the Nikon cameras D810 and 800 E & D7000. lenses from Nikon and Sigma, And when using DxOPro10 almost there no lenses that do not suitable or meet the above cameras And the quality is amazing.


Reply
---
Added by

WillT

| February 12 , 2015

D810 Lens

First, my D800E is back resting in the box after using my new D810 in Jackson Hole for 5 days! I rarely take the Zeiss Otus 1.4/55 off any more... I did strain and used Nikon DC135 F2 a few times. Manual with the 810 is much easier than with the 800E. Other glass in my bag: Nikon 85 F1.4G, 24-70, 70-200 VRII. I have decided that the Otus line is so much better to me, that I will purchase each as the come out. Also, going to loose my DC135 for a Zeiss 135, my mistake to start with! Please keep up the great work DXO!!!

Will T


Reply
---