Olympus PEN E-PM2 review: Entry-level hybrid gets top-of-the-line sensor
By Janice Chen -
Tuesday November 20 2012
Sensor Review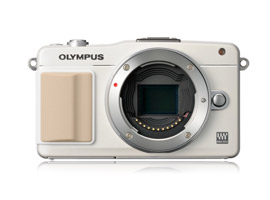 Introduced in mid September, the Olympus PEN E-PM2 is the second generation of Olympus' entry-level Micro Four Thirds hybrid camera. It sports a newly updated design with a useful, fixed grip and a touch-screen interface among other updates, but the big news is that it has inherited the sensor of the much-admired Olympus OM-D E-M5, the current top-of-the-line Micro Four Thirds camera.
When the PEN E-PM2's predecessor, the E-PM1, first came out in August of last year, it was the smallest and least-expensive Micro Four Thirds camera available and among the smallest of the hybrid compact interchangeable lens cameras (only the Pentax Q was smaller, but its image quality was limited by a compact-camera-sized sensor). At the time, the three Olympus hybrid entries trailed not only hybrids from Sony and Samsung with larger APS-C sensors, but also its Micro Four Thirds competitors such as the Panasonic Lumix DMC-GH2, -GF2, and -G3 in terms of image quality.
This year, however, Olympus has updated its smallest and lowest price new model (and bumped up its price by $100 to $599) with the same 16-megapixel CMOS sensor that's in its high-end OM-D E-M5, which significantly improves its image quality and performance. The E-PM2 has also ramped up continuous mode shooting to 8 fps, compared with 5.5 fps in the E-PM1, and bumped the maximum ISO sensitivity rating to 25,600 (up from 12,800). Combined with other new features—such as 1080 HD video at 30 fps, a touch-screen interface, and a new body design with a grip and additional function buttons—the E-PM2 is getting pretty close in functionality to the step-up Olympus PEN E-PL5, although the latter does add an articulating display, more extensive controls via a mode dial, and a removable grip.
Further readings for the Olympus PEN E-PM2 review: Entry-level hybrid gets top-of-the-line sensor
To provide photographers with a broader perspective about mobiles, lenses and cameras, here are links to articles, reviews, and analyses of photographic equipment produced by DxOMark, renown websites, magazines or blogs.
---
Sensor
|
November 20, 2012
| | |
| --- | --- |
| | Introduced in mid September, the Olympus PEN E-PM2 is the second generation of Olympus' entry-level Micro Four Thirds hybrid camera. It sports a newly updated design with a useful, fixed grip and a touch-screen interface among other updates, but the big news is that it has inherited the sensor of the much-admired Olympus OM-D E-M5, the current top-of-the-line Micro Four Thirds camera. |
---
---