Pentax MX-1 review: High-end compact with retro appeal delivers competitive sensor performance
By Janice Chen -
Thursday February 28 2013
Sensor Review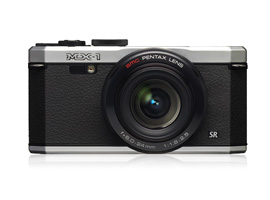 Announced this January at CES 2013, the Pentax MX-1 is Pentax's first foray into the relatively crowded field of high-end-compact cameras. With a 12-megapixel, 1/1.7-inch backlit CMOS sensor, the Pentax MX-1 competes directly with established high-end compacts like the Canon PowerShot S110, the Panasonic Lumix DMC-LX7, Olympus XZ-2 iHS, and Nikon Coolpix P7700 among others, many of which have already been through multiple updates and iterations.
Released just a month after being announced at CES, the Pentax MX-1 enters an extremely competitive enthusiast compact camera market, which has heated up significantly after being dominated by Canon and Panasonic for years. Unlike Pentax's first foray into the interchangeable lens compact camera market, the Pentax Q, which sported an above-average price with a smaller-than-average sensor relative to its interchangeable lens peers, the MX-1 sports specs that are right on the money for its $499.95 price tag and high-end point-and-shoot market. Like the Olympus XZ-2 ($599.99) and Nikon P7700 ($499.95), the Pentax MX-1 is built upon a 12-megapixel, 1/1.7-inch backside illuminated CMOS sensor. Not only does it deliver admirable specs for the price—such as a bright 28-112mm equivalent f/1.8-2.5 4x zoom lens; a high-resolution 3.0-inch, 920,000-dot tiltable LCD; and a wide ISO 100 to 12,800 sensitivity range—but it also shoots 1080p 30fps HD video as well as JPEG, Raw, and Raw+JPEG stills, and offers an HDR mode.
On top of the competitive specs and feature set, the MX-1 also delivers in the one area the Pentax Q really did shine: design. With a vintage rangefinder-styled look that rivals Fujifilm's popular X Series for its retro appeal, Pentax takes the trend one step further by using painted brass panels that are intended to wear and develop a patina over time. The retro trend—arguably begun when Olympus first revived its iconic PEN design for its interchangeable lens compact cameras—has proven attractive to the enthusiast market that the MX-1 is targeting, and Pentax's use of an SLR-like interface with the MX-1 no doubt targets that same market of enthusiasts.
Further readings for the Pentax MX-1 review: High-end compact with retro appeal delivers competitive sensor performance
To provide photographers with a broader perspective about mobiles, lenses and cameras, here are links to articles, reviews, and analyses of photographic equipment produced by DxOMark, renown websites, magazines or blogs.
---
---
---