Samsung NX500 sensor review: New leader for hybrid APS-C sensor image quality
By Paul Carroll -
Wednesday October 07 2015
Sensor Review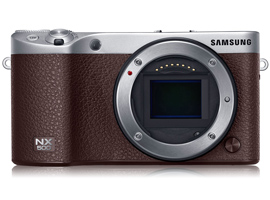 Packing a 28.2Mp BSI CMOS sensor, the Samsung NX500 is one of the highest-resolution APS-C hybrids cameras currently available. Wasting no time after posting scores for its sister model, the NX1, our latest review analyzes the stats and scores for the NX500.
Introduction: BSI sensor leads the way for APS-C chips
Announced early in 2015, the $800 Samsung NX500 offers a high-resolution 28.2Mp APS-C BSI-type sensor for detailed stills and 4K video capture. Adopting much of Samsung's DSLR-style NX1 hybrid camera, the NX500 boasts some high-end features in a petite and compact shell. Its diminutive dimensions means there's no room for a built-in electronic or flash unit, but the NX500 does feature a hotshoe for attaching external flash, including the low-power unit that comes supplied with the kit.
For those seeking out top-notch image quality from a small and lightweight camera, the development of Samsung's BSI sensor technology is the big draw. With the sensor essentially flipped upside-down, enabling light to reach the photoreceptors more efficiently than with conventional sensors, a better quality of light can be recorded. With impressive scores posted for the Samsung NX1, our hopes were high for image quality on the NX500. So, without further ado, let's analyze the results.
Key features & specifications
28.2Mp APS-C CMOS BSI sensor
DRIMe V image processor
NX AF II 205-point phase-detection AF
3.0-in AMOLED LCD
4K video capture at 24fps
Expandable ISO 51,200 max sensitivity
9fps burst shooting
Bluetooth, Wi-Fi & NFC connectivity
Further readings for the Samsung NX500 sensor review: New leader for hybrid APS-C sensor image quality
To provide photographers with a broader perspective about mobiles, lenses and cameras, here are links to articles, reviews, and analyses of photographic equipment produced by DxOMark, renown websites, magazines or blogs.
---
---
Comments
Samsung NX500

This camera seems to be fantastic considering its small size and its APSC sensor but where can we find lenses for it? Do lens makers like Sigma or Tamron produce lenses with Samsung mount? I often browse the American website the imaging resource where you can compare images taken with various cameras and it is true that the NX 500 is even better than the nikon D 7200.I am French and I would also like to knoow where you can buy this camera.


Reply | Read all replies for this comment
First replies for this comment
---
Added by

donut

| October 21 , 2015

Does the DXO mark max at 100?

I see the bar goes to 100
is that the maximum score DXO mark can reach?
in other words - are we with a maximum score of 98 almost at the theoretical end of progression?


Reply | Read all replies for this comment
First replies for this comment
---
First replies for this comment
---
Another reason get that sensor tested

So another camera using that BSI sensor. Why do I get the feeling that will see measurements for the D7200 before we see for the NX1 and the NX500.I mean if we ever get to see those.


Reply | Read all replies for this comment
First replies for this comment
---
Re: Sensor Score

We will never see the tests for the Samsung NX1 cause DXOMark is biased towards big companies, that is were they get their ca$h from.


Reply | Read all replies for this comment
First replies for this comment
---
Sensor Score

Are we going to see results from the NX1 soon? My hunch is it will be the highest scoring APS-C sensor on the market, but curious none-the-less.

I would also like to try out DXO Software again, something other than Lightroom, but I can't since it doesn't support my NX1 yet.


Reply | Read all replies for this comment
First replies for this comment
---