Sony A7R II sensor review: New high water mark in sensor dynamics
By Kevin Carter -
Thursday August 27 2015
Sensor Review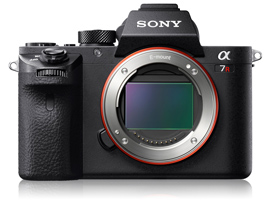 Building on the success of the full-frame 36-Mpix Sony A7R, the recently announced update to that model looks to be one of the most promising cameras of the year. Along with a slight increase in pixel count over the original, the sensor in the 42-Mpix A7R II offers BSI architecture and on-chip PDAF with 399 points. Read on to find out how well this new sensor performs.
Specifications and Features
With the original Sony A7R mirrorless camera offering a related sensor and therefore similar performance to the much larger and heavier Nikon D810 SLR, it's perhaps unsurprising that the update to that model, the Sony A7R II, is one of the most talked-about models of the year. Although the body is a little bigger (and more durable) than its predecessor, the A7R II has potentially a lot more to offer.
Along with an increase in pixel count to 42-Mpix, the full-frame sensor is the first of its kind to feature backside illuminated (BSI) architecture for improved low-light performance. As a consequence, the larger pixels not only gather more light, but in theory they also reduce the effects of shading and color shifts at the periphery of the frame. This is particularly so when mounting lenses that project highly oblique light rays (such as short focal length rangefinder lenses).
More room for larger pixels and more electronics means Sony has boosted the number of dedicated on-chip PDAF pixels. It now features 399 phase-detect points (plus 25 contrast-detect points) that should aid AF performance, particularly with A-mount lenses when used with the relevant adapter. In addition, the sensor is now mounted on a stabilized platform and offers compensation for vibration along 5 axes at up to 4.5 stops (CIPA standard). High-speed architecture and a powerful Bionz X-type processor allows UHD 4K (3840x 2160) video capture in Super 35mm crop or full-frame mode at 30/25/24 fps, and at high bit-rates up to 100Mb/s.
Although we're principally concerned with the sensor dynamics here at DxOMark — and the sensor spec is impressive — the camera features an improved shutter design with greater durability and lower vibration. It also features an electronic front-curtain feature to further reduce the effects of vibration, as well as a fully-electronic silent shutter option. Also upgraded is the built-in finder. It's now a 2.36M-dot OLED type with a 0.78x magnification. At the rear, the A7R II has new 3.0" 1.3M-dot tilting LCD with increased brightness and more accurate color using RGBW pixel layout. Both display zebra- and focus-peaking, plus there's a 3.5mm microphone jack and same-size headphone socket with a real-time levels display. Finally, built-in WiFi connectivity with NFC allows live view and camera control with mobile devices.
The Sony A7R II measures 5.0 x 3.8 x 2.4" / 126.9 x 95.7 x 60.3mm and weighs 22.05 oz / 625g. It is available now at around $3,200 (USD).
42-Mpix full-frame R Exmor R BSI CMOS sensor
Built-in 5-axis stabilization platform
399 on-chip phase-detect points
ISO102,400 and EFC (electronic front curtain)
Reduced vibration shutter
Bionz X image processor
Continuous shooting up to 5 fps.
2.36M-dot OLED EVF
3.0-inch 1.3M-dot tilting LCD
UHD 4K video at 30/25/24 fps, HD up to 60 fps
Built-in WiFi with NFC
Further readings for the Sony A7R II sensor review: New high water mark in sensor dynamics
To provide photographers with a broader perspective about mobiles, lenses and cameras, here are links to articles, reviews, and analyses of photographic equipment produced by DxOMark, renown websites, magazines or blogs.
---
---
---
Comments
Why the dramatic increase in lens sharpness?

When comparing a lens mounted on the A7R and A7RII, why is it the lenses are way sharper on the A7RII? The camera only offers a 6MP increase in resolution, yet the lenses show a much greater increase in sharpness? Why is this? For example, the Sony FE 16-35mm F4 ZA OSS scores 16MP on the A7R and 26MP on the A7RII.

Can someone from DxO explain this? Thank you.


Reply
---
Any idea when the 18mm Zeiss Batis f2.8 lens will be measured?

Has been out for a little while now so suspect that tests are in-progress?


Reply
---
Consequences

I was holding off purchasing the F2.8 24-70 due to its poor measured performance on the A7r. But now I have purchased it and used it a couple of days. Worth every penny. Other major changes: Many lenses with PMP well above above 30 mp. Whereas we were content with lenses rated in the high teens on 22 and 24 mp ff cameras, now regular pmp potential from the high 20's to the low 40's is the new standard, on A7rII and Canon 50DS-R, Even with carefully selected more budget oriented primes like the Sony 28mm F2, 90mm f 2.8 and 55mm 1.8., resolution unheard of is being achieved on a camera with fantastic low light potential, and in some cases, while retaining the small form factor. No lens measurements yet on Canon's new 5D MkIV, which may now face some tougher competition, but which also may soon be shown to have excellent pmp from Canon's own high quality lenses. DXO has documented that photography has taken some amazing step forward.


Reply
---
Stunning Reversal

It could be said, these measurements, having arrived so late, change nothing. But to me a game changer. The numbers provide needed stunning confirmation that as used with the A7rII, these lenses, that were suffering from lower numbers tested on the original A7r, are every bit the equal, and in many cases significantly better than the best from Nikon, Canon, Sigma and others. Higher pmp than that achieved by the Canon 50 megapixel camera; higher than achievable by the new Canon 5D Mark IV and higher even than numbers from the Nikon D810. In fact in the case of the Sony FE90mm f2.8...PMP that achieved 100% of actual MP...Maybe the first time ever in this data base. Suddenly third party lenses with semi functional adapters are near irrelevant. Long time in coming...but congratulations due to Sony.


Reply | Read all replies for this comment
First replies for this comment
---
Sony,Boom~!!!

All FE Lens of sony\Zeiss\Samyang and so on are "taking off~ " 85GM even more than Otus85!(but otus on D800E,3600pix zzz) FE55,FE90 is so sharpness!


Reply
---
A7R II Lens testing coming before an A7R III arrives?

The A7R II is nearly 11 months old.

DXO has reported precisely *zero* lens tests on Sony's best rig. Why is that, exactly?


Reply
---
First replies for this comment
---
No Dynamic Range on ISO 50?

what if the manufacted ISO of 50, messured 77, apply an other tonecurve?


Reply
---
Added by

tayne

| November 02 , 2015

Uncompressed RAW update and lens testing-- When?

Will you be doing an update to your DXO numbers with the new RAW update for the a7rII. Also there are currently no lenses tested with this new model. It would be great to see how the lenses stack up on this new body. Their have been several new lenses released and I use your numbers to help me decide which fit my needs. Thanks for all your hard work it is very much appreciated.
Thanks,
Tayne


Reply | Read all replies for this comment
First replies for this comment
---
Sony - Why no touch screen?

I would buy into the Sony system if they had touch screens. Why on earth no touch screen?

My old Canon 70d with dual pixel and touch screen which was able to pull very cinematic focus changes. 1080 max video res though. Another wonderful feature for stills: touch a point of interest and the very moment the camera attains focus it captures the image.

Then I bought a Samsung NX1 for mostly shooting 4K to a PIX-E5H also capable of cinematic focus by touch. Again this camera allows you to touch a point of interest and capture the still image the moment it achieves focus.

Now I'm shooting the Panasonic AG-DVX200 and a PIX-E5H still very happily taking advantage of cinematic touch to focus capabilities.

I sounds as if the a7R II would be awesome in terms of face tracking etc but it is HOBBLED by not having a touch screen. How do you change faces (or point of interest) for focus, in mid-take, while shooting video? Abandon the camera's intelligence and focus manually. Wait, what?

After shooting video with several cameras capable of cinematic focus pulls by simply touching the screen I will NEVER go back to another focus method for run-n-gun documentary type shooting. The touch to focus during video significantly increases the percentage of good takes while allowing me more time to think about composition and point of view and less time thinking about focus.

Before anyone comments about how they prefer physical buttons (the non-smartphone users among us I assume), please realize that all three of these cameras offer full normal functionality through button pressing, and they also allow important (imho) additional features which can't be accomplished with button pushing.

Hey Sony... anybody listening? Why no touchscreen?


Reply
---