Sony E 55-210mm F4.5-6.3 OSS lens review: Balanced performer
By Kevin Carter -
Monday March 17 2014
Lens Review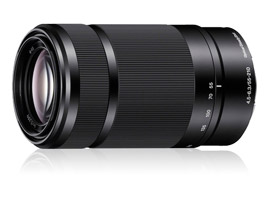 Recently announced in a black finish, the original chrome-bodied version was the first telephoto zoom for the firm's NEX mirrorless models and was intended to complement the 18-55mm kit lens. Read on to find out how well it performs.
Introduced in 2011, Sony's E 55-210mm f4.5-6.3 OSS falls into the firm's entry-level line-up, and was the first telephoto zoom launched for the NEX, now Alpha, APS-C mirrorless models. As the equivalent to an 85-320mm, this sensitively priced model is an obvious counterpart to the firm's 18-55mm starter lens. Despite being aimed at beginners, it features two extra low dispersion glass elements and one aspherical lens in its construction. The latter is used in the focusing group to improve AF accuracy from the camera's contrast detection AF system.
Sony's OSS four-stop stabilization system is included to reduce camera shake - a useful addition in a long lens with only a moderate maximum aperture. This model can also boast internal focusing and a linear driven 'stepper' type AF motor for smooth, near silent focus operation. With a 49mm filter thread, the lens measures 2.51 x 4.25" (63.8 x 108 mm) and weighs in at 12.17 oz (345 g). It's available for around $350.
Further readings for the Sony E 55-210mm F4.5-6.3 OSS lens review: Balanced performer
To provide photographers with a broader perspective about mobiles, lenses and cameras, here are links to articles, reviews, and analyses of photographic equipment produced by DxOMark, renown websites, magazines or blogs.
---
---
Comments
For its price its a great lens.

I bought the lens from ebay at half the price, 150 euros.
I am impressed by the quality and its sharpness.
In comparison with bridge cameras or super zoom ones that lens is very sharp.
Of course it can't be compared with serious lenses for full frame cameras that cost above 1000 euros.
It is very light with an aluminium barrel. It has a variable maximum aperture relative to the focal length. For video above the f/6.3 the apperture doesn't change during zoom in and out.
It has steadyshot image stabilisation which is very efficient with my Sony Nex3 camera. Unfortunately my new full frame Sony a7 doesn't support it, even with the latest firmware.
It is small but it looks huge and heavy in relation with the small sony NEX 3 cammera.


Reply
---
First replies for this comment
---
Re: The score ???

Hi,
Thanks for contacting us. The sharpness uniformity is not as good on the Sony Aplha DT lens. On the other hand, the Sony NEX 7 has less noise on its sensor. Plus make sure you keep in mind that the DxOMark Score take every image quality aspect into account.
Best regards.


Reply
---
First replies for this comment
---
Re: SEL55210 review

Hi,

Thanks a lot for the kind words. The Sony E mount 55-210mm f/4,5-6,3 will be reviewed very soon! So make sure you stay tuned on our website or on our Facebook and Twitter pages. Regards.


Reply
---
Sony E 55-210mm F4.5-6.3 OSS REVIEW???

Well i'm new to this csc/reflex photography world, so i really need a review (an objective one) about this lens, to compare it with the Sony 18-200mm lens (not the PZ). The reviews i've read, said that the 55-210 it's great, that the 18-200 it's greater and so on. I know that the most probable thing it's that the 800 US vs 300 US price tag has something to say, but it's really the triple of the cheaper 55-210 lens?

Tnx for reading
Sorry for my english
Greetings from Chile!


Reply
---