Sony Zeiss Sonnar T* FE 35mm f2.8 ZA lens review: Model behavior
By Kevin Carter -
Monday February 03 2014
Lens Review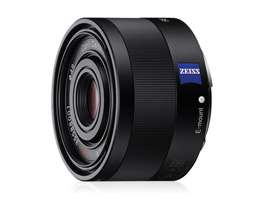 The Zeiss Sonnar T* FE 35mm f2.8 is a compact moderate wide-angle lens designed for the full-frame mirrorless Sony Alpha A7 and A7R. But with only a moderate-speed f2.8 maximum aperture and an $800 price tag, optical performance has to be first rate. Read on to find out if that's the case.
The Zeiss Sonnar T* FE 35mm f2.8 ZA is the smallest of five new full-frame E-mount lenses to accompany Sony's full-frame mirrorless 36-Mpix Alpha 7R and 24-Mpix Alpha 7 cameras. With an $800 price tag it's a premium model consisting of a high-grade optical construction with 3 of the 7 elements (arranged in 5 groups) being double sided aspheres – that's a total of 6 aspherical surfaces.
As well a rounded 7 diaphragm with 7 blades it features internal focusing (with no extending or rotating barrels) and has a minimum focusing distance of 1.15 ft. (0.35m) Like others in the range there are no distance markings (or depth of field scale) on the barrel, but it has a metal outer shell complete with dust and moisture resistant sealing. Best of all perhaps it weighs just 4.23 oz (120g) and measures a miniscule 1.44 " (36.5mm) front-to-back, and comes bundled with a rather neat lens hood (but a case is extra).
Further readings for the Sony Zeiss Sonnar T* FE 35mm f2.8 ZA lens review: Model behavior
To provide photographers with a broader perspective about mobiles, lenses and cameras, here are links to articles, reviews, and analyses of photographic equipment produced by DxOMark, renown websites, magazines or blogs.
---
---
---
Comments
Sony Zeiss 35 & 55mm FE lenses vs Sigma 35mm f1.4

<div id="linkdxomark">This a comment for <a href="http://www.dxomark.com/Lenses/Sony/Sony-FE-Carl-Zeiss-Sonnar-T-STAR-35mm-F28">this page on the website</a></div>Thank you DXO for a very useful test. I currently have the Sigma 35mm 1.4, albeit on a Canon 5D2, and it's a real joy to use. It's my favourite lens. I will buy the much smaller and lighter Sony A7R but to do so I will have to sell my lovely Sigma and the Canon 5D2 plus more Nikon cameras and lenses.
The report has convinced me that although the Sony Zeiss 35mm 2.8 is not quite as good as the Sigma 35mm, although it is nearly as sharp as the lovely Sigma, it fulfils the brief to keep my equipment small and light (120 gms vs 665 gms lenses only!). I enjoy working with a tiltable screen on a tripod as most light tripods don't reach my eye level. The Sony Zeiss lenses are weatherproof too. On my wish list will be the Sony Zeiss 55mm 1.8 and who knows, maybe later the Sigma 35mm 1.4 for special occasions!
Thanks again for a very helpful report.


Reply
---
a7/FE35ZA

I have the a7 with the 35 u've tested and have never had a sharper combo. The vignetting u report in your test data is something I've never experienced. I can't even imagine anything from Sigma being an equal. Test data can show many difference results. I prefer the real thing. Choose your camera and shoot. I'll keep mine. Looking fwd to the 55 next yr.

Thanx


Reply
---
Carl Zeiss Sonnar T * 35mm F2.8 ZA объектив

Уважаемый DXO, вы протестировали этот объектив на А7R и nex 7. У вас получилось разрешение объектива на A7R = 22, а на nex 7 = 12. А какое разрешение будет на А7 ? Спасибо.


Reply | Read all replies for this comment
First replies for this comment
---
Thank You

Thank you DxO. That makes the Sony A7R an acceptable travel camera and lens alternative.


Reply
---
First replies for this comment
---
DSLR versus MIRRORLESS

The big question.
Even though Sony made the mistake to overly compress the flange distance on the A7(r) with subsequent compromise in corner IQ, the performance of the A7R with the Sony FE Carl Zeiss Sonnar T* 35mm F2.8 ZA lens will be a cornerstone in determining the near future of mirrorless cameras.
Please, DxO, we are turning to you for an answer to that question !


Reply
---
---
Dear DxO, please test this lens !

Please test this Sony FE Carl Zeiss Sonnar T* 35mm F2.8 ZA lens.
It will determine if the Sony A7(R) with this one and only available lens is competitive with the Nikon D800(E) + Sigma 35 f/1.4 lens.


Reply | Read all replies for this comment
First replies for this comment
---