Zeiss Apo Sonnar T* 2/135 ZE Canon mount lens review: Ultra-high performer
By Kevin Carter -
Tuesday January 14 2014
Lens Review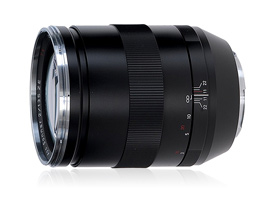 After reviewing the Nikon mount ZF.2 version of the Zeiss Sonnar T* 2/135 we've now analyzed the Canon ZE mount model. Read on to find out how well it performs.
Following the withdrawal of Contax reflex cameras from the market, Zeiss, as lens developer to the system, re-established production in Japan by modifying some of the previous optical designs to fit Pentax, Nikon and Canon models. Today the line consists of 13 models with the Sonnar T* 2/135 (135mm f2.0) being the latest addition (not counting the new Otus range) though the firm now only supplies models in Canon or Nikon mount.
This newly designed high speed 'Apo' model has 11-elements arranged in 8-groups and features a 'floating elements' design for improved sharpness at close range. The Zeiss can focus down to 0.8m (2.62 ft), closer than most rivals of the same focal length. Designed specifically for the Canon EF mount, the ZE model features data contacts for electronic aperture control but, like others in the range, this lens has no autofocus capability – it's manual focus only.
Lacking the aperture collar of the Nikon mount version, the ZE model looks very different externally and is marginally heavier at 2.05 lbs. (930g) and slightly longer overall at 5.12" (130mm). As a full frame model the $1,600 Zeiss Apo Sonnar T* 2/135 ZE is also a good choice for APS-C format DSLRs, where it's the equivalent of a 216mm f2.
Best performing moderate telephoto primes on the 22-Mpix Canon EOS 5D Mark III.
Further readings for the Zeiss Apo Sonnar T* 2/135 ZE Canon mount lens review: Ultra-high performer
To provide photographers with a broader perspective about mobiles, lenses and cameras, here are links to articles, reviews, and analyses of photographic equipment produced by DxOMark, renown websites, magazines or blogs.
---
---
Comments
Carl Zeiss Sonnar T* 135/1.8 ZA

Another interesting review! Thanks very much for all your work bringing us all these informative reviews. Now you've reviewed this lens for Nikon and Canon, how about finally bringing us a review of the Alpha equivalent, Carl Zeiss Sonnar T* 135/1.8 ZA?


Reply | Read all replies for this comment
First replies for this comment
---
Re: Carl Zeiss Sonnar T* 135/1.8 ZA

Hello,

We still try to get hand on Sony 135mm f/1.8...

Best regards,

The DxOMark team


Reply
---
First replies for this comment
---
Added by

Peter.H

| January 15 , 2014

Re: Sony Carl-Zeiss 135 f/1.8 ZA

Quote:


<div id="linkdxomark">This a comment for <a href="http://www.dxomark.com/Lenses/Carl-Zeiss/Zeiss-Carl-Zeiss-Apo-Sonnar-T-Star-F2-135-ZE-Canon">this page on the website</a></div>I'd love to see a comparison between Sony Carl Zeiss 135 f/1.8 ZA and this lens.


Yes, Zeiss Sonnar T* 1,8/135 ZA Sony is one of the best lens in the world.


Reply
---
Re: Sony Carl-Zeiss 135 f/1.8 ZA

Hello,

We still try to get hand on Sony 135mm f/1.8...

Best regards,

The DxOMark team


Reply
---