Introduced in October of this year, the Apple HomePod mini promises to deliver big sound in a very small package. As Apple puts it, "At just under 8.5 centimeters tall, it takes up almost no space but fills the entire room with rich, 360-degree audio that sounds amazing from every angle." It also promises "deep bass and crisp high frequencies," "fine-tuned sound at any volume," and "incredible bass extension." The wireless speaker syncs with other Apple devices, and Apple says its voice assistant, Siri, can recognize the voices of as many as six different household members.
We put the Apple HomePod mini through our rigorous DXOMARK Wireless Speaker test suite. In this review, we will break down how it fared at audio playback in a variety of tests and several common use cases.
Key specifications include:
Full-range driver and dual passive radiators
AirPlay2, Bluetooth
Inputs: Wireless, 802.11n Wi-Fi
Stereo pair capable
Assistant: Siri
Spherical, 84.3 mm high x 97.9 mm wide (3.3″ x 3.9″)
345 grams (.76 lbs)
Available in space gray or white
Test conditions:
Communication protocols: AirPlay 2 and Apple TV
Firmware version: 14.2
About DXOMARK Wireless Speaker tests: For scoring and analysis in our wireless speaker reviews, DXOMARK engineers perform a variety of objective tests and undertake more than 20 hours of perceptual evaluation under controlled lab conditions. This article highlights the most important results of our testing. Note that we evaluate playback using only the device's built-in hardware. (For more details about our Speaker protocol, click here.) The Apple HomePod mini falls into the Essential category of devices in the DXOMARK Speaker rankings.
Test summary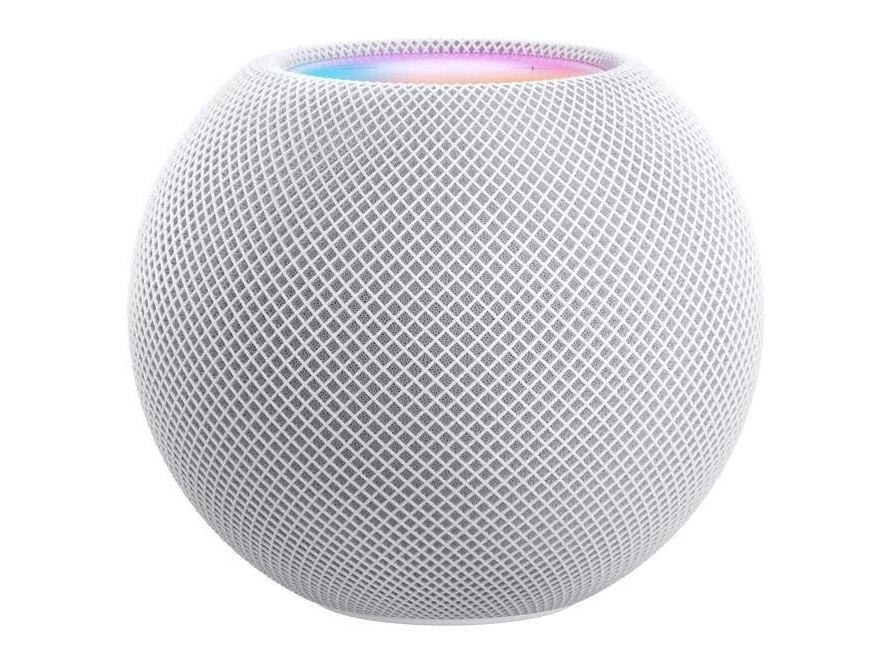 Apple HomePod mini
98
speaker
With a global score of 98, the Apple HomePod mini lands among the lower-scoring devices in our "essential" category of wireless speakers (those costing less than 200 euros), tying with the Yandex Station, a Russian wireless speaker. For context, the Amazon Echo Studio holds the top score of 124, and the Baidu Xiaodu Smart Speaker Ultimate Edition has the lowest score at 48. Our engineers were impressed by the performance of the Apple HomePod mini considering its truly small size. It produces good timbre rendering with precise treble and clear midrange in most use cases. They also gave it high marks for directivity, with consistent sound all around the speaker. It also produced few artifacts.
The Apple HomePod mini performed best in the use cases involving quiet listening or for background music — it scored well in the "relaxing" and small gathering use cases. But it's not very well suited as a speaker for loud party music or even for movies.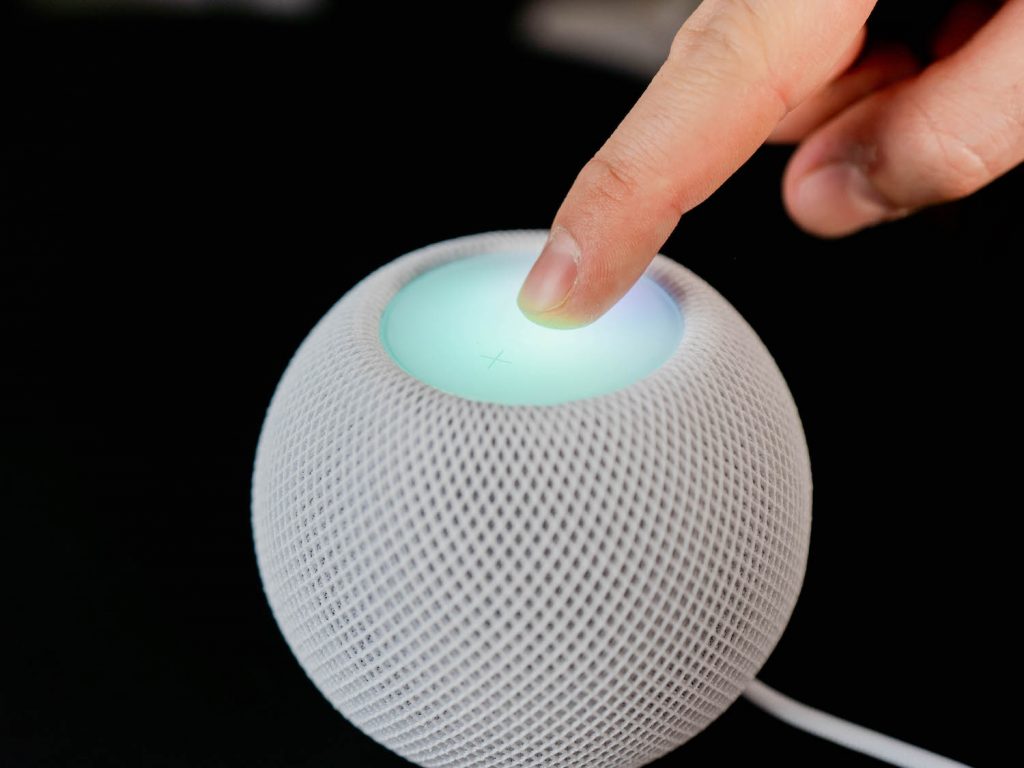 The Apple HomePod mini produces impressive results considering its small size, with good timbre rendering. But it lacks bass.
Where the device fell short was in a significant lack of bass and not enough low-mids, either. It lacked punch and its bass precision performance was poor. It's not a stereo device (though it can be paired with another HomePod mini to create the stereo effect), meaning there was no wideness. Finally, its maximum volume is not very loud, and when it is turned all the way up, there is noticeable bass distortion and a significant compression effect.
Let's take a look at the details.
Sub-scores explained
The DXOMARK Speaker overall score of 98 for the Apple HomePod mini is derived from a range of sub-scores. In this section, we will take a closer look at these audio quality sub-scores and explain what they mean for the user, and we will show some comparison data from two of the HomePod mini's principal competitors in the Essential category, the Google Nest Audio and the TMall Genie X5.
Playback attribute comparisons
Timbre
108
Bowers & Wilkins Formation Wedge
DXOMARK timbre tests measure how well a speaker reproduces sound across the audible tonal range and takes into account bass, midrange, treble, tonal balance, and volume dependency.
Playback timbre comparison
The Apple HomePod mini produces a decent timbre performance, considering how small it is. The device delivers good treble with precise high-end extension. The midrange is clear, allowing for good intelligibility of human voices in the kitchen use case, which involves loud background noise. The lack of low-mids, however, impairs voice rendering, especially in the podcast use case. The lack of bass is one of the HomePod mini's weak points, especially when listening to low-end content, such as bass-rich electronic music. Tonal balance is preserved at quiet volume, except for the treble, which lacks high-end extension. At loud and maximum volume levels, the speaker is really midrange focused, with a lack of high-end extension and not much bass. High-mids are aggressive and low-mids are slightly too prominent. The tonal balance, however, is still pretty good for a speaker this small.
Music playback frequency response
In the chart above, you can see the Apple HomePod mini holds its own against the Google Nest and the TMall Genie X5, showing itself a bit stronger (though still weak) in bass and not suffering the complete cut-off of high-end extension that you can see with the Google Nest.
Dynamics
80
Bowers & Wilkins Formation Wedge
Our dynamics tests measure how well a device reproduces the energy level of a sound source, taking into account attack, bass precision and punch.
Playback dynamics comparison
The Apple HomePod mini turns in a below-average performance in the dynamics attribute. In most of the use cases, there's a noticeable lack of punch, or the energy of the sound being expressed. The strong lack of low-end extension hinders bass precision. Attack is effective on high-pitched instruments, like hi-hat cymbals, but less precise with instruments oriented toward the midrange, such as snare drums.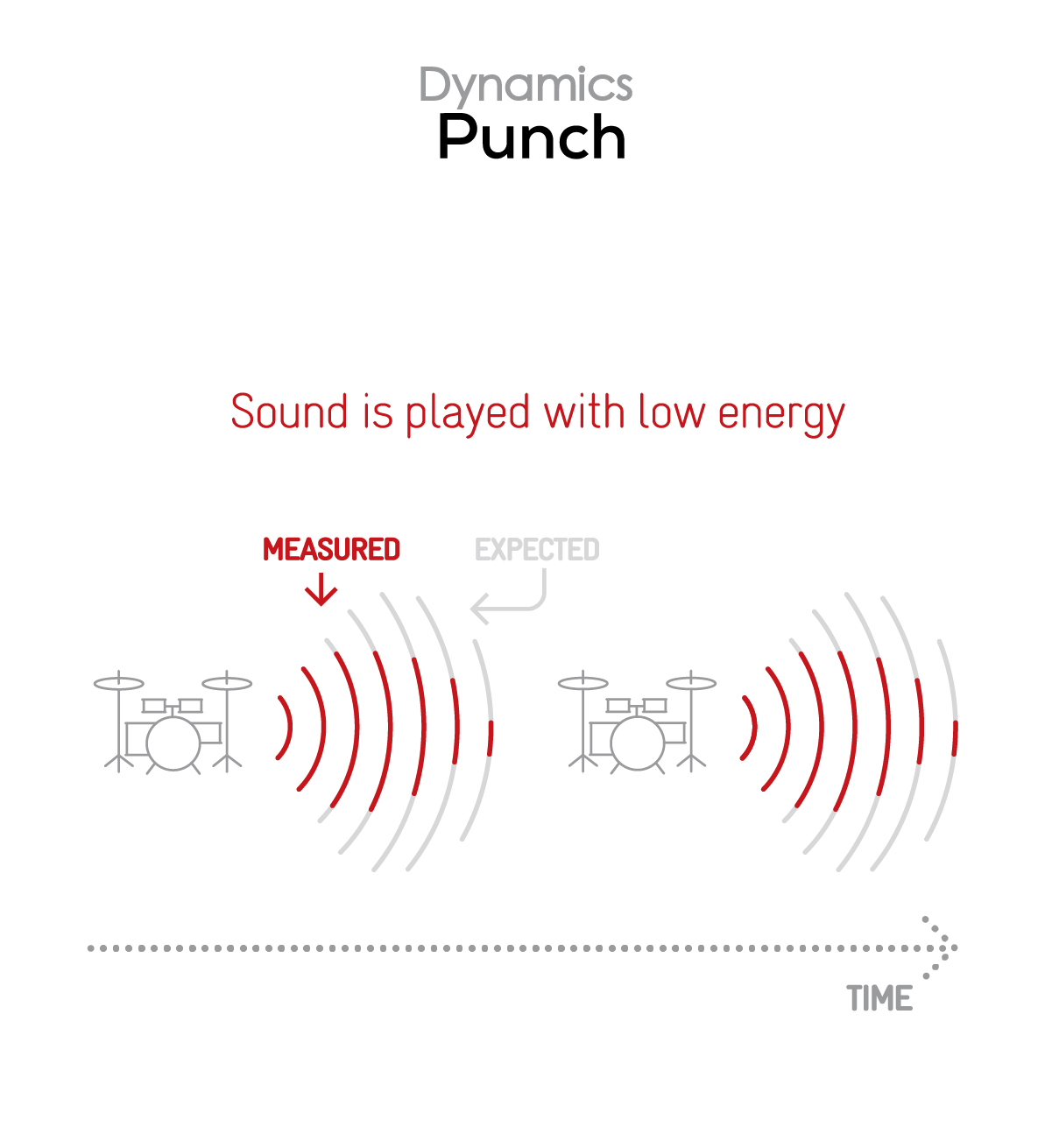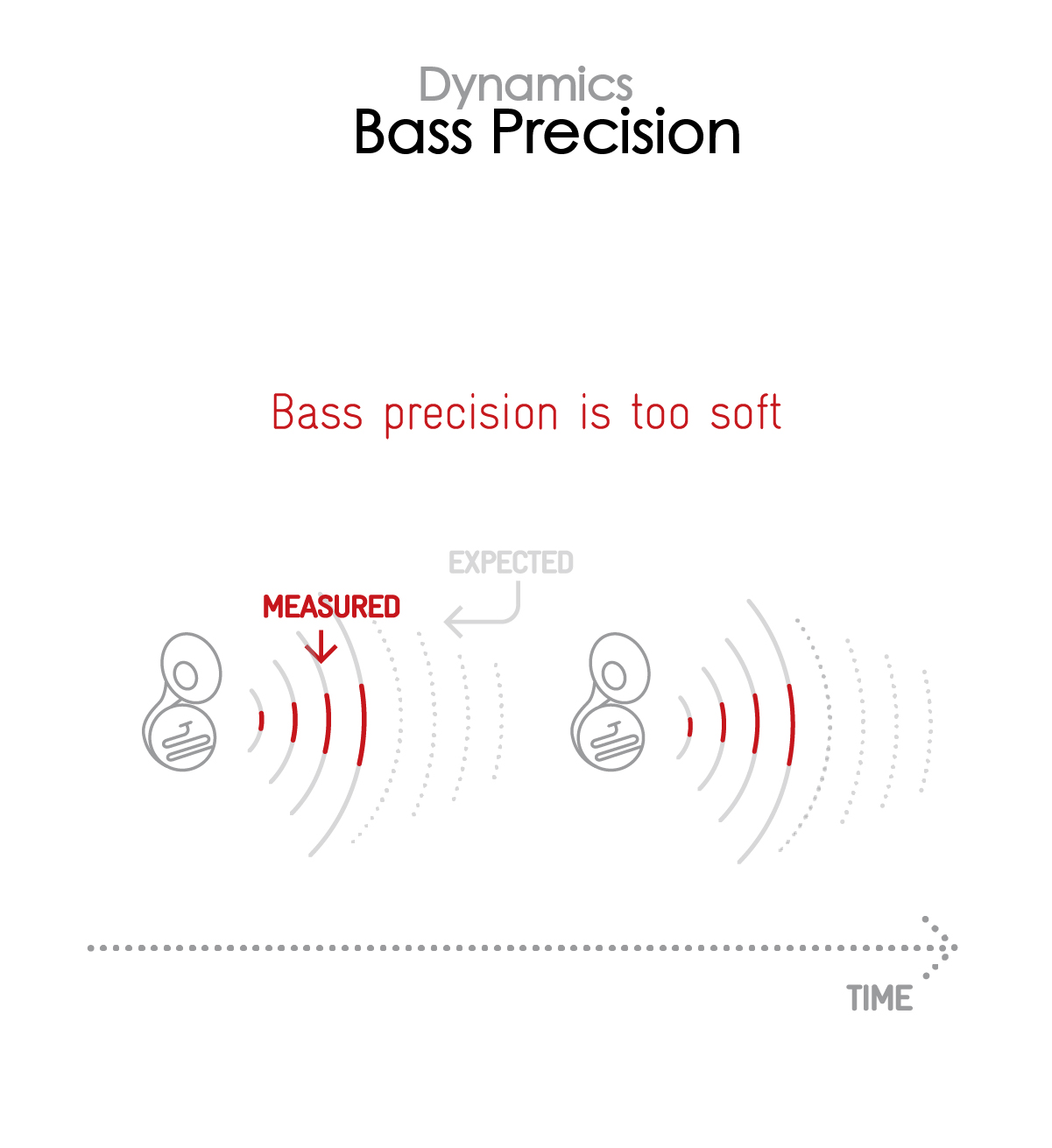 At loud and maximum volume (party use case), a significant compression effect on the overall sound hinders the dynamics performance. Attack is not precise, and punch is weak, also attributable to the lack of bass. Moreover, the excessive amplification of low-mids induces distortion and blurs what bass there is.
Spatial
89
Bowers & Wilkins Formation Wedge
Our spatial tests measure a speaker's ability to reproduce stereo sound in all directions, taking into account localizability, balance, wideness distance and directivity. Please note that wideness is 0 on mono speakers and speakers that cannot deliver a significant stereo effect.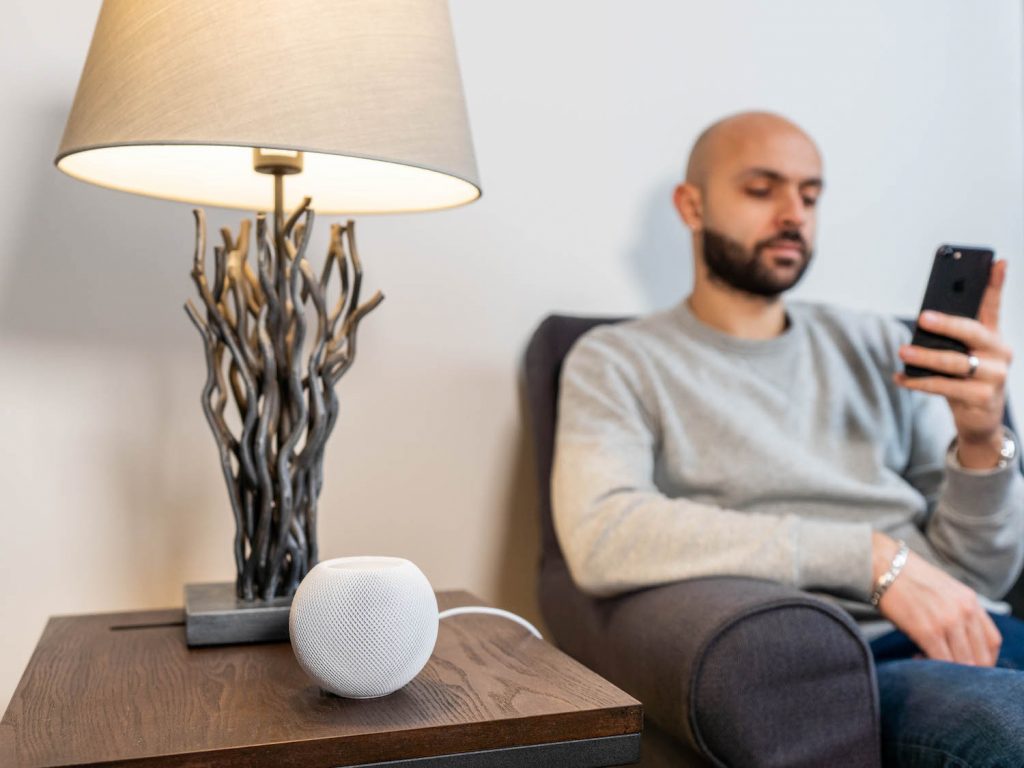 While the the Apple HomePod Mini had an average score for the spatial attribute, it had great directivity performance, with consistent sound all around the speaker.
Playback spatial comparison
The Apple HomePod mini is a mono device, and with no stereo effect, its wideness score was zero and localizability is heavily hindered. A highlight was the great directivity performance: the speaker produces consistent sound in 360 degrees, except for a subtle reduction of high-end extension on the sides of the device, which you can see in the chart below.  Distance rendering is fairly realistic, slightly impaired by a lack of low-mids (especially on low-pitched voices).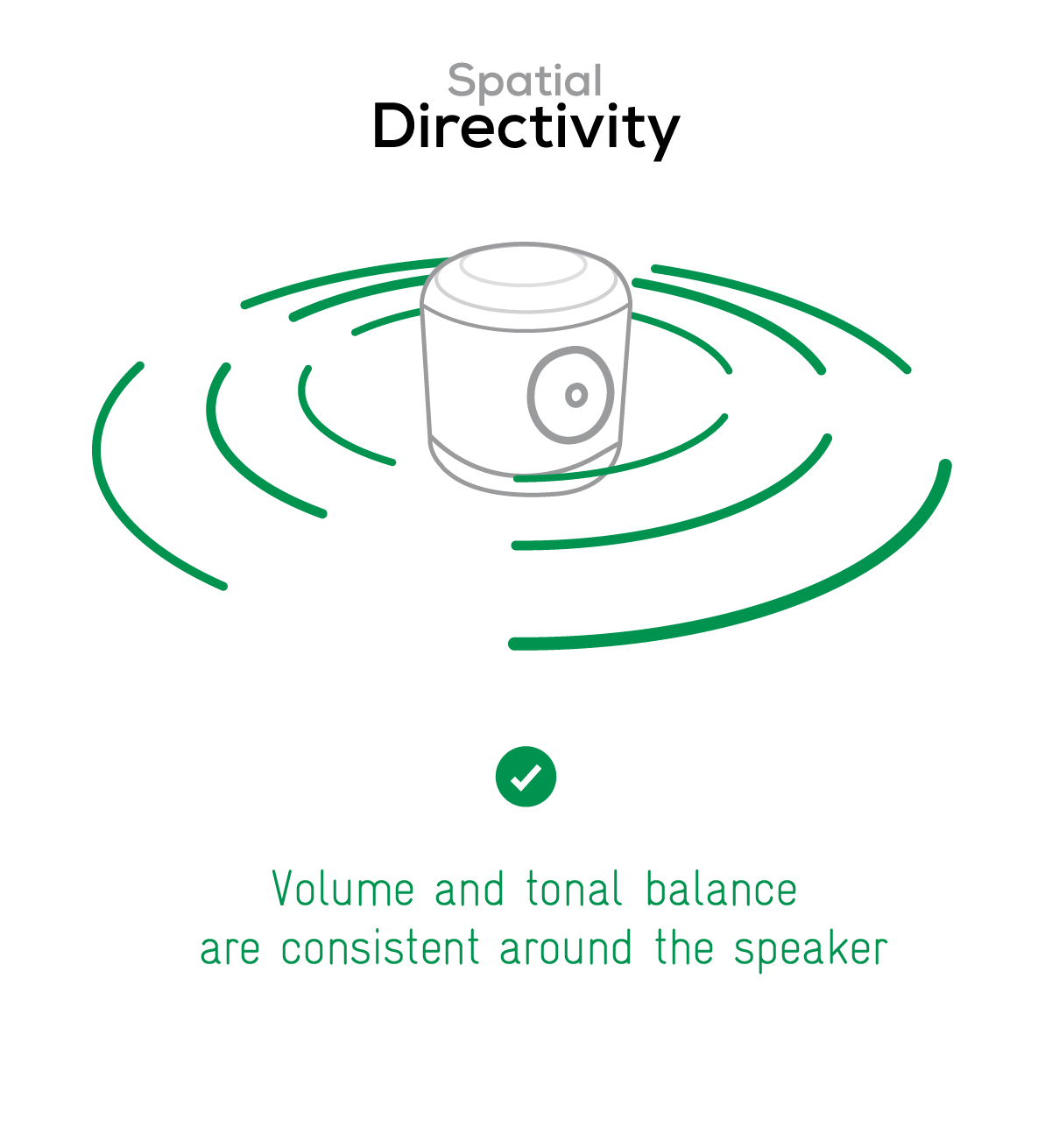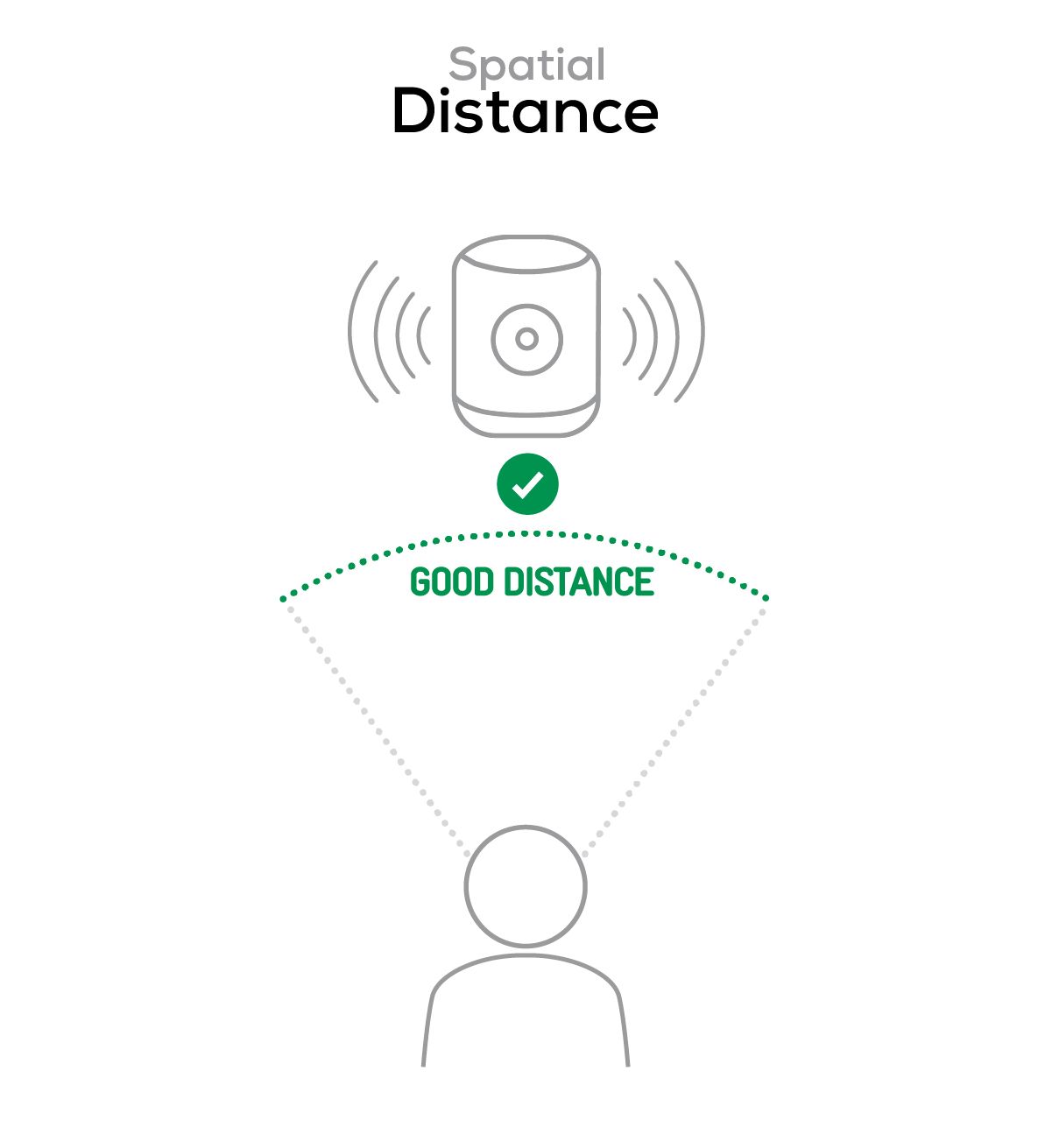 Volume
33
Bluesound Pulse Mini 2i
Our volume tests measure both the maximum loudness a speaker is able to produce and how smoothly volume increases and decreases based on user input.
Playback volume comparison
Playback volume consistency comparison
Volume is a weak point for the Apple HomePod mini. The maximum volume is not loud enough for our party use case — not entirely surprising, given its size. In the first chart above you can see its maximum volume is far below that of the Google Nest and even a bit below that of the TMall Genie X5.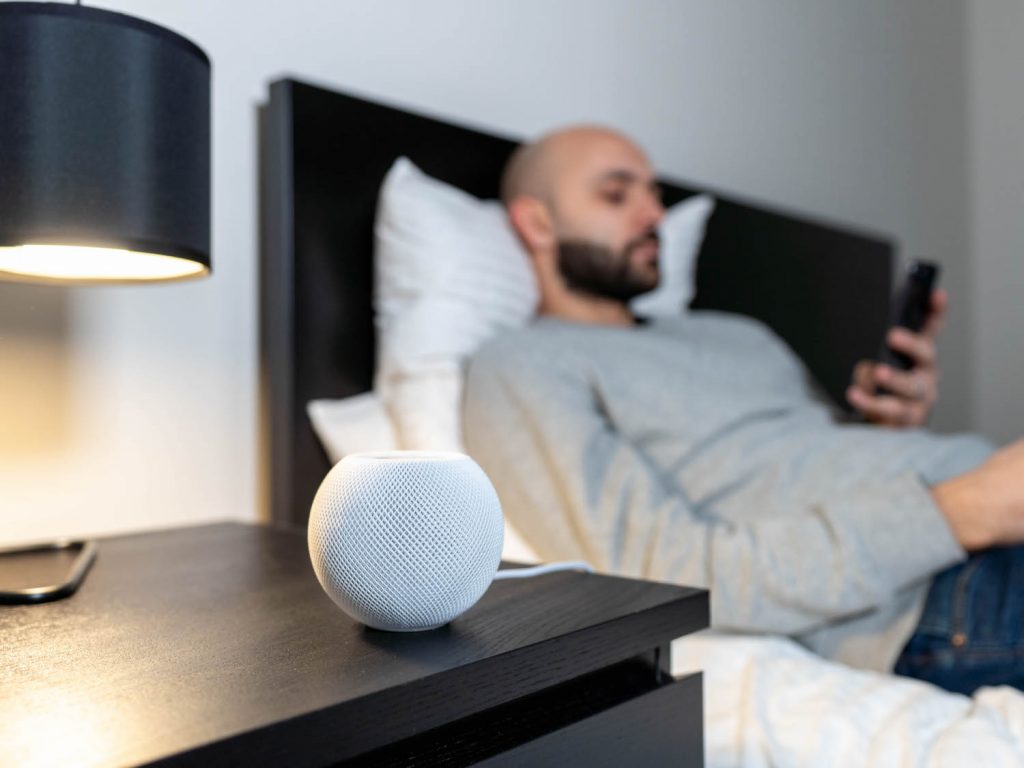 The HomePod mini is not powerful enough to compete with crowd noise at a party, but it works well for relaxing before bedtime.
Here are a few sound pressure levels (SPL) measured when playing our sample recordings of hip-hop and classical music at maximum volume:
| | | | | | | |
| --- | --- | --- | --- | --- | --- | --- |
| | Correlated Pink Noise | Uncorrelated Pink Noise | Hip-Hop | Classical | Latin | Asian Pop |
| Apple HomePod mini | 70.2 dBA | 67.7 dBA | 69 dBA | 63.5 dBA | 70.5 dBA | 62.8 dBA |
| TMall Genie X5 | 75.4 dBA | 73.8 dBA | 72.1 dBA | 67.1 dBA | 73.9 dBA | 66.3 dBA |
| Google Nest Audio | 81.3 dBA | 78.4 dBA | 79.3 dBA | 71 dBA | 81.2 dBA | 72.2 dBA |
Artifacts
Our artifacts tests measure how much source audio is distorted when played back, along with such other sound artifacts as noise, pumping effects, and clipping. Distortion and other artifacts can occur both because of sound processing and because of the quality of the speakers.
Playback artifacts comparison
The Apple HomePod mini exhibited few artifacts overall, except at loud and maximum volume. Bass distortion is evident in the party use case and overshoots occur on strong bass content, such that created by the 808, shorthand for the Roland TR-808 Rhythm Composer, used extensively in electronic music and in many pop tracks. A compression effect can be heard on the overall sound at those loud and maximum volumes. In the chart below, you can see how the HomePod mini strays into bass distortion.
Playback total harmonic distortion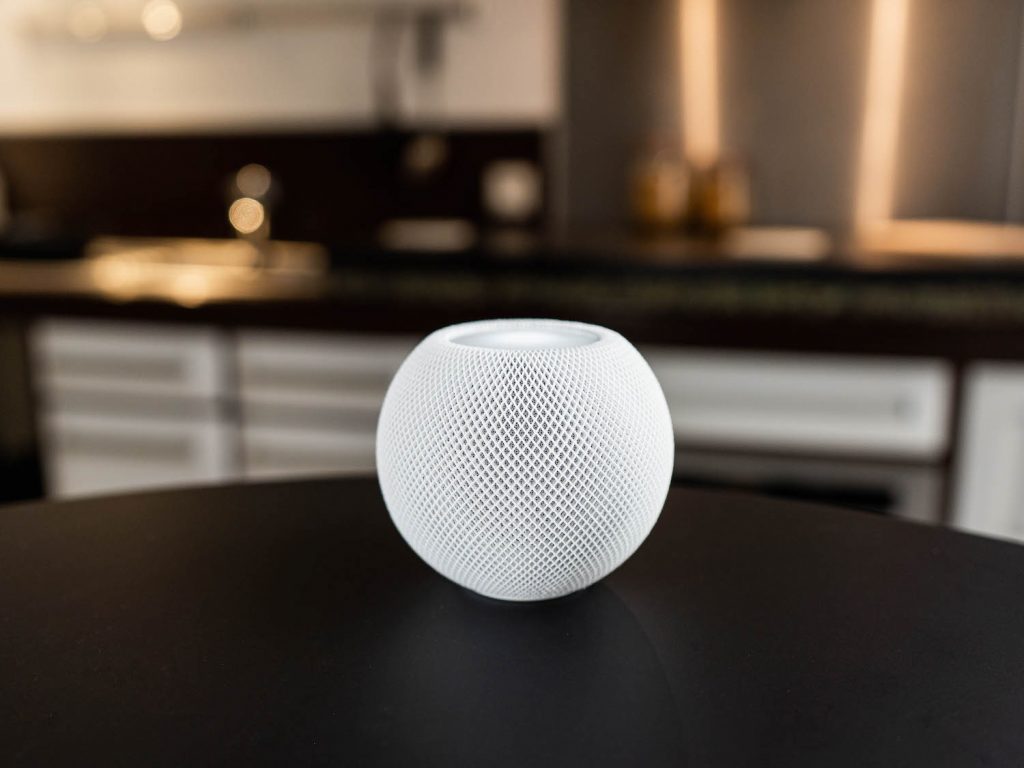 The Apple HomePod mini exhibits few artifacts overall, except at loud and maximum volumes.
Conclusion
While the Apple HomePod mini's overall score isn't in the upper echelon of the "essential" wireless speakers we've tested, it performs well for its compact size. It's best suited as a device for quiet listening or background music, not as an audio centerpiece for a loud party. Its lack of bass is a major weakness. The device starts to falter as the volume rises to loud and maximum levels, and this is where its other flaws start to become more glaring, such as poor bass precision, bass distortion, and a significant compression effect.
Pros
Good performance for its small size
Good timbre rendering with precise treble and clear midrange
Great directivity, with sound in all directions
Few artifacts overall
Precise attack on high-pitched instruments such as hi-hats
Cons
Significant lack of bass and a slight lack of low-mids
Not useful for a party because maximum volume is too low
Poor bass precision performance
Bass distortion at louder volumes