The iPhone 12 Pro is the smaller of Apple's two new top-end phones. It's built around the A14 processor and features a 6.1-inch Super Retina OLED screen protected by Apple's new ceramic-enforced glass. There are three cameras plus a LiDAR sensor on the back. For selfies, there's a camera with a 12 MP 1/3.6-inch sensor behind a 23 mm-equivalent f/2.2 lens, as well as a Structured Light (SL) sensor used for depth sensing to simulate background blur. This hardware appears to be shared across the iPhone 12 line. Read on to find out how the latest from Apple fared in our DXOMARK Selfie tests.
Key front camera specifications:
Dual front camera
12 MP 1/3.6-inch sensor with 23 mm-equivalent f/2.2-aperture lens
SL 3D sensor for depth estimation
4K 2160p Dolby Vision HDR video at 24/30/60 fps, 1080p at up to 120 fps, gyro-EIS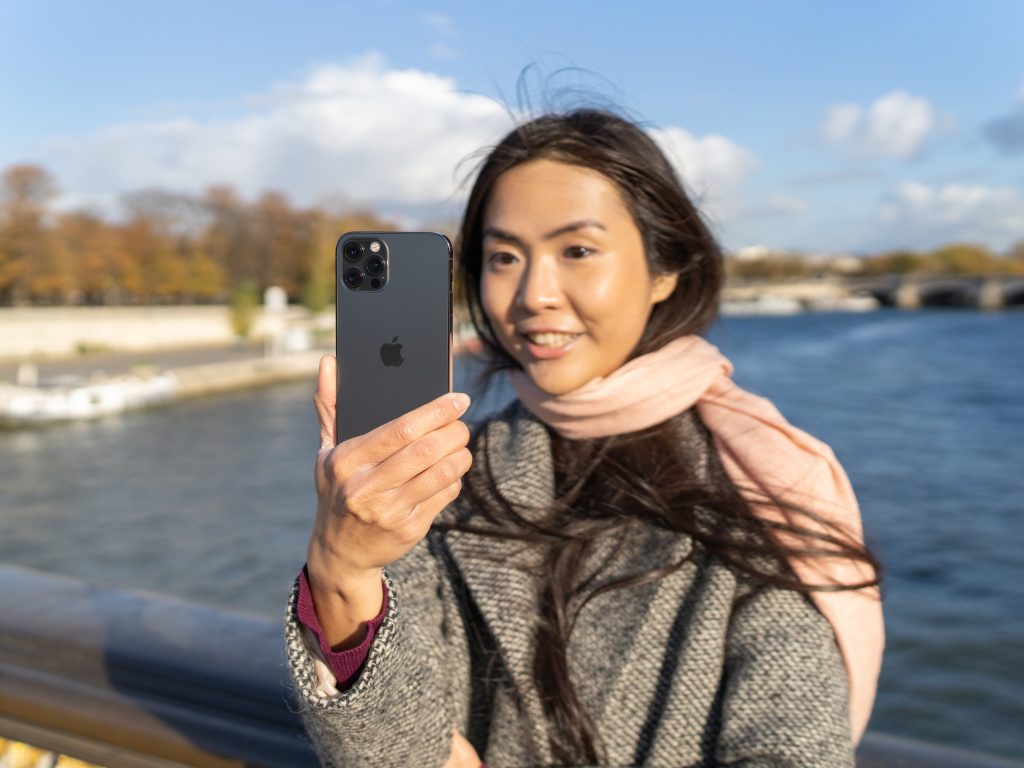 Shooting selfies with the Apple iPhone 12 Pro
About DXOMARK Selfie tests: For scoring and analysis in our smartphone front camera reviews, DXOMARK engineers capture and evaluate over 1500 test images and more than 2 hours of video both in controlled lab environments and in natural indoor and outdoor scenes, using the camera's default settings. This article is designed to highlight the most important results of our testing. For more information about the DXOMARK Selfie test protocol, click here.
Test summary
Scoring
Sub-scores and attributes included in the calculations of the global score.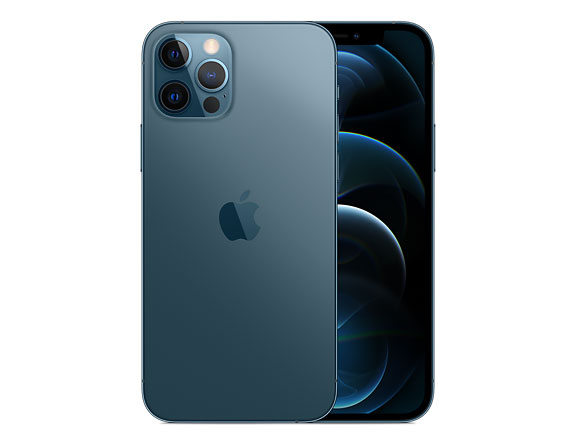 Apple iPhone 12 Pro
132
selfie
Please be aware that beyond this point, we have not modified the initial test results. While data and products remain fully comparable, you might encounter mentions and references to the previous scores.
With an overall score of 98 points, the iPhone 12 Pro lands just below the top five scorers in our selfie database. It's a good performance and a significant improvement over the iPhone 11 Pro Max we tested last year.
Its Photo score of 101 results from fairly even performance across the board. Exposure is generally accurate, though dynamic range leaves a little to be desired. Skin tones are nicely rendered, despite the occasional color cast. Detail is high, though noise is a bit more present than ideal. The phone's simulated bokeh mode works well with the help of the front-facing SL sensor.
The lens is fixed-focus, with reasonably good depth of field, though subjects farther from the phone will look a little soft. The least impressive performance category is flash: whether in mixed lighting or darkness, photos lit by the phone's screen are underexposed and have low detail.
The iPhone 12 Pro's front camera scores a strong 93 in our video testing, only a few points off the pace from the best we've seen. Dynamic range is wide, exposure is accurate, white balance is generally correct, detail levels are high, and artifacts are minimal. Stabilization leaves a bit of room for improvement, as it introduces some residual movement, and noise is more visible than is ideal in lower lighting conditions, but none of this should be enough to dissuade mobile photographers interested in selfie videos.
Apple iPhone 12 Pro, outdoor video
Photo scores explained
The iPhone 12 Pro achieves a Photo score of 101, a top-ten performance in our database. We calculate the Photo score from analyses of tests that examine different aspects of a device's still-image performance under different lighting conditions. In this section, we'll take a closer look at these image quality sub-scores, analyzing some aspects of the phone versus its key competition.
Exposure and Contrast
Google Pixel 7a
Best: Google Pixel 7a (91)
The iPhone 12 Pro generally delivers accurate exposure, although strong backlighting occasionally leads to some underexposure. Exposure remains fairly accurate in the lab down to very low light levels and is quite a bit better than the iPhone 11 Pro Max's in the darkest testing conditions. The iPhone 12 Pro exposure is also very consistent across a series of shots of the same subject.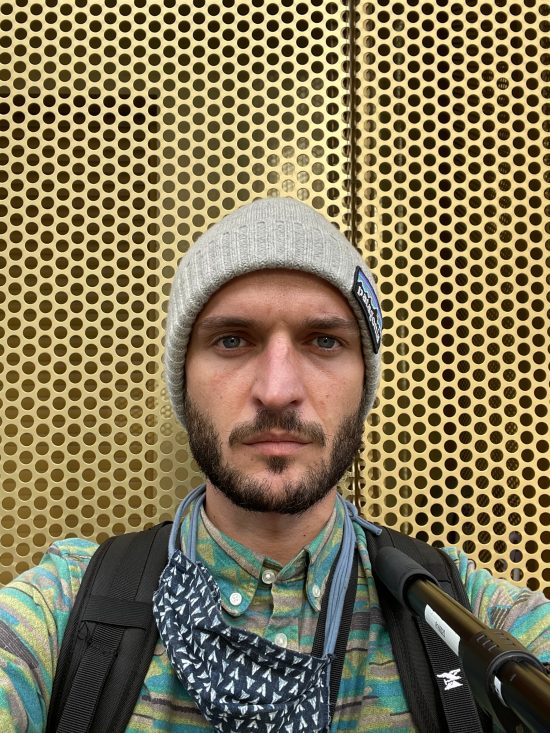 Apple iPhone 12 Pro, accurate face exposure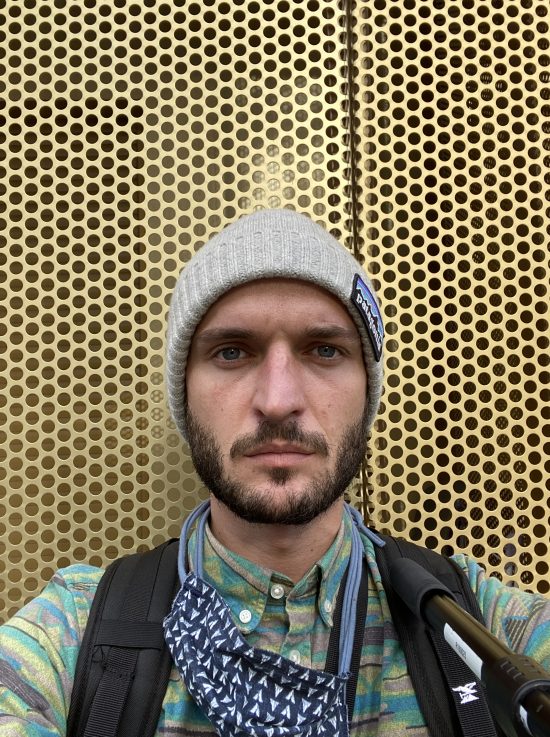 Apple iPhone 11 Pro Max, accurate face exposure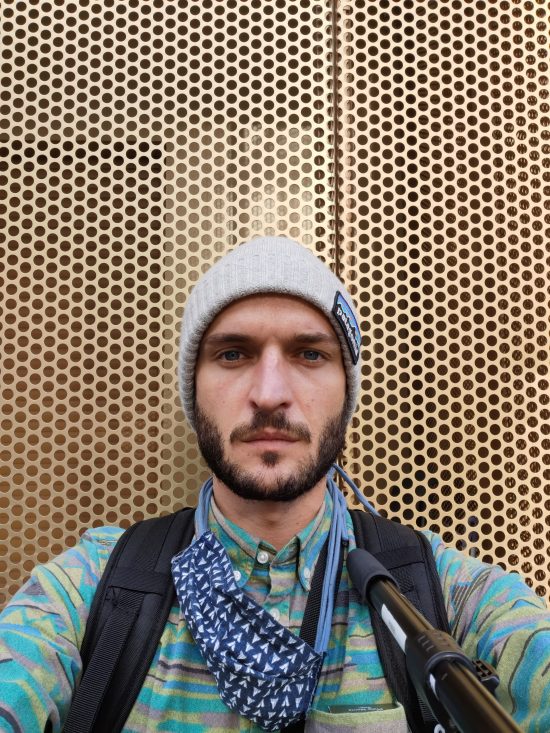 Huawei P40 Pro, accurate face exposure
The only real complaint here is limited dynamic range when compared to the best of the competition, as you're likely to see some highlight clipping in challenging scenes.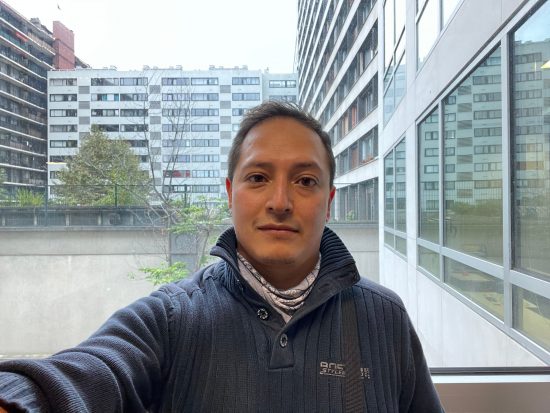 Apple iPhone 12 Pro, highlight clipping in background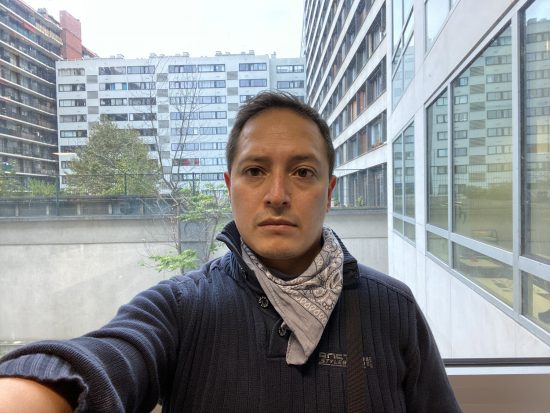 Apple iPhone 11 Pro Max, highlight clipping in background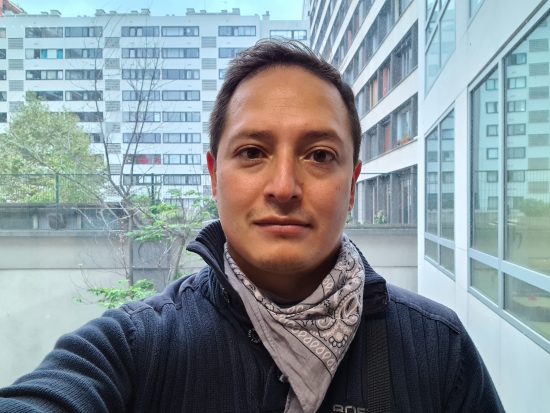 Samsung Galaxy S20 Ultra, no clipping in background
Color
Google Pixel 7a
Best: Google Pixel 7a (105)
The iPhone 12 Pro's color score is on the edge of the top ten performers in our database, and is an improvement over its predecessor. Skin tones are generally pleasant, and in the examples below, we see the improvement relative to the iPhone 11 Pro Max, with the 12 Pro providing a nicely saturated and somewhat healthier look to the subject's skin. The Samsung S20 Ultra also does a very nice job.
Our testers noted some white balance casts, typically yellow-green in color, and occasional stumbles in skin tone rendering. This usually happens in scenes with strong backlighting, but in the example below it emerges under fairly unchallenging conditions. The Huawei and Samsung achieve a more natural look.
Focus
Huawei P50 Pro
Best: Huawei P50 Pro (97)
The iPhone 12 Pro earns the second-highest score we've recorded for stills focus in a front camera. This is impressive, especially since the phone has a fixed-focus lens: clearly, Apple has done a good job of juggling the inherent tradeoffs in this design to deliver a strong performance. As we see in the chart below, the iPhone is optimized for the 30 to 90 cm range, and starts getting a little soft at 120 cm.

Apple iPhone 12 Pro, acutance versus subject distance analysis, acceptable focus across all subject distances
Real-world results back up these measurements. Up close, the iPhone's images are as sharp as the output of the two reference phones, both of which have autofocus.
When using a selfie stick, sharpness drops a bit compared to the better implementations of autofocus. In group selfies, people farther from the camera may also be soft, but at least with the fixed-focus lens, there's no question about which face an AF system has selected.
Texture
Samsung Galaxy Z Fold3 5G
Best: Samsung Galaxy Z Fold3 5G (85)
Noise
Huawei P40 Pro
Best: Huawei P40 Pro (90)
The iPhone 12 Pro's front camera captures a lot of detail, earning a very good texture score (though a few phones do exceed it). In our lab measurements, acutance results are remarkably flat from bright light down to near darkness — quite impressive, and much better than the iPhone 11 Pro Max.
Texture comparison analysis by lighting condition
In the example below, it's clear that the iPhone records at least as much detail as most people would want in a closeup of their face. It's a noticeable improvement over the older iPhone, and roughly equivalent to the P40 Pro's output (that phone also earned a 72 for this sub-score), although the Huawei's rendition is quite different.
Apparently all that detail is due to taking a light hand towards noise reduction, as the iPhone 12 Pro's noise numbers are less impressive. In the chart below we see that while noise is fairly well controlled under the brightest conditions, the iPhone can't quite keep up with the class-leading Huawei, and noise jumps quite a bit below 100 lux (though under the dimmest condition, the new iPhone bests its predecessor). In general practice, though, noise is fine-grained and even, and not overly intrusive.

Visual noise comparison analysis by lighting condition
Artifacts
Apple iPhone 12 mini
Best: Apple iPhone 12 mini (92)
Image artifacts are well controlled on the iPhone 12 Pro. The selfie camera lost the most points in objective testing for ringing (from oversharpening) and for softness towards the edges of the frame. Perceptual testing flagged some anamorphic distortion, most noticeable when a face is near the edge of the frame and typical of wide-angle lenses. Our testers also noticed some color quantization and hue shift, but these issues shouldn't be too problematic.
Flash
Huawei P40 Pro
Best: Huawei P40 Pro (93)
Like nearly all phones, the iPhone 12 Pro can use its screen as a flash to light selfie shots, but its performance here leaves a lot to be desired. Exposure tends to be low and vignetting is extreme, with very strong light fall-off towards the edges of the frame. In both darkness and mixed lighting, detail is low and noise is high. Output is at least consistent, but this is not a mode of use well-suited to this phone. In the examples below, taken under 5 lux tungsten lighting to simulate dark indoor conditions, the iPhone's shortcomings are evident.
Bokeh
The iPhone 12 Pro does a very good job of simulating shallow depth of field with its portrait mode, tying the Huawei P40 Pro for first place in this sub-score. It seems that Apple is putting that front-facing SL sensor to good use, since edge artifacts are sometimes visible but fairly minor. The blur effect is quite strong and natural-looking, with a realistic blur gradient. Skin tones are nicely rendered and there's plenty of detail in the face — not a given even in some high-end phones. Noise is consistent across blurred and in-focus areas, which helps preserve the illusion. Background highlights aren't quite as contrasty as they could be, but this is a minor quibble.
Video scores explained
The iPhone 12 Pro front camera achieves a Video score of 93 points, improving over the 11 Pro Max by three points and missing the top score (shared by the Huawei Mate 40 Pro and Asus ZenFone 7 Pro for now) by the same amount. It joins a scrum of competition with the same score: the Asus ZenFone 6, the Samsung Galaxy Note 10 5G, and the Huawei Nova 6 5G. Its Video sub-scores are as follows: Exposure (79), Color (80), Focus (87), Texture (72), Noise (65), Artifacts (89), and Stabilization (78).
We tested the 12 Pro at 4K 30 fps with Dolby Vision HDR turned on, the settings that give the best results. Dolby Vision allows the phone to capture and display high dynamic range scenes more accurately, but it requires a compatible display to be viewed at best advantage.
Apple iPhone 12 Pro, HDR video scene
Apple iPhone 11 Pro Max, HDR video scene
Samsung Galaxy S20 Ultra, HDR video scene
The iPhone 12 Pro's front video performance is generally strong. Dynamic range is indeed quite wide, nicely preserving highlights and shadows even in scenes with high brightness, though testers noted some instability in tone mapping. Exposure is accurate. Skin tones are nicely rendered and white balance is generally correct. Artifacts are well controlled. Detail levels are high in bright light, though they fall a bit when things get dim.
The chart below tells the story of the detail levels in the iPhone's 4K front camera videos, which start at an excellent 90% acutance in bright light but have dropped precipitously by 100 lux (normal indoor conditions). From there the slope of degradation flattens a bit, so that at 10 lux the iPhone 12 Pro is comparable to the Huawei (itself an admirable video performer), and by a near-dark 1 lux actually betters it. The Samsung reference device remains above the fray as soon as the lights drop from bright 1000 lux levels.

As with stills, noise runs rather high in video output as soon as light levels drop. In the chart below we see that when the light dips, the iPhone's noise levels climb and are generally higher than the reference devices down to 1 lux (just briefly undercutting the Huawei at 20 lux). The Samsung does a better job over most of the range after trading places with the Apple at 1000 lux, though the differences are not as stark perceptually as in the texture chart.

Given the camera's fixed-focus lens, there are no problems with focusing stability or hunting. The electronic stabilization is reasonably effective but does introduce residual movement effects, especially when walking.
Apple iPhone 12 Pro, outdoor video
Apple iPhone 11 Pro Max, outdoor video
Samsung Galaxy S20 Ultra, outdoor video
Conclusion
The iPhone 12 Pro's front camera holds its own, though it's not quite in the same league as the best we've tested. There's a lot of hardware innovation happening in front cameras, and with its fixed-focus lens and small sensor, the iPhone's camera module does not look particularly cutting-edge on paper. However, that SL sensor is an ace up its sleeve, and Apple has clearly done a lot to extract as much performance from the camera as possible, with largely satisfying results.
Shooting stills, the iPhone does well with the basics, with accurate exposure, nice colors, and lots of detail across all lighting conditions. Heavy users of portrait mode will appreciate the convincingly simulated shallow depth of field in portraits, helped by the SL sensor. Noise is higher than ideal, though, and if you like to take selfies in extremely low light levels, you need to know that flash performance is poor.
Video is also strong, especially if you have a way to play back the Dolby HDR videos that the front camera can capture. Dynamic range is wide, exposure and color are accurate, and detail is excellent in bright light, though it drops quite a bit when the lights dim. Noise starts admirably low in bright light but rises sharply as the lights drop.
Overall, the iPhone 12 Pro features a very capable but not category-defining selfie camera. Considered as part of the whole, the great majority of users should be happy with it.
Photo
Pros
Exposure on faces generally accurate
Pleasant skin tone rendering
High detail in bright to normal indoor conditions
Noise on in-focus subjects well controlled in bright light
Accurate depth estimation in bokeh mode
Wide dynamic range in videos
Accurate white balance in videos
Highly detailed videos in bright light
Few artifacts in videos
Cons
Noise visible in background
Occasional white balance casts
Clipping in high dynamic range scenes for stills
Fixed focus leaves more distant subjects blurry
Exposure is low in flash mode
Residual motion effects when walking
High noise in videos at lower light levels
A note about image formats for this review: The Apple iPhone 12 Pro records photographs in the DCI-P3 color space, which Apple displays also use. DCI-P3 is newer and larger than the sRGB color space that most devices use, so to ensure that the images we used in the review display properly on a wide variety of browsers and devices, we converted the originals from DCI-P3 to sRGB. This can slightly reduce the richness of color in some cases from what you would see when viewing the original images on a DCI-P3-calibrated display with appropriate software. We also captured the original images using the new HEIF (High-Efficiency Image Format), but then converted them to very high-quality JPEGs for viewing in standard browsers and image editing software. (HEIF is very similar to JPEG, but provides better compression for similar image quality, so the conversion makes the sample image file sizes larger than they were when shot.)
We uploaded the iPhone 12 Pro HDR videos that use HLG Dolby Vision technology to Youtube without alteration. We recommend watching them on a compatible display for the best experience. This said, YouTube processing may alter the video quality, which is out of our control.