Please note: In September 2019, we updated the DXOMARK Mobile test protocol to cover ultra-wide-angle performance and renamed the protocol DXOMARK Camera. We also expanded our low-light testing and created the new Night sub-score, which incorporates the previous Flash score. We have retested this device using the new Wide and Night test protocols and updated the scores in this review, but we have not changed the text from the original review. For more information, please see the articles about our new Wide and Night test protocols.
88
camera
Apple iPhone 7 Plus camera review (originally published September 11, 2017)
The Apple iPhone 7 Plus is the iPhone 7's larger sibling, and apart from a bigger display, adds a dual-camera setup to the specifications. In addition to the standard camera with a 28mm-equivalent focal length lens, the Plus model comes with a secondary module that doubles the focal length, allowing for a 2x optical zoom factor and a bokeh/portrait mode. In comparison to its predecessor, the iPhone 7 Plus also comes with a faster lens and improved image processing. A four-element flash and optical image stabilization on the standard lens are on board as well, and a wider color gamut (DCI-P3) makes for richer colors when used with Apple or other high-end displays.
Our updated DxOMark Mobile test protocol now allows us to take into account the iPhone 7 Plus's dual-camera bokeh and zoom headline features when testing. Read the full review below to find out how the iPhone 7 Plus camera performs.
Key specifications:
Dual-camera
12 MP 1/3-inch sensor primary camera with f/1.8 aperture, 28mm-equivalent focal length, and optical image stabilization
12 MP 1/3.6-inch secondary camera with f/2.8 aperture and 56mm-equivalent focal length
Portrait and Zoom modes (thanks to the new dual-camera design)
5.5-inch full-HD display
Comparing the iPhone 7 and iPhone 7 Plus
The iPhone 7 Plus features additional capabilities based on its dual-camera architecture. It is not the first phone with a dual-camera, but it was one of the first to use the second camera as an optical zoom and for computing depth information. Its new Portrait mode uses the depth information gleaned from analyzing the images from both of its cameras to selectively blur image backgrounds, while keeping the subject sharp. This mimics the shallow DOF effect and pleasing Bokeh that photographers who use DSLRs and other standalone cameras can achieve. With our new test protocols, we are able to evaluate how well those features perform, and how much of a difference they make in image quality compared to the single-camera iPhone 7.
Because the main cameras on the iPhone 7 and 7 Plus are the same, most of our Sub-Scores for them are similar. So to learn more about their camera features and imaging performance, as well as to see how the new Zoom and Portrait features stack up in our tests, see this special detailed analysis of how the two phones' cameras compare.
Test summary
With an overall score of 88, the iPhone 7 Plus comes very close to highest-scoring models in our new DxOMark Mobile ranking. Given that the iPhone 7 Plus's main camera is the same as that of the iPhone 7, most of the image and video sub-scores are very close for the two models. However, thanks to its dual-camera and longer secondary lens, the Plus model scores higher in the bokeh and zoom departments, resulting in a three-point higher overall score than the iPhone 7 (88 vs. 85).
Bright light: Excellent exposures and dynamic range
Shooting in bright light, the iPhone 7 Plus captures very good exposures with wide dynamic range, making it an excellent choice for landscape, streets scenes, and architecture, as well as for general outdoor (daylight) photography. Colors are both vivid and pleasant, especially in sunny conditions, and generally the white balance is stable. We observed some light-green casts in some very specific conditions, but they were fairly minimal. Target exposure is good in almost all tested conditions. Even images captured in very low light (1 Lux) are still usable, although slightly under-exposed.
Outdoor images have good color rendering and saturation, although usually with a visible yellow cast. There were some exposure failures, such as overexposed highlights, in very tricky or high-contrast scenes, but the instances of these were minimal. In general, HDR-mode exposures displayed excellent detail across the entire tonal range, with well-defined skies and clouds in the highlights, and visible details in the shadows. With our new test protocol, we have added more challenging scenes, and were able to detect some high-dynamic-range (HDR) limitations compared to the Google Pixel, as shown in this image:
The iPhone 7 Plus main camera achieves good detail when shooting outdoors, with only the very finest details lost and only a fine luminance noise visible in areas of plain color. One result of the improved 6-element lens design, and perhaps its improved image processor, is excellent corner-to-corner sharpness. This isn't always easy to see in natural images, but comes across clearly in our lab tests. You can see it here by the sharpness (acutance) in the field of view chart.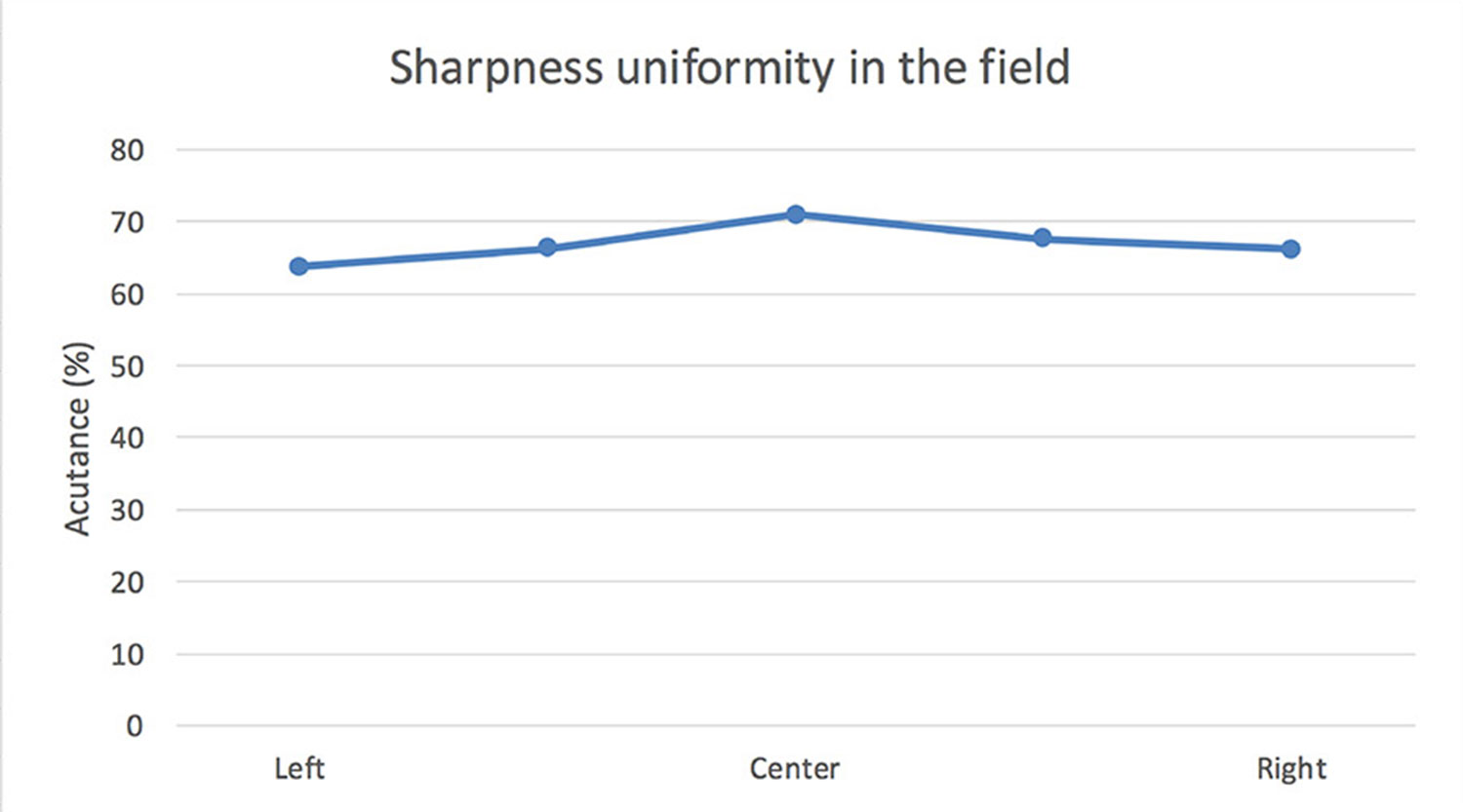 We observed good sharpness uniformity across the field of view, both in our objective measurements and in natural images.
Accurate color representation is only possible when the camera correctly estimates the color of light falling on the scene – typically called the white balance. Part of the job of the camera's image processing chip is to analyze the scene as it is captured and select a white balance, ranging from warm to cool, that recreates the scene the way the human eye sees it. The new ISP in the iPhone delivers on this test very well.
In general, the iPhone 7 Plus has good white balance, but in some cases both indoors and outdoors, a green cast can appear.
Low light: Good exposure, even in very low light
With its fast-aperture f/1.8 optical image stabilized lens, the iPhone 7 Plus main camera delivers good photos in low light. Images shot under extreme low-light conditions (5 Lux) still record bright images with good exposure. However, images display visible luminance noise that causes a loss of detail. This is typical for a smartphone in these conditions, but the iPhone 7 Plus is not as good as the Google Pixel nor the HTC U11, as you can see in the examples below.
At 5 lux, the iPhone 7 Plus suffers from a loss of detail compared to some other flagship phones.
Exposures at 10 and 20 Lux show reduced levels of noise and good detail preservation, and at 100 and 500 Lux, handheld images are significantly sharper than before, due to OIS, the faster shutter speeds made possible by the fast lens and advanced multi-frame noise reduction. Overall, indoor images display a pleasant color rendering. In some specific cases, such as images shot under tungsten light sources, we observed a slight yellow colorcast. In low light, images show some motion blur, but that is fairly typical of even high-end smartphones.
Color rendering also suffers slightly in low light, with under-saturation when compared with the HTC U11 and the Google Pixel.
Autofocus: Fast, but not always repeatable
The iPhone 7 Plus autofocus uses phase detection pixels (PDAF) and is very fast in bright light and pretty stable. With our new protocol and test suite, we noticed a variance in autofocus speed, however. This was worse in low light, as evidenced by the chart below, but was true even in bright light.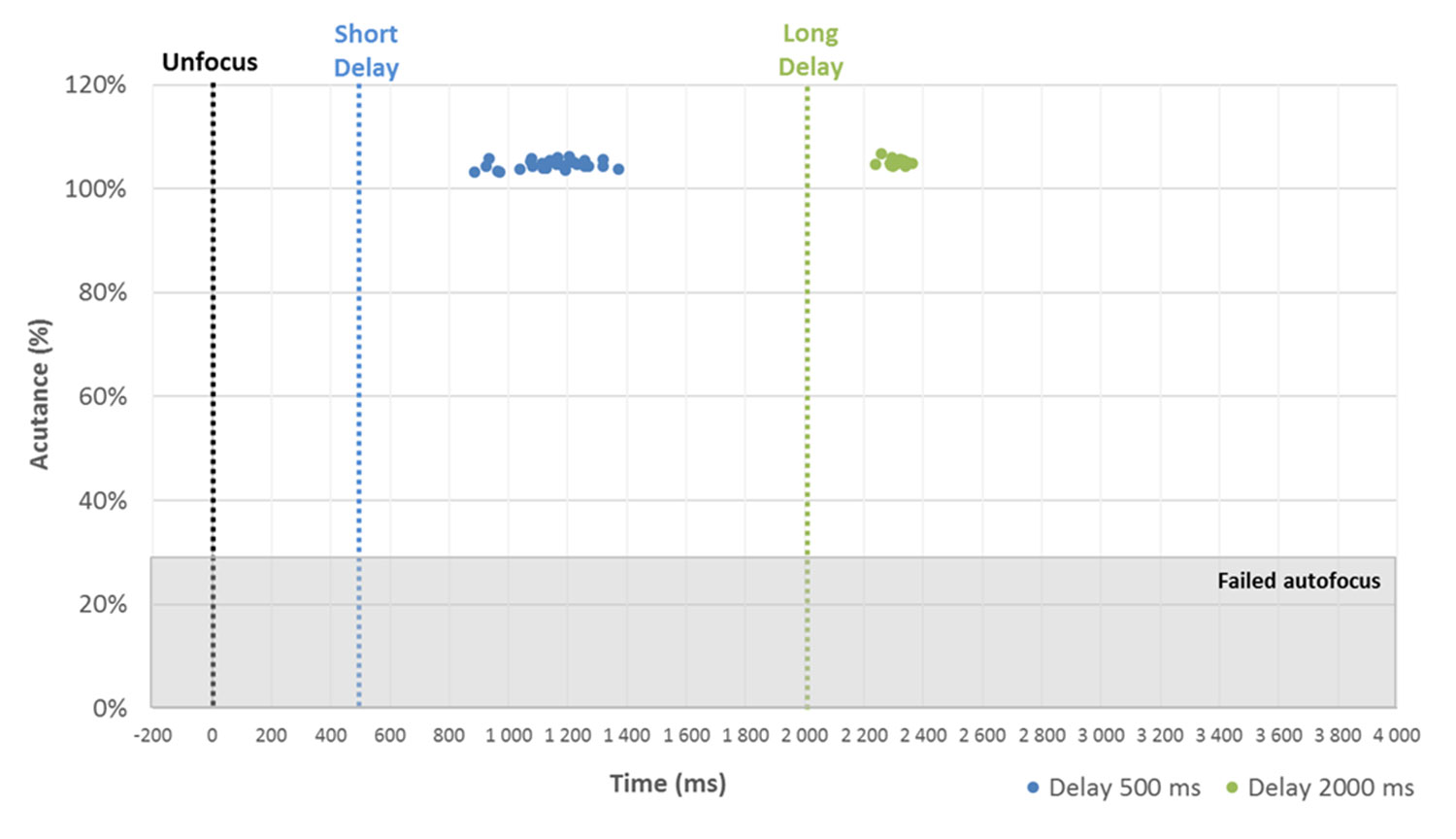 Perfect autofocus means delivering the sharpest possible image. Our lab tests use repeated shots to evaluate both accuracy and timing. In this chart of low-light Autofocus performance, you can see that the iPhone 7 provides fairly good results, but with very inconsistent timing.
Flash: Great color, but suffers from dark corners
Apple was one of the first to innovate with multiple different-colored flash LEDs that let them balance the light from the flash with the ambient light, for optimal color reproduction. Further, Apple upgraded the dual-tone flash in the iPhone 7 family from two to four LEDs for brighter flash output. The resulting flash system achieves very good color rendering, especially for skin tones, although it does suffer from strong non-uniformity because of luminance fall-off (corner shading) and slight irregularities in the Autofocus.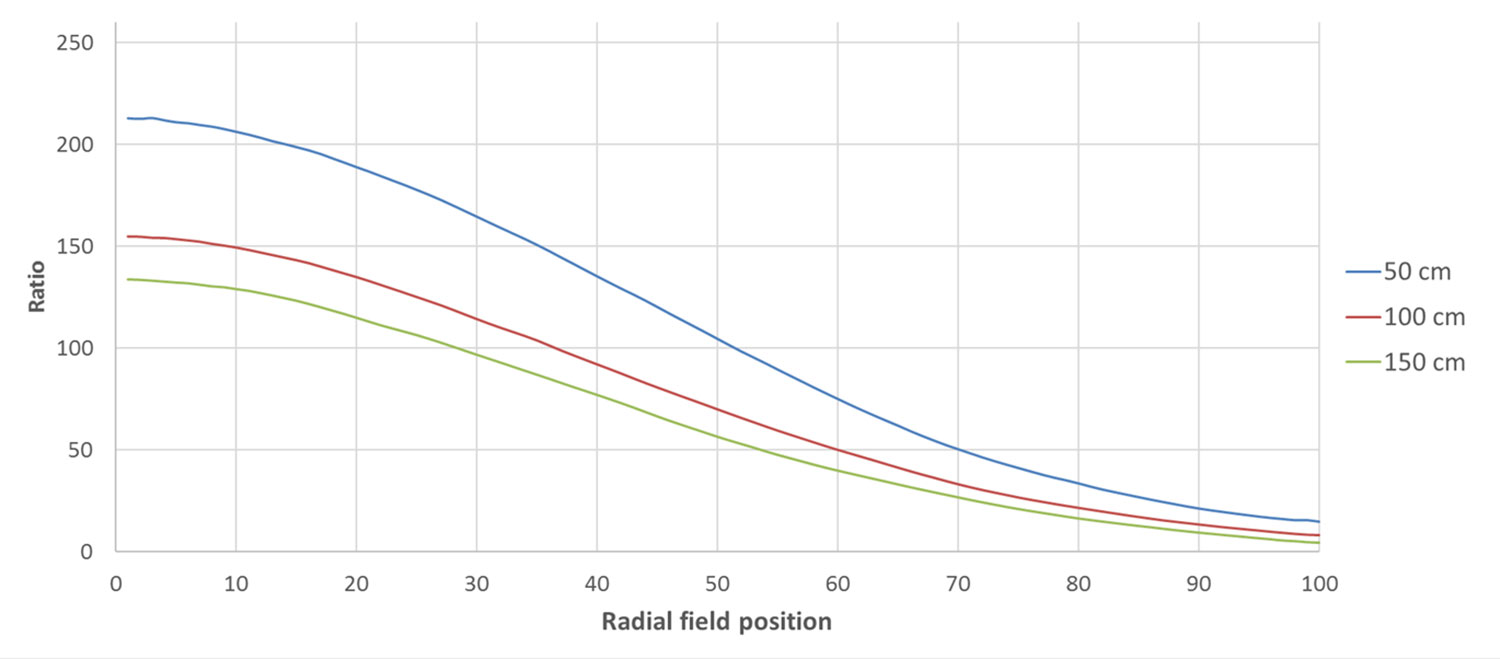 This chart shows how the iPhone 7 Plus's flash illumination falls off towards the edge of the frame.
Video: Remarkable stabilization
At 84 points, the iPhone 7 Plus achieves a very good video score. If you're looking for a good all-round multimedia smartphone, it is an excellent choice, with top-quality video recording that rivals its still photography performance. Video exposures are very good overall, and particularly so in outdoor or bright light conditions, where movies display nice dynamic range with vivid and bold colors. In low light, video dynamic range is a little more limited and some slight steps in exposure adaption are noticeable as the lighting changes, but overall the results remain very good.
Video Autofocus is fast and accurate in bright light, and just a little slower in low light. Stabilization is excellent in bright light, allowing you to capture smooth and stable videos most of the time. In low light, some minor frame shifts and motion blur are noticeable with walking movement.
Overall, artifacts are well-controlled without significant aliasing. Color rendering is also very good, without visible color shading on videos. White balance is generally accurate, particularly outdoors, with pleasant color. We did find that some videos in bright light displayed colors that were a little oversaturated, and white balance on videos shot under tungsten light sources had a slight pink colorcast, but neither issue was of much concern. Video shot under fluorescent light also often displayed a strong color cast. Texture preservation on outdoor videos is very good, too, capturing well-defined details. But in low light, the visible luminance noise results in weaker performance than that of other top video smartphone cameras.
Conclusion: Portrait and macro shooters will benefit from the dual camera
Apple's iPhone 7 Plus improves on the image quality of the previous generation, with advances in dynamic range and detail preservation, significantly reduced artifacts, as well as very good video stabilization. These all make the 7 Plus a great smartphone camera for outdoor enthusiasts shooting landscapes, street scenes, and architecture. Mobile photographers who shoot portraits, macro, or sports will find the added capabilities of the new dual-camera a significant benefit, as demonstrated by zoom and bokeh sub-scores that are substantially better than those of the iPhone 7 with its single-lens camera.
Pros
Very good overall target exposure and wide dynamic range.
Stable and generally good white balance.
Good detail preservation in outdoor conditions.
Fast autofocus in bright light conditions.
Flash: accurate white balance, good color rendering, and low levels of noise.
Optical Zoom works well in bright light.
Very good depth effect and good synthetic Bokeh.
Pros
Good stabilization.
Fast and smooth autofocus in bright light conditions.
Nice detail in bright light conditions.
Colors are vivid and pleasant.
[/row]
Cons
Very fine details are lost in outdoor and low-light conditions.
Luminance noise is visible in low light.
Some autofocus irregularities are noticeable in all conditions.
Using flash, the autofocus is unstable over consecutive shots and strong luminance shading is visible.
Cons
Strong luminance noise in low-light conditions.
Exposure and white balance adaptation are sometimes unstable.
Slight frame shifts are noticeable indoors and with walking movement.
Autofocus is slower in low light.