Please note: In September 2019, we updated the DXOMARK Mobile test protocol to cover ultra-wide-angle performance and renamed the protocol DXOMARK Camera. We also expanded our low-light testing and created the new Night sub-score, which incorporates the previous Flash score. We have retested this device using the new Wide and Night test protocols and updated the scores in this review, but we have not changed the text from the original review. For more information, please see the articles about our new Wide and Night test protocols.
94
camera
Apple iPhone 8 Plus camera review (originally published September 22, 2017)
The Apple iPhone 8 Plus has a main camera system truly worthy of a flagship phone. Similar to the iPhone 7 Plus, it features two cameras — a wide-angle 12MP main camera, and a 12MP telephoto camera with a slower lens for zooming in on subjects and for special effects such as Portrait mode. Comparing the camera datasheets of the older iPhone 7 Plus and the new iPhone 8 Plus make the two look almost identical; however, under-the-hood upgrades have given the 8 Plus an image quality and camera performance boost in almost every one of our tested categories.
Key camera specifications:
12MP main (wide-angle) camera with BSI sensor, f/1.8 lens
12MP telephoto camera, f/2.8 lens
Optical zoom, with digital zoom up to 10x
Portrait mode
Portrait Lighting (beta)
Optical image stabilization (main camera only)
Quad-LED True Tone flash with Slow sync
Autofocus with focus pixels
Wide-gamut color capture
Body and face detection
AutoHDR
Test summary
The Apple iPhone 8 Plus is the best-performing mobile device camera we have ever tested. Its overall DxOMark Mobile score of 94 sets a new record, beating out the 90 points for both the Google Pixel and the HTC U11, as well as the 92 that its sibling iPhone 8 just scored. Its Photo score of 96 is also a new record, blowing past the Pixel's 90. For Video, its score of 89 is among our highest, but tied with the HTC U11 and slightly below the Pixel's 91. Of course, the Pixel is nearly a year old now, so it makes sense that Apple's new flagship is breaking new ground.
Bright light
Images captured outdoors with the iPhone 8 Plus are generally stunning, with excellent detail preservation, accurate color, and impressive dynamic range. The iPhone 8 Plus builds on the excellent performance of the iPhone 7 family with even better results in bright light. In particular, it has improved exposure calculation, and excellent ability to capture HDR (High Dynamic Range) scenes.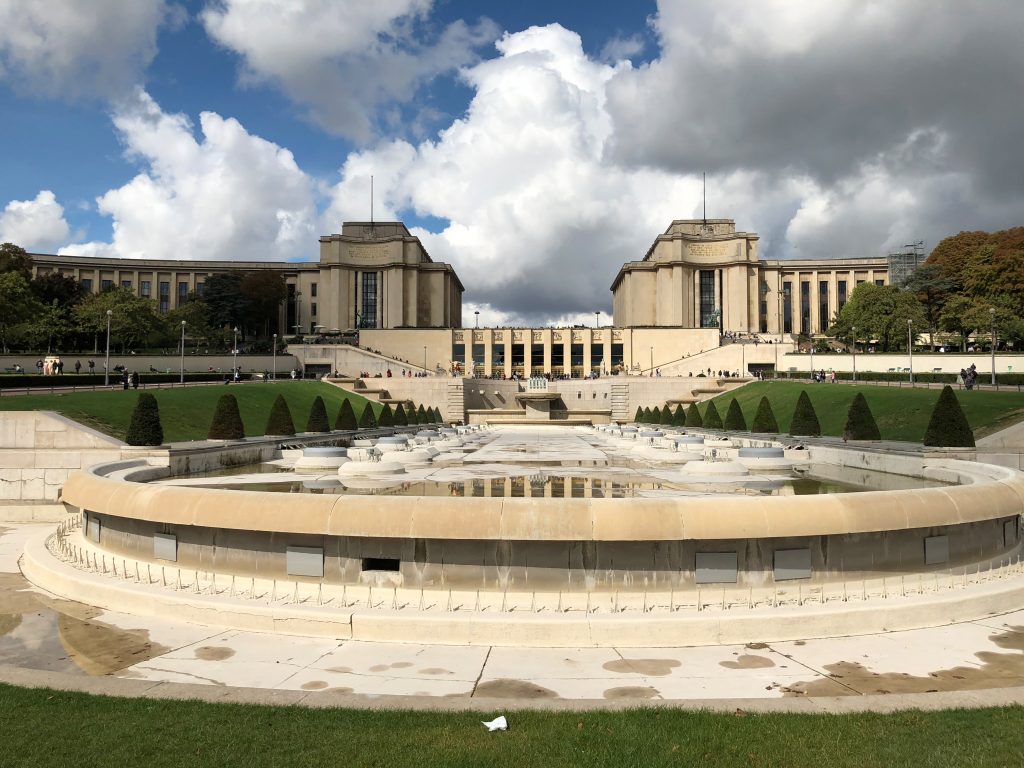 This scene has proved challenging to many of the smartphones we have tested, but the 8 Plus handles it like a champ. If you didn't know that the image came from a phone, it would it would be very hard to tell.
Compared to the iPhone 7 family, the iPhone 8 models do a better job of capturing HDR scenes. In this comparison, you can see that they offer better detail preservation and overall exposure than the iPhone 7 Plus. Overall, their performance matches that of the Google Pixel for the scene (click on the individual images to bring up the full-resolution versions for easier comparison):
Low light and Flash
Low light: Exposures are generally accurate, although there can be some underexposure in very low light. The 8 Plus's strong performance in low light and with flash, combined with its excellent ability to recognize and properly expose faces, make it a natural for anyone wanting to easily create memories of their indoor events.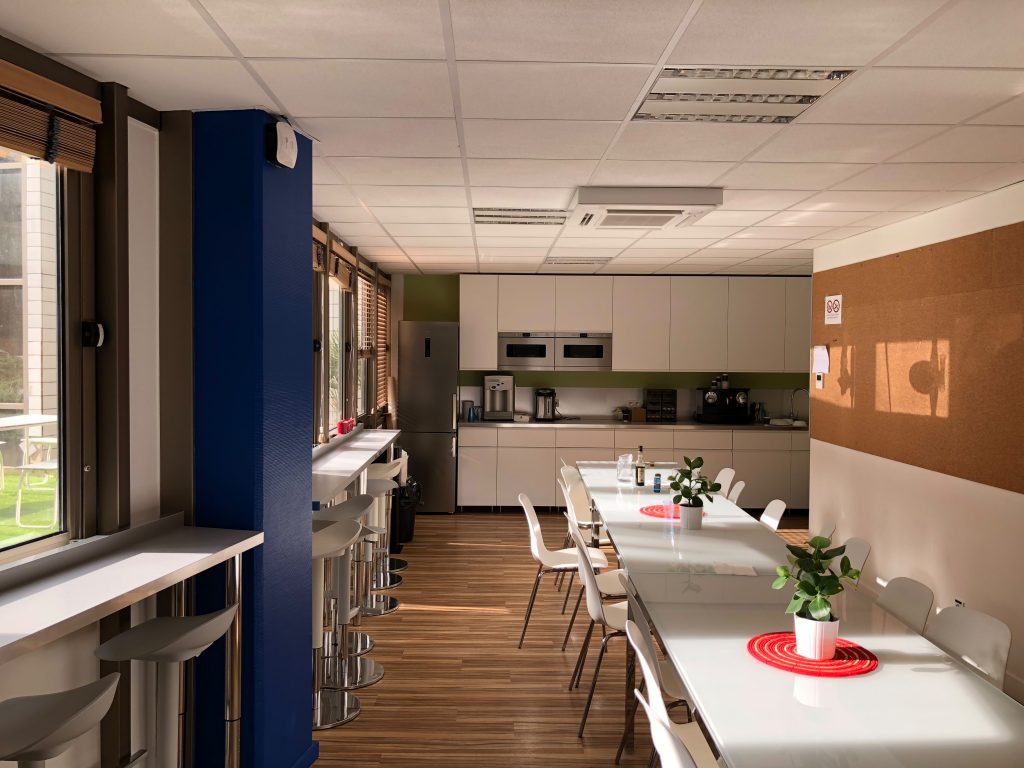 Even in tricky mixed-lighting situations, the iPhone 8 Plus does an excellent job of providing an accurate and detailed rendering of indoor scenes.
Zoom and Bokeh
While the iPhone 8 Plus camera is amazing overall, it is in our new test categories of Zoom and Bokeh where it really stands out. While the technical specifications for the second camera that help make these features possible are very similar to the specs for the second camera on the iPhone 7 Plus on paper, upgrades to the image processing software have raised the 8 Plus's performance to a new level. Especially important for those looking to capture portraits with their phones, or to create artistic effects in macro and other closeup shots, zoom and bokeh used to require standalone cameras. But phones like the 8 Plus are changing that.
Zoom: The dedicated telephoto camera on the 8 Plus gives it a large advantage over most traditional single-camera designs when it comes to zoom. At 51, it has the highest Zoom sub-score of any mobile device we have measured — a full 5 points better than its predecessor, the iPhone 7 Plus. Here you can see that at 2x (full-frame equivalent of about 56mm), the iPhone 8 Plus does an excellent job of both framing and detail preservation (click on individual images to get a full-size version for easier comparison):
Bokeh: Overall, the 8 Plus is the highest-performing phone we've tested when it comes to bokeh. Despite the relatively small changes in the actual camera specs, additional development and processing power allow it to beat out the 7 Plus by 5 points, putting it even further ahead of the Google Pixel, with a score of 55 compared to 30.
You can see the improved depth effect on the iPhone 8 Plus compared to the older model, showing that the dual-camera system now does a better job of blurring the foreground like a true optical blur, instead of blurring only the background. The images below also show how the second camera of the 8 Plus provides a much more artistic rendering of the image than the single camera on the iPhone 8 (click on individual images to get a full-size version for easier comparison):
Video
Apple continues to up its game on Video. With a score of 89, the 8 Plus has the best video quality of any Apple device, starting with the best exposure calculation. In particular, exposure is more stable while panning or walking than on previous iPhones. Its HDR capabilities are also very good, but highlights are sometimes blown out. There is still room for improvement, as the iPhone 8 Plus's Video score of 89 still only ties the HTC U11 and is still behind the Google Pixel's 91 points. This said, the 8 Plus camera does an excellent job of face tracking when shooting video in bright light.
Photo scores explained
Our Overall Photo Score is a composite of a number of category sub-scores. Here we detail how the 8 Plus performed in each of those categories.
Exposure and Contrast
The 8 Plus does an excellent job of accurately calculating exposure, improving on the performance of the iPhone 7 family. Its ability to represent high-contrast scenes is also improved, probably at least in part due to additional processing power and improved software for combining multiple frames into a single image. Apple's AutoHDR technology is some of the best on the market for rendering high-dynamic-range scenes. The 8 Plus also does an unusually good job at recognizing and properly exposing faces in an image.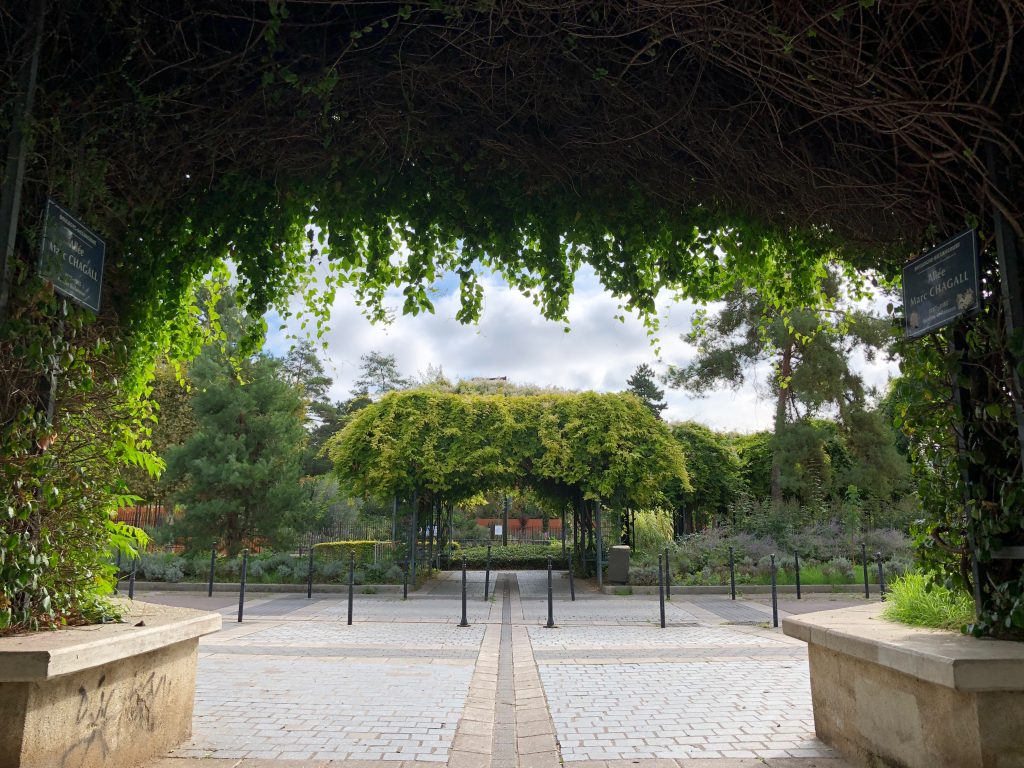 This HDR scene tests the boundaries of what a mobile device camera can capture. The 8 Plus does an excellent job of keeping the highlights visible while still showing detail in the shaded foliage in the foreground.
Color
Color is pleasing both outside and indoors. White balance is also quite good. The 8 Plus improves slightly over the iPhone 8 in its color performance by completely avoiding visible color shading, even in low-light conditions.
Color saturation in iPhone 8 Plus images remains very good, even under low-light conditions. However, in low light and in typical indoor (tungsten) light, 8 Plus images pick up a noticeable color cast that you can see in this chart of test sample patches: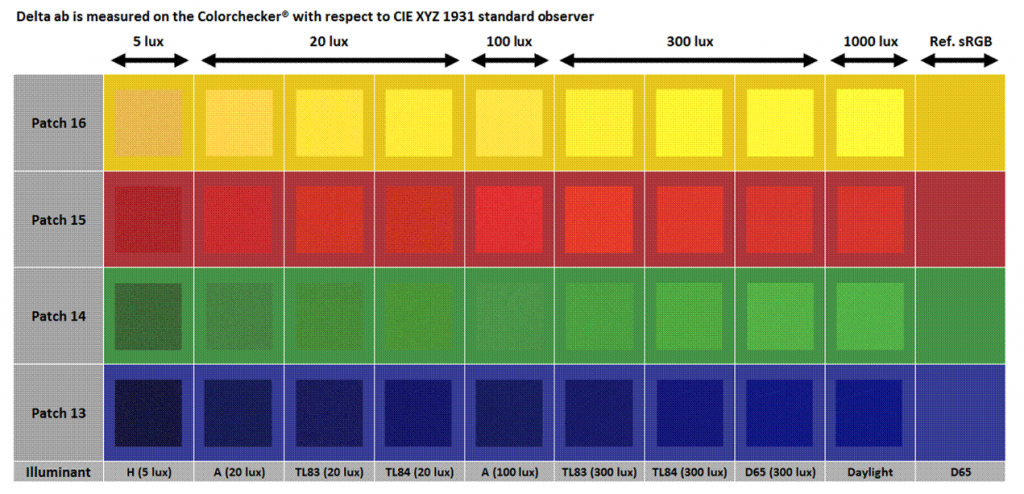 Using the reference patch on the far right, notice that the light gray patch nearly turns peach under very low-light conditions (left-most "H" column, luminosity similar to candlelight).

A note on color white balance evaluation: Apple has clearly made a choice to provide a slightly warmer white balance than Google for some situations. For example, in this outdoor scene, the image from the 8 Plus has a bit warmer yellowish cast than the Pixel's image. Both versions are pleasing, so which you prefer is a matter of taste. In the case of our color scoring system, we allow for a slight variation in color from what is perfectly accurate to accommodate some style choices on the part of camera makers.
Autofocus
Although the 8 Plus doesn't always focus quickly, once it focuses, it is remarkably accurate. In both our long- and short-delay tests, the 8 Plus was able to repeatably capture an in-focus scene. The sometimes longer delay — which occurred periodically in both bright and low light — can mean that users miss the shot they intended.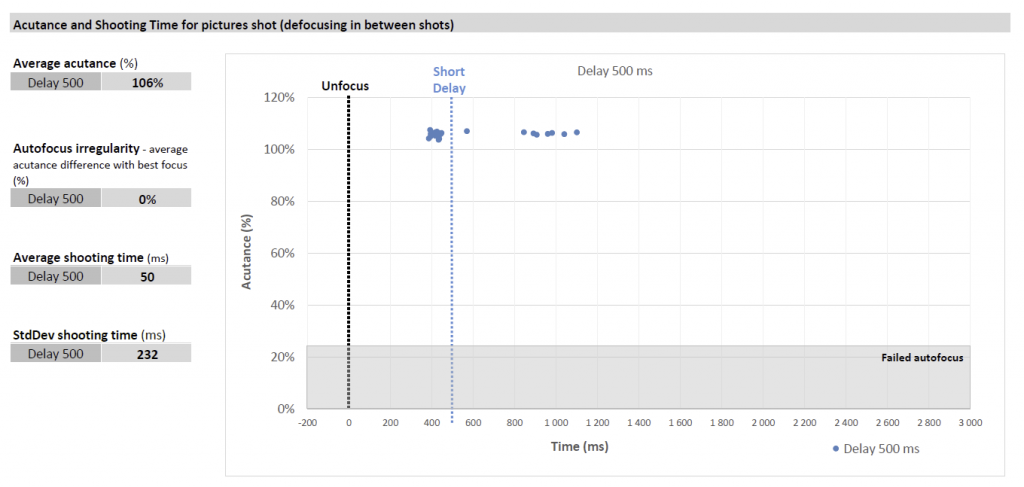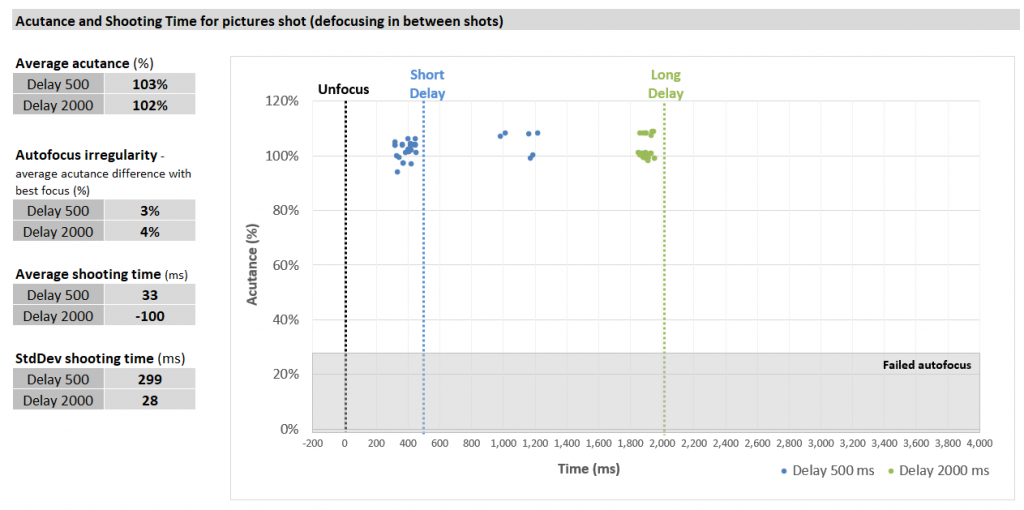 Detail (64)
The 8 Plus does an excellent job of capturing detail under a wide variety of lighting conditions, especially when there is no motion in the scene. That makes it especially good for landscape images. There is a noticeable loss of detail when there is motion, especially in low-light — as you can see in this chart of detail preservation versus light level: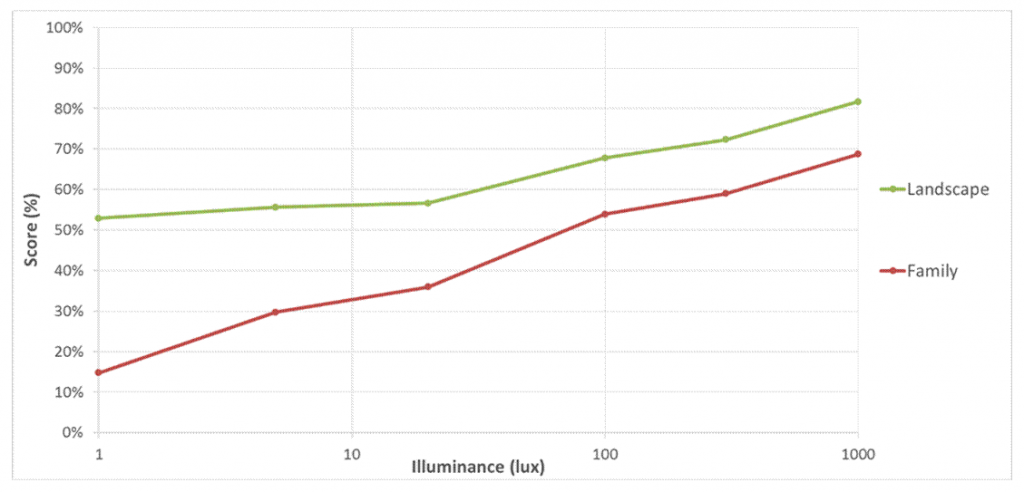 It is easy to forget how far smartphone cameras have come in just a few years. These tight crops of an area in our standard natural test scene demonstrate how much more detail the iPhone 8 Plus captures than previous generations of iPhones:


The images were all taken under very-low light (5 Lux) handheld conditions, showing the improvement in detail preservation and noise suppression in successive iPhone models.
Noise
Similar to its detail score, the 8 Plus features a very low level of noise when capturing static scenes, outperforming every other phone in our database. Even the darkest areas in HDR scenes have very low levels of noise, and blue skies are almost without noise. There is some slight luminance noise indoors and in very low light, but well within acceptable limits. In this indoor test target scene, for example, the 8 Plus is a little further off in exposure than the Google Pixel, but has lower noise: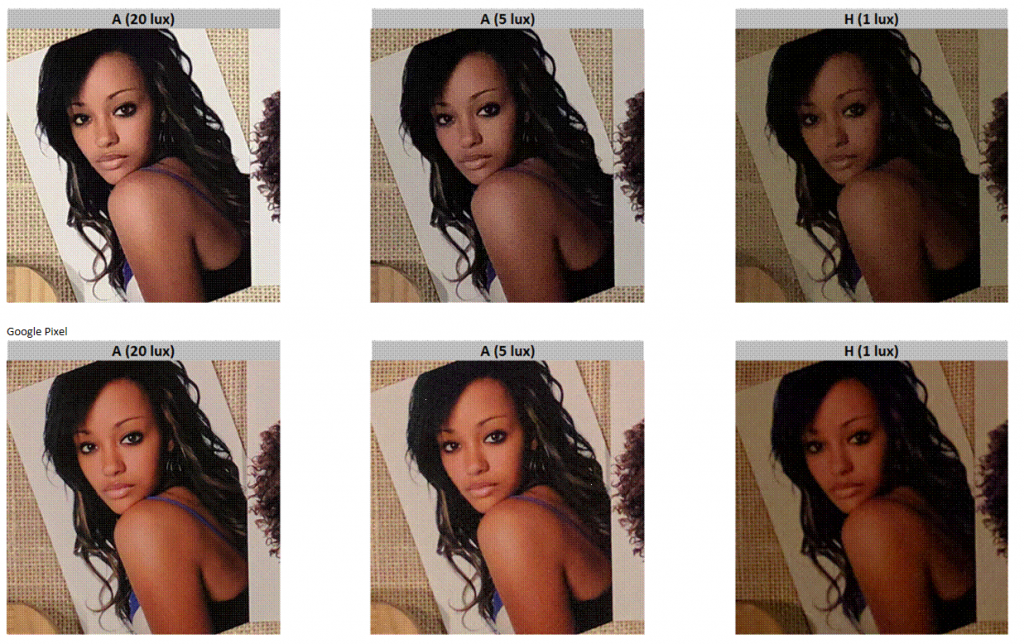 This next comparison image is another that shows how quickly smartphone camera technology is advancing. This image was shot with the iPhone 7 Plus and the 8 Plus, both in Portrait mode. The newer model does a much better job of suppressing noise, especially on the model's face:
Artifacts
The 8 Plus, like most iPhone models we've tested, has very few artifacts in its images, achieving an excellent artifact sub-score as a result. Interestingly, the iPhone 8 outscores the 8 Plus in this area. Slight flare in harsh light and moiré when repeating patterns are present reduced its score somewhat. Some visible ghosting can also occur.
Flash
Flash-only photos with the iPhone 8 Plus feature accurate white balance and good color rendering. With both flash and flash combined with ambient light, there is low noise and good detail preservation. There can be a slight yellow cast when flash is mixed with a low level of ambient light, and exposure and white balance can vary from shot to shot in a sequence.
Zoom
The iPhone 8 Plus sets a new standard for zoom performance in a smartphone, a tribute to its dual camera design, and the image processing improvements Apple has made since the introduction of the 7 Plus. There is still some room for improvement: when shooting several images in a row using zoom, some (but not all) images show artifacts.
Even with the 8 Plus's stunning Zoom and Portrait mode performance, photographers still need to watch out for possible side effects. For example, these images show that subject motion can detract from an otherwise excellent portrait:
Bokeh
The bokeh effect on the 8 Plus is remarkably reliable, as the 8 Plus is not fooled nearly as often as other smartphone cameras when it makes estimations of depth, even compared to competitors with similar dual-camera systems.
In low light, the iPhone 8 Plus does a much better job of rendering a bokeh effect than the Google Pixel, although at the cost of some noise. Further, the Pixel version of the image has strong artifacts (click on individual images to get a full-size version for easier comparison):
Key to the 8 Plus's excellent Bokeh score is very good depth estimation and facial recognition. These technologies help ensure that blurs are created naturally and effectively. There is room for improvement, though — in particular, when the subject touches the edges of the frame, the camera can mistake portions of the subject for part of the background, and ends up blurring those portions accordingly.
This type of artifact is visible in the portrait in this review, in which some of the subject's hair is blurred — an unfortunate and sometimes unpleasant effect on an important part of the portrait.
Video scores explained
The Apple iPhone 8 Plus achieves a total Video score of 89. As with the photo scores, this is calculated from the sub-scores it achieves in a number of categories of tests that help define its overall video capabilities, specifically: Exposure and Contrast (81), Color (87), Autofocus (84), Texture (50), Noise (68), Artifacts (81), and Stabilization (91). Of particular note, stabilization is excellent, color rendering is very accurate, and exposure is greatly improved over previous models. Exceptionally good face tracking also aids in accurate subject exposure. Video suffers from some judder, and a small amount of frame-rate inaccuracy.
One thing the iPhone 8 Plus's video lacks somewhat is good exposure in low light. As light falls off, the 8 Plus tends to underexpose, as you can see from this chart:

Conclusion: The best smartphone camera we've ever tested
Overall, the Apple iPhone 8 Plus is an excellent choice for the needs of nearly every smartphone photographer. It features outstanding image quality, zoom for those needing to get closer to their subjects, and an industry-leading Portrait mode for artistic efforts. It is at the top of our scoring charts in nearly every category — and in particular, its advanced software allows it to do an amazing job of capturing high-dynamic range scenes and images in which it can recognize faces.
We look forward to testing the iPhone X and comparing it against the iPhone 8 Plus, as the X's wider aperture and its OIS on both cameras should place it on the cutting edge of zoom and portrait performance — enhancing the iPhone shooting experience for memory makers and image lovers even more.
Pros
One of the best HDR performances of any device we have tested
Excellent use of face detection to accurately expose faces
Overall, the best zoom we've tested
Best Bokeh we've seen in a mobile device, but still room for improvement
Pros
Very good stabilization
Best exposure of any Apple device, but still not industry-leading
Very good color rendering under almost all lighting condtions
Good face tracking in bright light
Cons
Color cast in low and indoor (tungsten) lighting
Some autofocus issues
Cons
Some exposure issues
Visible noise in low-light conditions
A note about image formats for this review: The iPhones 8, 8 Plus and X record photographs in the DCI-P3 colorspace, which their displays also use. DCI-P3 is newer and larger than the sRGB color space that most devices use and most web browsers assume. So to ensure that the images we used in the review display properly on a wide variety of browsers and devices, we converted the originals from DCI-P3 to sRGB using Photoshop (which is why the published test photos show Photoshop as the creator). This can slightly reduce the richness of color in some cases from what you would see when viewing the original images on a DCI-P3-calibrated display with appropriate software. We also captured the original images using the new HEIF (High-Efficiency Image Format), but then converted them to very high-quality JPEGs for viewing in standard browsers and image editing software. (HEIF is very similar to JPEG, but provides better compression for similar image quality, so the conversion makes the sample image file sizes larger than they were when shot.) Please note, however, that unlike our test images, some of the comparison photos used in this review were shot in JPEG and used as-is for illustrative purposes, and were not used to compute scores.